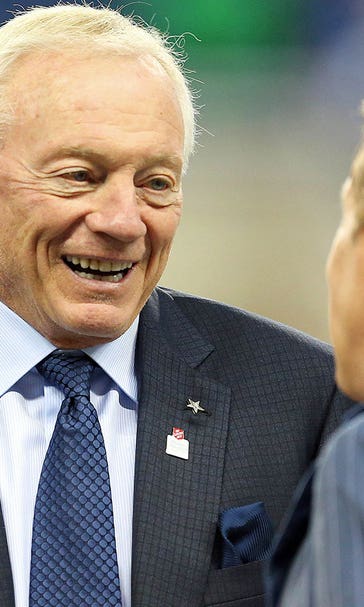 Cowboys Draft Mailbag
BY foxsports • May 3, 2014


Never fear, I have trips to Millwall, Arsenal, Chelsea, and Crystal Palace planned between now and Monday night, and then I race home to cover the draft as you would expect me to cover it and here is a simple chance to run through some scenarios with all of you about the various concerns and situations the Cowboys find themselves looking at.



So, let's get started:



=====




Ok SportsSturm...here are some q's regarding the Cowboys draft.





1. Teams like SF and CLE, which each have multiple picks in rounds 1-4, (not each and every round mind you, but you get the idea), so they have ammunition to move up. What players would need to be available for each, in order to consider moving up to Dallas' 16th spot...and conversely, who would have to be off the board at 16 for the Cowboys to consider it, or better yet, who would still be left on the board for the Cowboys to pass on a trade down? And what can the Cowboys expect back for moving down?





2. Just watched the game tape of Easley against Miami...I say, no matter who they get in round 1, if he is available in round 2, GET HIM! Do you agree? And don't say, "it depends on who's available" because that's a copout. Instead, tell me who you would take instead of Easley, if said player was still there in the 2nd round...I'm sure you have some idea of who would still be there.





3. Just looking at many of the mock drafts out there, my worry is that when it gets to 16, many of the Cowboy's targets won't be there anymore...and from what I read, Anthony Barr, Kony Ealy, and Jernigan, if they are still available, might be a reach at 16. Would the Cowboys really take a Kony Ealy at 16 if the value seems to be a bit of a reach? I hope not, but my fear is that the best available will be Ebron, and there's no chance in hell they take him, right? If Ebron is still there at 16, and the value for other positions of need is not right, who might target Ebron there that would be a reasonable trade down partner for the Cowboys?





I have many more, but I'll just limit it to these 3. Have a great flight!





Steve
OK, Steve.  This is a good place to start.



Let's talk about the Cowboys best possible scenarios.  I think we all have to look at the overall issues the Cowboys have and the few resources (cap space, picks) with which to find premium pieces and agree that the best thing they can do is get together with a team like Cleveland and trade back in order to pick up an additional Top 50 pick.  For instance, it would seem Cleveland would be overpaying to give the Cowboys #26 and #35 in exchange for #16, but if they are desperate for the QB they want, who has slid to the Cowboys, I think most people would want Dallas to repeat the Brady Quinn trade and get out of there.



Of course, if a QB has slid to #16, then a team would overpay to move up - but you would also have a twitch in Jerry Jones' side that says he should grab this QB - possibly Johnny Manziel and laugh maniacally as the entire internet explodes with delight because there is no more "Jerry" move than to end up with Manziel.   So, the thing that presents the greatest opportunity for a Dallas profit (the trade back) may actually be the thing that tempts him to keep the QB for himself, despite already giving Tony Romo so much money that he almost needs to avoid the temptation at all costs.  Even though, that might be the smartest football move he can make.  And remember, football decision making needs to be the priority - which is why I would absolutely grab Manziel at #16, but the financial damage would be vast if he would do so, and the public would not patiently wait for the new QB to play (like Aaron Rodgers for 3 seasons behind Brett Favre), so the exit of Romo would begin the second Johnny would be taken and the cap damage would be felt for years.



That said, I would take him because as you know, I think Romo's back is only going to be a bigger issue as this continues.  That isn't changing either way if you have the next QB ready.  It may be a "Jerry" move, but this one, handling the most important position in football responsibly, would also be a proper football idea.  It is just the $40 million in dead money that would be difficult to swallow, which is why I screamed that the contract should have been avoided when it happened.



Complicated answer and I realize I am all over here, but the best thing that happens to them is to trade back, but that likely is not possible unless Manziel falls.  And if Manziel falls, I think you need to take him.  Confused?



Meanwhile, I need no help signing off on Dominique Easley from Florida in round 2 as he could be a candidate for #16 if he was fully fit.  I have no idea what the doctors have found, but I do know that 2 major knee injuries at Florida should freak everyone out and they were both of the non-contact variety.  So, tell me he is fit according to my doctors and then we can proceed.  If he is a maybe, I need to let someone else take him.  But, tell me he is fine and I will then tell you that he would be a fantastic pick at #47.  And, of course, Steve, you need to know who is on the board when that pick comes, but in a vacuum, he is a tremendous pick there.



Finally, his Ebron scenario is a good one, and a team like Green Bay who needs TE help could absolutely scoot up there and grab him.  I admit there are some players at #16 that seem like they would be settling, and Kony Ealy and Zack Martin would both qualify.  I would prefer that if they are down to those 2, that they trade back, but it is highly possible that they would move back 10 spots for only a 3rd.  I am not sure I am interested in doing that this year.






Bob,

 

If Donald, Barr and Lewan are gone at 16, or if Manziel is available, it strike me that a move back anywhere from 5-14 spots in round 1 is a very real possibility.  Who out of your "not at #16" but "yes at #47" offensive and defensive linemen are worthy of a later 1st rd pick?  Particularly curious about guys like Su'a filo, Yankey, Easley and Crichton.  If you want to add (guess on) safeties to this questions as well feel free, but I am always skeptical regarding what I see from them because a good college pass rush makes even s slow safety look impressive. 

 

MARK in Hamilton Texas
Thanks, Mark.  I surely feel that Crichton and Su'a Filo are both guys I would like in the mid 20s and I would add to that Jimmie Ward and Calvin Pryor, the two best CF safeties in the draft.  I already touched on Easley, so you know I would be screaming at my doctors to give me a certain diagnosis and Yankey is solid there, but he could fall to me at #47 as well as guards won't often require urgency in the Top 32 picks.



I would also remember Demarcus Lawrence, Will Sutton, Morgan Moses, and Billy Turner (in that order) as all guys I might want to snag if I move back into the late 1st/early 2nd and I am not confident they get to me at #47.


Are the experts insane? Is there something I do not know?

I know you are not high on Kony Ealy, and neither am I, but there is still chatter that the Cowboys may select him with #16. 

It is my assessment, after all the video research and scouting reports, that Kony Ealy is this draft's Shante Carver, and it scares me that the Cowboys might possible entertain a high pick on him. I would rather see Trent Murphy taken with #47, if available, and avoid Ealy like the plague... unless he makes into the 3rd round.

Furthermore, your thoughts on Lamarcus Joyner were eye-opening. He sounds like a reverse running back, shooting through the line and attacking the offensive backfield as opposed to the other way around.

Final thought... I like Terrence Brooks for safety. Do you think he will make it to the 3rd round, pick #78, or is he too good to last that long?


Glenn, I better recap my Kony Ealy thoughts, because I think you have me all wrong.  I actually like him and would be ok with the Cowboys grabbing him as a prototypical 4-3 end.  I don't have major issues with him and find him to be a player who might have his best football ahead of him.  That said, I am not dying to spend #16 on him, so would be much happier with a trade back or having him fall to #47.  I don't see Shante Carver, for sure, and I just want to be clear that I am not against his tape.  I like it, although he is surely not the quickest cat in the world - but that is the trade off to get the size and arm length he has.

I do like Trent Murphy, but since he has scheme issues, I would not grab him in the 2nd.  As you may have missed, he is in my 3rd round batch of targets.



As for the Florida State defensive backs, I think Joyner could be in the mix in the 2nd, and Brooks is a 2nd/3rd.  It is so tough to project rounds for everyone, because it only takes one team to believe he is worth jumping on for him to make a round.  Conversely, it requires all 32 teams to ignore a guy to get him to fall out.  That is a distinction that makes it tough to know what is what.  But, personally, I like quite a few safeties more than Brooks.


Hey Bob,

Wanted to get your take on this hypothetical draft scenario for the Cowboys from

SI.com

's recent mock draft:
10. TRADE: 

Dallas Cowboys

 (via Detroit): Aaron Donald, DT, Pittsburgh
*Cowboys send picks 16, 47, 158 to Detroit for picks 10 and 111
Another top-10 move, this time so the Cowboys can cut in front of a few teams with D-line needs. Donald may fit a similar mold to recent Dallas addition Henry Melton, a slightly undersized three-tech. Part of the appeal of Donald, though, is that he can and has played just about everywhere on the line. He could rotate in for Melton at the three-tech or slide over to a one-tech spot and do just fine. This is a case of taking the top player available, then worrying about exactly how to employ him later.
 Joey, I want to make one thing clear here that I think requires being said:  I don't trade up this year for anyone if I have to use my 2nd round pick to do so.  I just don't even consider it.  I think everyone who reads me knows that I was against the Claiborne trade when it happened for this same reason, and let me state it.



The 2nd round of the NFL draft is where you find starters.  Starters who can give you exceptionally cheap labor and can fill your team with quality that doesn't hurt your cap.  Everyone can find starters in the 1st round, but what makes the great drafting teams great is their ability to find great quality in Rounds 2-3.  If you don't consistently do this, then you can't put together a roster year after year because one 1st rounder is not enough on a football roster with 22 starters.  You need 3-4 a year to keep the lineup fresh, young, and cheap.



So, 47 is a weapon, and this year, I think #47 is right in the middle of fantastic quality.  I really believe this is a very deep draft and I love the 4-5 names that will be there when they pick.  They can get tremendous quality there every year, but this year is even better.  So, do I love Aaron Donald?  Yes.  Does the trade idea make sense?  Yes.  But the Cowboys need to resist this type of deal because they need a starter at #16 and a starter at #47.  And they can get one in each spot if they simply stay put.


Bob 

I really enjoy your draft profiles. Does your most recent big board mean that, if you were Jerry Jones, you would draft those first 16 player in that order if they were all available when you picked? 

Regards,

J. David Green
Yes.  But, wait for my new one on this Wednesday.  That will be my final copy of how the Cowboys should stack it and I hope it turns out like I think it will.  I am grinding the best I can.




Since the braintrust doesn't fancy taking a safety, It looks likely 16 is going to be between plateaus with what we need.  Maybe trade down to someone who wants Pryor or Nix and use that to move up our #2 and address our defense?  

RB, WR, OG have looked good late in Fanspeak (Ourlads and Fanspeak) mocks.

Travel safe and enjoy the tube

Got any players that'll be later round picks you have an eye on?

Mitch
Mitch, I would confess that I would definitely take Calvin Pryor if I am cleaned out of legit OL/DL ideas at #16.  I think Pryor is fantastic as a safety and would recommend him after Aaron Donald, Anthony Barr, Taylor Lewan, and the WRs (Watkins/Evans) are gone.  If I am at 16 and I see Pryor, Zack Martin, and Kony Ealy as my next 3, I think I take Pryor.



I get the impression that would drive a lot of people nuts based on how much the Cowboys have invested in safeties over the years, but I don't think they have ever had a chance at a player like this.  Much like the Manziel/Romo contract issue, I can't make mistakes because of prior mistakes.  On draft day, I need to forget all my previous mistakes and trust my work.  If that happens, then I take Calvin Pryor because he is a tremendous player.  I don't pass on him because I got nothing out of Matt Johnson or Akwasi Owusu-Ansah.



I also have no issue getting the best guard on the board at #16, but the only one I really like there is Xavier Su'a-Filo from UCLA.



This allows me to spend a moment on Notre Dame's Martin versus Su'a-Filo.



I have recently rated Su'a-Filo over Martin (however closely) in my latest OL board.  The reason for this - which certainly gets disagreement from many colleagues - is that I don't like the rationale on taking Martin.  He was an exceptional LT at Notre Dame, yet, nobody thinks he would be a great LT in the NFL because he lacks those rare traits for the NFL LT.  So, they want to convert him to guard, despite having never played guard at Notre Dame.  Then, the idea in Dallas is that he can then be a RT when Doug Free is moved out, perhaps as early as in 2015.



To me, if I want a long-term guard, I take Su'a-Filo, who is as perfect a zone guard as there is in this draft.  In fact, when I see his feet, I think he can play tackle as well, but if you pop in his tape against some really strong competition, you will see he is quite strong in just about all aspects.  So, to take Martin over him, when he is proven and Martin is pure speculation at guard seems silly.  But, if Martin gets the edge because he can then move to right tackle, I would argue that I like many 2nd round right tackle candidates as much - Morgan Moses, Billy Turner, and Ja'wuan James.  But, you should be able to get one of them at #47.  So, am I taking Martin at #16 for simply the 2014 season at guard?  16 games of a guard, when I already could survive 2014 at that position for Ron Leary and Mack Bernadeau?



I guess I am not convinced.  I like Martin plenty and he looks like a great leader, too.  But, I get really nervous when we start projecting players and converting their positions.  In the later rounds?  Fine.  But not in Round #1.  There are some conversions that are no big deal, but tackle to guard is big for taller guys.  Leverage is key inside and when you are a tackle you are pass blocking against edge rushers who sometimes are 250.  Push you inside and now you are trying to get low against a 320 pound DT.  That is a big assumption that he can handle that with no issues.




It seems Anthony Barr's name is getting mentioned more frequently in connection with the Cowboys. Even with questions about his ability to fit in the Cowboys scheme, is there interest in him based on his unique pass rush ability and the fact that they currently have no one on their roster who would be considered a serious threat off the edge? 

 

Jason Lustig
 I think Barr is a very interesting player.  You have to remember that he was a Running Back in 2012 for UCLA, and was converted over and became a freak overnight.  When I broke him down back in March, I just didn't think he was totally ready to be a NFL defensive end, but I talked about how he might be a beast shortly if a team could afford to wait a bit.  I don't think the Cowboys are a team that has patience, but they do have a DL genius on their staff and with that in mind, would I get excited about Barr working with Rod Marinelli?  Yes, I would.



Barr has weaknesses in his game, but when you consider how little he has played and how many magnificent plays he made in that short time at a position he was still learning, you can understand how the Cowboys look at him as a potential difference maker on the edge.  Also, unlike Donald, he is scheme-versatile, which means if you want him in the 4-3 or the 3-4, he can do it.  I don't want to say he is DeMarcus Ware-like, but there are some similarities out of college.



So, the more I think about it, the more I am cool with this overall idea.  Which is why I have him right behind Donald on my defensive board - quite worthy of pick #16.




The Seahawks, Niners, Colts, and Bengals have enjoyed the benefits of being able to build deep rosters because their QBs are on rookie contracts.  The Cowboys have Romo pegged as their starter for the next few years, so wouldn't drafting a "QB of the future" rob them of this opportunity?

What players would you trade up if you're Dallas?

I think Clowney and Manziel if he gets  out of top 10 which both are extremely unlikely.

Do you actually see this team addressing the lines soley in the draft or getting cute by taking a receiver, tight end instead?

How do you feel about adding Chris Borland in 3rd round and moving Sean Lee to will?

What are your thoughts on Jimmie Ward?





Thanks Bob. Id appreciate thoughts on as much as you have time for. Have a safe trip.

Mike ray
I would love for them to get a QB for a million a season and be able to spend elsewhere, but that isn't going to happen here.  They tied everything to Romo, and they have to live with it for now.



I trade up for nobody if it costs me more than a 3rd, so that should limit everything except for a slight move to say #13 or #14.



I don't think taking a WR is a bad plan, especially at #47.  This is a league that requires at least 3 WRs, and if your #3 is Cole Beasley, you might consider finding a more versatile option there and this draft is loaded with great WR options.



Borland is a very strong player and I like him plenty.  But, he has as many injury issues as Lee, so beware of that.



I think Jimmie Ward is fantastic and would suggest you read my breakdown of him here.



Well, that is all I have time for this morning.  Time to go watch some English Football on a weekend in London.



YNWA.


---