Cowboys barely survive Geno Atkins
December 13, 2012

This particular write-up may be a bit of a departure from the normal routine here on Thursday's during the season, but I think Sunday was a rare occasion where a lot of things happened worth noting.  We have mentioned at great length that the Cowboys win was both memorable and unexplainable because of so many components of the game that were not playing in Dallas' favor.  But, that is the very definition of this fantastic sport - winning the game is not always the right of the team with a massive advantage somewhere on the field.  They have to consistently exploit this advantage to a point where the scoreboard reflects the domination.

And that was a scenario we had on Sunday.  Could the Bengals use their single biggest defensive strength, a defensive tackle named Geno Atkins, disrupt the Cowboys all day long on offense against a Cowboys interior that has struggled all season long.

Atkins, is a very interesting player who is having an All-Pro year.  The 24-year old Georgia Bulldog makes us all wonder about a draft process that had him available deep into the 4th round of the 2010 draft, but now might be the best interior player in the sport.  The Cowboys, as fate would have it, were holders of pick #119 before trading back to pick #126 for Akwasi Owusu-Ansah (a name that makes most fans cringe) on that day in April of 2010, with both Atkins and Kam Chancellor, the giant safety from Seattle, were picked in that area.  Some have commented that Atkins is not a 3-4 player, and while I might have agreed with that until Sunday, now I am of the impression that he could excel in any scheme you care to throw at him.

Regardless, now he appears to be the type of player that will not get away from the Bengals, and he is the problem of anyone who shows up on their schedule.

And what we saw when he took on the likes of Nate Livings, Ryan Cook, Mackenzy Bernadeau, and even a little Derrick Dockery, was the single best-graded performance of a player against Dallas in the years that Pro Football Focus has been handing out grades.  In other words, he dominated.  And many of us, when looking at the film considered a standing ovation.

He was simply fantastic against a group of guys who are very happy they don't have to see him again for until the 2016 season, most likely.

The plan in this space is simply to review the game in chronological order and perhaps to point out his top plays and who was most at his mercy.

Let's take a look:

1st Quarter:

What is most interesting about this matchup is the fact that the Cowboys knew all week long that the game plan was going to be to figure out what to do with Atkins and work around that, but then when the game was here, they started the game without too much trouble.

He certainly made an impression or two in the first few drives, but nothing special.  The Cowboys chose to block Atkins with what I would call a normal amount of double-teams, but they left him singled up a few times and although he got a push, there was nothing super-natural about what we saw in the early going.  Consequently, the Cowboys had very little trouble moving the ball right down the field and getting points early.

They also have a rather deep rotation on their defensive line, and although Atkins is a better pass rusher than he is a run stuffer, he plays in all situations, but he doesn't play every down.  In fact, I had him on the field for 57 of the 71 snaps, which was the most of the defensive line, but the 6th most on the Bengals defense.

Through 1 Quarter, there was almost no sign of him, and observers must have wondered what all the hype was about.  The Cowboys were definitely getting the ball out quickly, and drive #2 stalled because they were unable to move the chains on quick slants, but overall, the 1st 15 minutes proved to be no major issues with this Atkins fellow.

2nd Quarter:

Again, most of the 2nd Quarter avoided the impact of Geno Atkins.  So, remember, this is the single best-graded performance against Dallas in years, and he hasn't made a dent almost half way into the game.  Crazy!

Until, 3:18 to go in the 2nd.  1st and 10 for the Cowboys at their own 18 yard line.  The idea here is to run Murray to the right behind the pulling left guard Nate Livings.  Livings pulling though leaves Atkins with nobody in front of him, so Ryan Cook has to close him off.

That didn't go very well.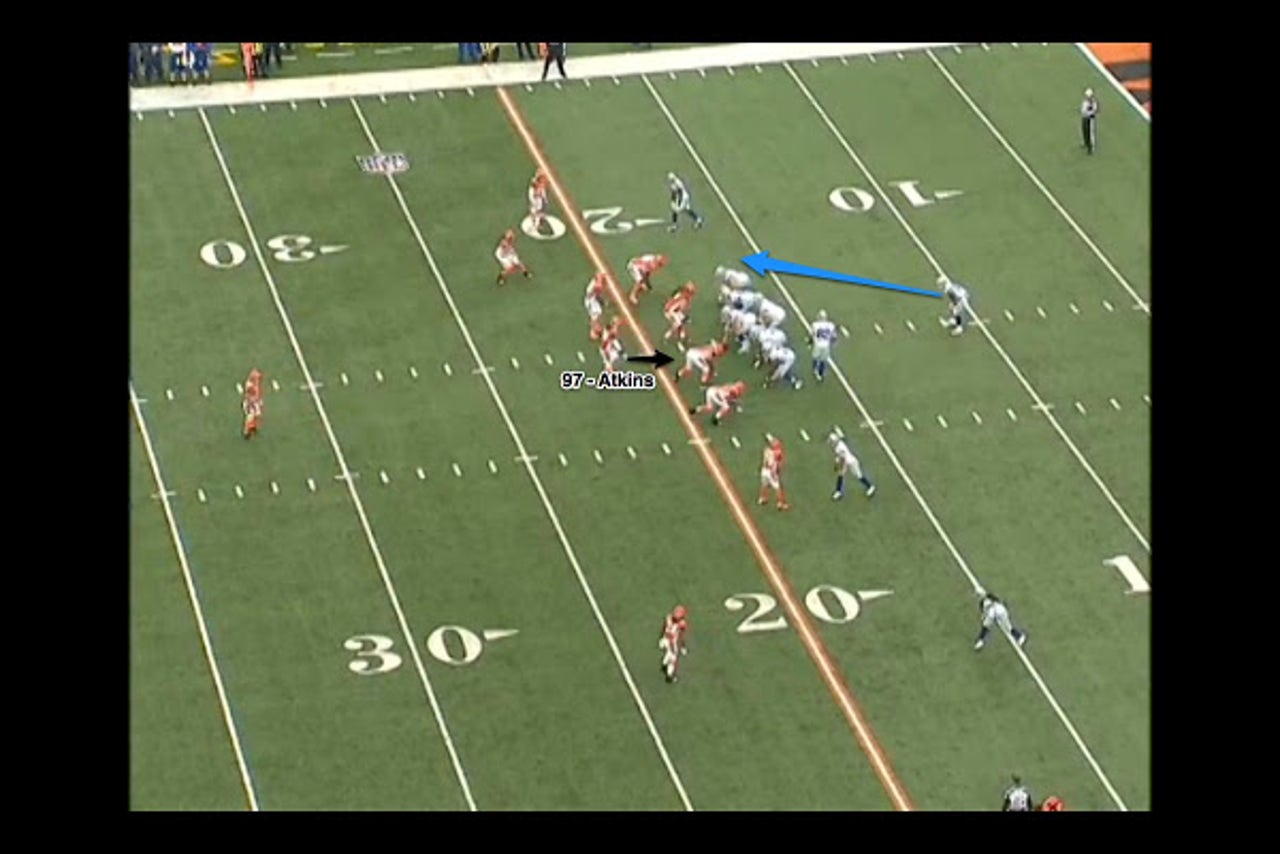 Hopefully, this 2nd frame can help you see how impossible a task that is being asked of Cook.  He just hasn't demonstrated that he can get to any block that requires much movement, and to laterally get to Atkins right off the snap when the Cowboys will not contact him, but rather pull away from him is just tempting a guy to blow up a play and then a drive.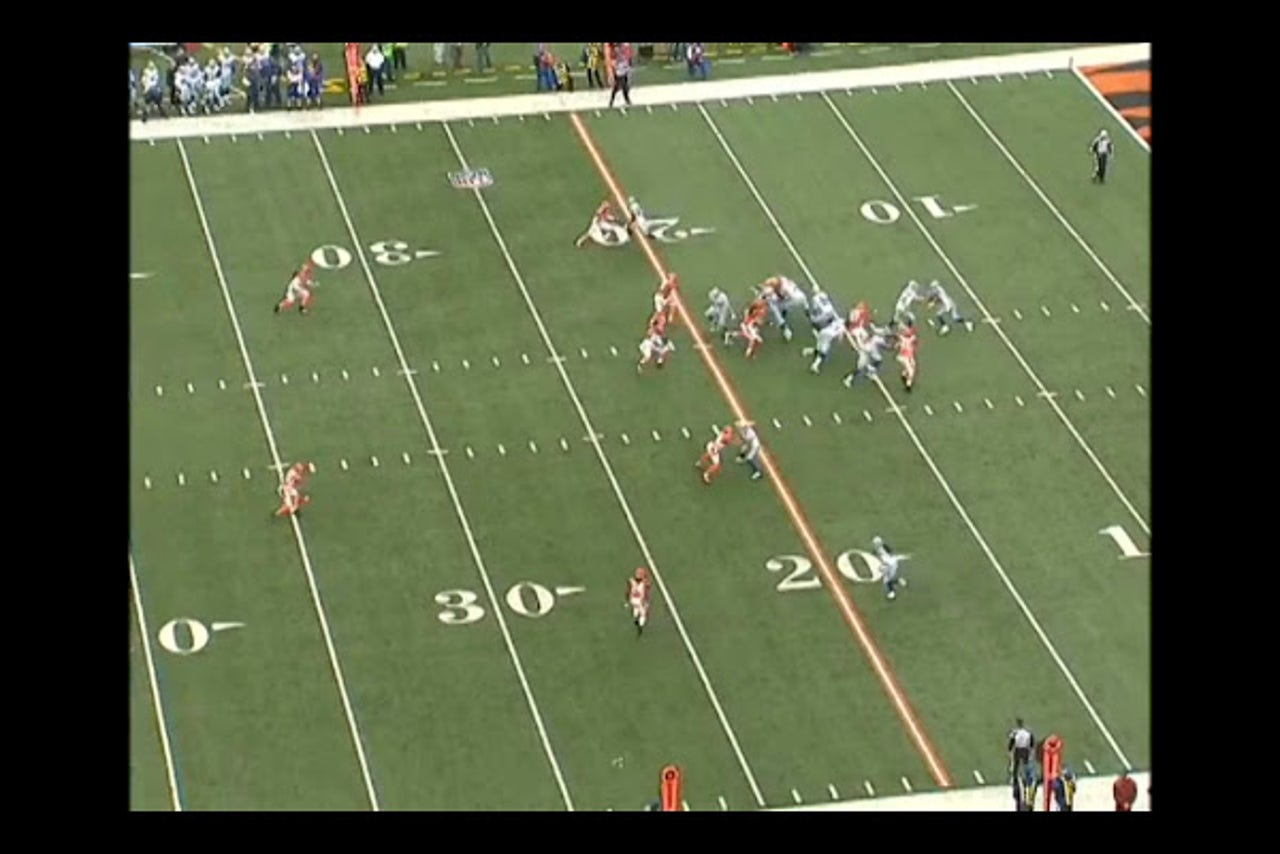 Here is DeMarco, just now touching the ball, being met 4 yards deep by Atkins who had to think that was the greatest play ever called.  Please run it again.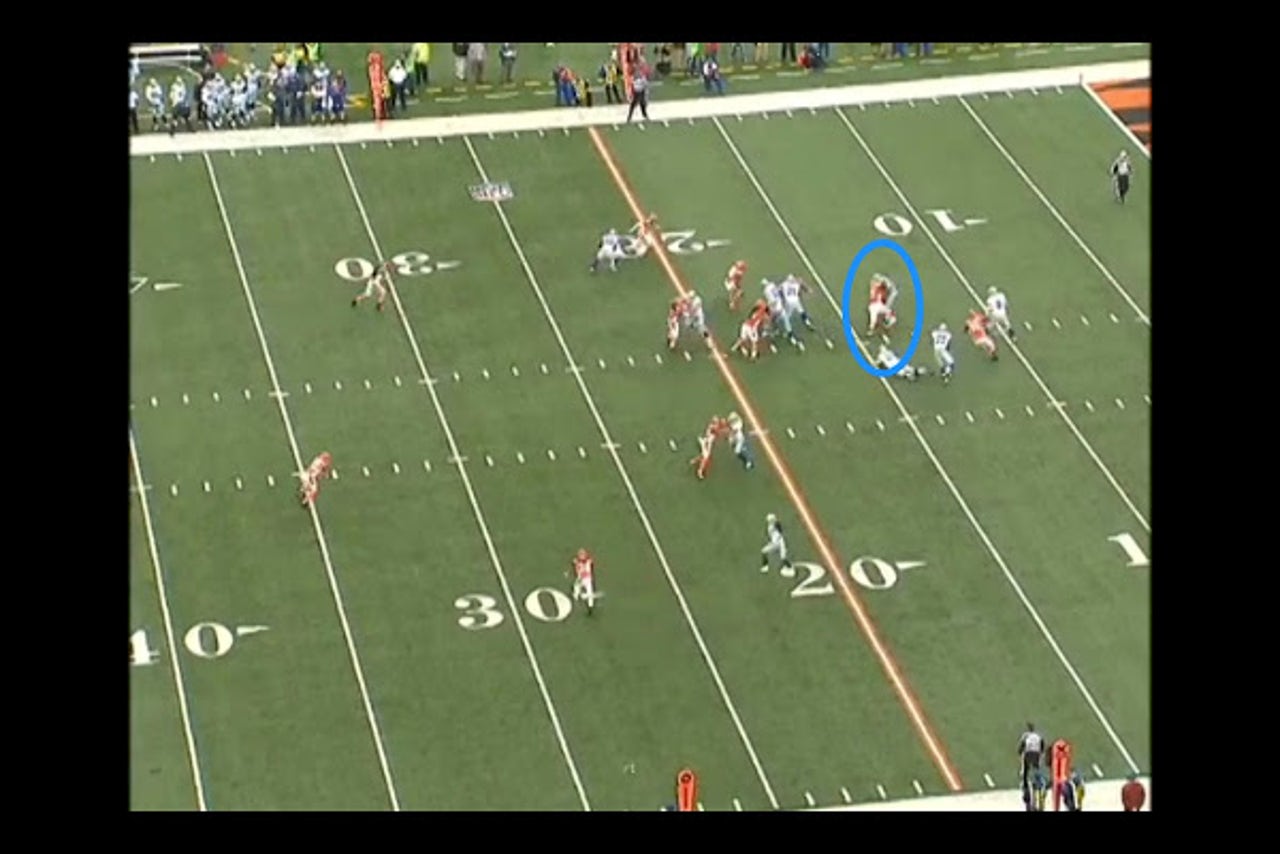 And that play, appeared to wake up the giant.

On the very next play, prior to the 2 minute drill, Atkins got to Romo just as Tony was releasing the ball.  This is where Atkins seems to excel as a 2-minute drill foil.

A few plays later, you might recall the play where Romo is sacked with a 3-man rush, but Carlos Dunlap tried to twist his head off with a facemask call.  Geno Atkins had nothing to do with that play, or did he?

Look at this, where he draws a triple-team, leaving the tackles exposed to 1-on-1 battles.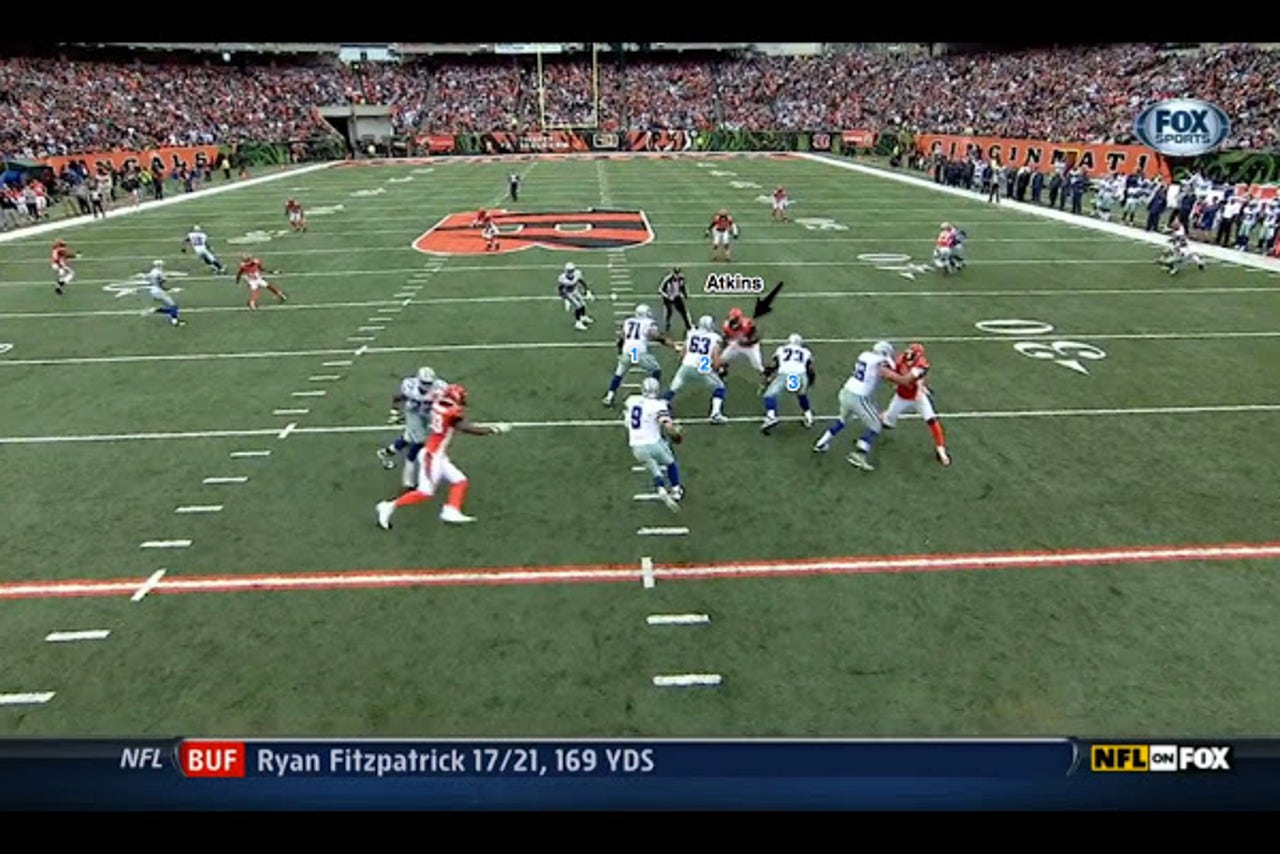 And that is the effect of a player who you fear.  It allows for other opportunities elsewhere, to where a 3-man rush gets to your QB easily.  The drive is dead, but the face mask penalty kept it alive.

3rd Quarter:

Here, on the first snap of the half, Romo no sooner makes his drop than Atkins has already run right around Nate Livings in the blink of an eye.  Livings has been decent this season, but a guy like Atkins made him look horrible all day.  Perhaps Atkins knew plenty of Livings from all of their practices together, but Livings didn't learn anything from those practices, evidently.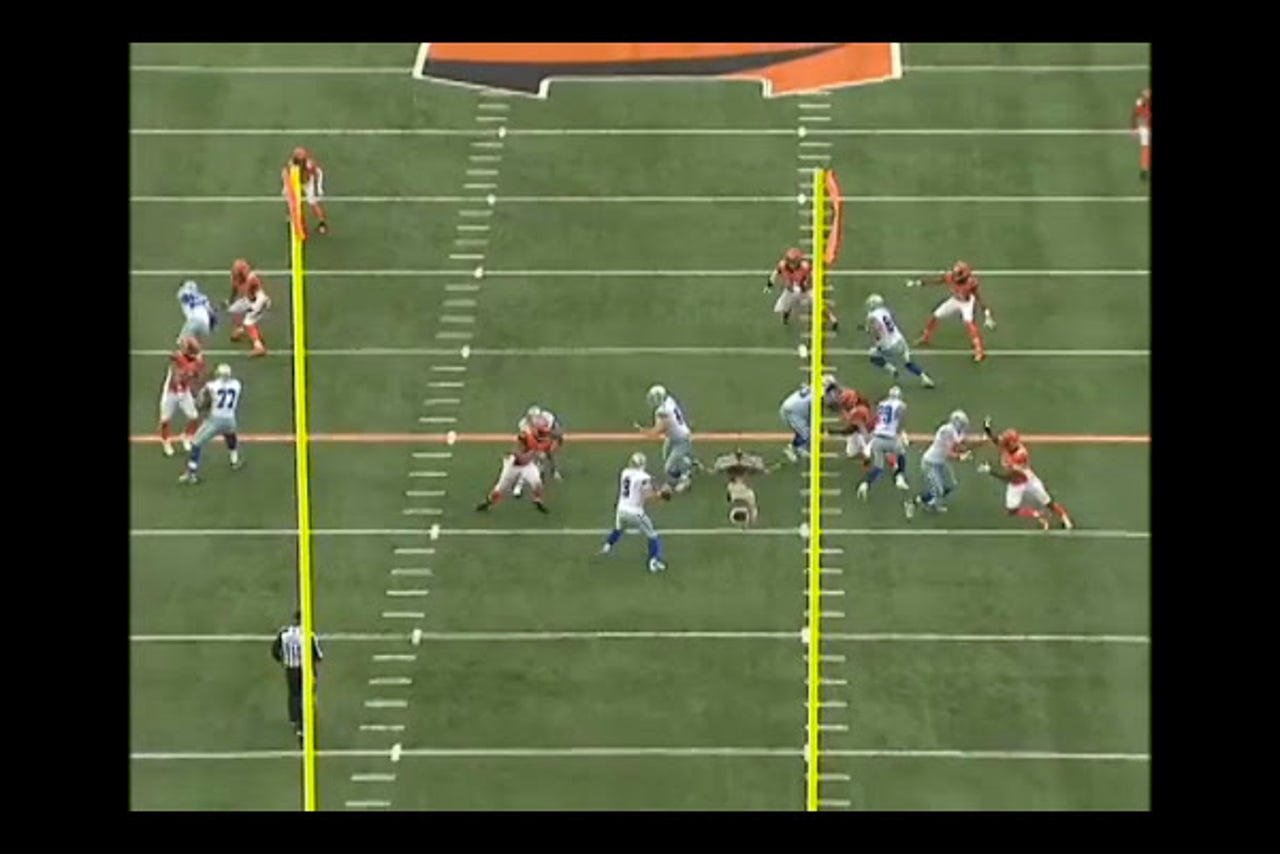 Good luck making your reads, Tony.  He quickly throws the ball away and take another hit.

This now, is the very next play.  Atkins moves over to on top of Bernadeau (he is just going back and forth, making each guard hope it is not his turn).

This is the Run/Pass FB lead that we see so often from the Cowboys where Tony can throw it if he likes the match-ups, or run against a 7-man box.

But, he wasn't expecting his right guard to get beat so badly.



Again, at the point of the handoff, here is Atkins right on top of Murray.  Bernadeau didn't even slow him down a bit.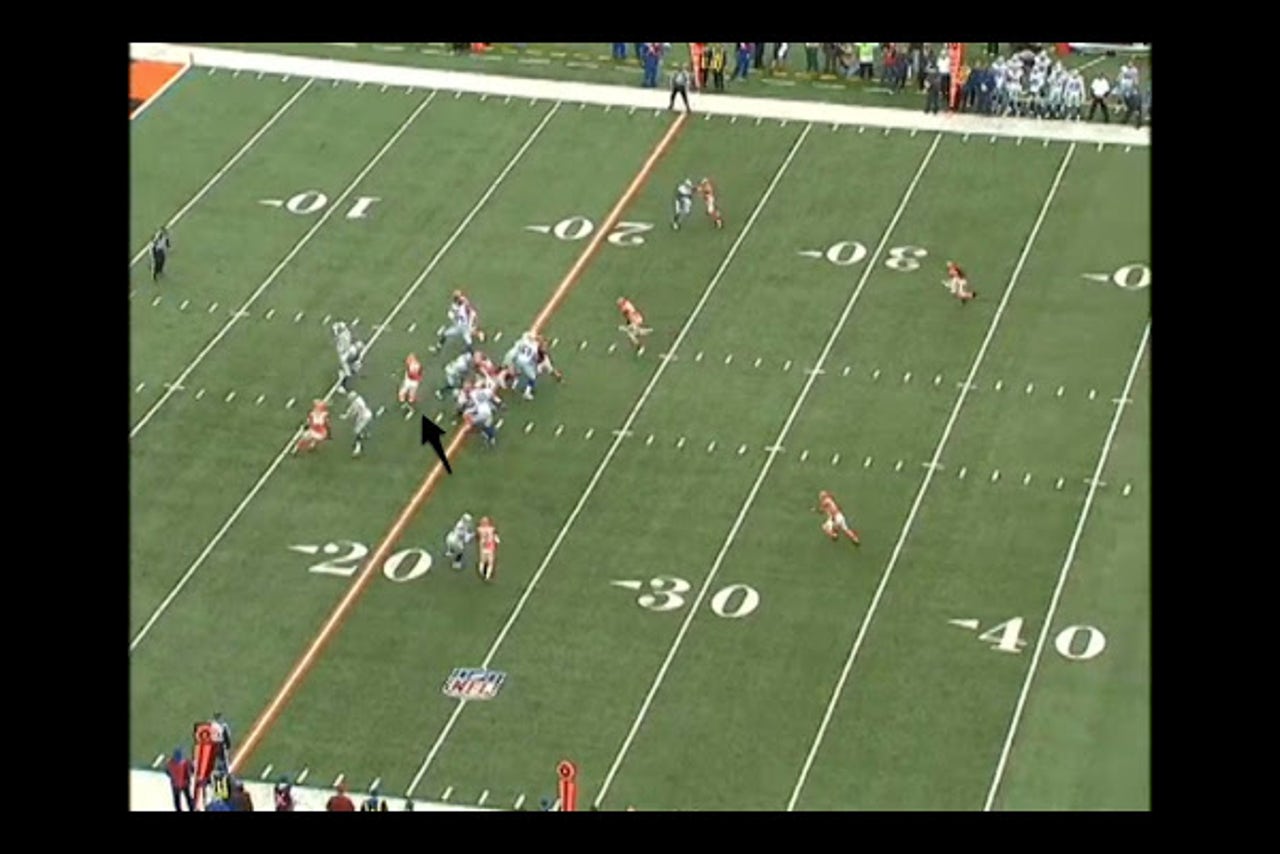 In the first 2 snaps of the 2nd half, each guard was beaten so badly by Geno Atkins that it almost appears they aren't even making an effort.  The fact that they certainly are giving it all they have speaks to just how good this guy really is.

The next drive was where chaos really started ensuing.  You might recall the backhanded pass to Vickers that made everyone hold their breath as Romo was under siege again.  Mike Zimmer started enjoying the fact that Atkins was causing so much trouble, and he dialed up some blitzes to go with it.

Again, it isn't all about 1 guy making every plays.  When you have a guy that attracts this much attention on the inside, now you can stunt him or use him as a decoy to open up things for his mates.  And here, on 3rd and 10, he runs Atkins right at a double team, sends his defensive end inside as well, and that frees up his safety for a sack as DeMarco Murray has 2 blitzers that he must block at the same time.



As the evidence below shows, Murray got the LB to the ground, but Romo was sacked by the untouched safety as all 5 of his OL is dealing with Atkins and the other 2 DL players on the inside.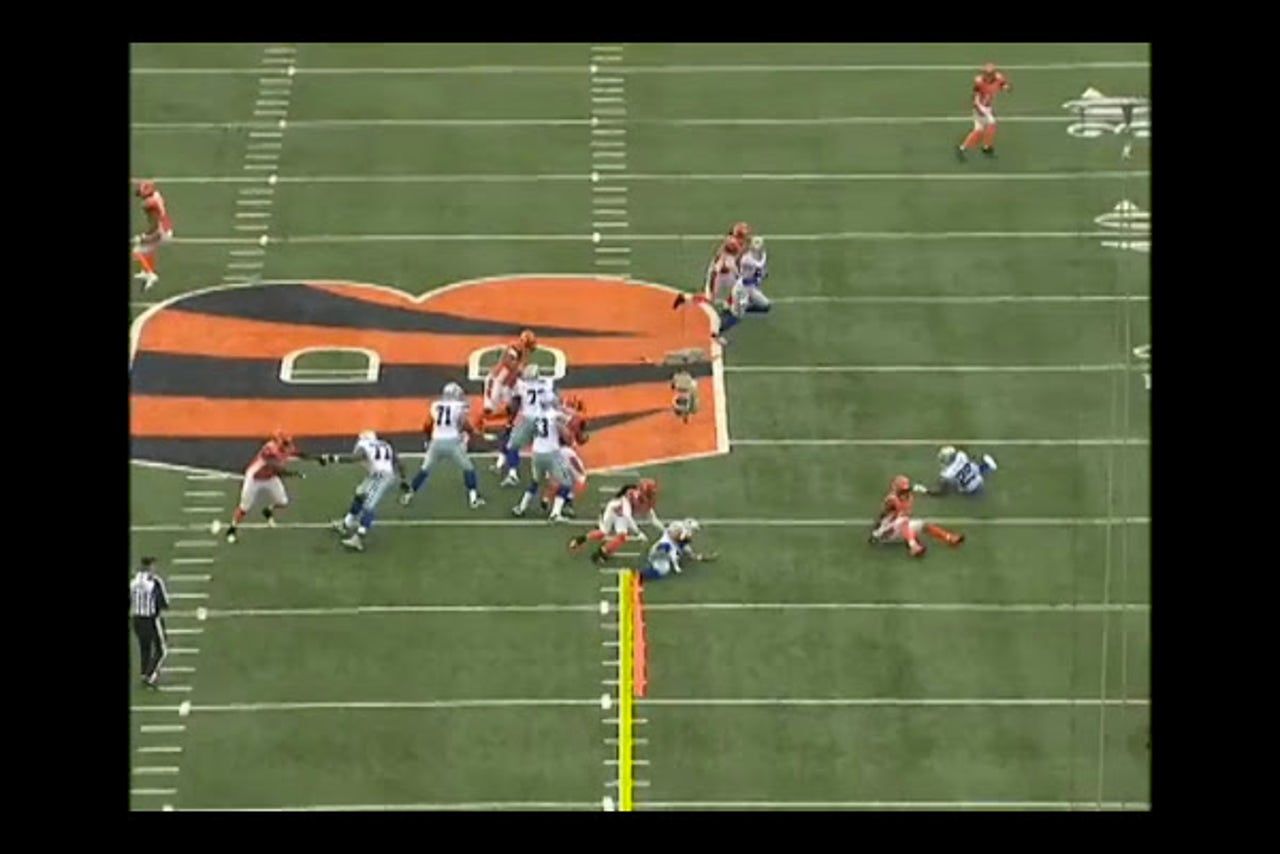 These are surely the things that happen when you cannot single-team block for even a moment on a force on the inside.

4th Quarter: 

Amazingly, the Cowboys are still in this game, but barely.

Here is the 2nd snap of the 4th Quarter, where Atkins is left single-teamed with Livings again, and Nate gets the humiliating double of giving up a sack and having a penalty flag sitting at your feet for a holding call.  This was against "13" personnel, where you should surely have enough in to block, unless there is a guy that your men would vote "unblock-able".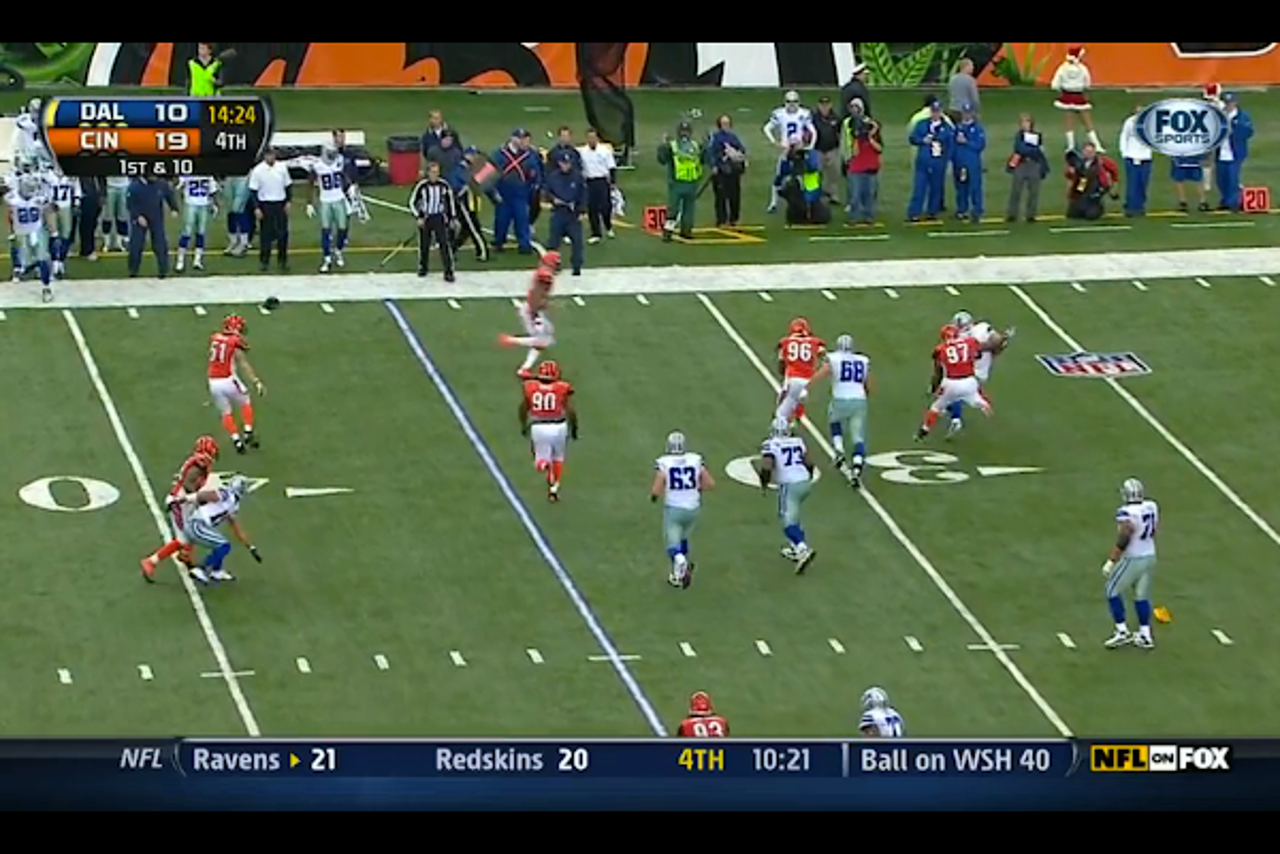 Did Romo hold the ball too long?  Surely, but, he is trying to give his guys a chance to get open.  He can either save himself or try to win the game.  And you have to like having a QB who will take a beating for a chance at the win.

Here is the very next drive.  One in which a few plays after this, Romo hits Dez Bryant on that brilliant dig-route for a touchdown.

But, Atkins beats Doug Free and looks like he was held again before getting to Romo for another near-sack.  Romo gets the ball out as #97 is on his legs again.  This was a very close call on the throw as Nate Clements should have picked this off.  One pretty good reason why you should not try throws when defensive tackles are hanging on your legs.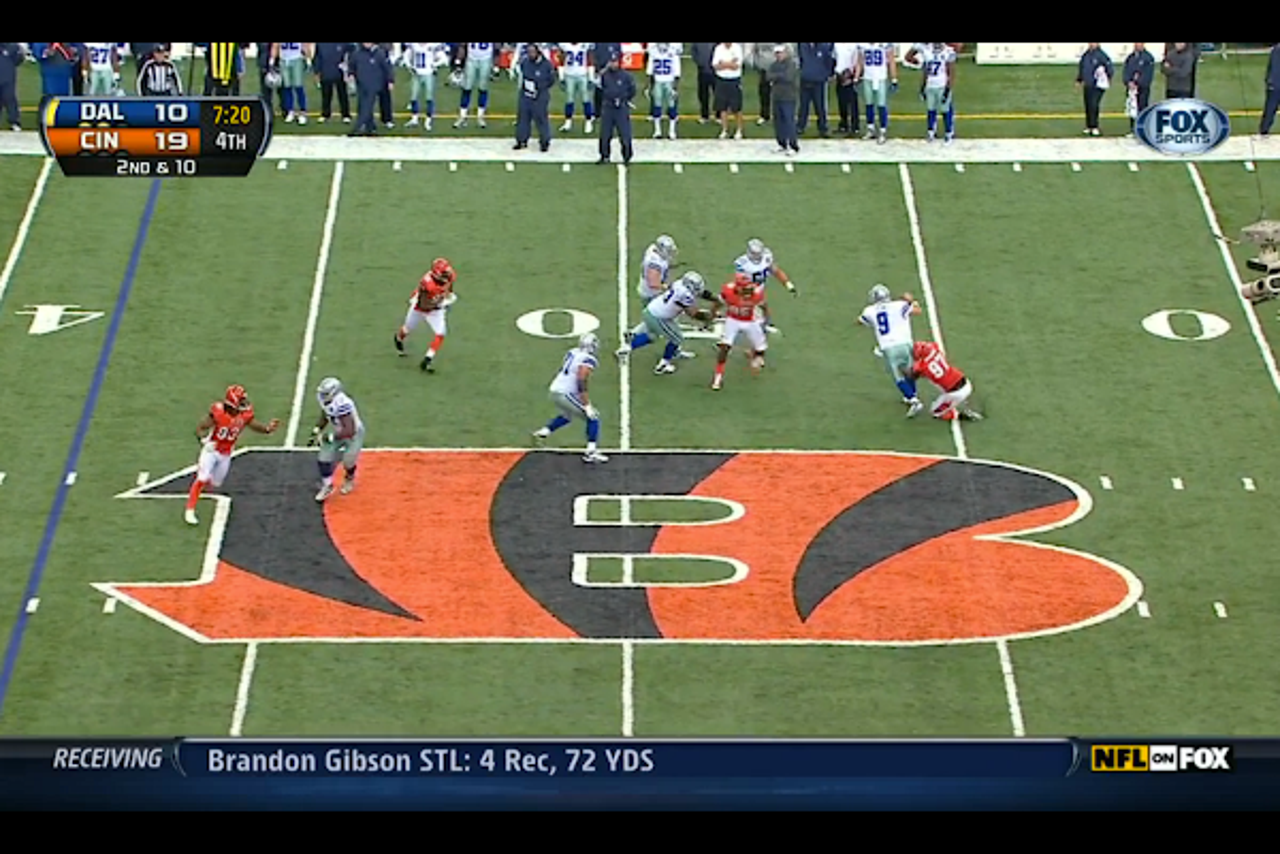 I imagine everyone is detecting the trend here.

On the final drive, thankfully, the Cowboys did not need to pass protect much as they ground out a series of short plays, including hard running from DeMarco Murray to get into field goal range.

But, there would be one more obstacle to overcome as with about 2:11 left, the Cowboys try to pull Nate Livings right again, only this time he is met with a sprinting middle linebacker, Rey Maualuga.  If you see the play at full speed, the collision is amazing and Livings has his mouthpiece fly several feet into the air.

This means that with the ball at the edge of field goal range, they are now having to insert Derrick Dockery at Left Guard.  Cincinnati cannot believe this good fortune and immediately put Atkins right over the top of him on a 3rd and 1.

The 3 plays with Dockery in there are certainly chaotic, as a holding penalty could cost them the game. He does clearly hold at 1:21 to go (below), but the call is not made, and they convert the 3rd Down and get out of dodge with the win.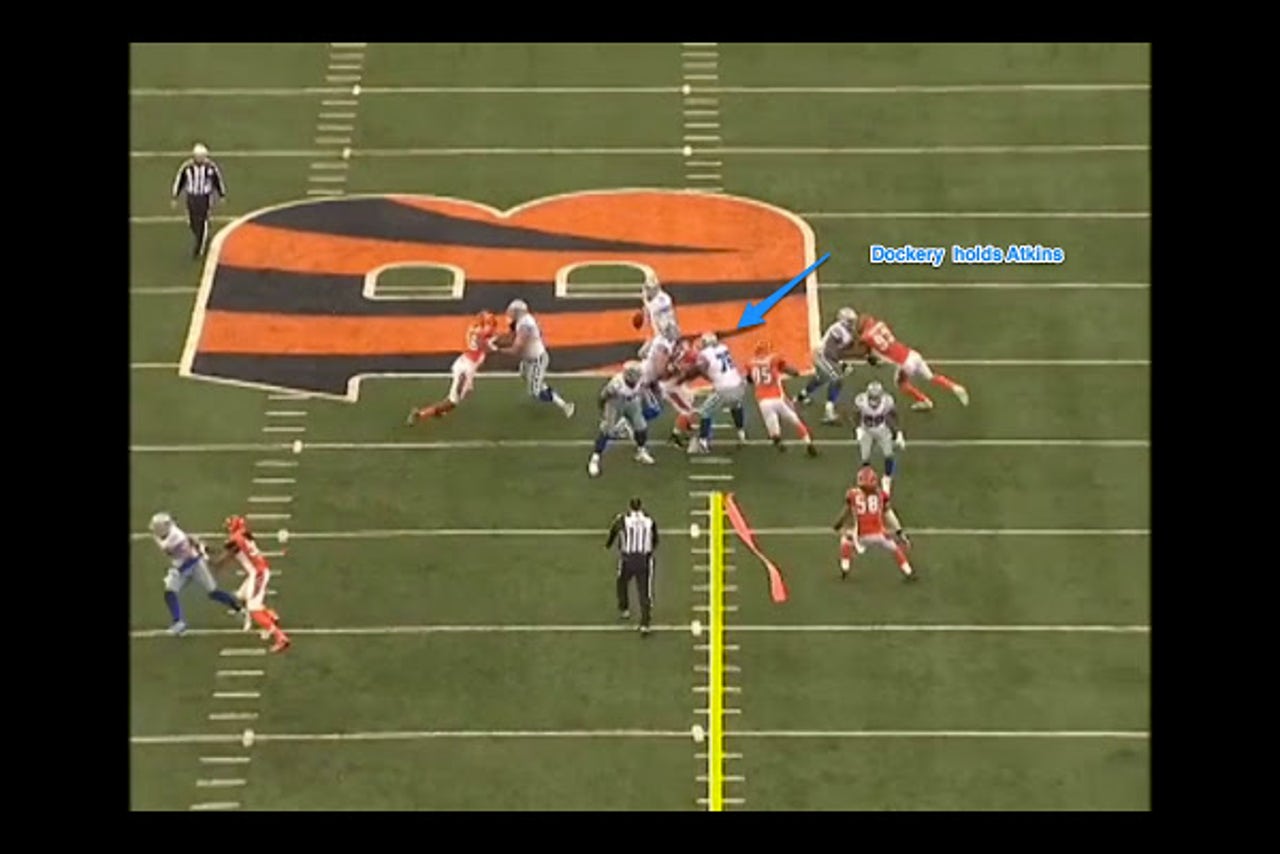 In the end, the Cowboys survived this all.

It is fun to study a demonstration of ability like this and to still look at it from a winning perspective, but if we have learned anything this year, it is that the offensive line is up to its ears in trouble against most defensive lines, but when that DL has extra elite talent, then the mismatch is such that Romo and Murray are asked to do magic tricks to simply stay competitive.

There is little doubt where the priorities should lie for off-season improvements.

And, oh, to trade Owusu-Ansah for Atkins.  That guy won't be a well-kept secret for much longer.
---