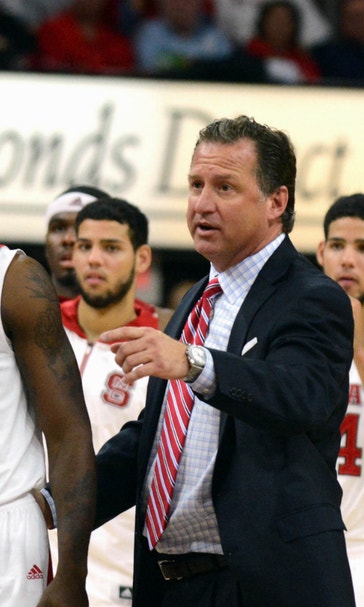 Court Vision: NC State passes unexpected late-game test
BY foxsports • November 23, 2014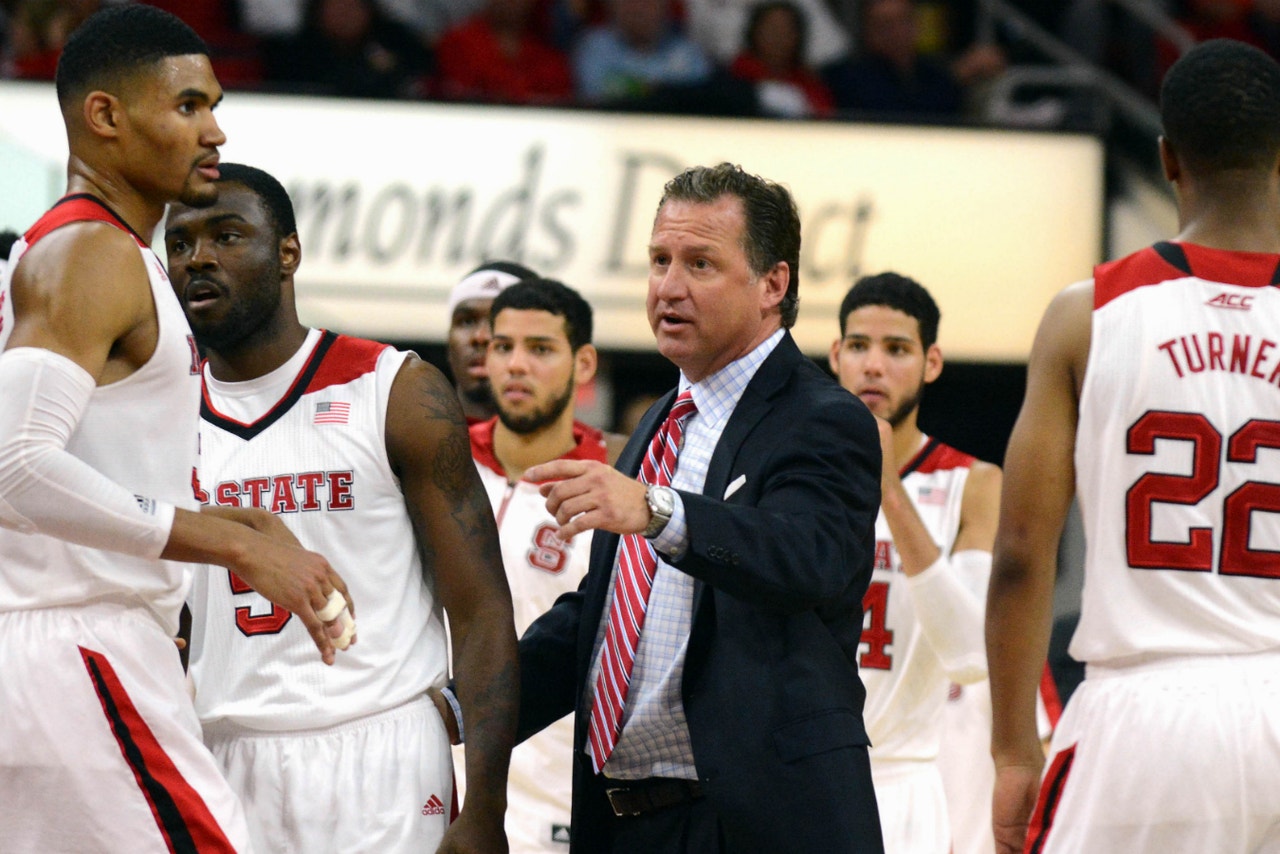 RALEIGH, N.C. -- NC State (4-0) didn't make it easy on itself, but ultimately the Wolfpack edged out visiting South Florida (3-1) by a final of 68-65 on Sunday.
The ACC has taken a number of not-so-great losses over the past few days, and while this wouldn't have been the worst of that bunch, it wouldn't have been a quality loss, either. The better part of NC State's non-conference schedule, one that head coach Mark Gottfried expertly builds most years to give the Wolfpack the best possible RPI, hasn't even begun yet, so while the Wolfpack escaped this test unscathed, it's a bit concerning that there was a test to begin with.
1. It was more suspenseful than it needed to be late in the game.
NC State had trouble with late-game situations last season, including in the NCAA Tournament when they let a 14-point lead with five minutes remaining slip away. And most of the tourney lead that it surrendered was due to poorly-timed turnovers and bad free-throw shooting late in the game.
Those demons revisited the Wolfpack again on Sunday.
"You're going to have games when the other team comes back and it's going to get close," NC State point guard Cat Barber said. "We just had poise and we just stayed together and came out with the win."
Eventually.
NC State actually led the visiting Bulls by 11 points with 2:57 to go, and a final score seemed like a mere formality. But USF went on a 9-1 run to cut it to a one-possession game with 1:07 remaining, and just like that, it was a game again.
Yes, South Florida made some tough shots during that stretch, but NC State turned it over twice, missed two shots and went 3 of 8 from the line in the final 1:15. Those empty -- or half-empty -- possessions helped USF cut a six-point lead with 1:15 to go into three points in the matter of eight seconds.
Gottfried, for one, was perplexed. He said that since practice began, Barber alone has shot over 90 percent on somewhere between 600-700 attempts that the staff charts. He went 1 for 4 in the final minute-plus.
"I need to keep doing some creative things in practice to try to build some pressure situations. We need to keep working on them. But sometimes, if you just make foul shots, the game just ... ends, easy. It just ends. It just ends," Gottfried said, shaking his head. "Then you go up six or seven, then you go up eight, then they take a desperation shot and they foul you again and you make foul shots. But when you keep missing foul shots, it keeps giving the other team life. They keep hanging around the next thing you know, you're down to a possession away from overtime.
"It's not just about foul shooting, but that certainly changes things if you go (three) for your last eight in a close game."
That was as simply as Ralston Turner saw things, too.
"Regardless of the situation, I think last year we learned from those situations. One thing you can't do is panic. It would've been easy to think about last year, but I don't think that was the case. I think we just need to do a better job of finishing," Turner said. "Just free-throw shooting and making it a little tougher for them to score. A few times there, they got a quick drive and they were able to score without taking a lot of time off the clock. So if I had to point something out, I would point that out."
So yes, it was a valuable experience that NC State can grow and learn from. But no, it's not necessarily one Gottfried would recreate on purpose.
"It is good when you do get tested," Gottfried said. "Now, we're not trying to design close games so that we have to learn all that, but there is a lot of things that you can learn and take away."
2. NC State's front line continues to be both an asset and a concern.
NC State's bigs still have a ways to go, obviously, from the perspective of both skill and experience. But it's hard to do much if you can't get them the ball, and facing yet another zone, NC State struggled to get their big men touches.
At the half, NC State had just six points in the paint and its four big men -- BeeJay Anya, Kyle Washington, Lennard Freeman and Abdul-Malik Abu -- had combined for five points on 2 of 10 shooting.
"We've got to do a better job of attacking the zone and getting the ball inside," Gottfried said.
"(The ball) has to go (inside against a zone). We know that. The main thing for us is we just have to get it inside and once we get it inside, we just have to find open people," Turner said.
In the second half, though, the four combined for 14 points on 6 of 12 shooting and NC State had 10 points in the paint, still not a ton more, but more.
There's no perfect answer or solution for which one to play at which time. Washington is more of a scorer, but couldn't guard USF's big Jaleel Cousins. Freeman could, but his offense suffered some as a result. Anya did a good job on him, and really Anya was the only one able to combine offense and defense effectively in this game. It was still tough for NC State to get its bigs true post touches within the flow of the offense with a legit chance to score against that zone.
Still, Anya's blocked shots are making him a crowd favorite. His wingspan is longer than any measured at the NBA combine, and now that he's dropped weight, he can play more minutes (he got his first career start and saw a career-high 29 minutes in this one).
He blocked a shot with 10:42 to go in the first half, and his teammates corralled it and started a fastbreak. When Trevor Lacey turned it over again, Anya was still on the other end of the court and set up and waiting for Bo Zeigler. He swatted his shot away emphatically, bringing the crowd to its feet.
"It was huge. It got the fans into it. It gave us a lot of momentum. BeeJay's done a great job blocking shots and protecting the rim lately. That's what we need out of him," Turner said.
Washington also added some points late in the game, even when Gottfried had to call a timeout to calm the sophomore down when it looked like he was getting ready to take a shot in spite of being triple-teamed. When USF cut it to four, Washington rattled off eight of his points in about a three-minute stretch to bring the Wolfpack's lead back out to 10 with 8:12 to go.
"He gave us a great boost. Kyle was ready when he came in," Turner said. "We had struggled a little bit to score in that zone, especially from the inside. Kyle gave us some versatility in there."
3. NC State's transfers are providing leadership and steadiness on the court.
Lacey, a junior transfer from Alabama, has been the rock of the Wolfpack on and off the court this season so far (he sat out last year due to transfer rules, but he practiced with the team). Turner -- a transfer in his second year of playing with the team after moving over from LSU -- has been the guy the team goes to when it needs a basket.
Lacey finished with a hard-earned 21 points on 6 of 14 shooting, adding seven rebounds, four assists and just two turnovers in 37 minutes. Turner is NC State's only proven 3-point shooter, and other teams know that, too. He often gets good looks in a zone, and he did in the first half, but he wasn't knocking them down: he was 1 for 6 in the first half for two points (0 of 5 from 3-point range) and had one rebound, two fouls and one turnover in 18 minutes and that's it. No other stats.
But in the second half, he had a 3-pointer that turned NC State's seven-point lead into 10 (after it had been a five-point game much of the second half) and another bucket with 5:38 to go that gave NC State an eight-point cushion. It ended up being the Wolfpack's second-to-last field goal, but in any case, they needed both.
Turner, though, said he wasn't really thinking about the moment when he was taking those shots.
"It kind of happens in the flow, but I can't lie to you -- I don't fear the moment," Turner said. "I've never been shy of the moment. But it's just something that we;re out there playing, trying to make plays. That's all it is."
Barber said that he and Lacey, both penetrating guards, love to try to get into the teeth of a zone and find Turner. His form is a bit herky-jerky, but teams don't often leave him wide-open. When they do, he often makes them pay.
"Ralston, he's a dead-eye shooter. Me and Trevor, we get into the lane, kick and find Ralston. Ralston does a good job of following -- if we're driving, he's a good slasher and fills behind us," Barber said. "So once we do that, we know Ralston will come behind us and we know we can get it to him. If he's wide open, it's 95% that it's going to go in."
77.3: NC State struggled to make foul shots during all portions of the game last year, not just the end. And so it should probably be at least somewhat encouraging that the Wolfpack went 17 of 22 from the charity stripe (77.3 percent) before that end-of-game sequence.
34.5: Players not named BeeJay Anya shot a combined 19 of 55 from the field (34.5 percent), and just 15 of 38 from inside the arc (39.5 percent). Anya finished 3-of-4 from the floor. No one else on the team shot over 50 percent individually, either.
"I don't think they read the scouting report. BeeJay (Anya) blocks shots. He tried him, and BeeJay's just like 'Nah, what's wrong with you?' If you're going to try him, at least know about him before you try him." -- Cat Barber
"'Curious' is a nice word. Bad losses for our league. I'm not knocking anybody in our league. We're all susceptible and we're all vulnerable. It can happen. It could've happened tonight. But as a league, we all have to do well. We have to hold up our end of the bargain. NC State does. We've got good teams that we're playing, just like this week with Richmond and Boise, two good basketball teams. So it happens. Hopefully it won't happen much. I still think our league is going to be a great basketball league, but we've taken it on the chin a couple of times this week and that's not good for our league." -- Mark Gottfried on some of the ACC's early-season non-conference losses
---