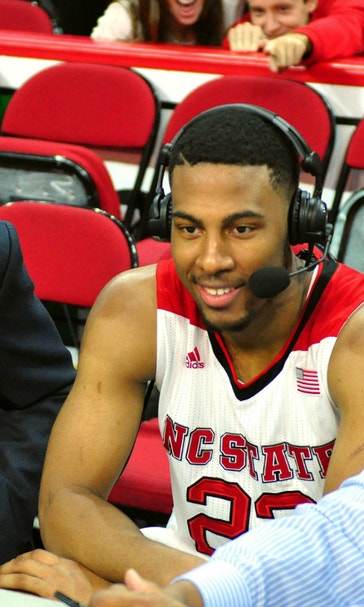 Court Vision: NC State bounces back with win over Tennessee
BY foxsports • December 17, 2014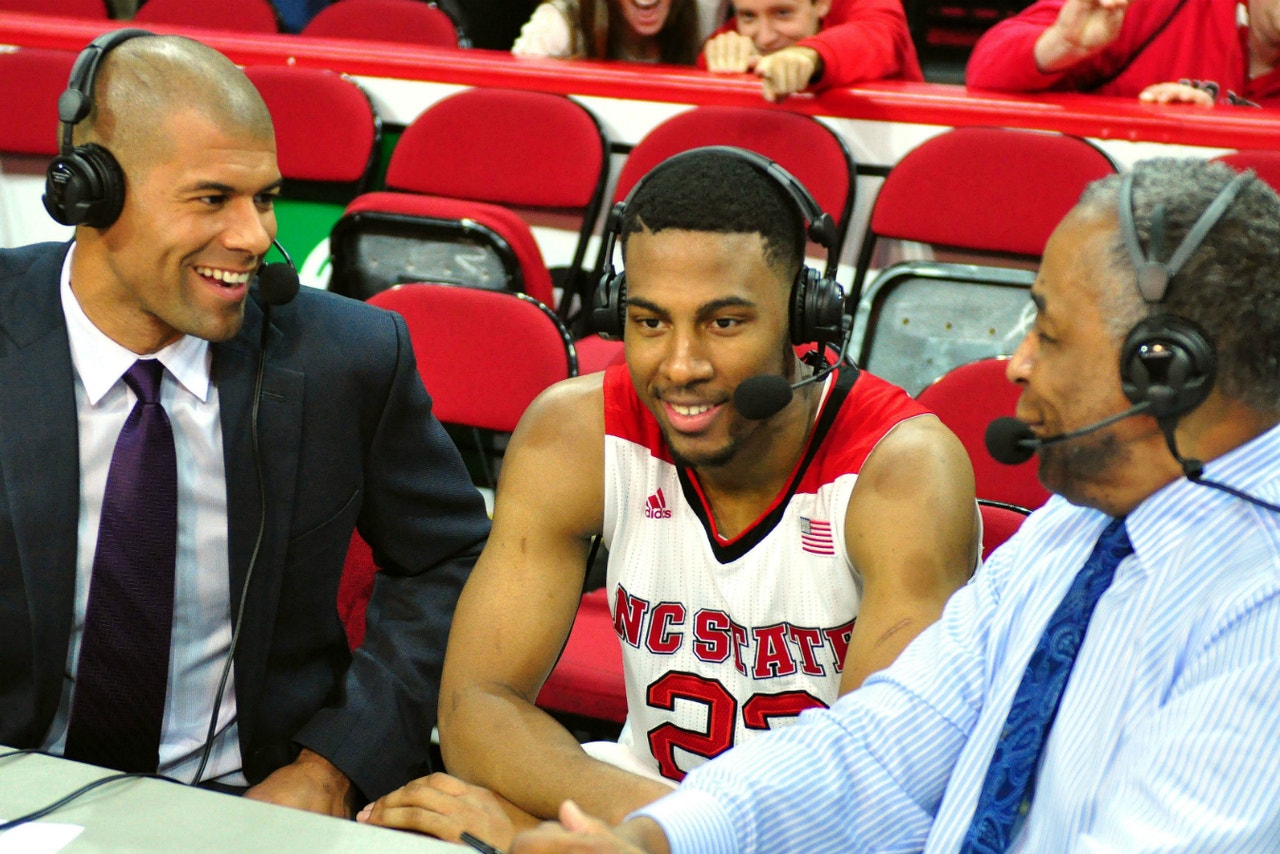 RALEIGH, N.C. -- NC State (9-2) got Part 1 of its brutal four-game stretch against tough non-conference opponents out of the way by finishing off Tennessee (4-4) at home, 83-72. As with most things with the Wolfpack, while it wasn't always easy, their guards came through when they needed them most.
Three-Point Take
1. NC State hasn't always been able to shake off opponents late in games. Tonight was no different.
The Wofford loss on Sunday was somewhat of an example of this, as the Wolfpack led by nine in the second half and just couldn't build on that, then ultimately lost a close one. NC State head coach Mark Gottfried has tried everything, seemingly, from pressure-packed free throws in practice to even throwing in a four-guard lineup to combat Tennessee's pressure.
Nothing has worked reliably, and it didn't again as NC State couldn't quite shake the Vols. At the 12-minute mark, NC State went up by 17 points, and it looked like they'd be in control from them on out. But they went another four minutes without hitting a field goal and a 13-1 Tennessee run cut the lead to five points with 8:28 to go. Tennessee didn't miss a shot or have a turnover in that span, and scored 7 points in a little over a minute.
NC State pulled ahead again, Tennessee got back to within single digits. Rinse. Repeat.
With 1:51 to go, NC State went up 10 on a Trevor Lacey three-pointer. NC State went 3-of-6 on free throws in the next 45 seconds and as a result, Tennessee got the ball with 1:06 to go down seven, still within striking distance.
Tennessee missed, but that's the other part of it -- NC State put Tennessee on the foul line five times in the final 5:18 and three times in the final 1:18.
"How about fouling a three-point shooter late in the game? Not very smart. ... There's so many little things like that that we have to work on and get better at," Gottfried said of the late-game fouls and miscues. "I liked our foul shooting tonight, other than that little stretch there, we made foul shots, which was important for our team. There's always good and bad. That's definitely something that we've got to get better at."
2. There's still a bit of a lead guard question for the Wolfpack, and it's one no one thought they'd have.
It's not a bad question -- not entirely, anyway. If sophomore point guard Cat Barber isn't playing all that well, it's a great luxury to be able to put leading scorer Trevor Lacey on the ball and not miss much of a beat.
Lacey was always going to be a backup point guard and would handle the ball plenty when Barber was out. But in this game, he handled the ball in the first half, when Barber was ineffective.
Barber's been a little up and down all year, and in the first half, he played 10 minutes and was 0-of-1 shooting (but with three assists and no turnovers), and was having some trouble against that zone.
Lacey played 19 first-half minutes (39 for the game) and had to juggle being the Wolfpack's primary scorer with being its primary ballhandler, too (he had three assists and two turnovers). Tennessee's zone shaded his way whenever he tried to get into the paint, and the token zone pressure in the halfcourt or 3/4 court was giving NC State some issues until later in the half, when they started breaking it with ease for transition dunks.
Barber played much better in the second half, though, finishing with seven points (including making 5-of-5 free throws in a shaky half for that) and five assists to one turnover in 15 minutes. I thought Cat's second-half play was really good -- eight assists, one turnover. An I thought Desmond was really important tonight. Desmond had some good, quality minutes that helped our team defensively and offensively. -MG
And Barber was a key cog at the end, in a four-guard lineup with Lacey, Ralston Turner, Desmond Lee and Abdul-Malik Abu. (Lee often rotated with freshman guard Caleb Martin, but Lee saw most of the time there, and Gottfried praised his play on both ends afterwards.)
"We talked a lot about handling their pressure. They like to make the game kind of helter-skelter," Gottfried said. "I thought we handled the pressure without turning the ball over a lot."
Abu was surprised pleasantly to be the man in the middle for the four-guard lineup, but it didn't take long for the freshmen to get the hang of it.
"That's something Gottfried made a great adjustment on, a terrific adjustment to go small. They weren't really big, they were just agile and were disrupting us a lot. So we made the adjustment to go small and left me in there and I was fortunate," Abu said. "It changed the motion a little bit with the four-guard lineup, but I just tried to find my niche and tried to be productive."
He finished eight points, and made some big plays late. But it was that four-guard lineup handling the ball with care and defending as well as they could manage while hitting foul shots that made the difference. And if Barber isn't playing as well, or Lee is struggling with turnovers, or they're facing a team that wants to go small, the Wolfpack can counter that.
3. Ralston Turner continues to be a valuable weapon for NC State.
Against Tennessee's 1-3-1 zone, shooters get plenty of looks. And teams have been zoning NC State all year in the hopes that the Wolfpack will continue to do what they've done for most of the season -- not hit three-pointers (well, particularly anyone not named Ralston Turner).
This was not the best idea, as the redshirt senior transfer drained 8-of-17 three-pointers (he was 9-of-18 overall) and added 7-of-8 foul shots for a career-high 33 points.
"Obviously Ralston Turner was just spectacular tonight. I'm proud of Ralston," Gottfried said, adding that Turner had hit that mark less than a day before he will walk in NC State's winter commencement.
Sometimes, Turner has hit a few early and then gone cold. Similarly for Lacey, although it's more Turner's specialty. But in the few weeks or so alone, Turner has had multiple stretches where he's heated up from deep, and it's helped give NC State a necessary cushion to keep a safe lead.
Not to mention, of course, that it turned Turner from a catch-and-shoot guy more often than not, hitting his three-pointers in the flow of the offense, into a shot-hunter.
At one point, he attempted a three from very deep, and it was almost enough to make his head coach hesitate. Almost.
"I thought it was too far, but he was in that groove. And he was hunting. He was hunting his shot," Gottfried said. "So when you've got a good shooter that kind of gets in that zone, even if he missed it, it was probably a fairly decent shot for him because he was in such a great zone mentally."
Stats That Matter
-NC State's frontcourt combined to score 16 points on 5-of-10 shooting (6-of-9 from the foul line) with 11 rebounds, five blocks and two turnovers in somewhat limited minutes due to the smaller lineup. Against Wofford, that group combined to shoot 4-of-13 from the floor, 3-of-4 from the foul line and score 11 points, adding 22 rebounds (just two offensive), one assist, one steal, six blocks and nine turnovers.
-9 and 5. Tennessee came into the game as one of the best offensive rebounding teams in the country. The Volunteers pulled down just nine of their own misses (or just 24.3%) and turned them into just five second-chance points.
Straight Talk
"It was twice, by the way. It wasn't once. It was twice. Let's get it right. I challenge Ralston and Trevor sometimes but really Ralston, I just give him this one sometimes, 'it's eight. That's the number. You've got to beat that one night. You've got to beat eight.' In the locker room right afterwards, he looked right at me and he said 'Eight, baby.'" -Mark Gottfried, on his own personal record of eight three-pointers in a game he set as a collegiate player as Alabama
"I cramped up a little bit. I went in, got hydrated, somebody came running for me. (When) I left, we were up 14. I didn't know what the score was. I was just trying to be able to walk and somebody comes runs and gets me 'Malik where are you?' and I said 'what happened?' and he said 'We're up 5' and I was like 'How?' I just drank two bottles of Powerade and got stretched. How did that happen? it was fortunate to get my name called again and go out there." -Abdul-Malik Abu on getting the call to go back in with that four-guard lineup
---