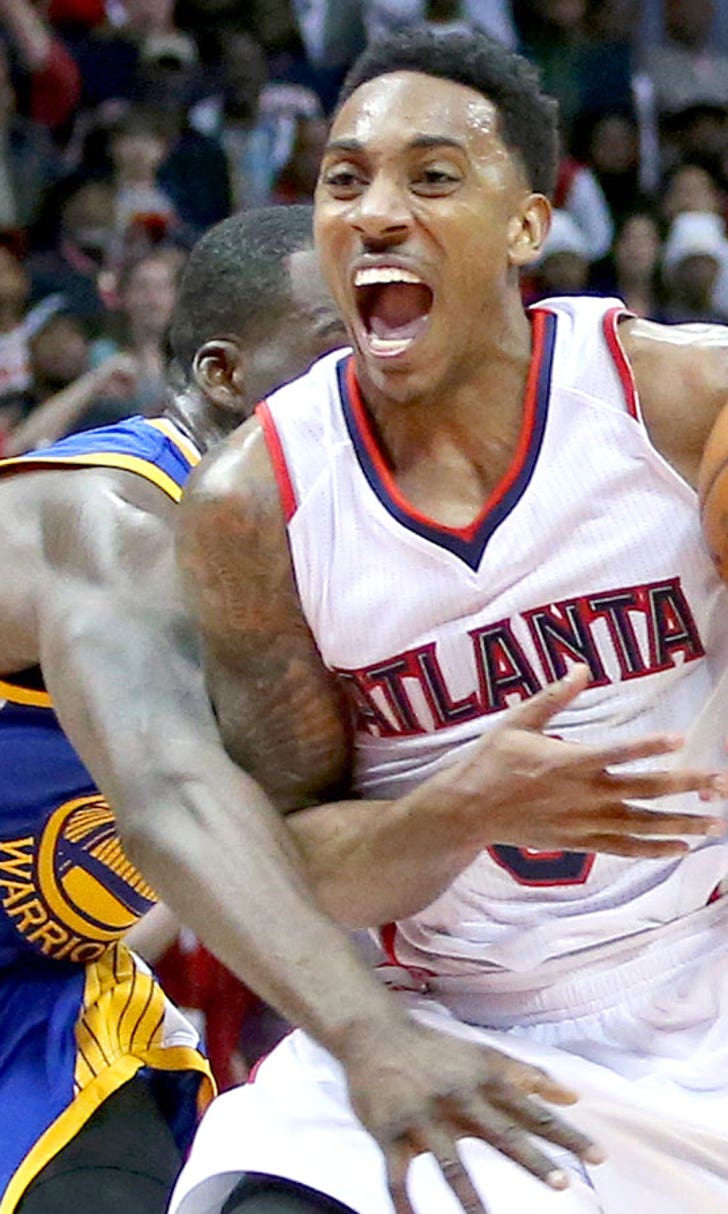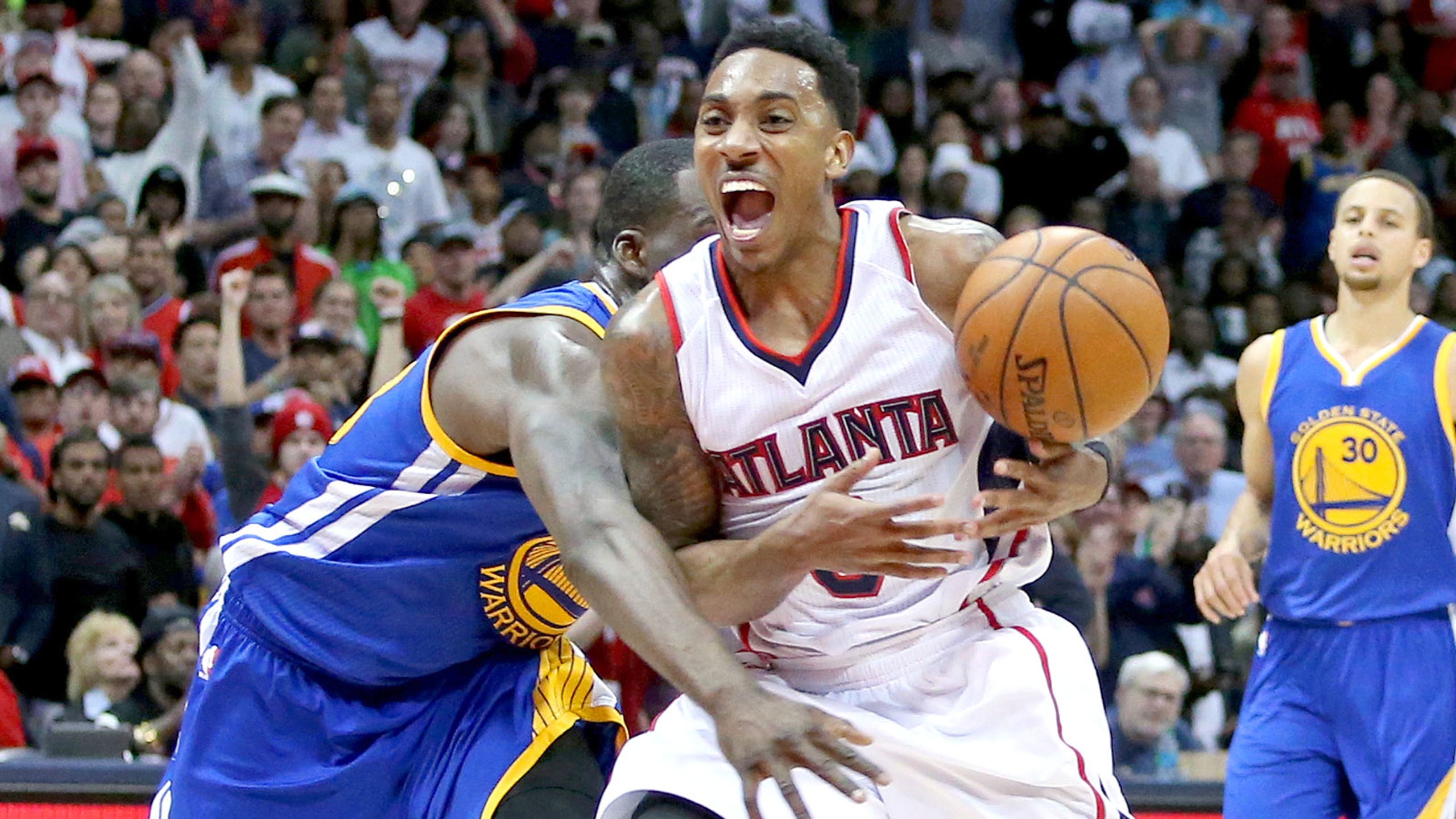 Court Vision: Hawks down Warriors in clash of NBA's best teams
BY foxsports • February 7, 2015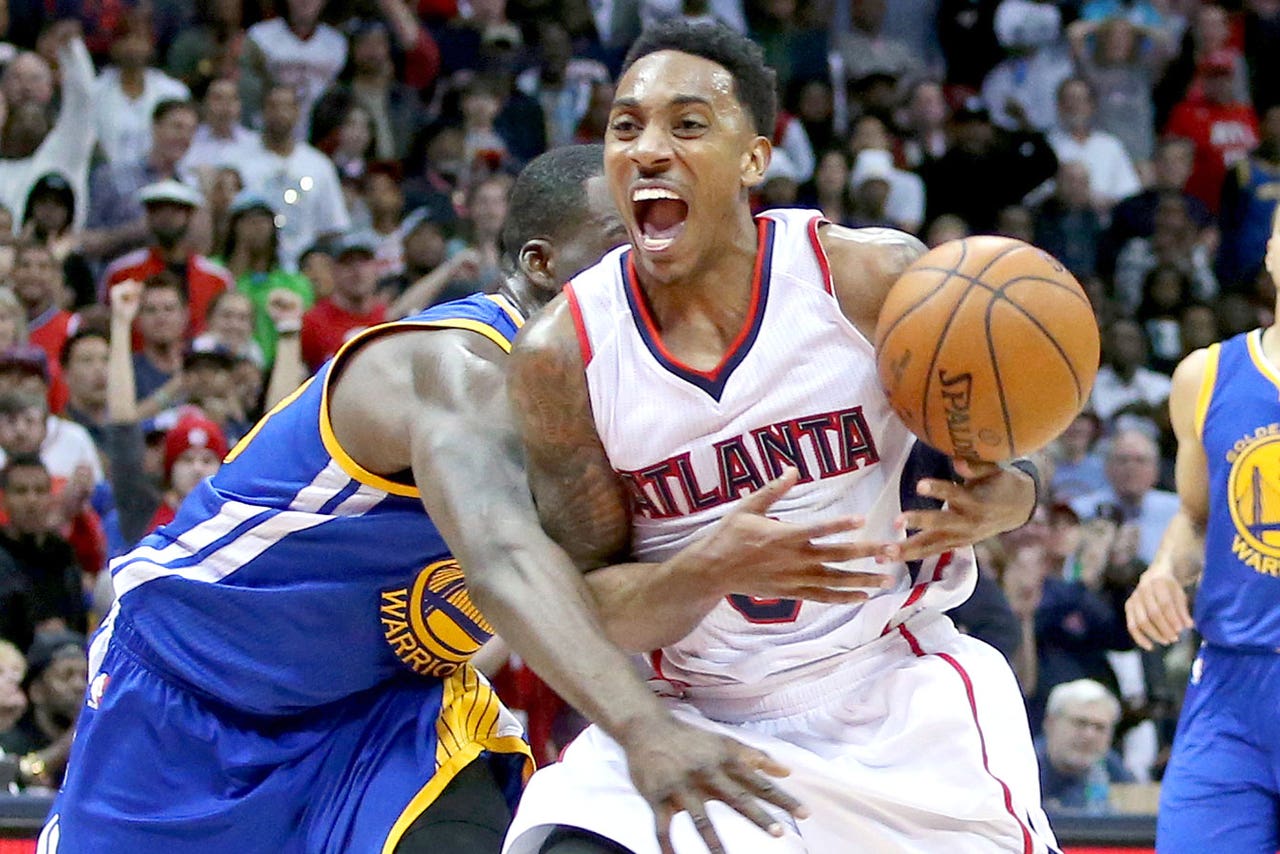 It was a predictable and oh-so-tired rant from an East Coast know-it-all.
On Friday morning, just hours before the NBA's two best teams locked horns before a sellout crowd at Philips Arena, a satellite-radio host tried to dampen the enthusiasm for that night's East-West clash, declaring the NBA would incur record-low TV ratings if the Hawks and Warriors met in The Finals -- regardless of playoff seeding.
The host's out-of-whack contention: America wouldn't be interested in a final series that occurred without LeBron James, Kevin Durant, Dwight Howard and Dwyane Wade ... or didn't involve a team from a major market (Chicago, New York City, Los Angeles, etc.).
Which brings us to this: What rational basketball fan -- or human being, for that matter -- wouldn't enjoy a Finals clash of the league's most prolific offenses, knowing every game from this best-of-7 series might yield a minimum of 230 combined points?
Especially if the Hawks (42-9) and Warriors (39-9) entered the postseason with 60- plus wins apiece? (Definitely doable.)
And even if the TV numbers were sluggish for Games 1 and 2, the bounce-back effect for Games 3-5 would be quite substantial -- particularly with high-octane teams that routinely flirt with the century mark after three quarters.
For the under-30 crowd reading this piece, Friday's game was a welcome return to the early 1980s, when teams unabashedly seized every fast-break opportunity and smoothly buried mid-range jumpers, practically at will.
In fact, there was a point of Friday's third quarter when Atlanta (49-percent shooting) and Golden State (46 percent) seemingly made every shot in a five-minute span.
Yes, on this night, the fans, media and players were caught up in the hype of a riveting shootout -- except for maybe Hawks coach Mike Budenholzer.
When asked about his team's minus-13 shortfall with rebounding (51-38), Budenholzer said Atlanta was (maddeningly) happy to "get out and run-and-gun" in the first two quarters. "But first, we've got to rebound."
And when pressed for a response to the hypothetical notion of the Hawks and Warriors meeting in the June finals, the mild-mannered coach stared blankly at the press corps and quipped, "I don't think one bit about that."
Thankfully, the media could rely on Dennis Schroder for a little extra oomph to this showcase showdown (forgive The Price Is Right reset).
"(Golden State) is one of the (best) teams in the league right now," said Schroder, who collected nine points and seven assists in 18 minutes of action. "And how we played tonight ... it's awesome."
Schroder then added, while sporting a wide grin: "For me, it was like a playoff game. ... It was a great game for us, winning the game. It was something special."
Forget about the starting quintet for a moment. How does a team -- really, any club in the NBA -- produce seven double-digit scorers in a non-blowout situation ... with only one player (guard Jeff Teague) tossing up more than 10 shots?
Atlanta's seven greatest scorers (Teague, Paul Millsap, Kyle Korver, Mike Scott, DeMarre Carroll, Al Horford, Kent Bazemore) collectively drained 34 of 64 shots against Golden State -- a 53-percent clip.
And at least three Hawks shooters (Korver, Scott, Bazemore) buried three or more triples.
"We broke down defensively. (The Hawks) had a lot to do with that because of the way they stretch (defenses) out," said Warriors head coach Steve Kerr. "We know that Kent (Bazemore) and Mike Scott are good three-point shooters ... we probably didn't expect them to combine for (six triples)."
Put it all together, and the Warriors simply couldn't stop the eminently balanced Hawks fron scoring, whenever necessary.
And that's probably why the NBA broke character (and tradition) earlier in the week, identifying Atlanta's starting five (Korver, Horford, Teague, Carroll, Millsap) as the Eastern Conference Player of the Month for January -- the first time in history a group of five from the same club took home the prestigious individual award.
It "takes a lot of focus to beat a team like that," said Budenholzer of the Warriors, while also citing his team's defensive awareness (for the most part) and overall bench strength.
It's impossible to quantify how the great pairs of yesteryear -- like Bob Cousy/K.C. Jones (Celtics -- 1950s), Gail Goodrich/Jerry West (1960s), Walt Frazier/Earl Monroe (Knicks -- 1970s), Isiah Thomas/Joe Dumars (1980s) -- would have fared in today's NBA.
But expert shooting never goes out of style, meaning Curry (26 points, nine assists vs. Atlanta) and Thompson (29 points, five assists) would have easily conformed to any decade from the league's past.
Against the Hawks, the sweet-shooting duo made 19 of 39 field goals and 8 of 17 from beyond the arc -- essentially carrying their club for three quarters. It was a terrific night, defeat aside, but one that also seemed anti-climactic -- citing two recent examples:
a) On Wednesday, Curry lit up the Dallas Mavericks for 51 points, racking up 10 three-pointers and 16 field goals. Of equal relevance, he helped transform a 20-point deficit (early in the second quarter) into a comfortable home victory (14-point spread).
b) On Jan. 23, Thompson rolled the Sacramento Kings for 52 points ... but that's not even the 70-point headline from that outing.
In the second half, Thompson established a new NBA record for points in a quarter (37) -- without a single miss from the field or charity stripe.
"It's so hard to (contain Curry and Thompson) for 48 minutes," says Budenholzer, undoubtedly relieved he won't see the Warriors for another five weeks. "They kind of got away from us" in the second half.
Let's break down this 12-minute stanza in bullet-point form:
**The Hawks and Warriors combined for four 30-plus-point quarters in the second half.
**Only twice did the clubs go longer than 42 seconds without scoring.
**Curry and Thompson accounted for 24 points -- and five triples from at least 24 feet.
**Atlanta scored on all but nine possessions during the third.
**Nine different Hawks scored in the quarter.
---