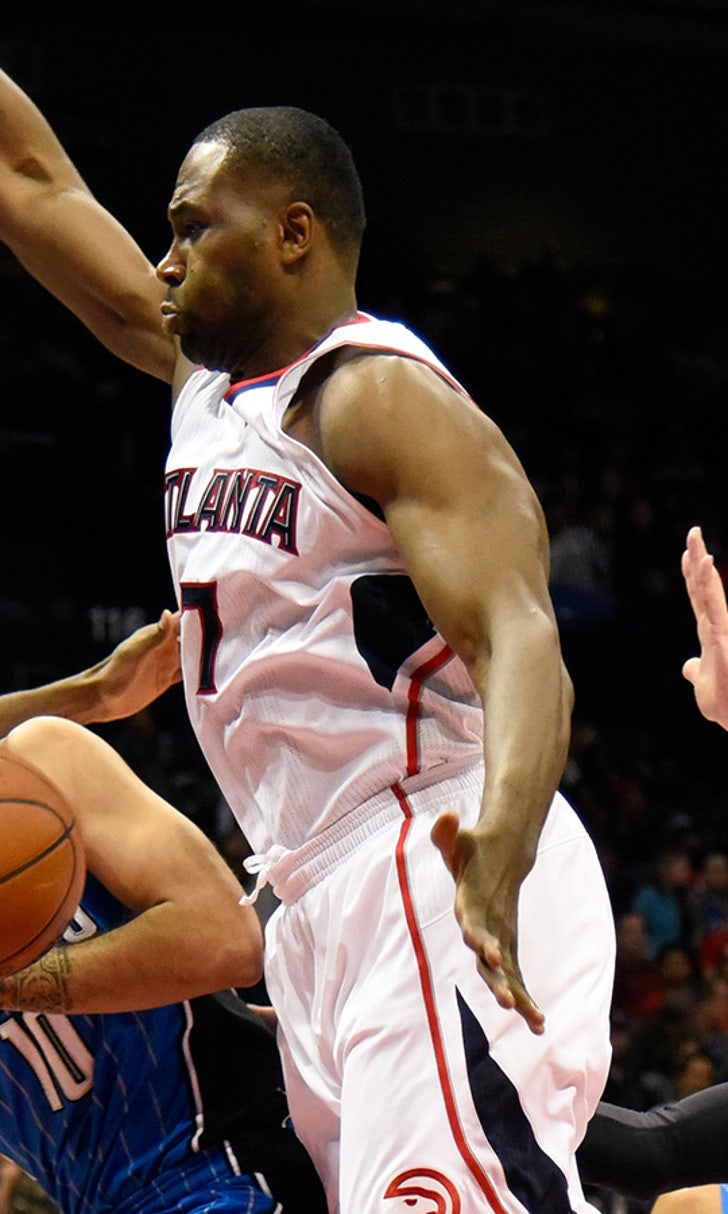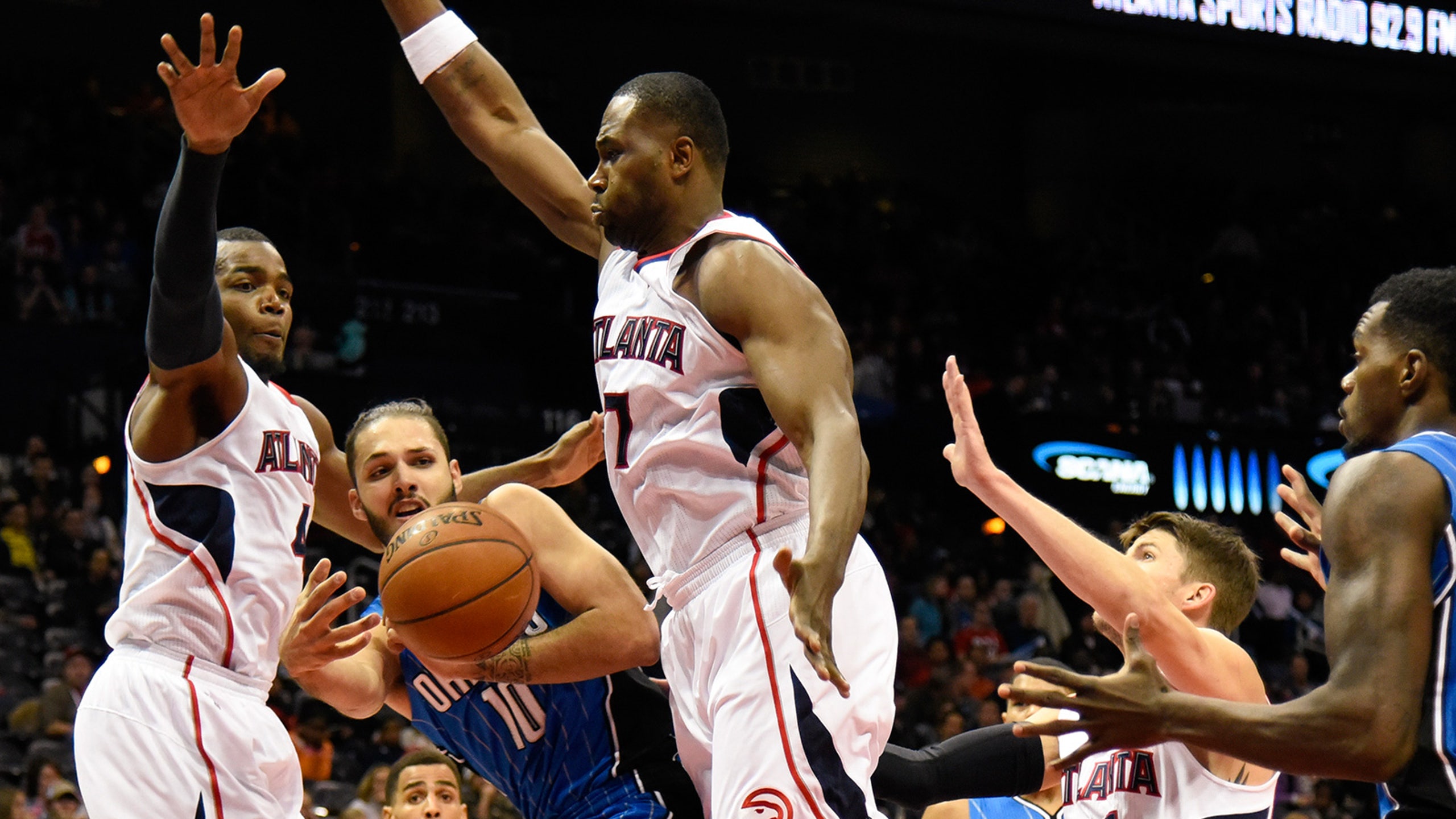 Court Vision: Hawks defense helps extend win streak to 9 games
BY Zach Dillard • December 12, 2014
Going inside the Atlanta Hawks' 87-81 win over the Orlando Magic on Friday night at Philips Arena:
1. Hawks still chasing 17-year-old streak
There were moments during the build-up and broadcast of Friday night's Atlanta-Orlando matchup that felt like a 1990s retro nights at Philips Arena. The names, for one thing: Dikembe Mutombo, Lenny Wilkins, Steve Smith -- stars on the franchise's late-90s teams. It was the product of the winning streak the current crop of Hawks is chasing, the 11-game mark set at the start of the 1997-98 season. And the gap is closing fast.
With the six-point win over the Magic, a back-and-forth affair that was tied at both halftime and after three quarters, the Hawks have pushed their winning streak to nine games. They have admittedly taken advantage of arguably the NBA's easiest schedule to date, but in a league where every win counts the same a 16-6 record through more than a quarter of the season is significant.
Less than a month ago, following a disappointing loss to a struggling Lakers team, the Hawks were 5-5. Look at them now: chasing a piece of team history.
(For some context on how things have changed since that 1997-98 season, consider the Eastern Conference alone. That Hawks team went on to win 50 games and finish fifth -- fifth -- in the conference behind Hornets, Pacers, Heat and, of course, Michael Jordan's title-winning Bulls.)
"You know coaches, we rarely like to think or give positives, but I think for us to shoot the way we did and to be going through a little bit of a struggle offensively -- their defense, you have to give them credit -- but when you can win games like this, it's good," Hawks coach Mike Budenholzer. "You don't want to just depend on making shots or depend on your offense. You've gotta be good defensively. You've gotta be able to win some ugly games."
As Budenholzer alluded to with that "ugly" comment, this win was different -- at least marginally so.
Atlanta's streak had been built upon fast starts. In the previous eight games, the Hawks trailed only twice after the first quarter (Boston, Brooklyn) and once at the half. Recent wins have typically been an exercise in maintaining leads. This wasn't a cruise-control victory or a comeback effort like the Celtics game, though. This was a low-scoring, defensive struggle.
Both teams' offenses came up short for a variety of reasons (shooting, turnovers, poor movement) and needed to depend on coming up with defensive stops. One did so better than the other. It wasn't a work of art, but it was a positive result.
"That's what he said to us, 'Sometimes the ugly ones are the good ones,'" guard Kyle Korver said. "You don't want to string together too many ugly wins in a row, and we've had a couple now. Our energy's been a little low and we just haven't shot the ball well. Our defense has been pretty solid for the most part, but a lot of times just making shots gives you energy, gives you life."
The Hawks shot just 37.2 percent from the field on the night, including a difficult stretch where they hit just one 3-pointer in their first 15 attempts. The 87-point final score was their lowest win total of the streak. It was also one of their better defensive efforts over this nine-game victory lap, and that's something both Budenholzer and the players were willing to take out of Philips on Friday night.
Following a rematch with the Magic on Saturday night on Orlando, the schedule is going to take a 180-degree turn. A five-game stretch featuring Chicago, Cleveland, Houston, Dallas and Los Angeles -- five teams that were each at least five games over .500 entering Friday night's games -- makes this ongoing winning streak not only a matter of beating up on losing teams but also of positioning the Hawks for any potential hard times. Even if that brutal slate yields five losses, the Hawks would still be six games over .500 if they take care of business in Orlando.
And in the Eastern Conference, that carries plenty of weight.
2. Atlanta big men come through
On a night when the Hawks' shooting went cold for extended stretches, it was the contributions of big men Paul Millsap and Al Horford that kept the streak alive, though a majority of their points did not come on the interior. Though the shots were not falling early, the Hawks kept shooting from the outside, and when Millsap and Horford are combining for 40 points including four 3-pointers, it's going to spell trouble for opposing defenses.
While Horford was his typical steady self, scoring 17 points, grabbing seven rebounds and even stepping out for his third 3-pointer of the campaign, it was Millsap that overcame what was at times a frustrating night to boost the Hawks during their offensive slump.
Millsap attacked the basket, logging a game-high 10 free throws, which helped put the Magic into foul trouble. He stretched the defense with three outside jumpers, an added part of his game that keeps paying dividends.
Overall, while Orlando leaned on its backcourt of Victory Oladipo and Evan Fournier for its scoring, it was Atlanta's versatile post players that made the biggest difference.
"They were real big. I think the guards combined went like 3 or 4 for 20, or something like that," wing DeMarre Carroll said of Atlanta's perimeter players, who hit just of their 21 3-point attempts. "When you have bigs that can shoot the ball, it makes it (difficult)."
3. Magic fumbled their chances
Budenholzer was pleased with his defense's grind-it-out mentality down the stretch, holding the Magic to just 17 points in the final 12 minutes. Oladipo & Co. were similarly troubled on the offensive end, hitting just 39 percent of their shots on the night.
It was a hang-your-hat-on-something postgame in the Hawks locker room, and the improved defensive intensity and pressure was a clear clubhouse favorite. Point guard Jeff Teague said the team changed up its scheme to challenge Orlando's ball handlers. It worked.
The Magic rank 24th in the NBA in turnovers, coughing up the ball 14.6 percent of the time entering Friday's matchup. After being plagued by 18 turnovers against the Hawks, a few of which came in pivotal moments down the stretch, it's clear that's an area the Magic will look to clean up as they return home.
"They were able to push our offense out (in the fourth quarter) and make us react to them," Magic coach Jacque Vaughn said. "They were pretty aggressive. ... We have to focus on 48 minutes of play. We can't afford to have one minute where we have a lapse and lose our concentration."
Those lapses become more common as the clock ticked down. The Hawks will simply look to replicate that result while improving on the other end.
"It just says that we are capable of being a great defensive team," Carroll said. "A lot of people say we're not, but I think we are."
11: While neither team shot the ball well, the Hawks were able to manufacture points by getting to the free throw line 11 more times, resulting in eight more points.
31: The Hawks shot 31 percent from 3-point range against the Magic, their fifth-worst outside shooting performance of the season and the worst mark while shooting 26 or more attempts.
"We needed a game like this where things weren't falling on the offensive end." -- Jeff Teague on defensive improvement
---