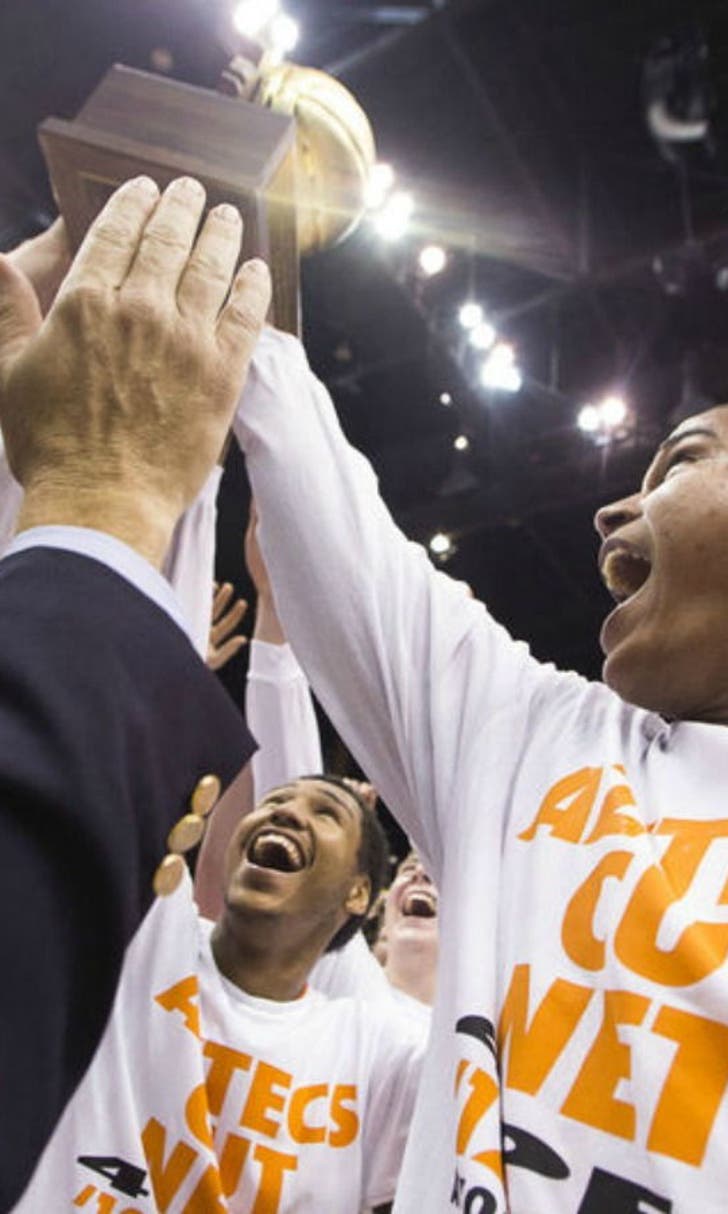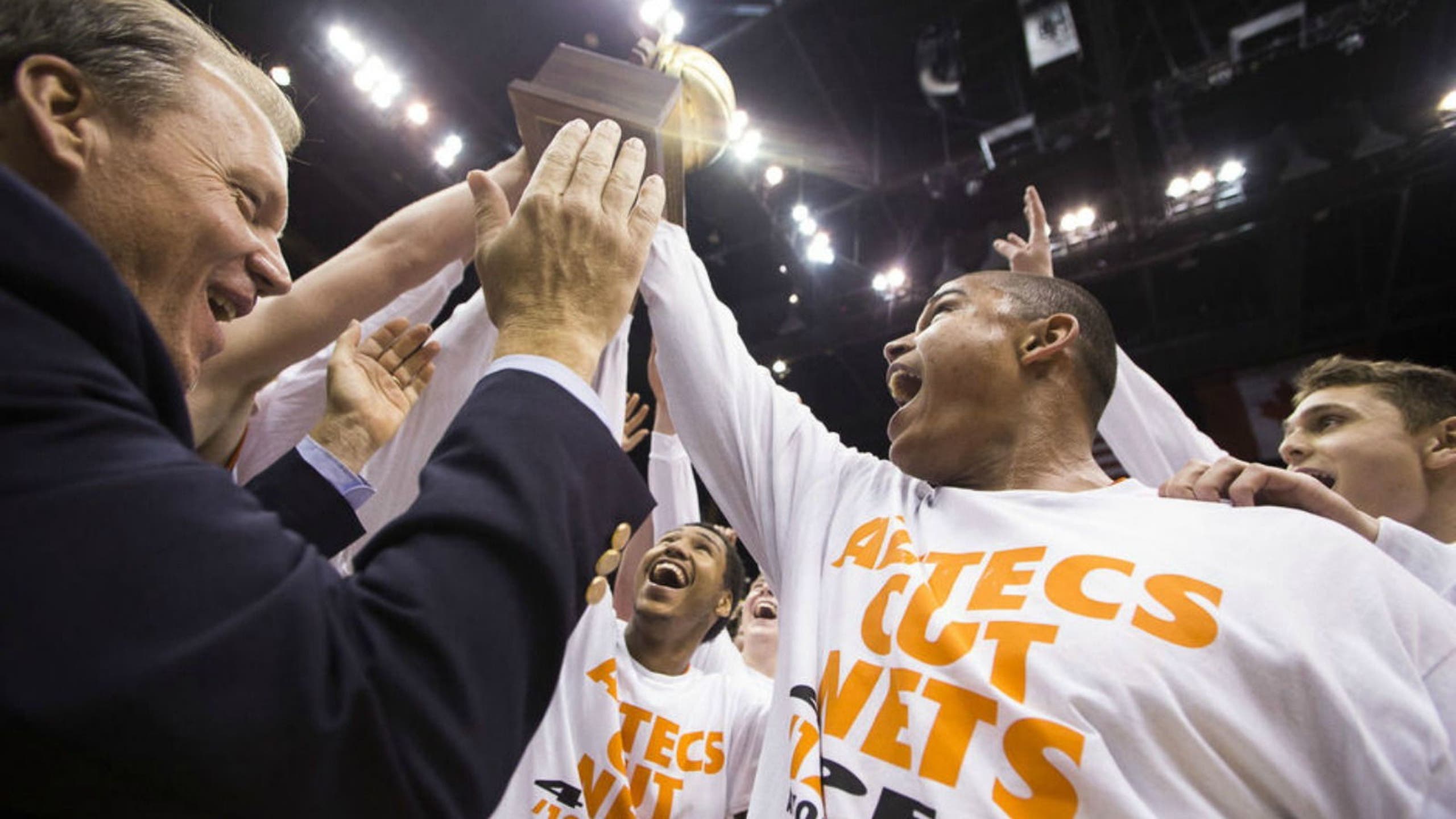 Corona takes boys crown again; FOX Sports Arizona to replay title games
BY foxsports • March 3, 2015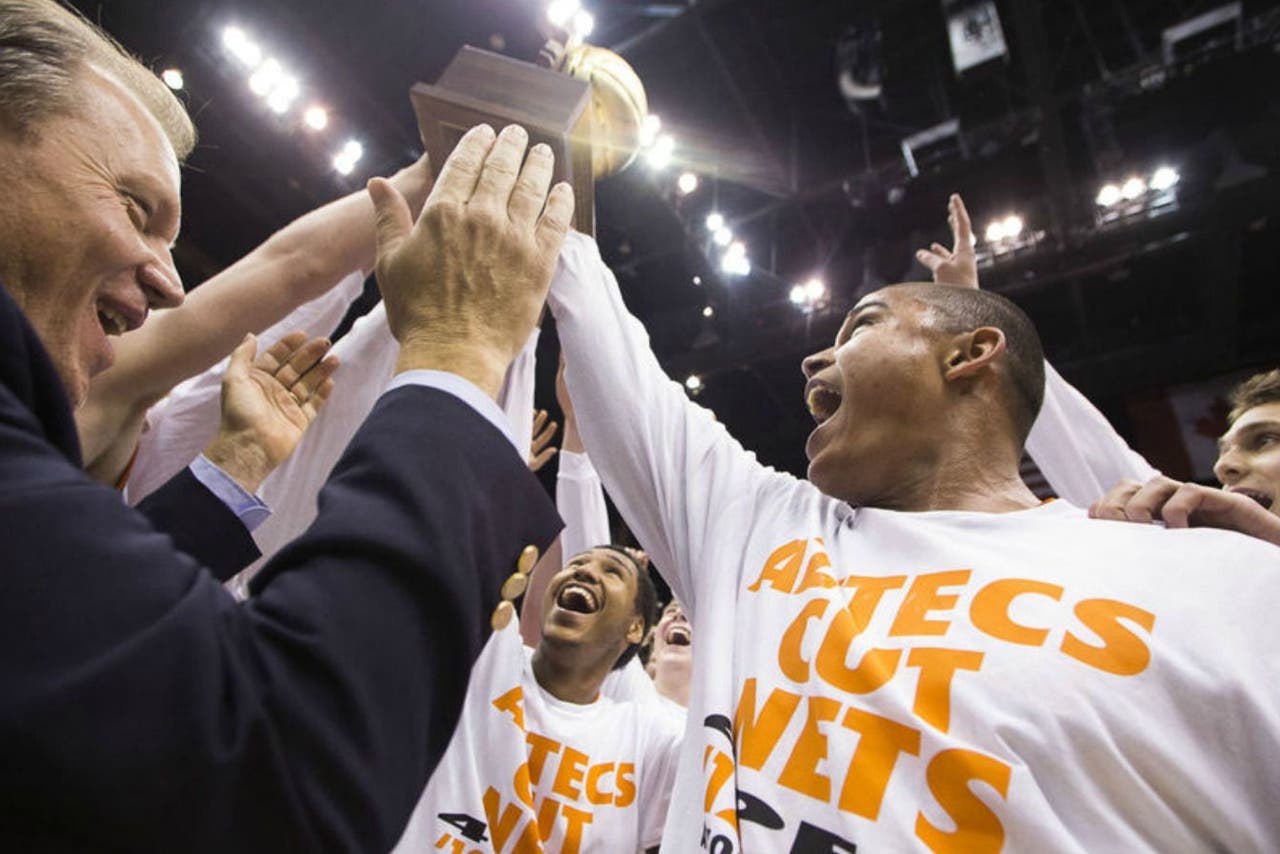 GLENDALE -- The word was that Corona del Sol has been taking everyone's best shot.
Not on Monday.
Desert Vista barely got a clean look, let alone its best shot, especially in the first half as the Aztecs' defensive pressure dictated the game on the way to Corona's fourth straight Division I boys basketball state title with a 57-32 win over the Thunder at Gila River Arena.
"Defensively, this is the best game we have played in a long, long time," Corona coach Sam Duane Jr. said. "All year we talked about how we had to get better defensively. I guess we saved it for tonight."
It's the first time since Phoenix Union won four state titles in 1958 to 1961 that a big-school team was able to accomplish the feat.
Corona, which has won 70 in a row against in-state opponents, was stifling on defense, getting its hands on passes, forcing the seventh-seeded Thunder (26-5) to rely on outside shots, On the other end, the top-seeded Aztecs (32-1) were smart and efficient (11 assists on 13 field goals) in the first half.
And somehow, someway the effort might have been even better to start the second half as they pushed the lead to 50-16 with just over 2 1/2 minutes remaining in the third quarter.
It led a running-clock situation that is never a good look in a championship game as senior Dane Kuiper led Corona with 17 points, 10 rebounds and six assists, while Marvin Bagley tallied 16 points, 14 rebounds, five assists and five blocks.
"We run pretty well," Duane said. "Our defense created easy ones tonight. Dane got out and ran. Bagley finished strong and he gets the dunk at the end to go in with all of the momentum."
Essentially, the Aztecs played one of its best games of the season (53 percent from the field, 18 assists on 24 baskets) while the Thunder never had a run in them.
"We were settling for some bad shots and not attacking the rim," Desert Vista coach Tony Darden said. "It didn't go our way and that's what happens sometimes. The effort was there, but Corona's three-state champion (coming in), so this is like their home court until someone beats them. For us, we have to overcome that because we are the new guys on the court."
DIVISION II BOYS: GILBERT CHRISTIAN 55, ARCADIA 52 (OT)
Gilbert Christian has been through one roller coaster of a season and its final game of the 2014-15 season was no different.
The No. 4 Knights led by as many as 13 at one point in the first half but saw that lead slip away in the second half against No. 10 Arcadia and needed overtime to put the game away.
"We've never lost a close game this year," Gilbert Christian coach Kurt Keener said. "We had five or six that came down to last shots. These kids just have so much heart. We didn't play a perfect game. We didn't play as well as Saturday, but we found a way to win."
Gilbert Christian won its fifth championship in nine years, but its first in Division II. Gilbert Christian most recently won the Division III state titles in 2012 and 2013.
Cameron Satterwhite made 1 of 2 free throws with six seconds left in overtime to give Gilbert Christian a 55-52 lead, and then Arcadia missed a desperation 3-pointer at the buzzer.
Mitch Lightfoot had 15 points and 12 rebounds for the Knights; Satterwhite has 13 points, 10 rebounds and six assists.
DIVISION I GIRLS: DOBSON 58, MILLENNIUM 49
The Mustangs (30-2) used a 21-8 scoring advantage in the fourth quarter to erase a 41-37 to start the final period.
The difference was a defensive switch and guard Dyesha Stahley's 11-point fourth quarter, after she scored just two in the previous 24 minutes.
Millennium (28-5) made seven 3-pointers in the first half on 12 attempts to build an early lead -- including 10-0 to start the game -- but the Tigers missed all 13 3-point attempts in the second half as Dobson switched to a 1-3-1 trap.
"It's a typical Dobson game because we always win ugly," Stahley said. "We win ugly. It's a win, but we never do it easy."
DIVISION II GIRLS: MARICOPA 52, SETON CATHOLIC 49
Seton Catholic had won three girls state basketball titles in the last four years.
On Monday they went for a fourth in five years.
It wouldn't happen.
The No. 2 Sentinels (29-6) were never able to get much going on offense or defense against No. 12 Maricopa (29-5).
Seton Catholic coach Karen Self did not mince words about how she felt about her team's performance.
"Our kids did not execute on defense. They didn't execute on offense. They made way too many turnovers and we missed too many layups." She said. "That does not lead to wins."
On the flip side, the win gave Maricopa its first state title in any girls sport since they brought home a softball title in 1976.
"I said this is something that we can do that everyone will remember them by," Maricopa coach Kati Burrows said. "And for all the people that have come before us, this is special for everybody in our community."
REPLAY SCHEDULE ON FOX SPORTS ARIZONA
Tuesday
1:30 p.m. -- Division I Boys championship
Wednesday
9 p.m. -- Division III Boys championship
Thursday
1:30 p.m -- Division III Girls championship
Tuesday, March 10
4:30 p.m. -- Division II Girls Championship
7 p.m. -- Division I Girls championship
Wednesday, March 11
2:30 p.m. -- Division II Boys championship
4:30 p.m. -- Division I Boys championship
Wednesday, March 18
8:30 p.m. -- Division III Boys championship
---