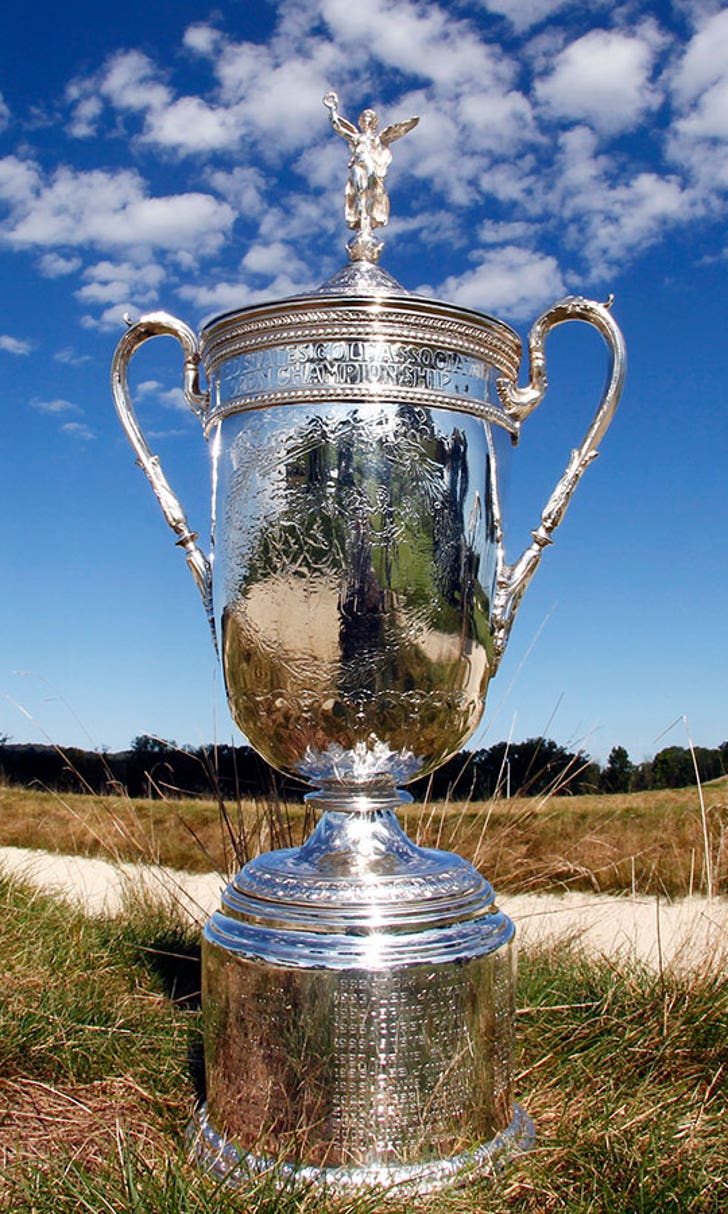 Complete course guide to the U.S. Open at Oakmont: Back nine
BY foxsports • June 14, 2016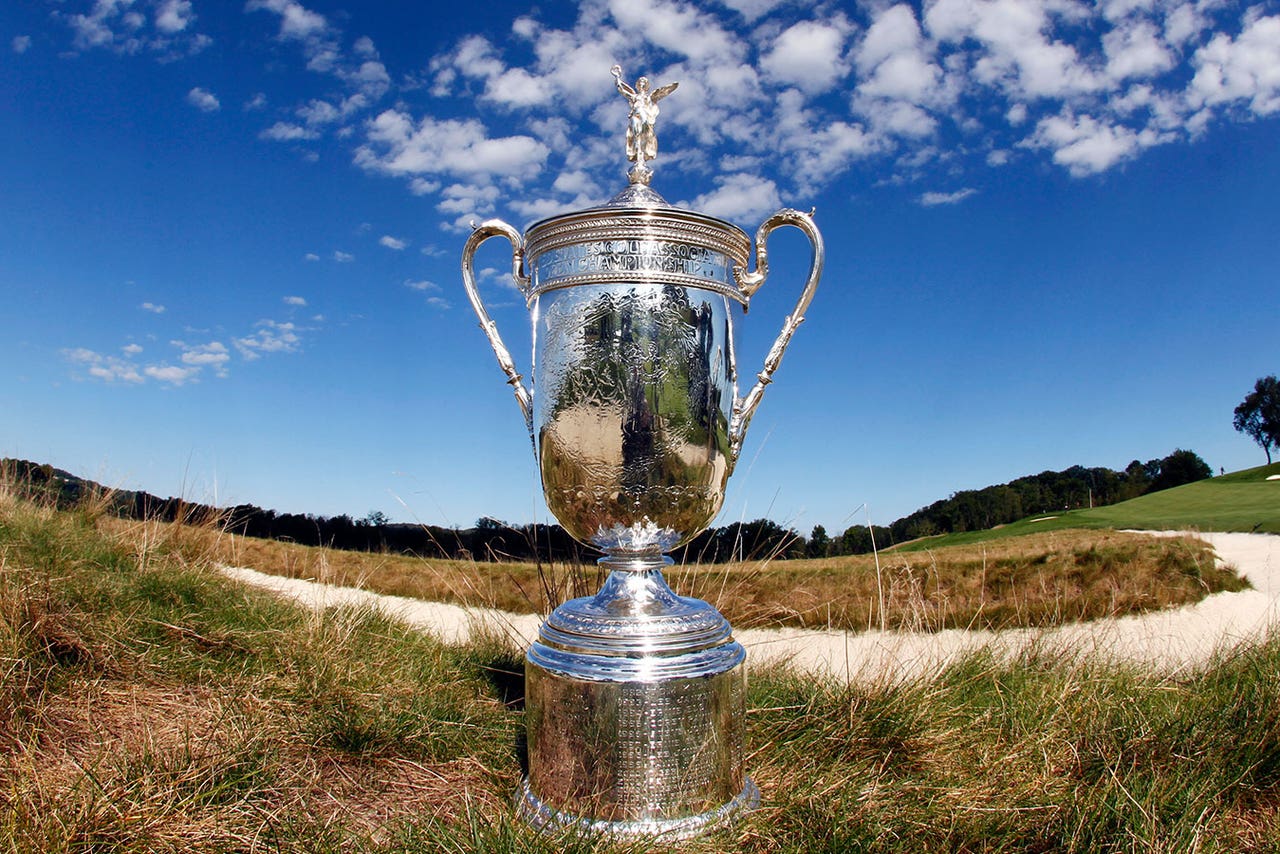 The 2016 U.S. Open figures to be one of the most challenging tournaments in golf history, thanks in no small part to the difficulty of the course at Oakmont Country Club.
Last week, Phil Mickelson described the course, located about 15 miles outside downtown Pittsburgh, as as "the hardest golf course we've ever played," and most figure a score even approaching par for the week will put a player in the running to win it all.
With that in mind, we sat down with Jeff Hall, the USGA's managing director for rules and competitions, to talk about the course layout and what makes Oakmont so tough to play. Hall took us shot-by-shot through each of the club's 18 holes, providing his insight on how the USGA expects to set them up and offering his advice on the best way to attack them.
Here's Hall's take on holes 10 through 18. If you missed the front nine, click here.
Par 4, 462 yards
A downhill hole with a narrow driving lane, No. 10 will likely scare most players into keeping the driver in the bag.
"It's just one of those holes you have to play from the fairway, because the green is really, really challenging," Hall said. "It's another one where the green runs from front to back, kind of front-right to back-left, and you just have to be in the fairway to have any chance of managing the ball into this particular putting green. So I think you'll see a lot of irons, 3-woods, 5-woods, hybrids."
The tips on No. 10 share a tee box with the Par 5 12th, so when 10 is playing from the back tees, 12 will play from the penultimate tees, and vice versa. But even when the distance is shorter than the advertised 462 yards, the green is still the star of the show.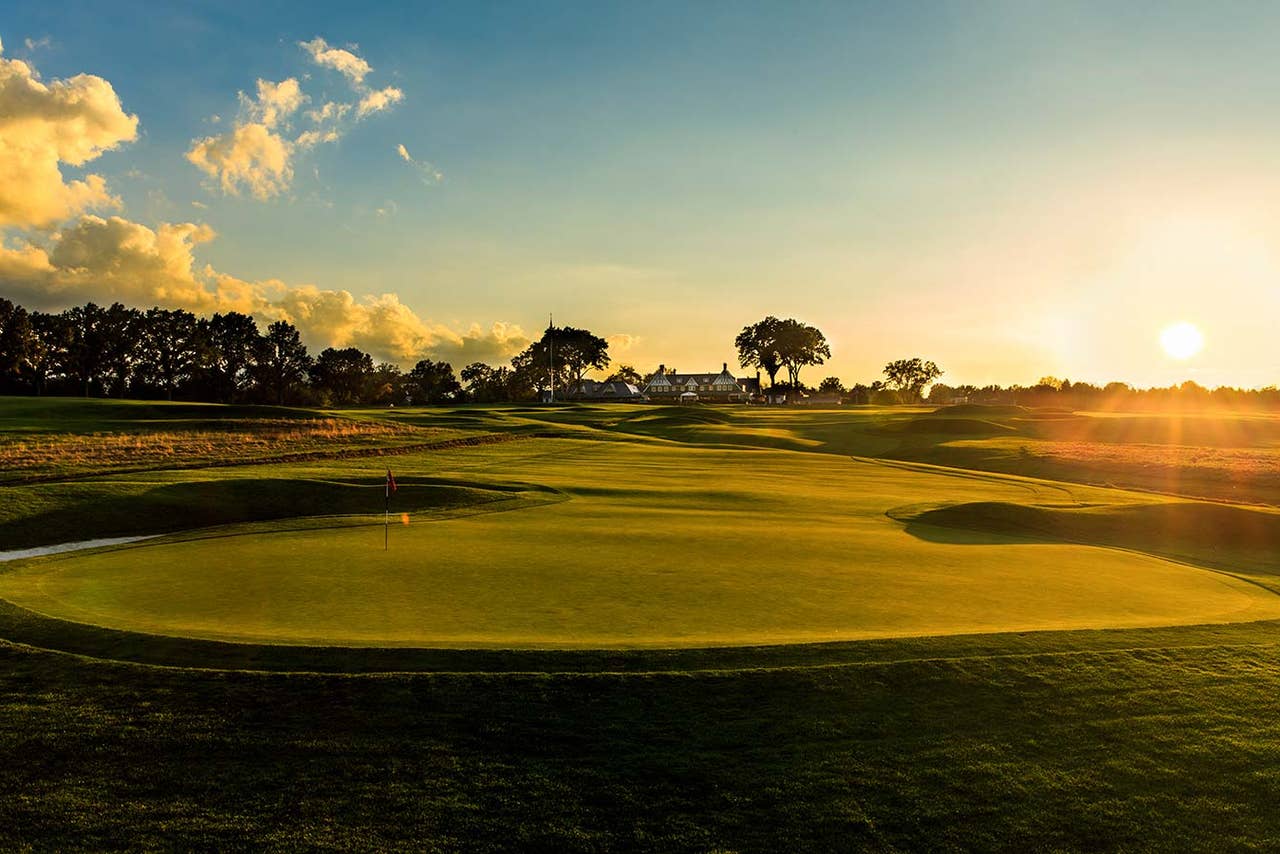 The 10th green is one of the fastest putting surfaces on the course.
"It's one of the fastest putting greens on the golf course," Hall said. "They're all about the same speed, but 10 putts faster because of the severe slope in this particular green.
"The speed and the slope — it's generally a downwind kind of putting green, and we've got to be very mindful of where we put the holes and the overall green speed," Hall continued. "It's one of those holes where the ball could be rolling and you could read the brand name as it's rolling because it's not moving that fast, but it's going to move for a while."
Par 4, 379 yards
Hall describes No. 11 as "another one of those really solid, short par-4s, that, despite being 379 yards, will have your full and undivided attention while you're playing it."
A visually stunning hole, 11 features a drainage ditch across the middle of the fairway. But it's unlikely it comes into play often during the course of the tournament.
"A player hits it in the ditch that crosses the fairway has really misclubbed from the tee," Hall said. "They're going to be laying it up into the flat across from that ditch. Now, if somebody has a tee shot drift right, that's a different story, but that's really a pretty poor shot for a U.S. Open-caliber player, if they were to hit it where it would go in that ditch."
Instead, most will take an iron off the tee and try to put themselves into position to have a short iron or wedge into the green from there.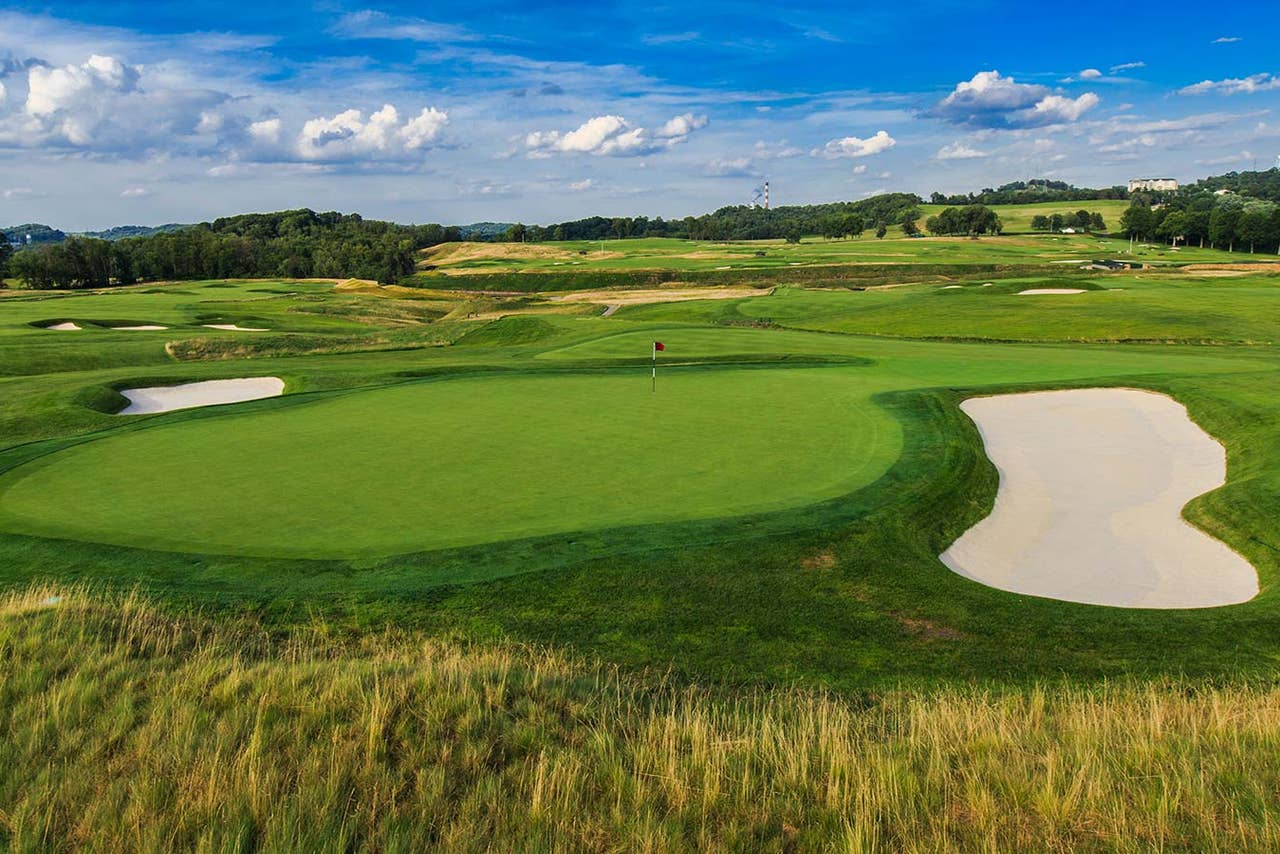 The picturesque 11th hole still commands full attention on your game.
"It's another green that's got quite a bit of pitch from back to front," Hall said. "You really want to try to manage the ball and keep it under the hole if at all possible."
Par 5, 667 yards
"Even from the 667 tee, half the field could get there in two," Hall says of the green on the par-5 12th, the longest hole on the course, though Hall cautions, "Not that they'd want to or would try."
There are numerous reasons players might want to take a judicious approach with 12 — the first of which is the fact that just finding the fairway to begin with is hard enough on its own.
"This is one of the most difficult fairways to hit because of its cant from left to right," Hall said. "When you're using the back tee, there's a bunker that's very strategic on the right hand side that you've got to avoid. And when you play the 630 tee, a number of guys will be able to get it past that bunker and not have to think as much about it. But because they've achieved that, they get into the most severely sloping part of the fairway, where they could end up in the right rough."
Those who do end up safely in the short grass are then faced with a decision: Go for the green, come to a stop on the far side of a cross-bunker about 80 yards out from the hole, or lay up short of it — none of which are necessarily easy shots to execute.
"Usually when these guys get to a par-5 they're licking their chops — 'I'm getting one back' — but this hole played over par at the 2007 Open," Hall explained. "It's as well-designed, well-thought-out and strategic a par-5 as I've ever seen."
Those who decide to test the bunker could make a run at the green on this downhill hole, but staying on it might even be a bigger challenge than getting there.
"If a guy does take on the cross bunker, you could chase the ball onto this green. But if it's coming with any pace, it's not going to stay on," Hall said. "It's going to finish in the back rough.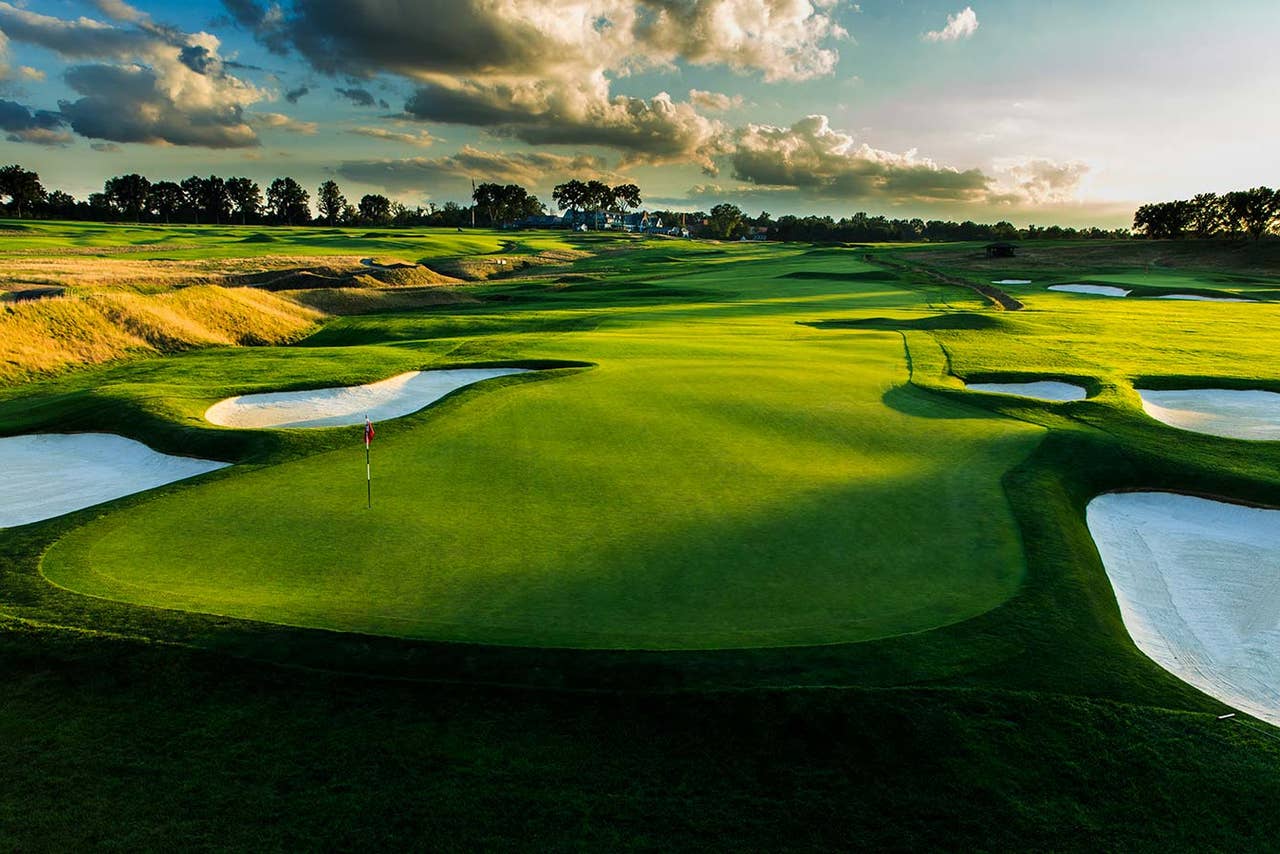 The 12th hole is one of the trickiest par-5s around.
"It's really a demanding, demanding hole, but it gives the player some options," he continued. "It's just a question of how much do you want to take on?"
Par 3, 183 yards
"If you look at the winners [at Oakmont], you will not be able to find a consistent theme to the style of golf that the winners, or those in contention, have," Hall explained. "It doesn't really favor a type of player. It just demands precise, excellent golf. And 13 is just another one of those holes that fits that bill to a T."
A 183-yard par-3, No. 13 doesn't necessarily strike fear into the hearts of those playing it. But its narrow, hourglass green is easier to miss than you'd think.
"It's certainly a yardage that I think they'll have a club where, every other week of the year, they'd be thinking they can take dead aim. But it's a very narrow target," Hall said. "When you're dealing with the best players in the world, they hit the middle of the club face fairly regularly. But when they're not hitting it well it's more about the dispersion than it is about how solidly they strike it.
"So now, when you have a narrow putting green and you're hitting it solid but not necessarily on line," he continued, "a lot of things become problematic on a hole like 13."
The green itself features a primarily right-to-left slope. And for those who find it, a birdie is often manageable, but scoring well is hardly a given ... a common thread throughout the course.
"Depending on which hole locations are being used on a given day, there is a chance to make a 2 here," Hall said. "But it's another one of those holes where, if you're just a little bit careless or you miss your mark by just a little bit, all of a sudden you're walking up the hill to 14 with a 5, saying, 'How did I just hit 8-iron here and make 5?'
"But again," Hall added, "that's Oakmont."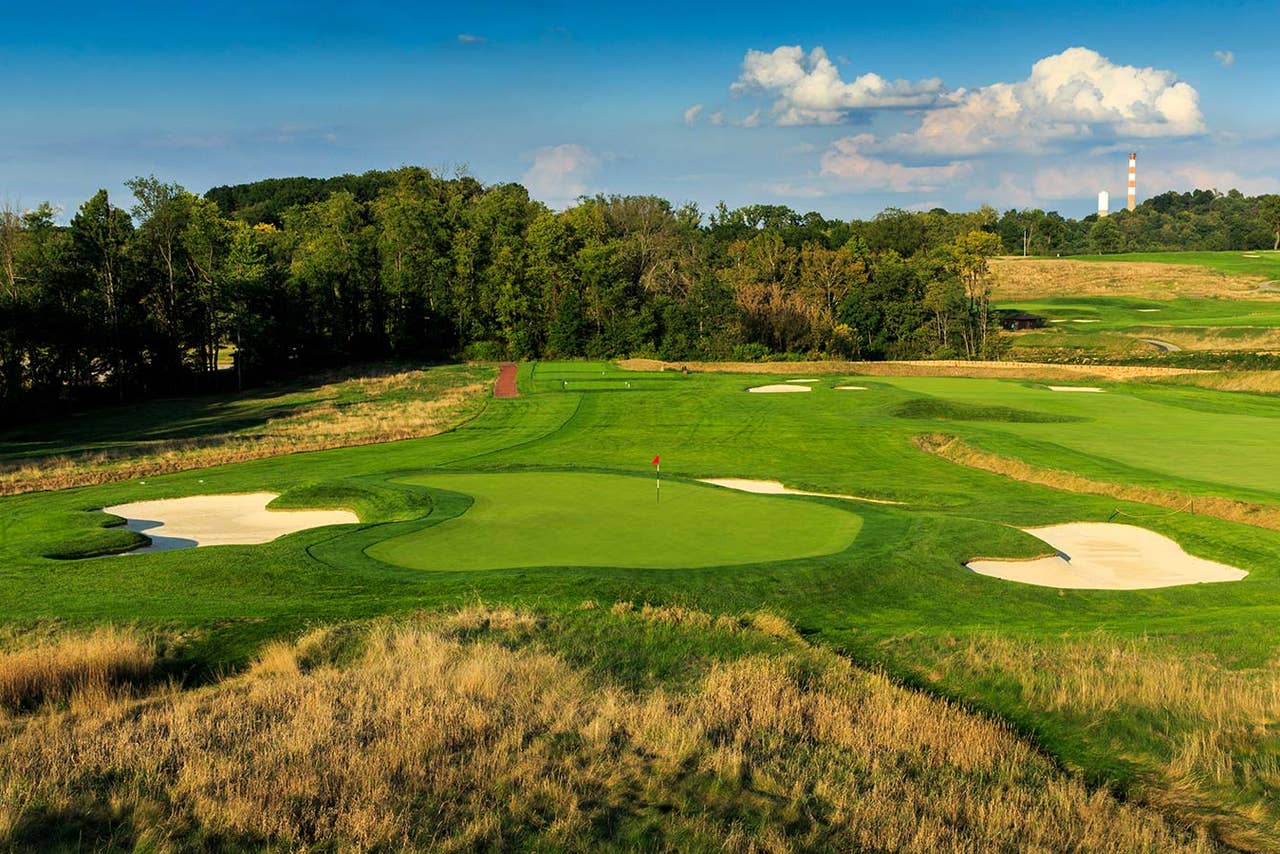 The short par-3 13th may not strike fear, but don't underestimate the precision needed to play it well.
Par 4, 358 yards
At least according to the card, No. 14 is the "easiest" hole on the golf course. But easy at Oakmont is all relative.
"You have to rank them one to 18, and if you've got 18 holes, then one of them has to be 18," Hall said of 14's standing as the 18-handicap on the course. "Although I would say, day-in and day-out, this is a good birdie chance at Oakmont."
Few players will hit driver on this 358-yard par-4, and bunkers lining both sides of the fairway (which slopes right to left) are certainly in play. The green is large, and Hall describes it as "one of the flatter" greens on the course. But even so, it still requires the precision typical of a U.S. Open course.
"It's a fairly reasonable chance at making 3 if you execute well," Hall said. "But if you get out of sorts just a little bit, what would generally be viewed as a good chance to make a 3 can quickly become 5, and that's just how this course is. Even if you've executed two perfect shots from the tee and have an eight-footer for birdie, if you fall asleep and don't respect the putting greens, all of a sudden you could be sitting on a five-footer for par.
"That will wear you down, mentally," he added. "But I would view this as a fairly straightforward hole and a good opportunity to pick one up."
Par 4, 500 yards
If players are feeling good about themselves after three straight birdie chances, 15 will often bring them back to reality.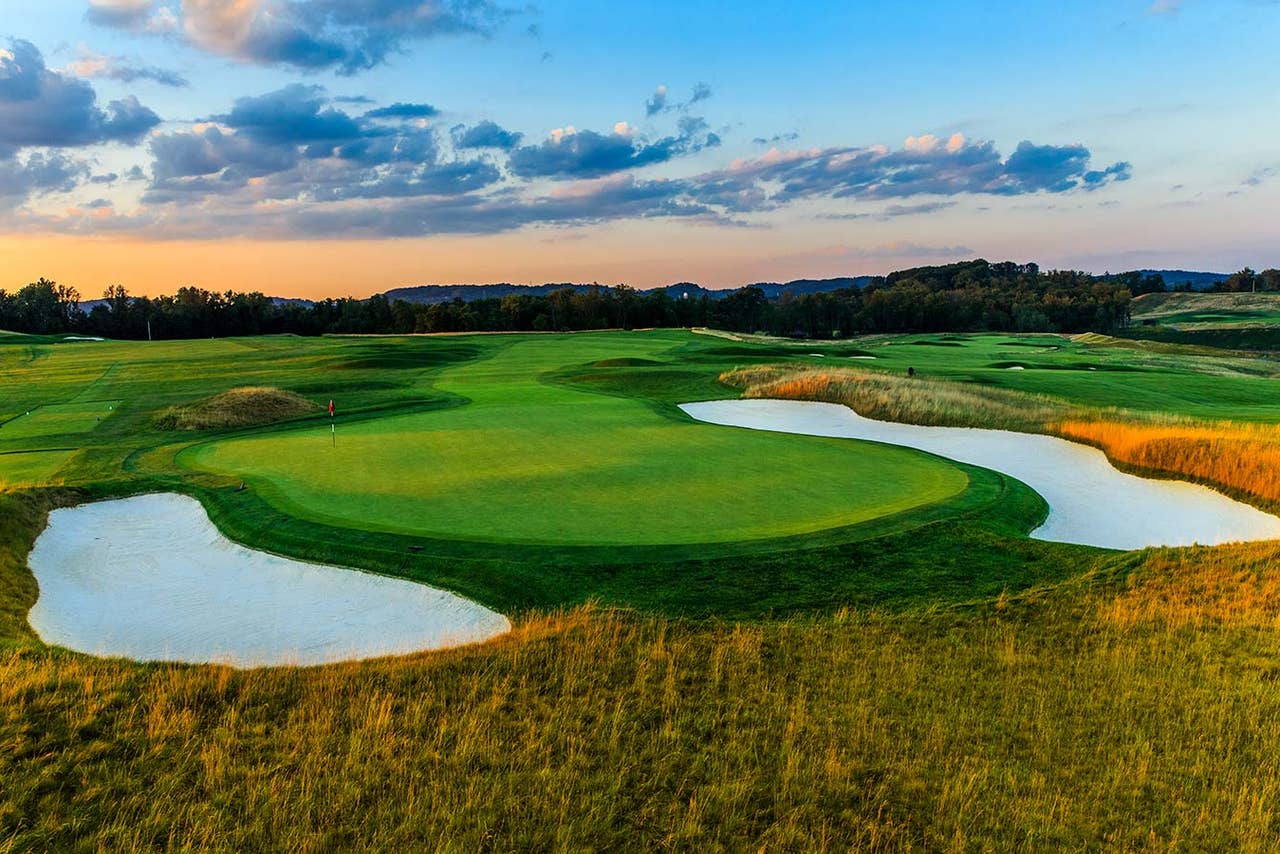 Relatively speaking, the 14th should play as the "easiest" hole on the course.
"Now you have a four-hole stretch to finish out your round," Hall said. "And if it's Sunday at the U.S. Open and you need to play these holes at even par, you're going to have to play some awfully good golf to do it."
After a somewhat blind tee shot into a left-to-right sloping fairway, players will hit into a large but well-protected green.
"Angles are really important here on this particular hole," Hall said. "You want to fade to the left side, but if you take a little too much club into the green and you're aiming left, the green cuts back a little bit to the right. So all of a sudden it carries through and now you're in the bunker or the rough and you've missed the green left."
With that in mind, birdies may be few and far between throughout the weekend.
Said Hall: "You'll take 4 here every day and very happily move to the 16th tee."
Par 3, 231 yards
Larry Nelson won the 1983 U.S. Open at Oakmont thanks in large part to one of the most incredible putts in tournament history. It came on No. 16.
Nelson — who didn't even take up golf until he was 21, after he returned from serving in Vietnam in 1968 — was just about to tee off on 16 on Sunday when a rainstorm delayed play, ultimately postponing the conclusion of the tournament until Monday. When play resumed that morning, Nelson used a 4-wood to reach the 231-yard green, then calmly sunk a 60-foot birdie putt to pad his lead.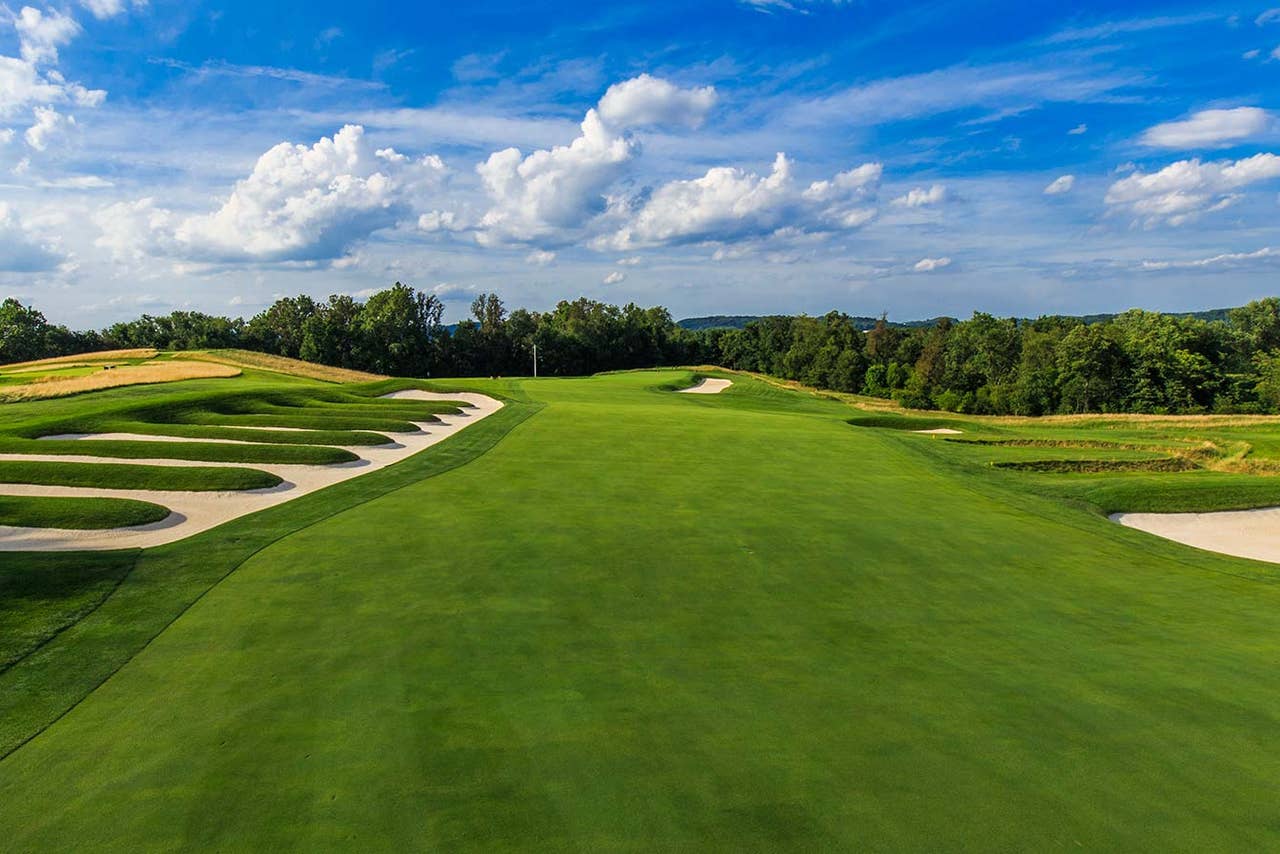 Another church pew bunker awaits on the 15th hole, where players will be thrilled just to make par.
It was a once-in-a-lifetime shot that isn't likely to be repeated during this year's Open.
"Getting on the green is only part of the equation," Hall said of No. 16. "And then this green's got a lot going on. It's a reasonable target for 230 yards, but it's very demanding from a putting standpoint. Anything short, in the front four or five yards of putting surface, likely will come back off the putting green — there's a little bit of a false front there. And missing the green right, you just don't have any placement down there.
"The green kind of moves a little left to right and will help the ball get to any hole locations that are on the right side, so you don't necessarily have to take it over the bunker," Hall added of the trap to the front right of the green. "But still, it's a real stout par-3."
Par 4, 313 yards
"Don't let the yardage surprise you," Hall said of the 17th hole, which plays at 313 yards from the back tees, but may measure even shorter if the USGA decides to move the tees up throughout the week. "I think you'll see a lot of spectators come here and want to get in the couple bleachers that we have there on 17 and see what's going to happen on Sunday.
"I think it'll be a pivotal hole, and you could see a tremendous two — heck, you could see a one," he added. "But you could also see somebody being too aggressive, not pulling it off, and then making a six."
That strategy is exactly what the USGA employed in 2007 at Oakmont, when it moved the tees up incrementally each day until players were teeing off from 306 yards out for the final round.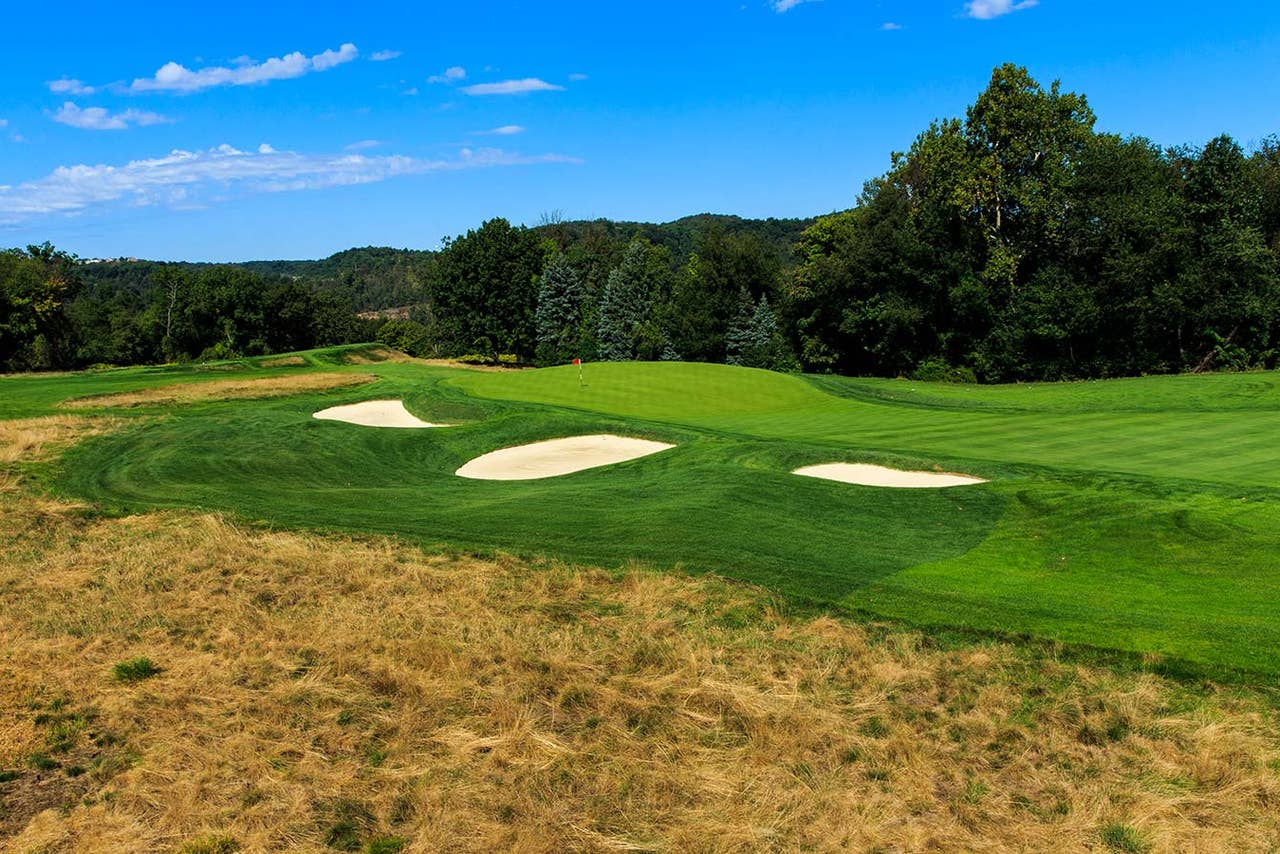 The 16th green was very kind to Larry Nelson in 1983, but expect a tough go of it for golfers this year.
"It was a clearly driveable par-4," Hall recalled. "But holy smokes, is this putting green complex."
And perhaps no one recalls the risk-reward nature of the hole better than Jim Furyk, who was tied for the lead in '07 coming into the 17th hole but carded a bogey after he failed to hit the green with his tee shot.
"He didn't successfully negotiate that shot and made the bogey and lost by one," Hall said. "He did the same thing on 2 on the final round — tried to drive the green, didn't, made bogey. And as good a wedge player as he is?
"Listen, I've never played at that level and I'm not second guessing Jim Furyk at all, but it's exactly what we try to achieve when we get the players to think about it and react to it," Hall continued. "If you have the tee back at 313 yards, a number of players wouldn't be able to entertain driving the green. But by moving it forward, all of a sudden guys have got to think, 'Am I willing to take this on, or am I going to hit 6-iron out into the middle of the fairway and then hit wedge?' It creates some tremendous theater."
The same can be said for Big Mouth, the famous bunker that protects the green from those willing to take the chance at reaching it in one. End up in that trap, or any of the pits that surround the putting surface, and a player could end up in a world of trouble.
"The green is perched up in the air, so if you get it in any of these greenside bunkers, you're looking way up at the green," Hall said. "Then you've got to play just a heck of a shot to get it out of the bunker, nevermind trying to get it near the hole."
Still, that won't keep most players from trying.
"You stand back at the tee when the tees have been moved forward, and you see this hole that's been cut and the flag is just blowing there in the breeze, and you've got a straight shot at it," Hall said. "And if you can hit it straight, you can land in the approach and just bounce it on the green, make two and you're on your way to glory.
"But if you don't do that," Hall added, "you can make six or seven in a heartbeat."
Par 4, 484 yards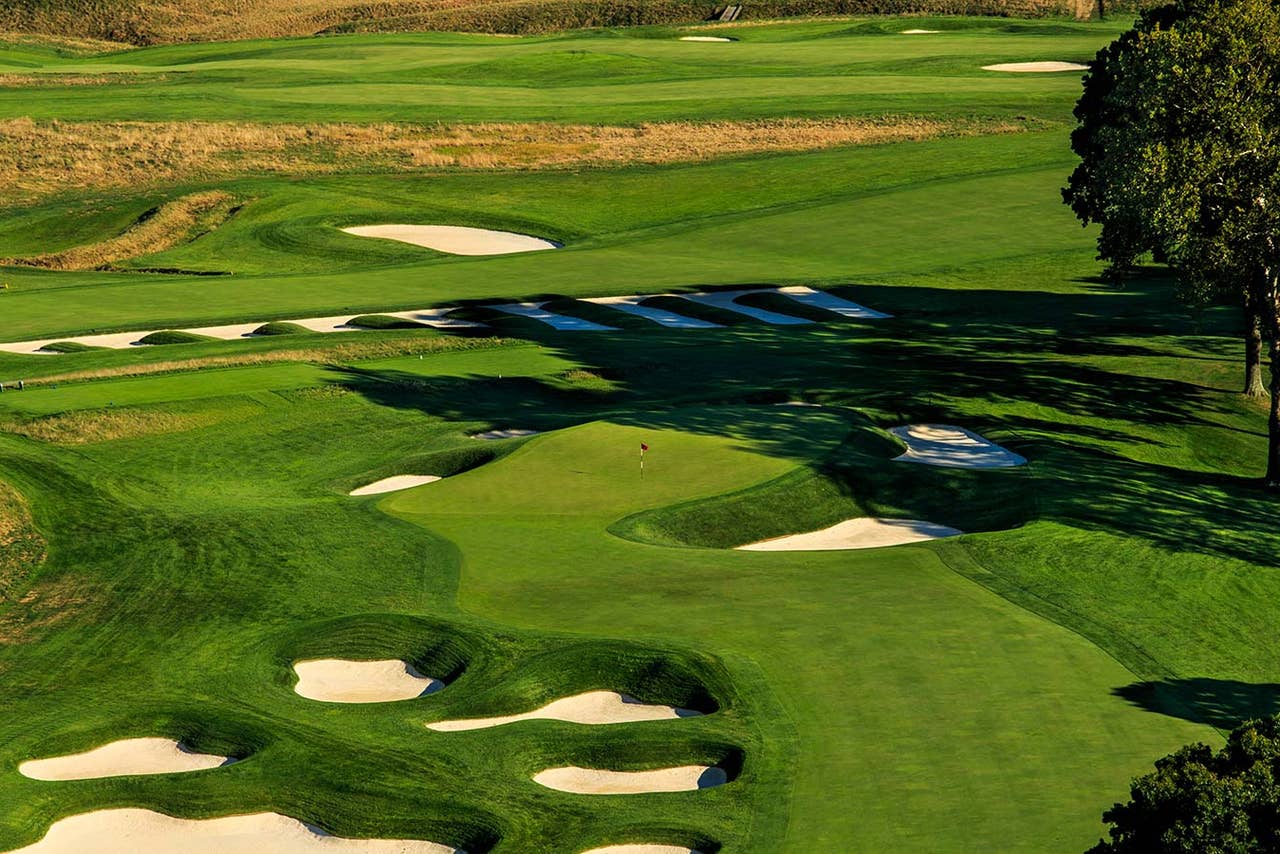 The 17th is a driveable par-4 that could make for some excitement this weekend.
"I mentioned that the first hole might be one of the most demanding opening holes in golf, and this may be the bookend," Hall said of Oakmont's closing hole. "This may be one of the more demanding 18th holes in U.S. Open golf. If you have to make a four to win, you're not going to be able to pretend your way to it.
At 484 yards, the picturesque No. 18 is a challenge every step of the way, according to Hall.
"It's slightly downhill, bunker complex right, bunker complex left, one of the Oakmont ditches left, the fairway cants a little left to right," Hall said. "So you've got to fit it in there with a tee shot. You might be more comfortable playing a 3-wood, but then you're just giving yourself a little more club to play into the green. And if you don't get far enough with your tee shot, you could have kind of a hanging downhill lie.
"It's a demanding first shot, a demanding second shot and a putting green that has your complete and undivided attention."
Considering the challenge the green presents, even reaching in regulation is no guarantee that a potential champion seals the deal.
"There are no comfortable two-putts at Oakmont," Hall said. "You'd love to have a three-shot lead when you tee off on 18, because you might need a couple of them as you're playing that final hole.
"Oakmont requires excellent golf, and these are all excellent players," Hall continued of 18. "And if you can find it within you to hit the proper tee shot, hit the proper second shot, you may very well be able to make a 3. But if you start thinking about what awaits as you sign your scorecard — when your mind wanders like that at Oakmont, generally good things do not happen."
Click here for the front nine.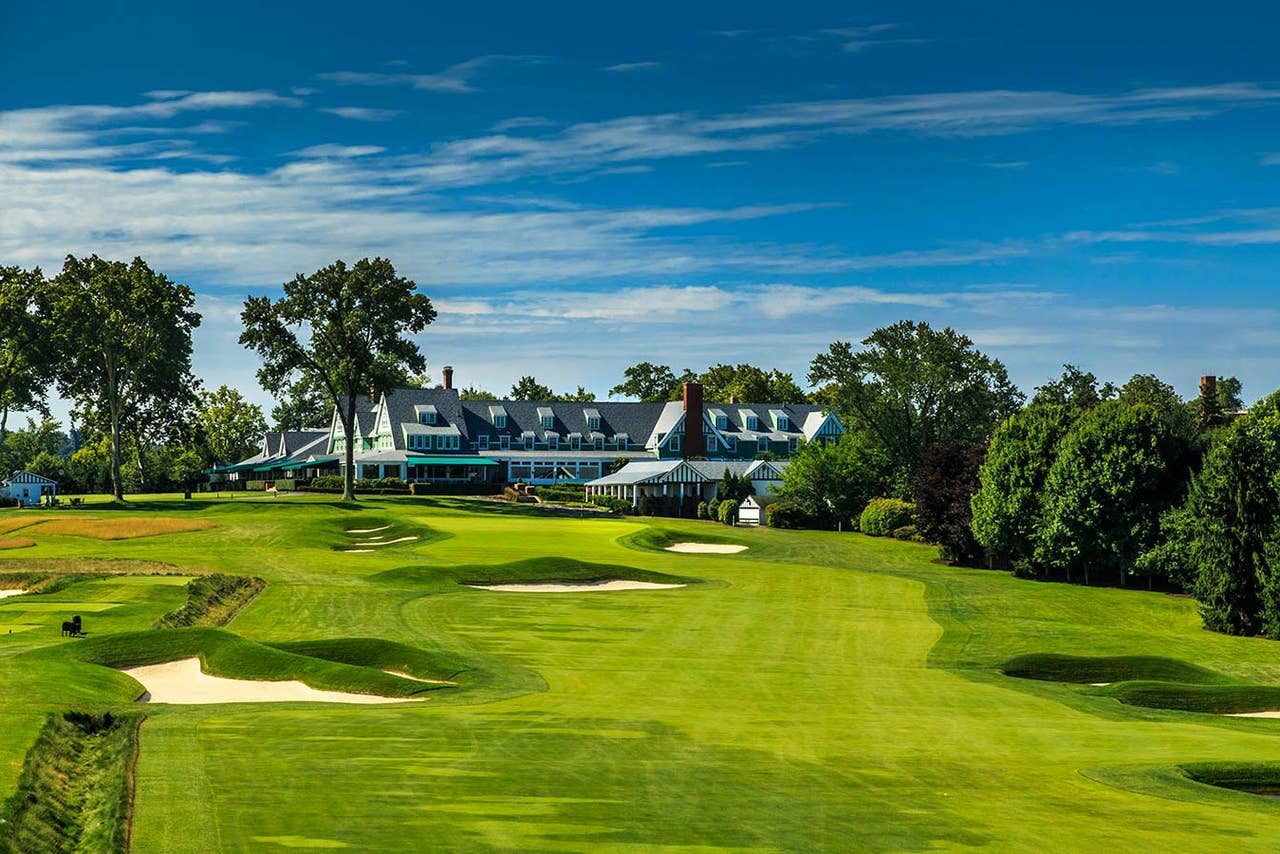 The leader will feel a lot better about things if he comes to the tough 18th hole with a few shots to spare.
---
---