PGA Tour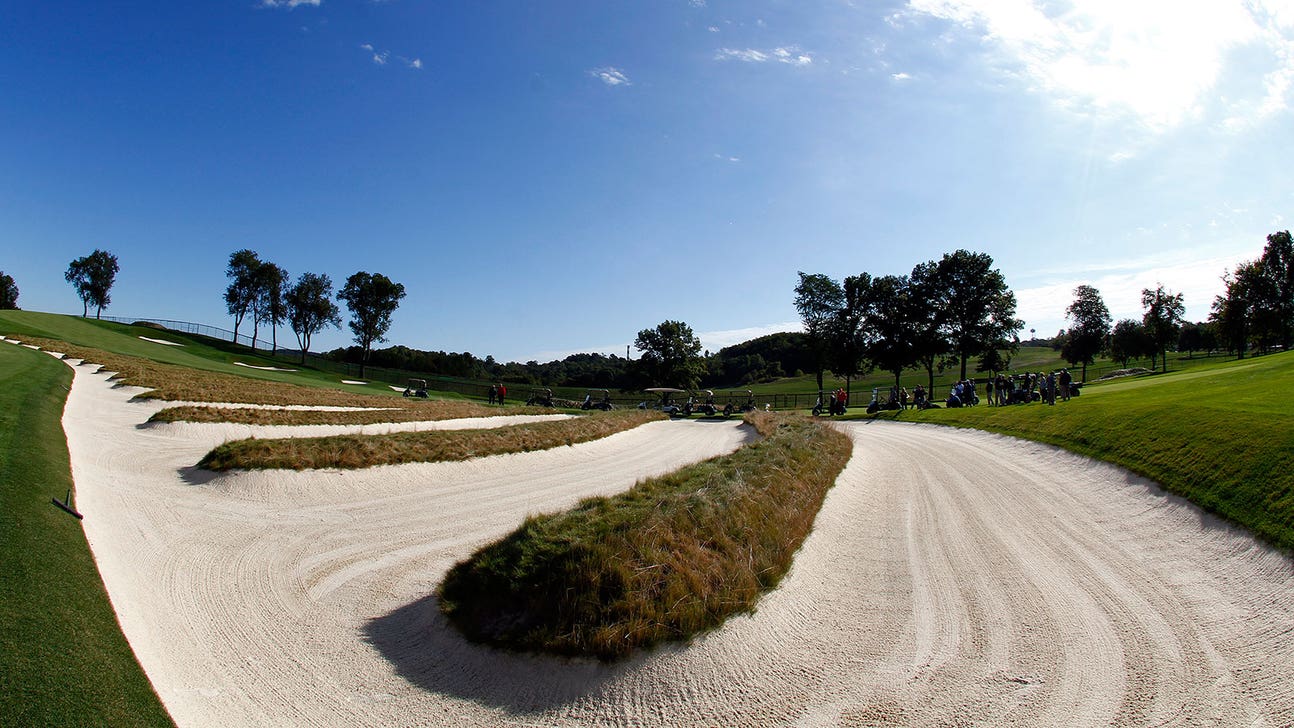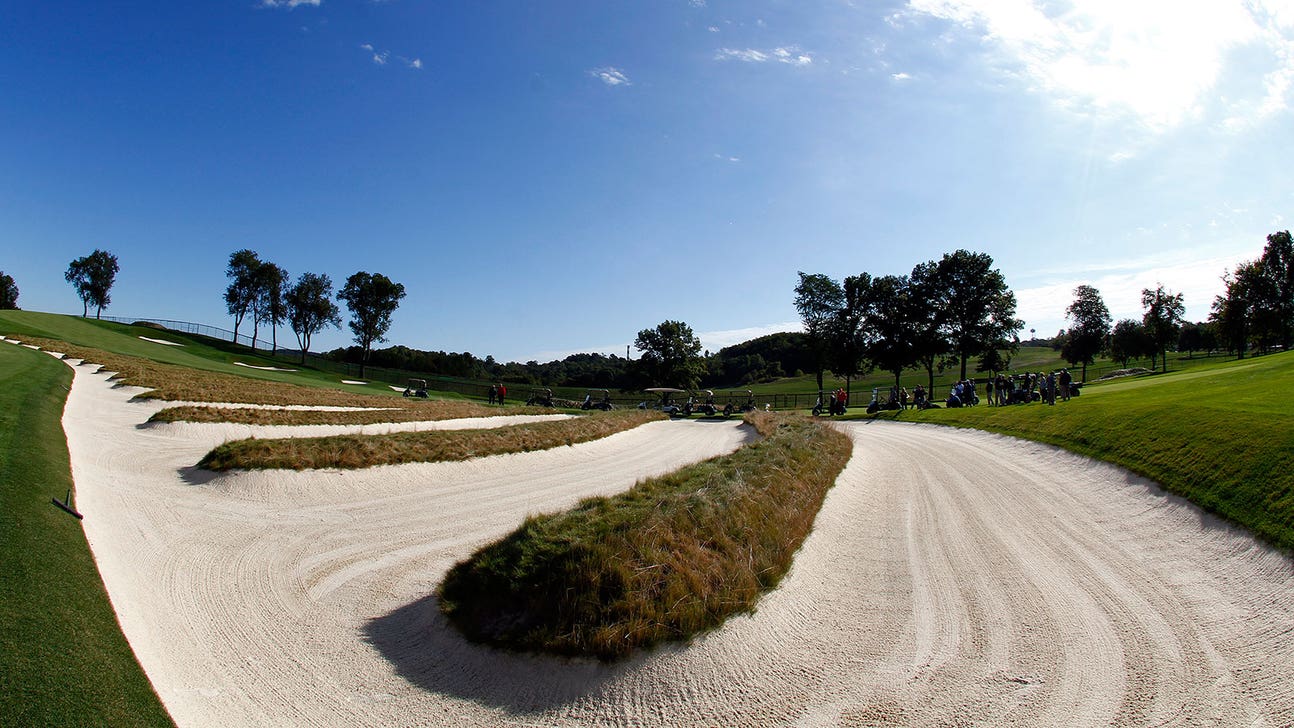 PGA Tour
Complete course guide to the U.S. Open at Oakmont
Published
Jun. 14, 2016 10:45 a.m. ET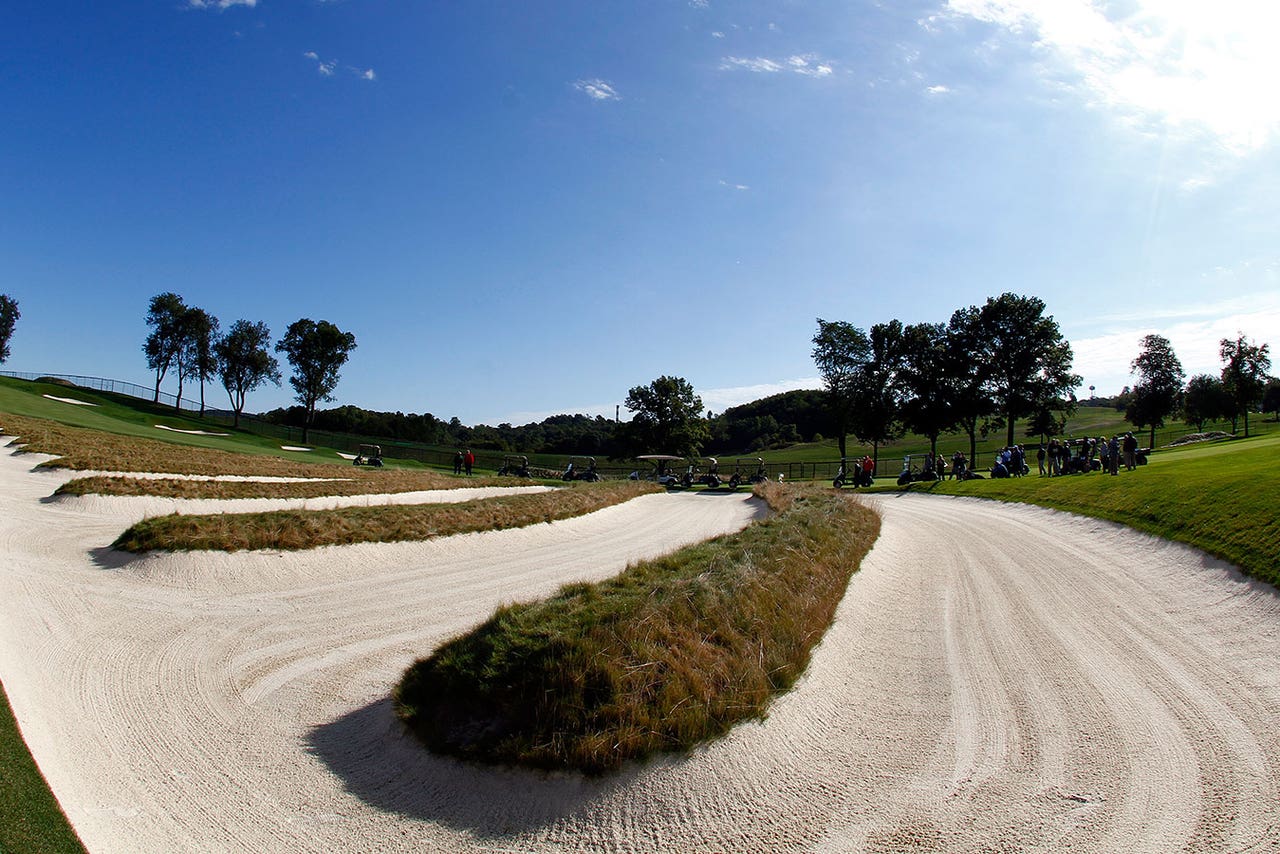 The 2016 U.S. Open figures to be one of the most challenging tournaments in golf history, thanks in no small part to the difficulty of the course at Oakmont Country Club.
Last week, Phil Mickelson described the course, located about 15 miles outside downtown Pittsburgh, as as "the hardest golf course we've ever played," and most figure a score even approaching par for the week will put a player in the running to win it all.
With that in mind, we sat down with Jeff Hall, the USGA's managing director for rules and competitions, to talk about the course layout and what makes Oakmont so tough to play. Hall took us shot-by-shot through each of the club's 18 holes, providing his insight on how the USGA expects to set them up and offering his advice on the best way to attack them.
Below is Hall's take on holes 1 through 9, along with flyover videos of each. Click here for holes 10 through 18.
Par 4, 482 yards
"The first hole is perhaps as difficult an opening hole in the U.S. Open as you can face," Hall said of No. 1 at Oakmont. "I can't off the top of my head think of a more challenging first hole."
As evidence, Hall pointed to Aaron Baddeley, who took a two-shot lead into the final round at the last U.S. Open at the famed course, in 2007. Paired with Tiger Woods, Baddeley left his second shot short of the green, then chipped over the green and eventually three-putted for a triple-bogey 7.
"A rather unusual feature, the green slopes from front to back, so depending on the hole location, you're not going to carry the location onto the green, or if the hole location is toward the back, maybe just onto the putting green," Hall said. "And certainly if you're playing out of the rough with your second shot, you may be landing 15 yards short of the front of the green in hopes of keeping the ball on the putting green."
Baddeley went on to shoot an 80 in '07 after his horrendous start, leaving him well off the pace, and Hall says a similar fate could await those who don't respect No. 1 this week.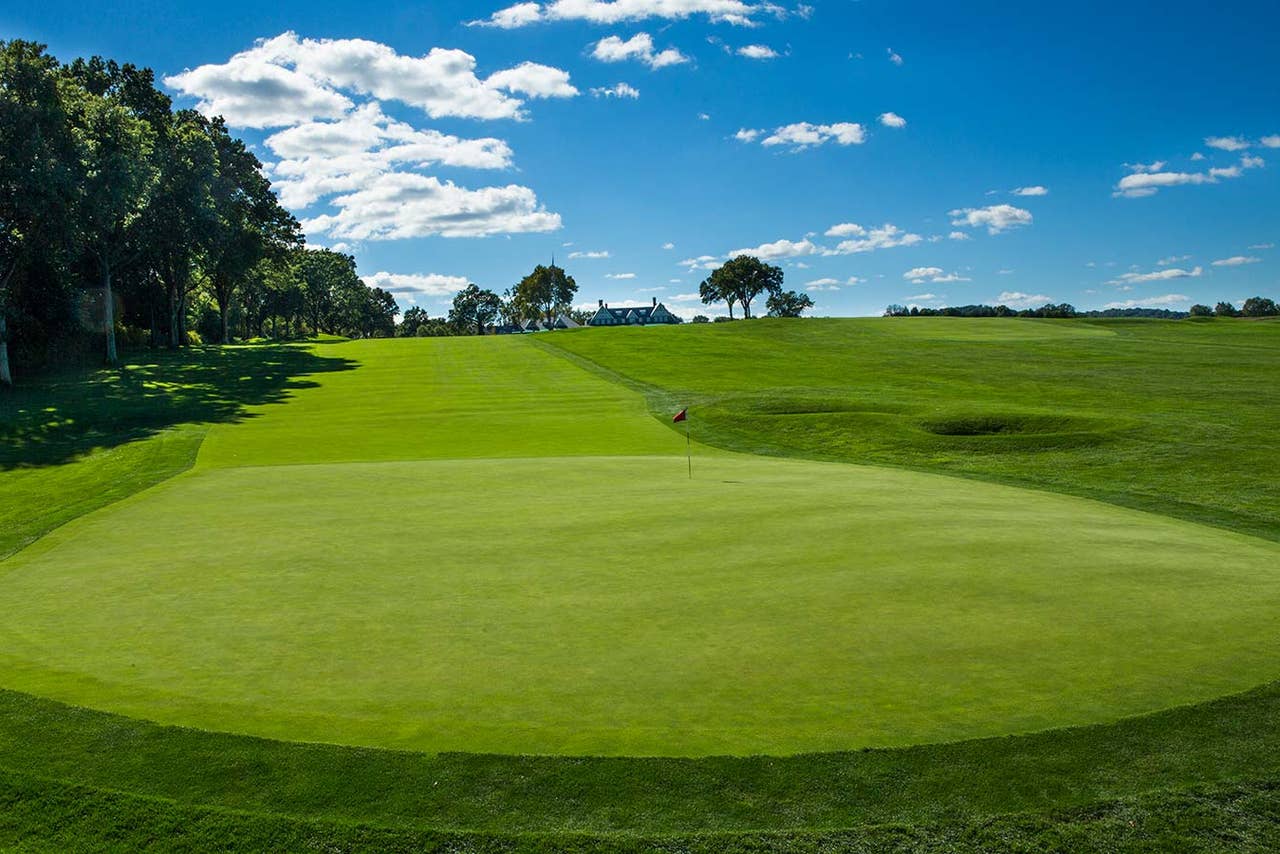 The first green slopes from front to back, making it challenging to keep your ball on the putting surface.
"If you make a 3 there, you will be making up ground on the field, there's no doubt about that," Hall said. "Depending on how firm and fast it gets, 4 will make up ground on most folks in the field."
Par 4, 340 yards
On paper, the 340-yard second hole doesn't appear especially intimidating. But that's far from the case, according to Hall.
"Oakmont, I think, is one of the finest tests of golf that we have in our country, and interestingly enough, you've got five holes, No. 2 being one of those five, that are under 400 yards," Hall said. "So it's really amazing how even a hole that is short on the scorecard can be extremely strategic in its presentation and the way that it has to be played."
In 2007, the USGA moved the tees up for the final day of the Open, turning it into what Hall described as "a risk-reward driveable par 4." But most will play a mid-iron off the tee to make sure to keep the ball in play and avoid one of Oakmont's many drainage ditches, this one running along the left side of the fairway.
"They're very strategically placed throughout the golf course," Hall said of the ditches. "They don't often have water in them, day in and day out — say like a Rae's Creek at Augusta — but they are designed to move water, so they meet the definition of a water hazard. In this case it's a lateral water hazard because of the way it's positioned."
And if players end up in this one, they might be just as well-served to take a drop and move on.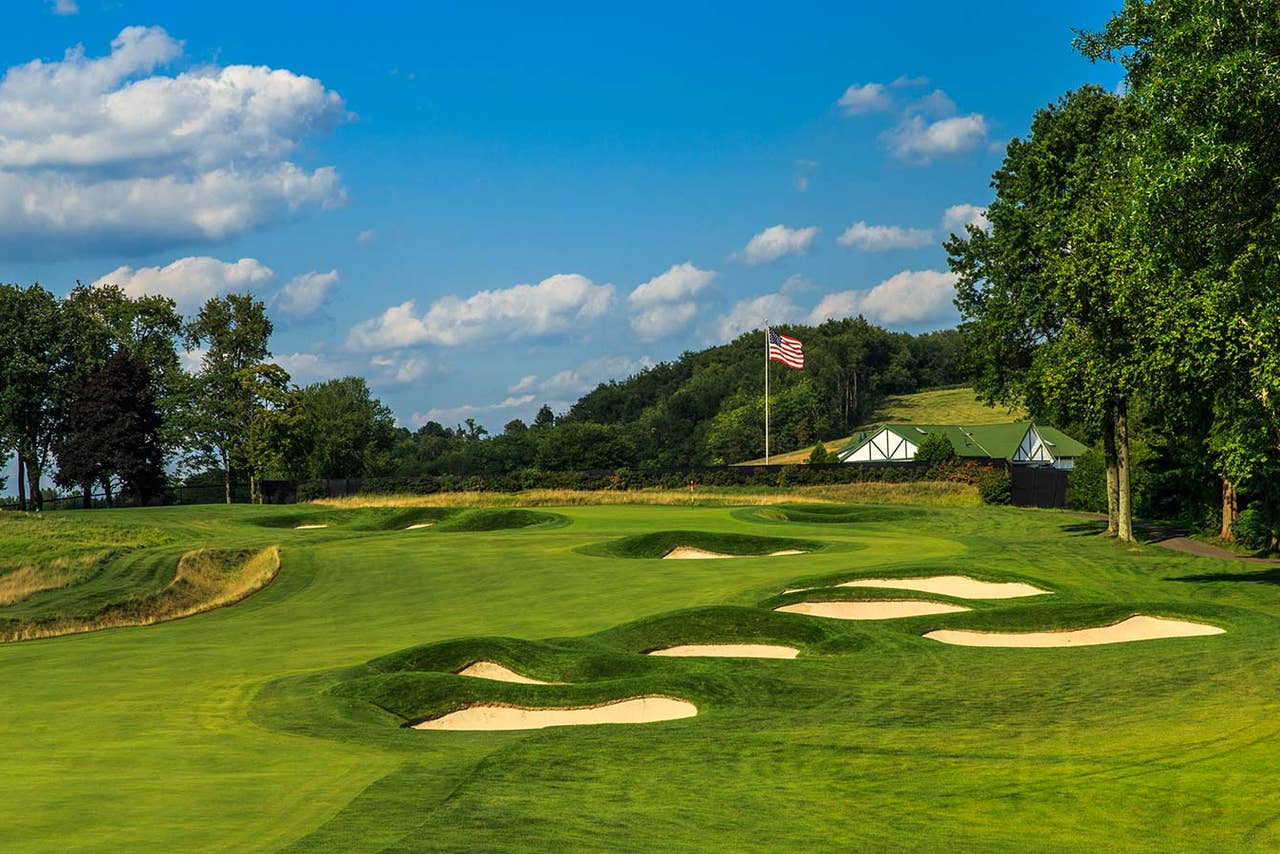 With a drainage ditch left and bunkers right of the fairway, there are plenty of hazards on the second.
"You could likely find your ball in there and may be able to play it, but it will not be an easy recovery," Hall continued. "In some respects, it might cause you to try to play a shot that, if it was full of water, you would not have otherwise been able to play.
"Normally, you would have taken your penalty stroke and dropped out under the rule, and carried on, whereas getting in there to play it — what was the line in 'Top Gun'? Your ego is writing checks that your body can't cash," Hall continued. "That's the kind of situation you can find yourself in — 'Gee, I can play this,' and then you tried to play it and didn't do such a good job."
If players successfully avoid trouble — there's also a challenging bunker complex on the right side of the fairway — they'll have a wedge into the green, but No. 2 features a severe slope from back-left to front right.
"You have got to be in complete control of your golf ball when you play your second shot here," Hall said. "You must keep it under the hole, and if you don't keep it under the hole, your second putt will likely be from well under the hole. It's just a very, very demanding short wedge shot that you're going to be playing."
Par 4, 426 yards
No. 3 is the first of two consecutive holes for which Oakmont's storied "church pews" bunker is in play. The long bunker, along the left side of the third fairway, features a dozen "pews" — mounds of grass that make playing out of the sand quite difficult.
"If you get your ball into that complex, you could have an awkward shot," Hall said. "The ball could be lying very cleanly, but you could have an awkward stance. You could have a perfectly normal stance, but the ball could be lying very awkwardly against the church pew, or even in the grass. The complexity of what you could be faced with is just really interesting and very unique, and I think that's what (course architect) Mr. (Harry) Fownes was trying to achieve with that type of presentation."
Reaching the green with a second shot is also a must for players, considering the tabletop green with a significant slope coming up from the fairway.
"If you do not carry the ball onto the putting green, the ball will come down a good 10 to 20 yards short of the putting green, depending on the type of shot you play, the wind direction, the firmness and the speed of the approach," Hall said. "If you say, 'OK, I'm going to make sure I don't do that,' behind the green is a drop-off. It's not as severe as the front, but the ball will run away from the green and could end up 8 to 15 yards beyond the back end of the green."
In 2007, Woods ended up carding a double-bogey 6 on No. 3. The lapse was precipitated by an airmailed approach that may have cost him the championship.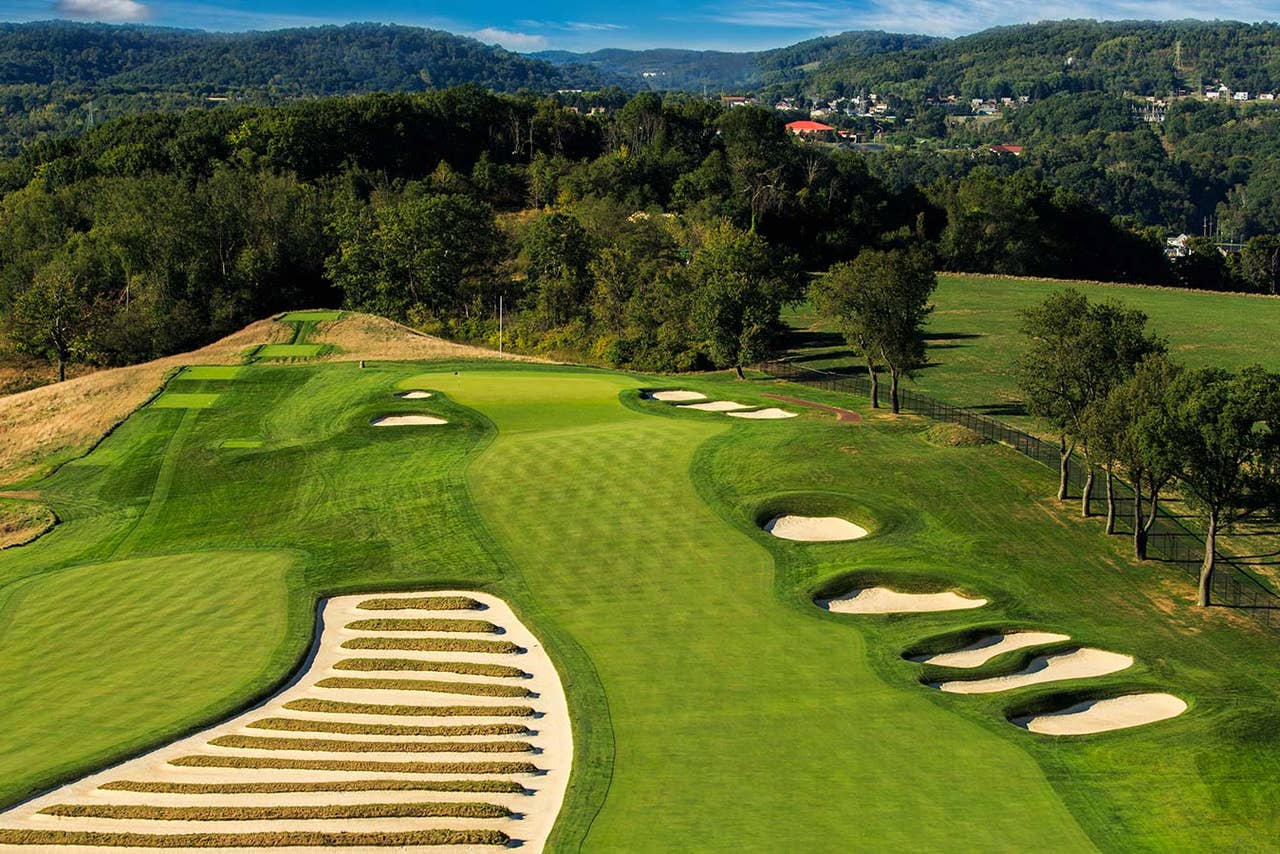 The third hole, with the famous church pew bunker at left.
"When the conditions are firm, even though it's a short club — for these guys, probably worse scenario is an 8-iron — it's a very, very demanding second shot," Hall said. "And for golfers at any level, even at the elite level, it's just never a comfortable shot when you can't see precisely where you're going. And that's what it takes with the second shot at No. 3."
Par 5, 609 yards
Though the church pews are featured on No. 3, they're more in play on the 609-yard fourth hole, the first of Oakmont's two par-5s. With the fairway sloping left to right, players know they have to keep their tee shot up the left side, and often that leads to trouble.
From there, the hole is a dogleg right, to a green that is reachable in two shots for the pros — but Hall advises that going for the green may not be the best play, even if a player has struggled through the first three and is looking to earn a stroke back.
"It's much more manageable if you do play an appropriate second shot and lay it up into the 80- to 100-yard range," Hall said. "The angle of the green and that which awaits you if you don't get it on the green with a long second shot is pretty demanding."
And for players who don't try to do too much, it's one of Oakmont's rare chances to earn a stroke back.
"I think it's a good example of where sticking to your management plan could be really critical," Hall said. "The player that struggles a little bit out of the box has a yardage that they like going into the fourth green to try to make 3, but if he doesn't execute, they could easily leave there making 6.
"As good as all these guys are with their wedges," Hall continued, "a more conservative 5-iron, 4-iron shot to lay up, then having a wedge, is probably going to give them, consistently, a much better chance than going for the green in two."
Par 4, 382 yards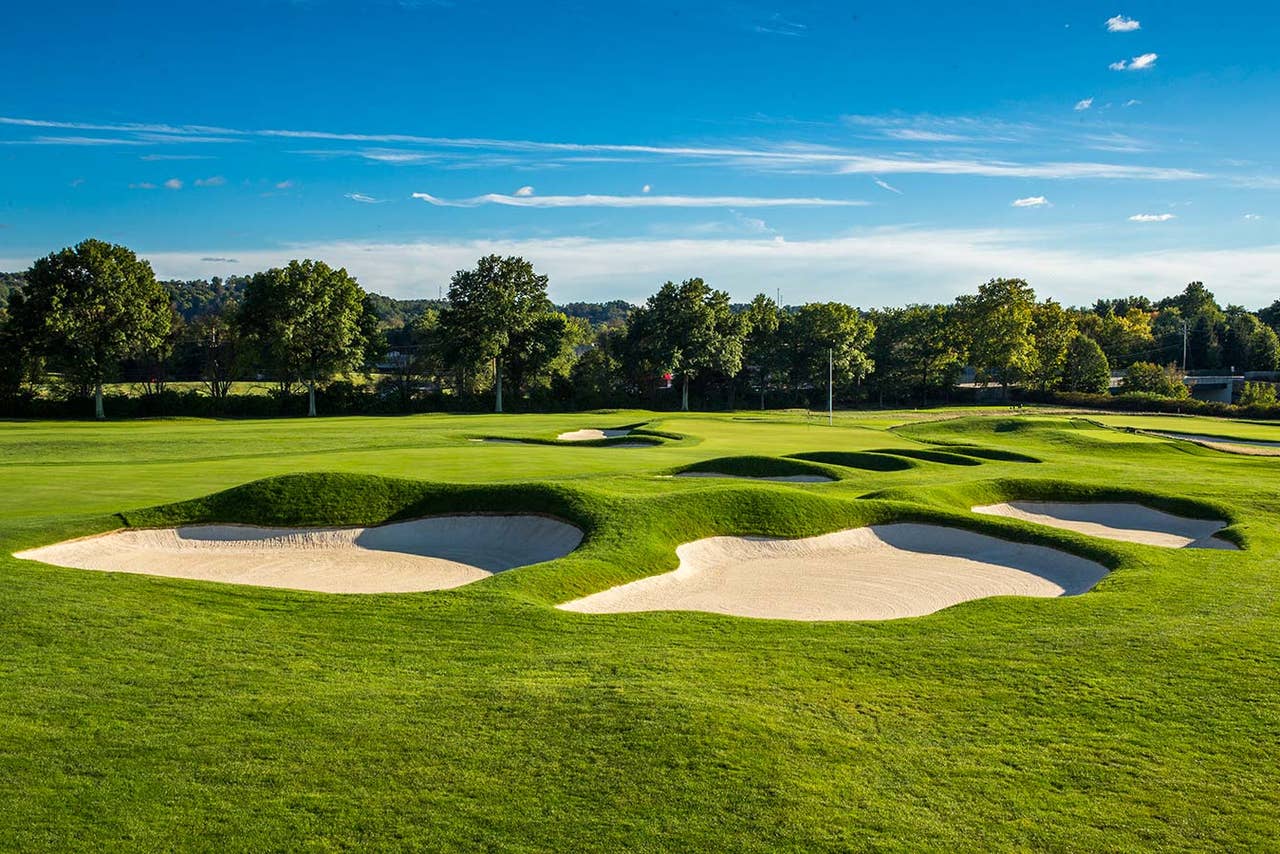 The long par-5 fourth gives players an opportunity to pick up a stroke -- going for the green in two, though, can lead to problems.
The fifth at Oakmont is another short par-4 that is anything but easy. The green slopes severely from right to left, but it's the tee shot that Hall says makes No. 5 a monster.
"It's certainly an iron, maybe a hybrid for some of the guys," Hall said. "It's a slightly blind tee shot. You don't really see the fairway."
Hall's advice? Really get to know the fifth, and plan your first two shots during your practice rounds, lest a lack of familiarity cost you when it counts.
"You need to do the work and be comfortable with what your line is, even though you're playing an iron," Hall said. "It's certainly not a very wide fairway — it'll be one of the narrower fairways — but even at this level, any time you give a player a slightly blind shot, there's just something uncomfortable about it, and it makes a difference."
Par 3, 194 yards
No. 6 is the first of Oakmont's par-3s, and this year it'll play slightly different than it did at the '07 U.S. Open.
Since 2007, the club restored the back right portion of the putting green, which was part of the original design. Hall says that will likely open up one, possibly two, hole locations in that area of the green. An existing bunker has also been removed from the back side of the green, but the real trouble is a large bunker to the right of the green that protects those back-right hole locations.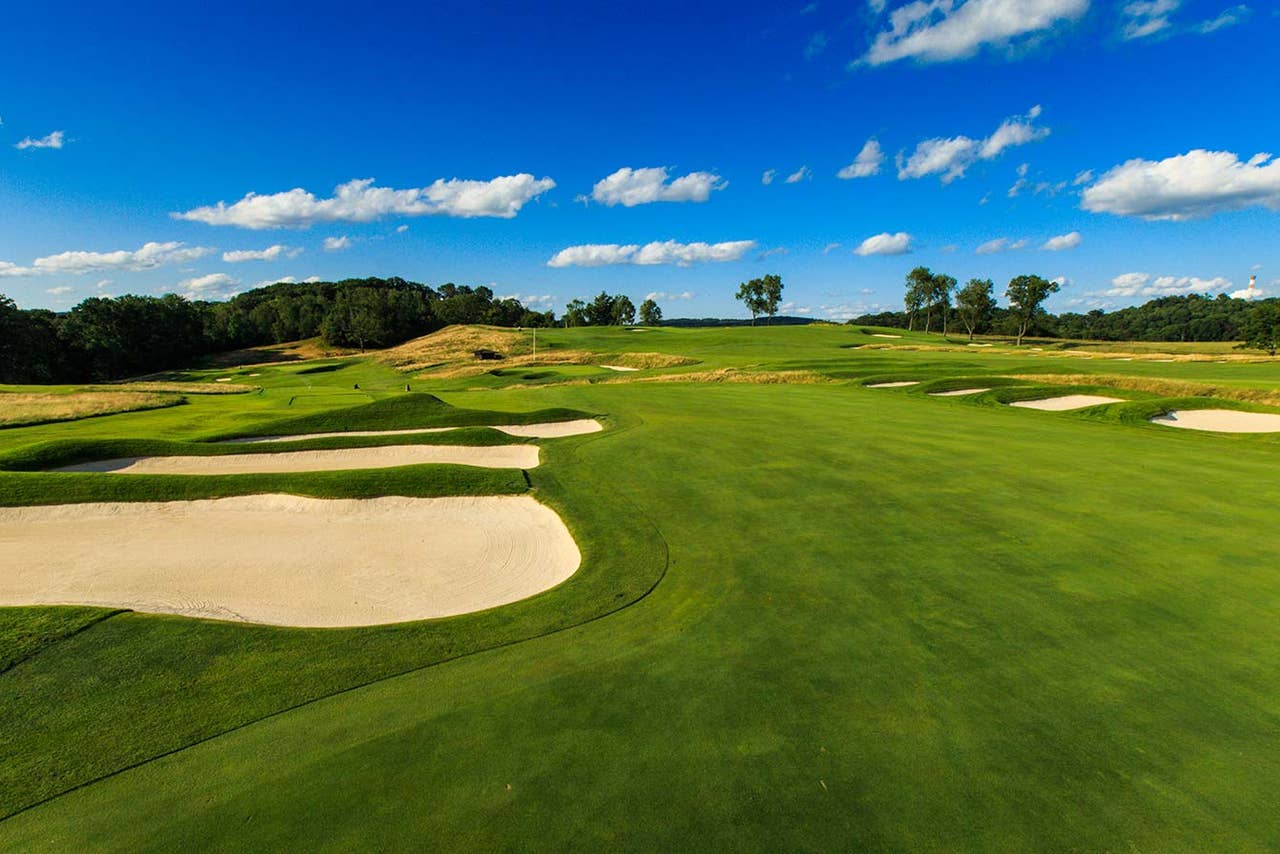 Bunkers greet you on both sides of the fairway on the fifth.
"If a player misses in that bunker, they're going to have to make a 15-footer to make par," Hall said. "It's deep, the green runs away from you, and it's just a demanding iron shot. It's 194 yards, and for those guys I think you'll see anything — maybe the shorter hitters are playing a 6-iron, but you'll be seeing 7s and 8s, predominantly."
Par 4, 479 yards
Oakmont features several blind tee shots, but No. 7 isn't one of them, according to Hall.
"The tee is slightly elevated and you see everything," Hall said. "It's all right there in front of you. The architect is saying, 'OK, fit it in there,' and now it becomes your job to do that."
Most tee shots will land in a slight upslope, so balls won't roll out as much as they might otherwise, and hole locations will almost certainly be focused on the back portion of the green, thanks to its design.
"The green is kind of a back plateau, and I think you'll see the majority of the hole locations there, because there's just a lot of slope in the front third to front half of the green," Hall said. "And with the speed that the greens run here at Oakmont, it's just not feasible to put a hole location there."
The sixth green has been revamped since the 2007 U.S. Open.
The best play will likely be to hit driver off the tee — though some longer hitters could survive with a 3-wood. And if players find the fairway, it makes the hole much more manageable — a common theme throughout the track at Oakmont.
"On every hole, there's an absolute premium on having the golf ball in the fairway," Hall said. "So it's certainly an advantage, if you're hitting driver well, to hit driver and get further up the hill and give yourself a better view of things and a shorter shot into this green."
Par 3, 288 yards
Prior to the 2007 Open, a new tee was put in on this long par-3 to extend it from 252 yards to 288. And depending on tee and pin locations, it can play longer than 300 yards.
Also complicating matters is the so-called Sahara bunker, a 100-yard long sand trap to the left of the green. But Hall says it's positioned in such a way to give players a chance.
"There's a good 40 yards between the back side of the bunker and the front of the putting green," Hall said. "So the hole was thoughtfully designed to give the player the opportunity to be able to hit a long club, land it short of the green, and chase the ball onto the green. It's not as though you're being asked to fly the ball 280 yards to get it onto the putting surface."
Players hitting driver well will be rewarded with a much easier approach to the seventh green.
How long the hole ultimately plays will likely depend on conditions. If the course is firm, players will likely be teeing off from 290 to 300 yards from the pin. But if it's soft, Hall says, such a set-up is "just not feasible."
"We will use both tees there," Hall said. "In 2007 we did two (rounds) from the 250 tee and two from the 280 tee, so you'll see a lot of irons, maybe some hybrids (from 250). And maybe a 4-wood, 5-wood, 3-wood if there's a real short player playing. But from the 280 tee, I think you'll see some 3-woods, and the shortest of the players who play at the Open, maybe there's a guy or two that will be needing to hit drive.
"Either way," he added, "there is ample room there to play the shot that's being asked."
Par 4, 477 yards
Angel Cabrera, the eventual winner of the '07 U.S. Open, was able to take a 36-hole lead thanks in part to an outstanding sand wedge from 135 yards out on the par-4 ninth. Most won't likely find themselves in a position to follow Cabrera's blueprint, however, particularly because many won't even play driver due to the difficulty of the tee shot on this hole.
"It's another blind tee shot, drainage ditch left, bunkers left, narrow fairway that pitches a little bit from left to right," Hall said. "So you do want it to start on the left side. I think you'll see some players not play driver there because of the elevation change from tee to fairway. It's interesting that the ball, as it's falling from its flight, it's not falling as vertical. It's still moving relatively horizontal as it gets to the ground because of the elevation change."
Though Hall warns that simply finding the fairway doesn't mean players are in the clear.
"You can check that box," he said, "but there's still a few more boxes to check in the examination of this hole."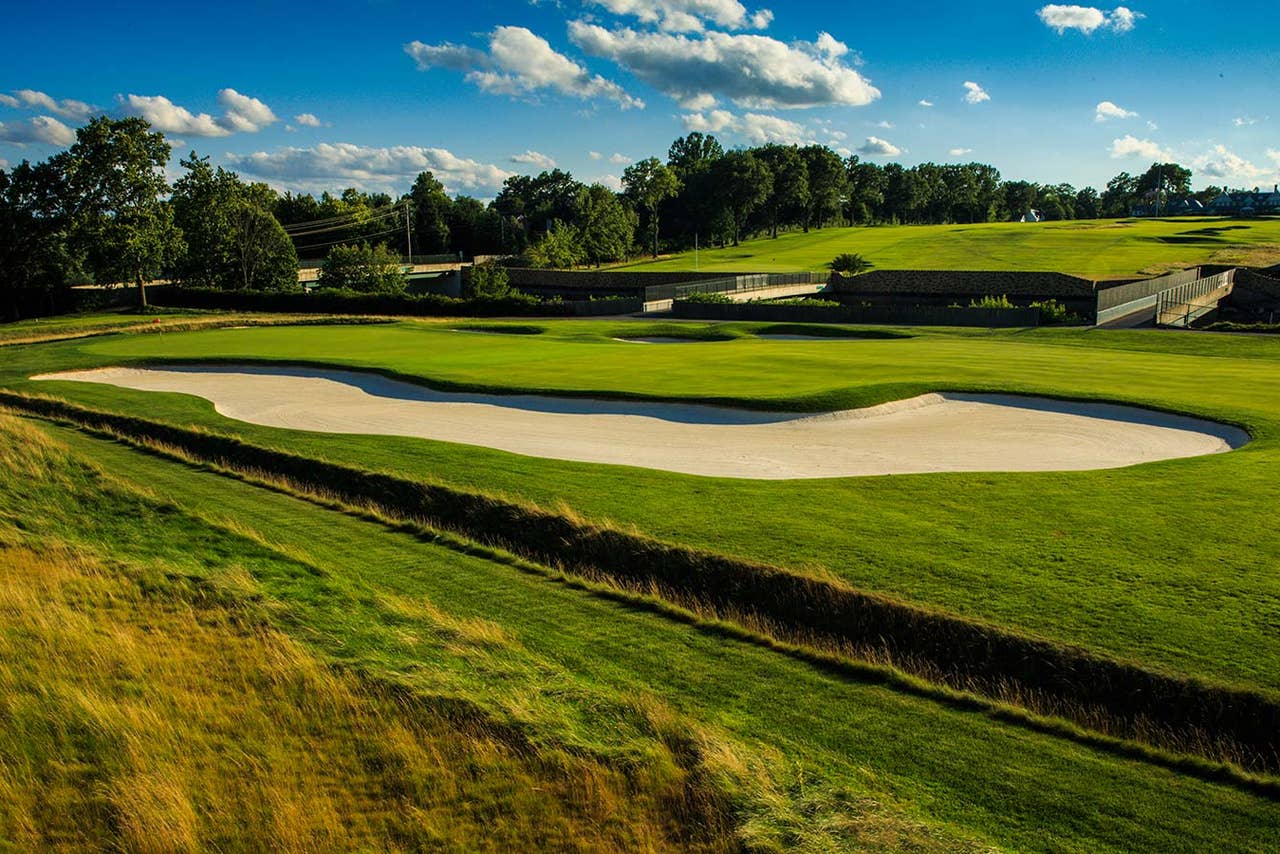 The mammoth Sahara bunker guards the left side of the eighth green.
The ninth green is an interesting layout, at 65-yards deep, and the back half of it is actually used as a practice green. As a result, all hole locations will be on the front portion of the green (don't worry, players get a free drop if they drop an approach into a practice hole). And players who want to command it will have no choice but to study it extensively leading up to the tournament.
"There are a lot of unique architectural features within this green, and it's really one that, if you're playing your practice round and get a pretty good feel of where the hole locations are going to be, you need to hit some putts from a lot of different places," Hall said. "Because you just can't believe that you need to aim 12 feet left to get that ball to where the hole is going to be.
"It's just amazing some of the movement in these greens, and especially with this green," he continued. "If you miss your target even by six inches when you're putting a 30-footer, it could magnify into missing the hole by eight or 10 feet just because of the slope and the speed."
Click here for the back nine preview.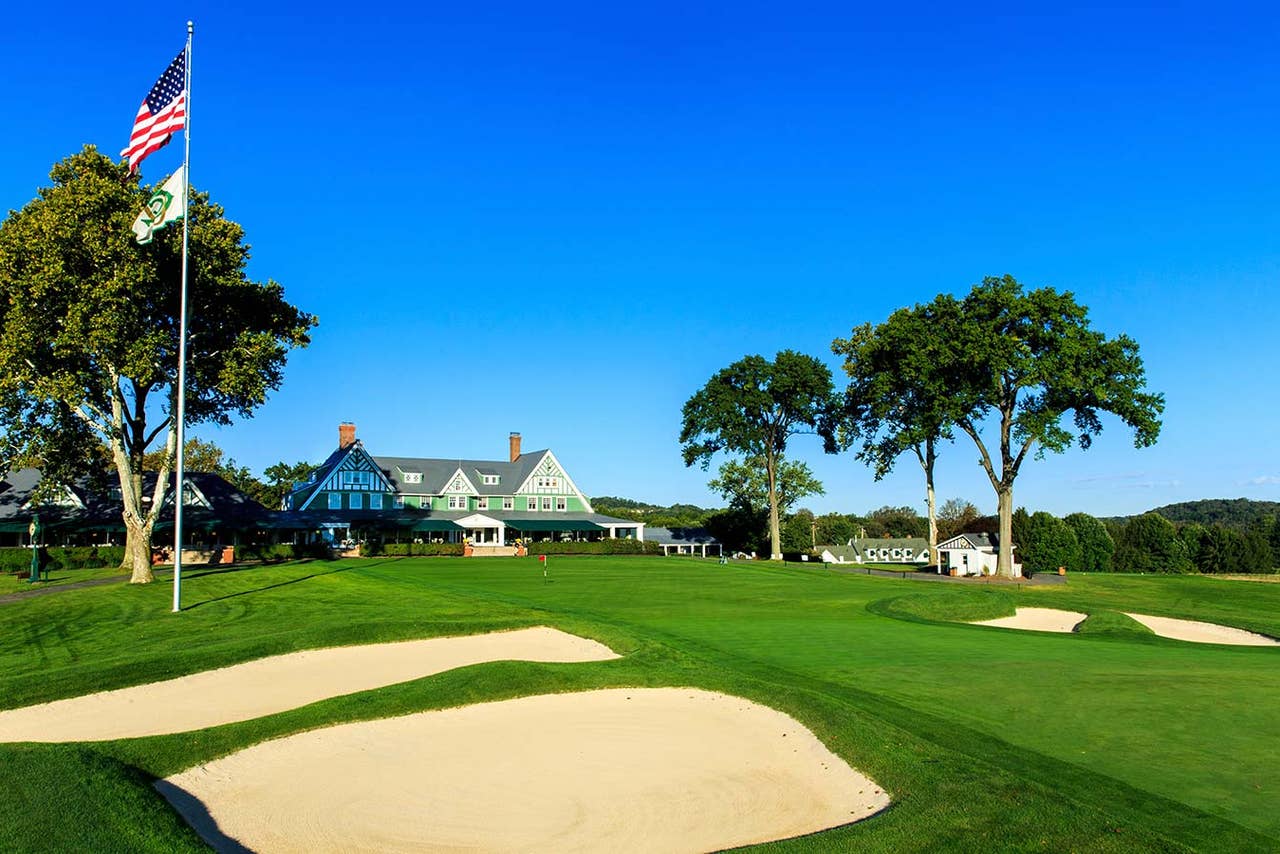 The ninth shares part of its green with the practice green -- players get a free drop if they find their ball landing in a practice hole.
---
---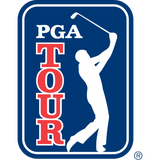 Get more from PGA Tour
Follow your favorites to get information about games, news and more
---