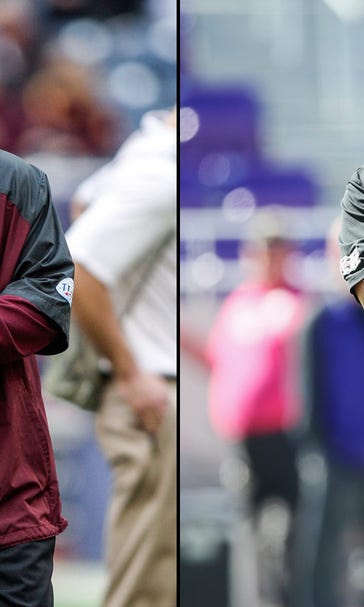 Close friends Kill, Patterson meet when Gophers visit TCU
September 10, 2014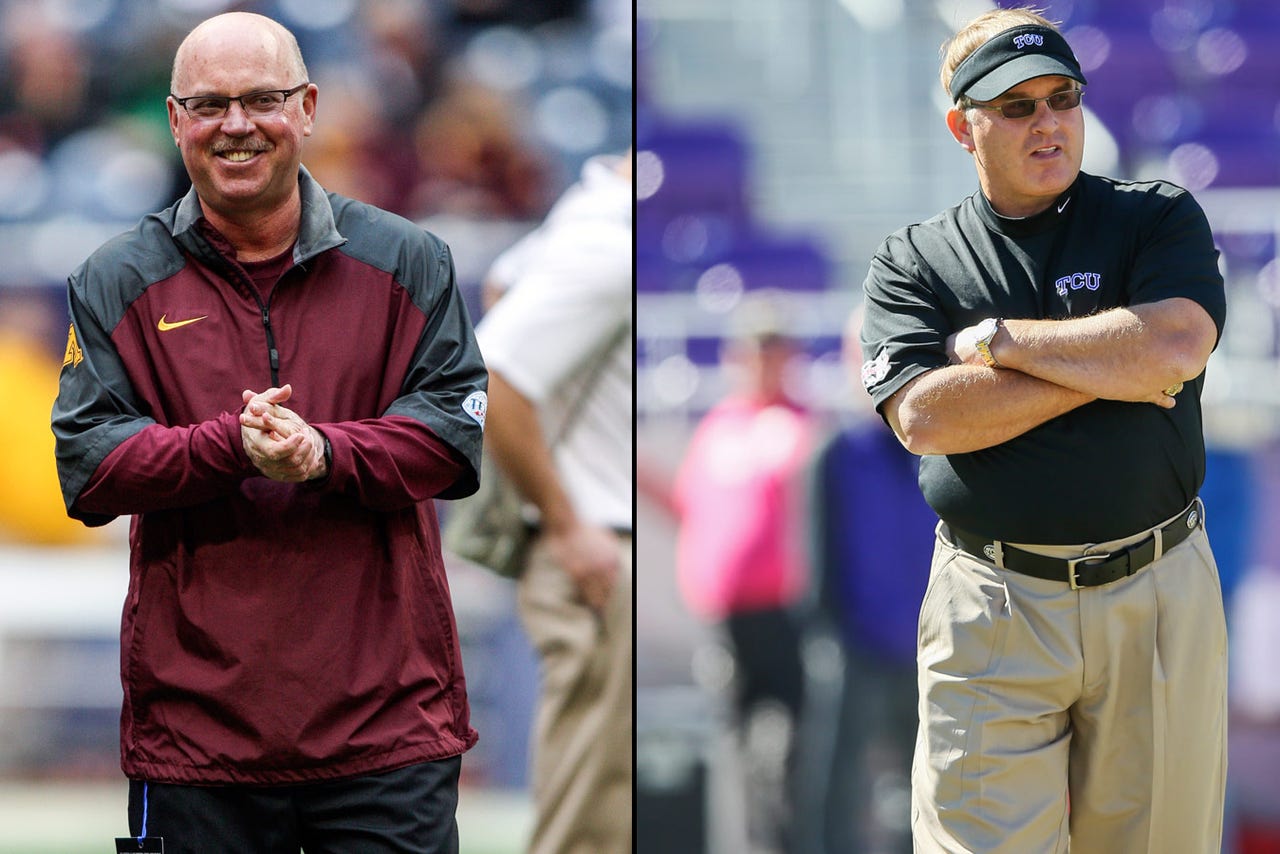 MINNEAPOLIS -- When TCU coach Gary Patterson looks across the field this Saturday, he'll see a familiar face.
That would be Gophers head coach Jerry Kill, who has known Patterson for a long time. The two are close enough to where Kill was the best man in Patterson's wedding.
"Well, I wouldn't let him come to mine," Kill joked about his own nuptials to his wife, Rebecca. "I got married when I was 21 and my wife was 19, so I didn't even know Gary at that time."
Oddly enough, the bond between Kill and Patterson didn't form when they were on the same coaching staff. That's because the two have never coached together, although their paths have nearly crossed several times.
Kill began his college coaching career at Pittsburg State in 1985 as the defensive coordinator on head coach Dennis Franchione's staff, a job Kill held through the 1987 season. He then left to coach Webb City High School in Missouri in 1988, the same year Patterson joined the Pittsburg State staff as the linebackers coach.
Kill eventually returned to Pittsburg state in 1990, this time as the offensive coordinator. By that time, though, Patterson had already left for Sonoma (Calif.) State, where he secured a job as the defensive coordinator.
Fast forward a decade to 2000, after both coaches' careers had continued upward. Patterson took over for Franchione as the head coach at TCU after spending the previous few years as the Horned Frogs' defensive coordinator. At that time, Kill was the head coach Division II Emporia State in his native Kansas. His old friend Patterson called him up with a job offer.
Kill politely declined.
"He had offered me a job as the offensive coordinator there, but I also had an opportunity to go to Southern Illinois," Kill said. "Coach Franchione's advice was if I wanted to be a head coach, he goes, 'You're not going to get any of those other jobs, so you'd better take one and turn it.' So that's what I did. And then we stayed in touch."
Since taking the Southern Illinois job, Kill has continued to climb the head coaching ranks. He moved on to the head job at Northern Illinois and eventually parlayed that into his current gig as the head coach of the Gophers.
Now, in his fourth season at the helm in Minnesota -- and 21st year as a college head coach -- Kill and one of his closest friends in football will finally square off this Saturday in Fort Worth. According to Patterson, though, the matchup almost didn't come to fruition.
"We had a long conversation about whether to have this series. It really came down to, there wasn't really anybody else," Patterson told the Fort Worth Star-Telegram. "Friends don't like to play friends any time. . . . Obviously, it's always tough. But both of us got jobs to do, both of us got mouths to feed, and so for one week, you got to get after each other and get ready to play."
There's no doubt these two staffs know each other well. For years, Gophers defensive coordinator Tracy Claeys -- who's led Kill's defense since 1995 at Saginaw Valley State -- has learned tips about the defense from Patterson and his coaches at TCU.
Minnesota's defense has continued to improve in Kill and Claeys' four years on campus. How much credit does Patterson deserve for that?
"Some games, the way we've played he probably wouldn't want me to say I've learned anything from him because we haven't played as well as he has. But it's easily close to 90 percent," Claeys said. "I was down there eight or 10 years in a row and the first time I became defensive coordinator, their spring ball, I spent 10 of 15 practices down there for spring ball and I've learned a tremendous amount from him and his staff."
Patterson has built a program at TCU that has been to the Fiesta Bowl and the Rose Bowl in recent years and has gone from Conference USA to the Mountain West to the Big 12 during Patterson's tenure. Despite a down year in 2013, Patterson's Horned Frogs have won 10 or more games eight times since he took over the team.
That's the kind of winning tradition Kill is trying to build at Minnesota. Beating one of his closest friends could help do just that.
Follow Tyler Mason on Twitter
---