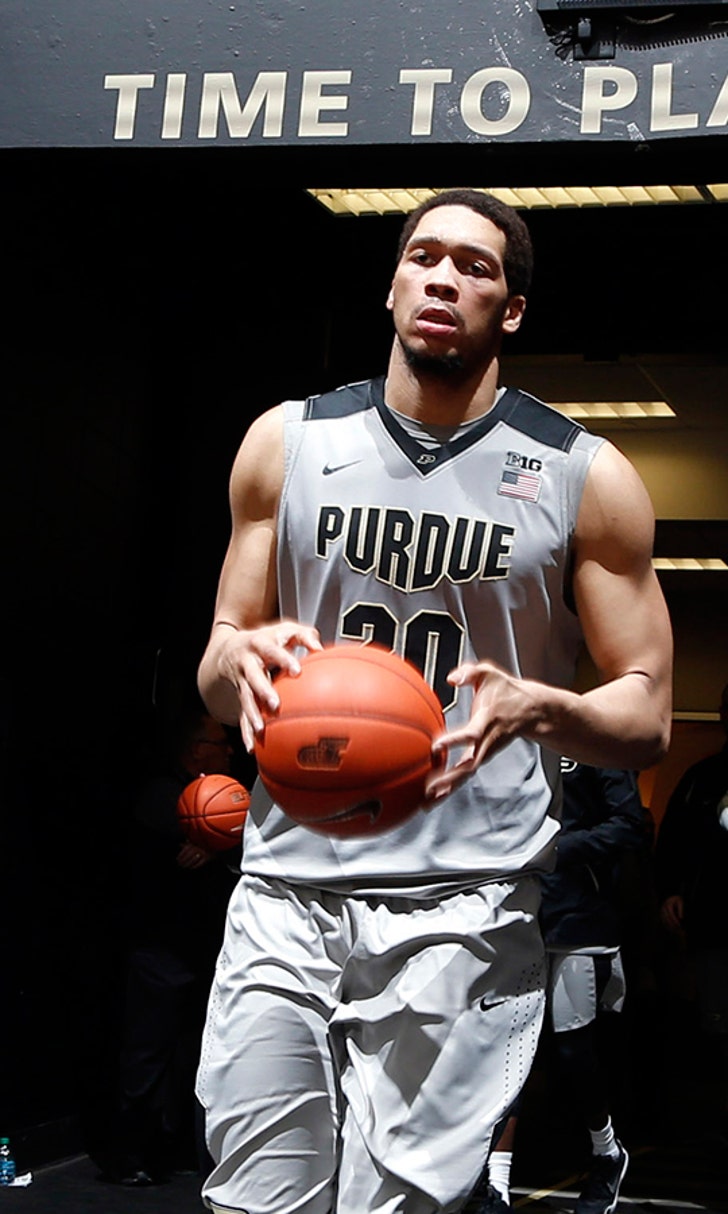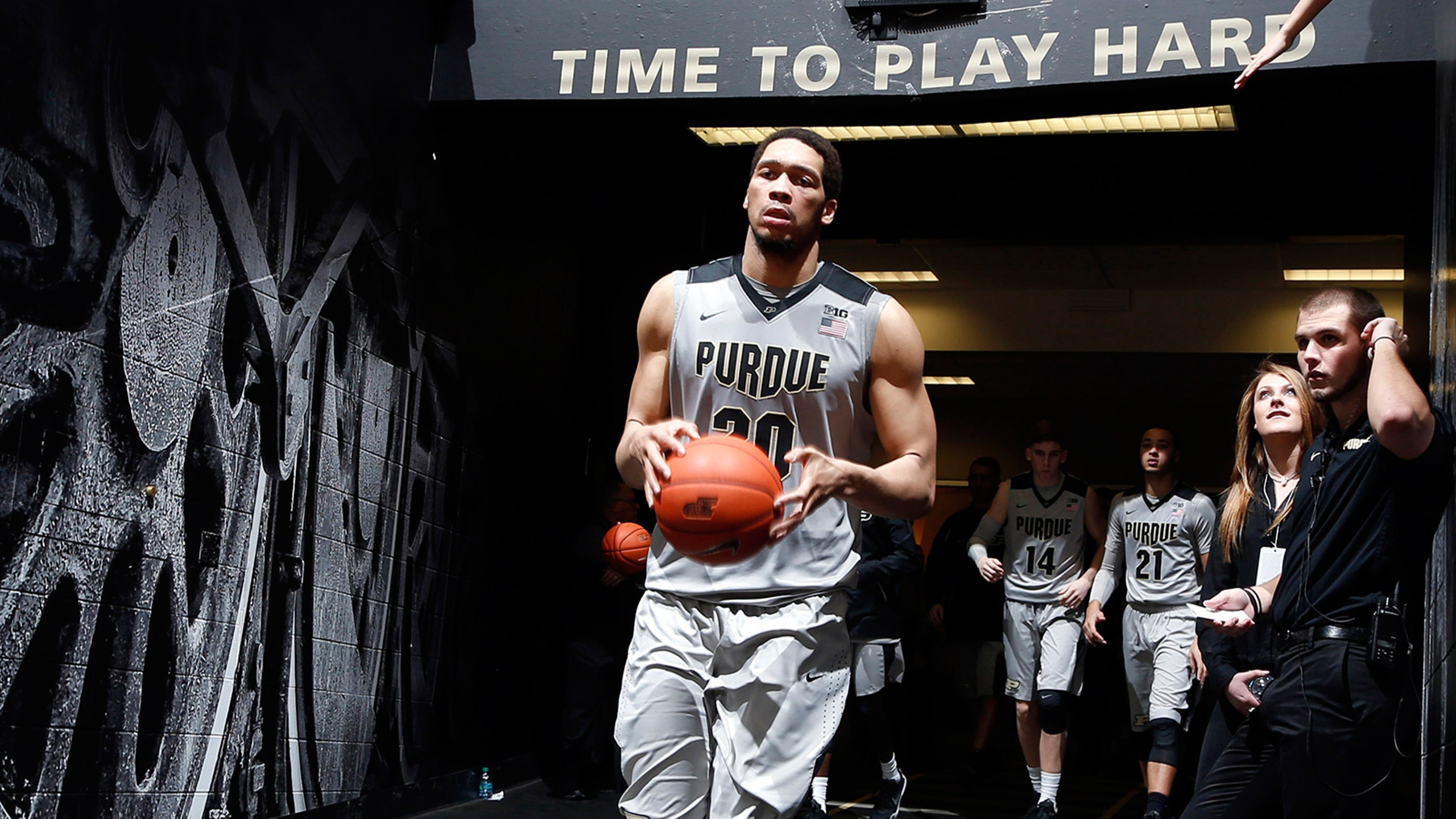 Clash of the big boys: Hammons, Stone face off Saturday
BY foxsports • February 5, 2016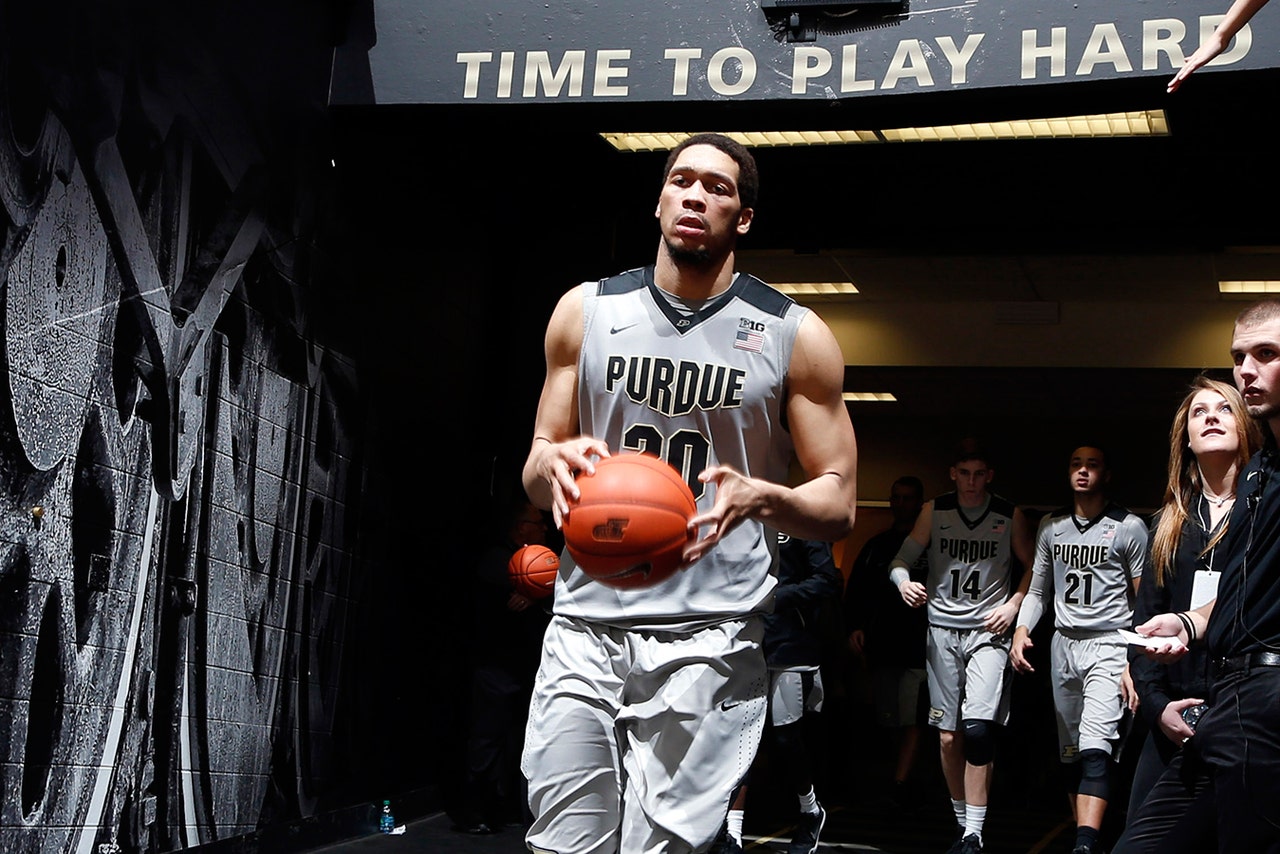 Maryland big man Diamond Stone and Purdue center A.J. Hammons each had productive efforts in their last games against the same undersized opponent.
Now they'll have to pick on someone their own size Saturday when they face each other for the first time.
Stone can help the fourth-ranked Terrapins stretch their home win streak to 26 games as they face Hammons and the No. 18 Boilermakers.
Both these teams last played against Nebraska, which does not have the size to contain either the 7-foot Hammons or the 6-11 Stone.
Hammons scored a career-high 32 points on 14-of-17 shooting to go with 11 rebounds in last Saturday's 89-74 home victory. He had not scored more than 24 all season.
"You just don't see 7-footers that can move that way, that are that skilled and that athletic," coach Matt Painter said.
Stone made 8 of 15 shots for 16 points and 10 boards in Wednesday's 70-65 win at Lincoln. The freshman also had a season-high eight blocks as Maryland (20-3, 9-2 Big Ten) finished with 13 - the school's highest total in nine seasons.
"I thought defensively, we never quit trying to guard," coach Mark Turgeon said. "Our post guys were terrific around the rim all night."
Maryland shot 51.0 percent while Purdue's mark of 58.9 versus Nebraska was its best mark in a Big Ten game in the last seven seasons.
Both clubs should find more resistance Saturday. Purdue (19-4, 7-3) is second in the Big Ten in field-goal percentage defense at 38.1, and Maryland is fourth at 39.9.
The Terrapins figure to have the edge on the perimeter behind star guard Melo Trimble, who has turned in back-to-back 20-point efforts. Trimble scored 14 second-half points and hit some key late 3-pointers Wednesday.
"He's a winner," Turgeon said. "He just keeps doing it. We're down three and they have all the momentum and he hits the big shot to tie it. It's what he does."
While Maryland averages 14.4 assists to rank seventh in the 14-team conference, Purdue is second at 18.0 after registering 27 last weekend. P.J. Thompson had seven, Vince Edwards six and Hammons and Caleb Swanigan five apiece.
"It was our best passing game," Painter said. "I thought Swanigan was good passing the ball, A.J. was really good, P.J. had seven assists, no turnovers. I thought our team overall did a good job sharing the ball."
The Terrapins have been prone to miscues, averaging 13.2 turnovers for the Big Ten's third-worst mark, and their 18 last time out was their most in a conference game. The Boilermakers only force an average of 10.5 turnovers to rank second-worst in the league.
Rapheal Davis is Purdue's top-scoring guard with 9.2 points per game after he had 17 in his last effort.
Reserve guard Kendall Stephens could return after missing three games for personal reasons. Stephens led the Boilermakers with 14 points in a 69-60 loss to Maryland when these teams last met Jan. 10, 2015.
Hammons struggled for six points and four fouls in 18 minutes. Jake Layman led the Terps with 14 points and Trimble made 1 of 7 shots and scored eight.
Purdue last beat a Top-5 opponent on the road in 1993-94, winning at No. 3 Michigan.
---