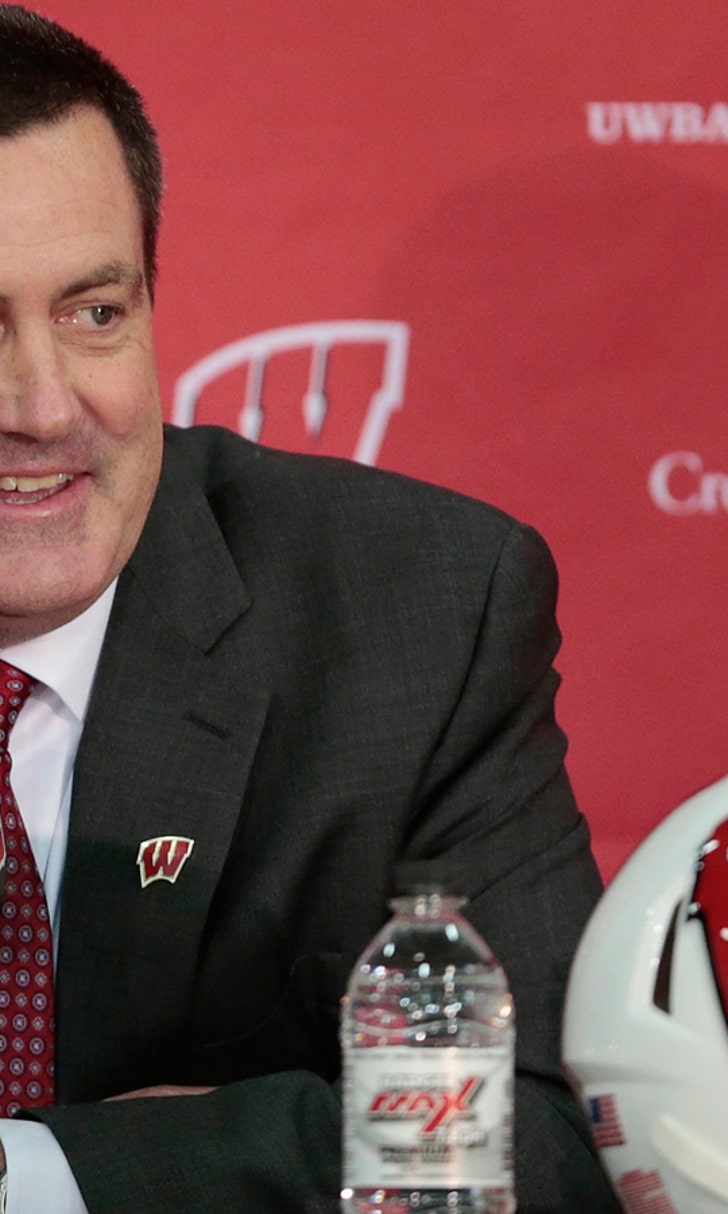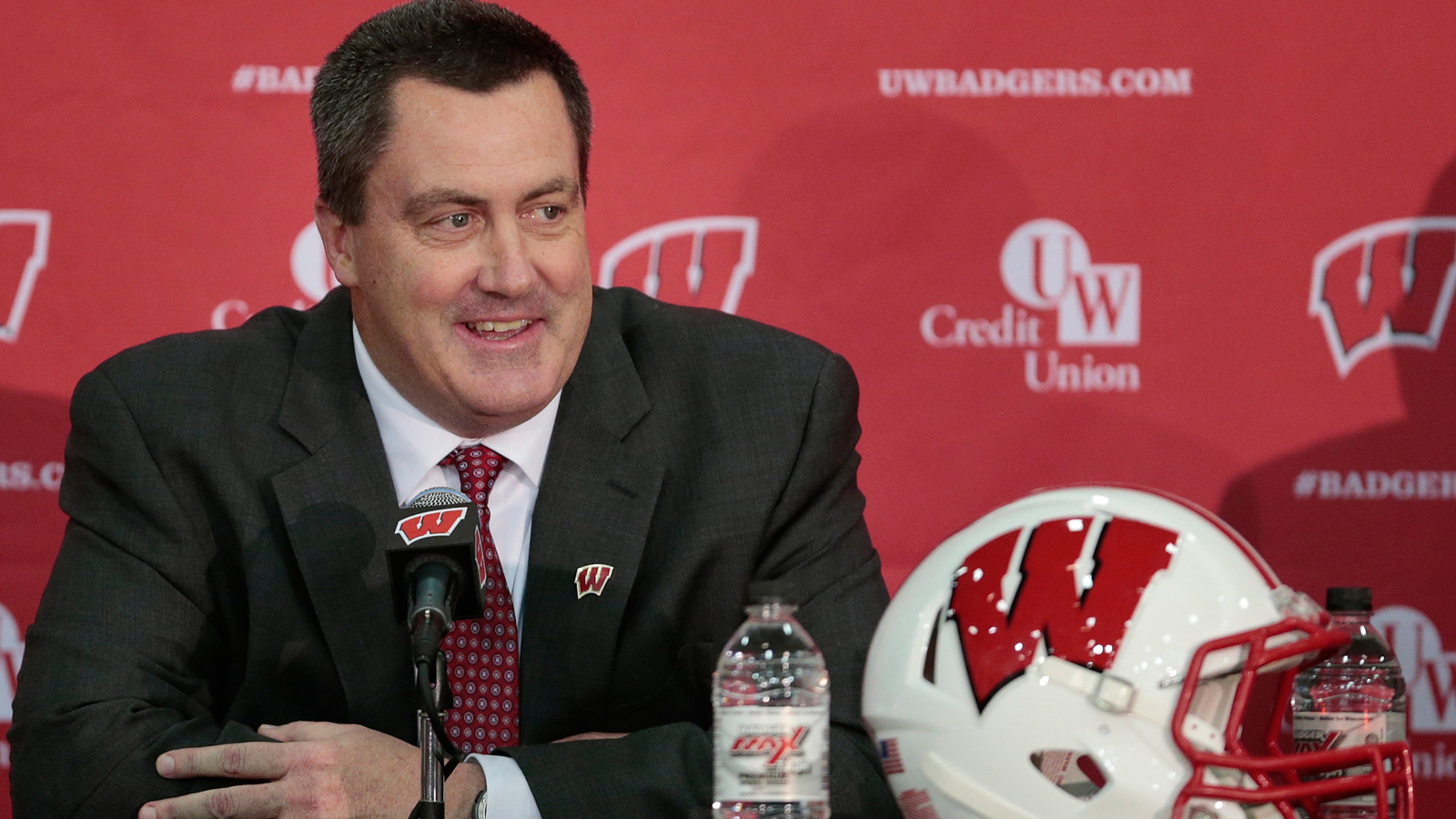 Chryst thrilled to return to roots in Wisconsin
BY foxsports • December 17, 2014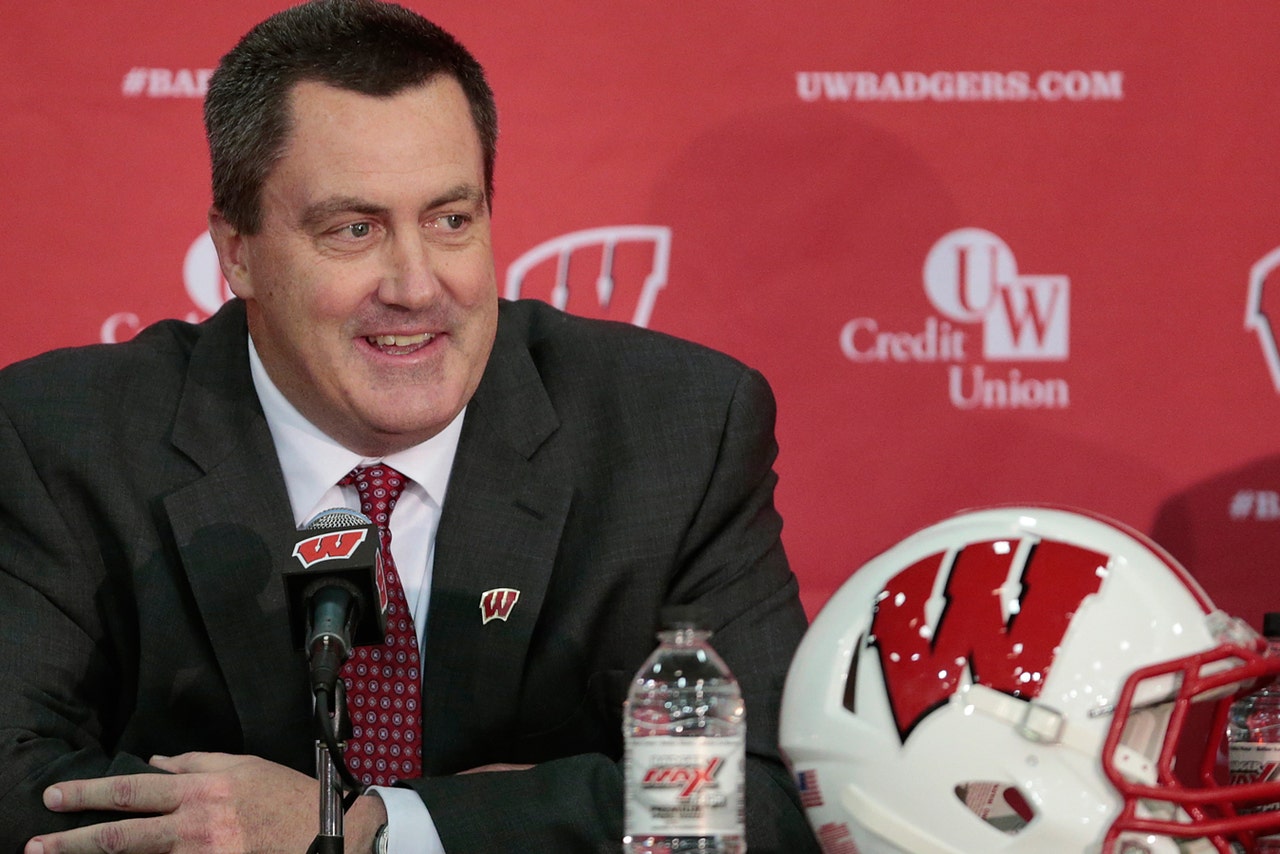 MADISON, Wis. -- He remembered the bicycle route that brought him as a young boy to the corner of Monroe and Regent streets on the west side of Wisconsin's campus, where he routinely delivered six fresh newspapers to the football stadium offices.
He reminisced about the days when he would sneak inside Camp Randall just to throw footballs and dream big, pretending to make play calls as the Badgers' quarterback. He recalled all those Sunday mornings in the fall, the ritualistic nature of serving on a cleanup crew with family members inside the stadium after games stirring an inexplicable level of excitement to be a part of something bigger.
Over the years, football came to define Paul Chryst. But more specifically, University of Wisconsin football came to define Paul Chryst. And the memories of what shaped him into the man he is today were not lost on him Wednesday night.
A piece of him never left here. Now, he has returned in grand fashion.
Chryst was introduced as the 30th head football coach in Wisconsin's program history inside the Nicholas-Johnson Pavilion at the Kohl Center in front of boosters, fans, old friends and family. His wife, Robin, and three children Katy, JoJo and Danny sat in the front row, periodically turning to hug familiar faces from days gone by.
"To be able to do this and come back home to Wisconsin, it truly is special," Chryst said. "There was a spirit that is undeniable here."
It was, without question, a day not only for Chryst and his family to celebrate -- but it also was one that should cause Badgers fans to rejoice. Because if you're looking for a hire made straight from central casting, no others during this college football coaching carousel in December fit the bill better.
Chryst was made for Wisconsin, and Wisconsin was made for Chryst. And with the opportunity to bring him back home staring Wisconsin athletic director Barry Alvarez in the face, the decision was easy.
"I had a lot of choices, and I've always said fit is very important," Alvarez said. "And I don't know where you can find a better fit and qualified person than Paul and his family."
Chryst's story is one with which many locals are familiar. But it bears repeating for those witnessing the hire from afar.
He was born in Madison in 1965. He returned to letter three times as a Badgers quarterback after winning a high school state championship in Platteville. And after following his father's footsteps into coaching, he served two stints as an assistant coach at Wisconsin.
In 2002, Chryst worked as the Badgers' tight ends coach. He spent seven more years as the team's offensive coordinator from 2005-11 and helped the program set school records for points per game (44.1) and total offense (469.9) in his final year. Chryst left only to pursue his first head coaching job at the University of Pittsburgh -- a difficult decision he felt necessary to make to advance his career.
At the time, Bret Bielema was entrenched in his sixth season as Wisconsin's head coach, consistently won games and showed no sign he was unhappy there. When he left for Arkansas in 2012, Alvarez made the honorable decision not to pursue Chryst. He had, after all, recommended Chryst for the Pitt job only one year earlier and did not feel comfortable putting the Panthers in such a tough spot by plucking him right back.
That brought Gary Andersen to Madison as the next head coach from Utah State. And though he tried to say the right things, Andersen had spent his entire career on the West Coast and ultimately left the program in stunning fashion last Wednesday to take the head coaching job at Oregon State. In two years, Wisconsin had lost two head coaches, leaving some to wonder whether Wisconsin -- despite all its football success -- was considered a so-called destination job.
Chryst certainly intends to change that by following the path of Alvarez, who arrived as Wisconsin's football coach in 1990 before taking over as athletic director in 2005. He stopped short of calling Wisconsin a dream job for he and his family, but Chryst's heartfelt words and emotions indicated as much. He noted that within 15 minutes of arriving at a hotel on Tuesday, all three of his kids had scattered to reunite with friends.
"When you talk about destination job, I think you've got to earn the right to stay that long," Chryst said. "There's two great examples: Coach Alvarez, and I think what Bo (Ryan) is doing right now in hoops. They've earned the right to make it that destination job, and I sure hope to work to try to make it that. But you've got to earn it, I believe."
What the 49-year-old Chryst provides is a man who understands the challenges that are unique to Wisconsin. He recognizes the importance of maintaining in-state recruits -- an area Alvarez acknowledged had perhaps slipped in two years under Andersen. He also knows Wisconsin's limitations when it comes to paying assistant coaches. And just as important, he is someone who accepts the academic challenges that come with coaching the Badgers -- something Andersen clearly did not embrace.
"I think one of the things that gives Wisconsin an edge is the quality of guys that you get to do it with," Chryst said. "When you go out and recruit, you're offering an education. When you can go into that person's home and tell them, and you know it to be true, that you're offering a world class education, and they also get an opportunity to play, like coach Alvarez said, this is a tremendous program football-wise. When those two match up, you've got a lot to offer, and I think recruiting is about finding the fit."
There are bound to be questions about schemes, recruiting, retaining assistant coaches and expectations. Chryst's wife even admitted after the introductory news conference that, despite the homecoming feeling surreal, she knows her husband must win games in order for the family to stay in Madison.
But on Wednesday, the future could wait. A native son had returned home. He needed Wisconsin, and Wisconsin needed him. And that was reason enough to celebrate.
"It makes for a very good story," Badgers quarterback Joel Stave said. "It's cool how for him it's all worked out."
Follow Jesse Temple on Twitter
---