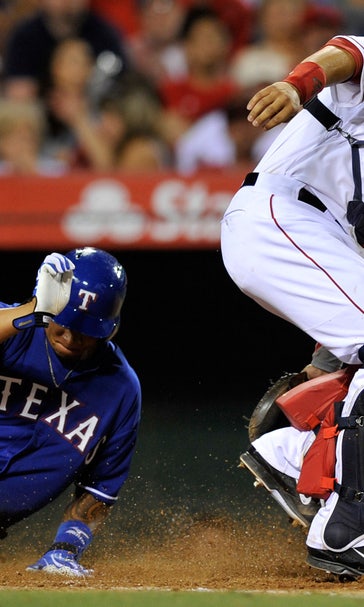 Choo, Rios go deep to help Rangers beat Angels
BY foxsports • May 3, 2014
ANAHEIM, Calif. (AP) -- With Prince Fielder, Adrian Beltre and Elvis Andrus struggling at the plate, Texas manager Ron Washington enjoyed watching a couple of home runs from two of the few players in his lineup who were hitting .300 or better.



Shin-Soo Choo and Alex Rios homered in the sixth inning against winless Hector Santiago, and the Rangers beat the Los Angeles Angels 5-2 Friday night to end a four-game losing streak.



The only other time this season that the Rangers had two home runs in one inning was April 15, when Fielder and Kevin Kouzmanoff went back-to-back to start the second against Seattle's Blake Beavan in a 5-0 win at Arlington.



"It was certainly something that we needed. We were able to string some offense together and put some runs on the board," Washington said. "I don't think you can play this game relying on home runs. But I think the more at-bats the guys (have) that are supposed to hit it out of the ballpark, the more they'll get."



Choo added an RBI single in the seventh and Colby Lewis (2-1) pitched 5 2-3 innings, allowing two runs and seven hits while striking out six. The right-hander, making his fourth start after missing 1 seasons because of operations on his elbow and hip, was lifted after issuing his only walk.



"I was able to throw the fastball where I needed to, my changeup was really good and I was able to command my pitches," Lewis said. "But I ran into that dumb walk in the sixth. The bullpen came in and stepped up and was huge tonight to solidify the win for me, so hats off to them. They've been taxed, and I was hoping to go deep into the game and give them a little bit of a break."



It was the fourth straight game in which a Rangers starter failed to get through the sixth. Lewis was working on an extra day of rest after the rotation was set up to have him avoid next week's interleague series in Colorado, where he would have to bat.



Joakim Soria, the sixth Rangers pitcher, worked a perfect ninth for his seventh save. Choo left in the seventh because of soreness on the outside of his left ankle.



Santiago (0-5) was charged with five runs and seven hits in six-plus innings. The left-hander, who has a 5.01 ERA in six starts, was replaced by Kevin Jepsen with a 3-2 deficit. Choo then singled home Leonys Martin, and Michael Choice crossed the plate with the Rangers' fifth run as third baseman Ian Stewart fielded Andrus' grounder and hit Choice with his throw home.



"I think he's going to be fine," catcher Hank Conger said of Santiago. "Physically, it won't take much. Mentally, it does start to creep into pitchers' minds. But he's been throwing good bullpens and he's been upbeat.



"He knows he wants to get that first win off his back. But I think this experience is going to be a good test for him, and a good challenge for him to try to harness what he took out of this start and take it into the next one."



Angels third baseman David Freese left with what was described as a bruise on the middle finger of his right hand after he was hit by an 0-2 pitch in the third. Postgame X-rays revealed a small, non-displaced fracture. The 2011 World Series MVP, acquired in a November trade with St. Louis, is batting .202 with two home runs and eight RBIs in 84 at-bats.



Texas was trailing 2-0 when Choo drove Santiago's first pitch of the sixth just beyond the reach of center fielder Mike Trout to end a six-game home run drought by the Rangers -- who hit 26 against the Angels last year while winning the season series 15-4 over their NL West rivals.



"They have a good lineup, with a good mix of power guys and a couple of guys that can set the table for them," Conger said. "Tonight it was just two pitches that really turned the game around."



Two outs later, Fielder reached on an infield single and Rios sent a 2-1 pitch into the rock pile in left-center for his second of the season.



Angels No. 9 hitter J.B. Shuck, fighting a 2-for-30 slump, drove in the game's first run with a two-out bunt single that hugged the third base line all the way to the bag. Howie Kendrick made it 2-0 in the fourth with an RBI single after Shuck singled with two outs and stole second.



NOTES: Kouzmanoff, who hasn't played since April 22 because of a herniated disk in his lower back, is scheduled to undergo surgery Tuesday. ... Texas C Robinson Chirinos was scratched about 90 minutes before the game because of a stomach virus. ... Greg Maddux, a special assistant to Rangers general manager Jon Daniels, is with the club for this series after making the trip from his Las Vegas home.


---