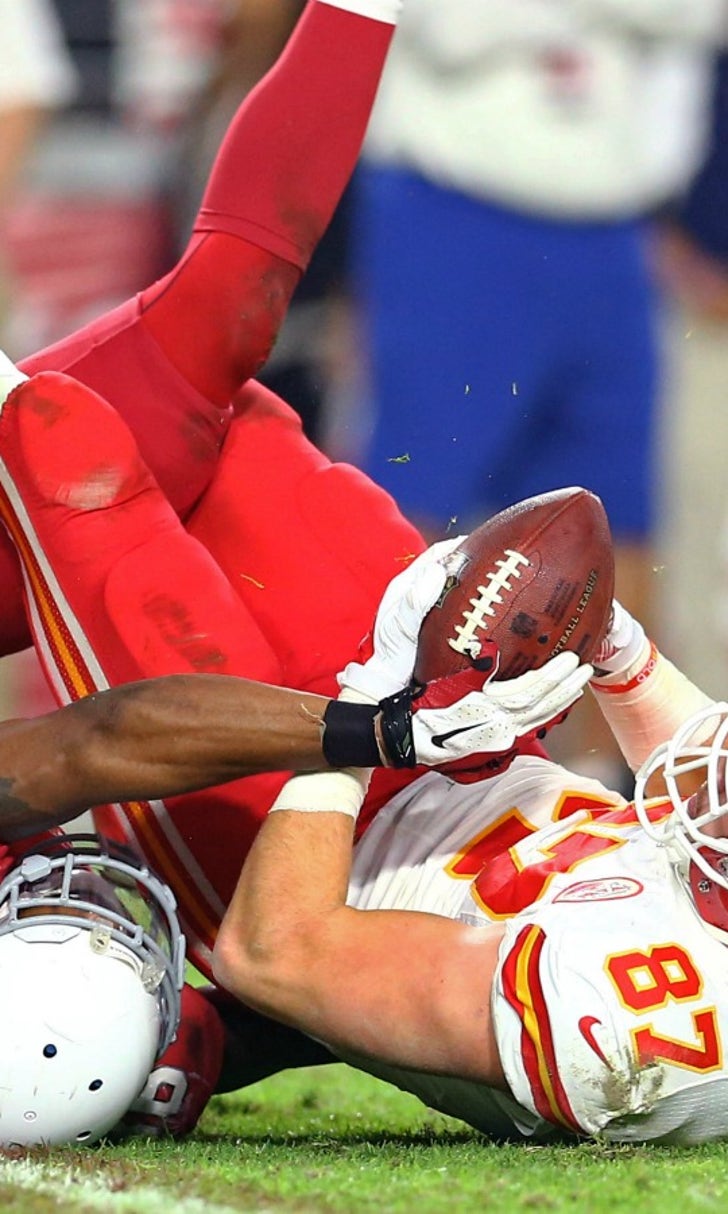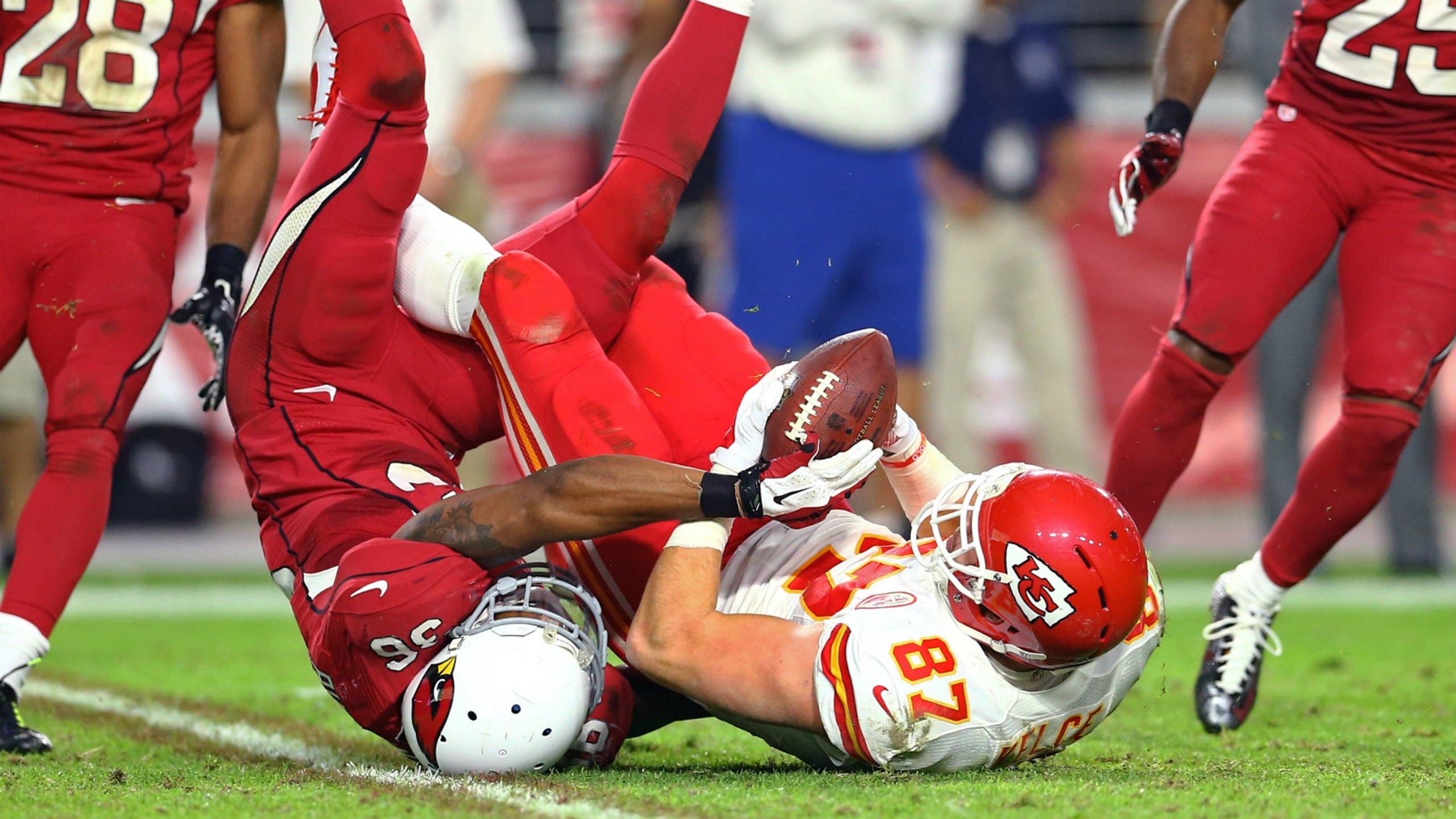 Chiefs got robbed by refs, and can't seem to stop hurting themselves
BY foxsports • December 7, 2014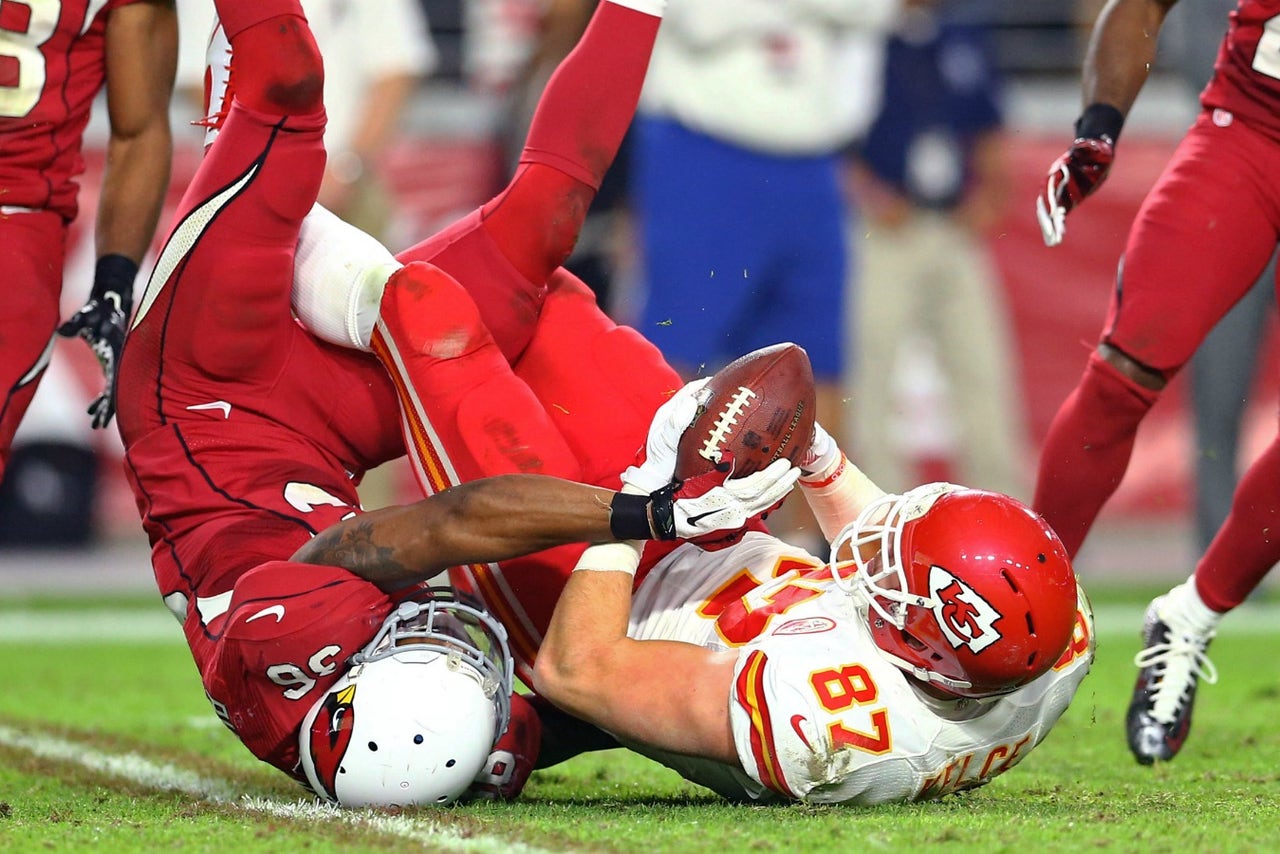 Travis Kelce had the pigskin, with two hands, secure, while lying on his back. It was somewhat clear live, and even more clearly seen on replay, slowed to a meticulous crawl: Bobbled. Secured. Down. Cocky flip.
The stripes saw something else, declared it a fumble and gave Arizona the ball at its own 16 with 5:23 to go, with the host Cardinals clinging to a 17-14 lead.
Brother, when it rains on the Kansas City Chiefs, it doesn't just pour. It freaking floods.
At any rate, let's be clear on three points:
1. Someone from that officiating crew is gettin' a fruit basket from Cards coach Bruce Arians this Christmas.
2. A lousy, stinking, awful, absurd, obscenity, OBSCENITY, LOUDER OBSCENITY call by the refs isn't absolved because the Cards took little advantage of the gift, doinking another field-goal attempt and thus keeping the score right where it was. (Sometimes, the football gods are actually just.)
3. Nor does it recuse the fact that the Chiefs got the ball back with 69 seconds left at their own 24, then proceeded to mill and circle about like a bunch of Ford Fiestas at a mall parking lot on a December Saturday. It took the Andy Gang 47 seconds to go 12 whopping yards, moving Checkdown Alex Smith from an untenable situation to a practically impossible one.
So, Cards 17, Chiefs 14, rightly or wrongly, is officially in the books, and let us never speak of that particular tome again.
And if you turn the page, the memo for Andy Reid and his charges between now and New Year's Eve is simple, clear and in giant red letters: WIN OUT, OR STAY HOME.
The NFC West part of the dance card is done (two home wins, two road losses) and dusted, and thank goodness. All that's left for the Chiefs are three more intraconference dates, two with division foes (home against Oakland next week, home against San Diego on Dec. 28) and one at Pittsburgh (Dec. 21), one of the most schizophrenic teams in a particularly schizophrenic AFC.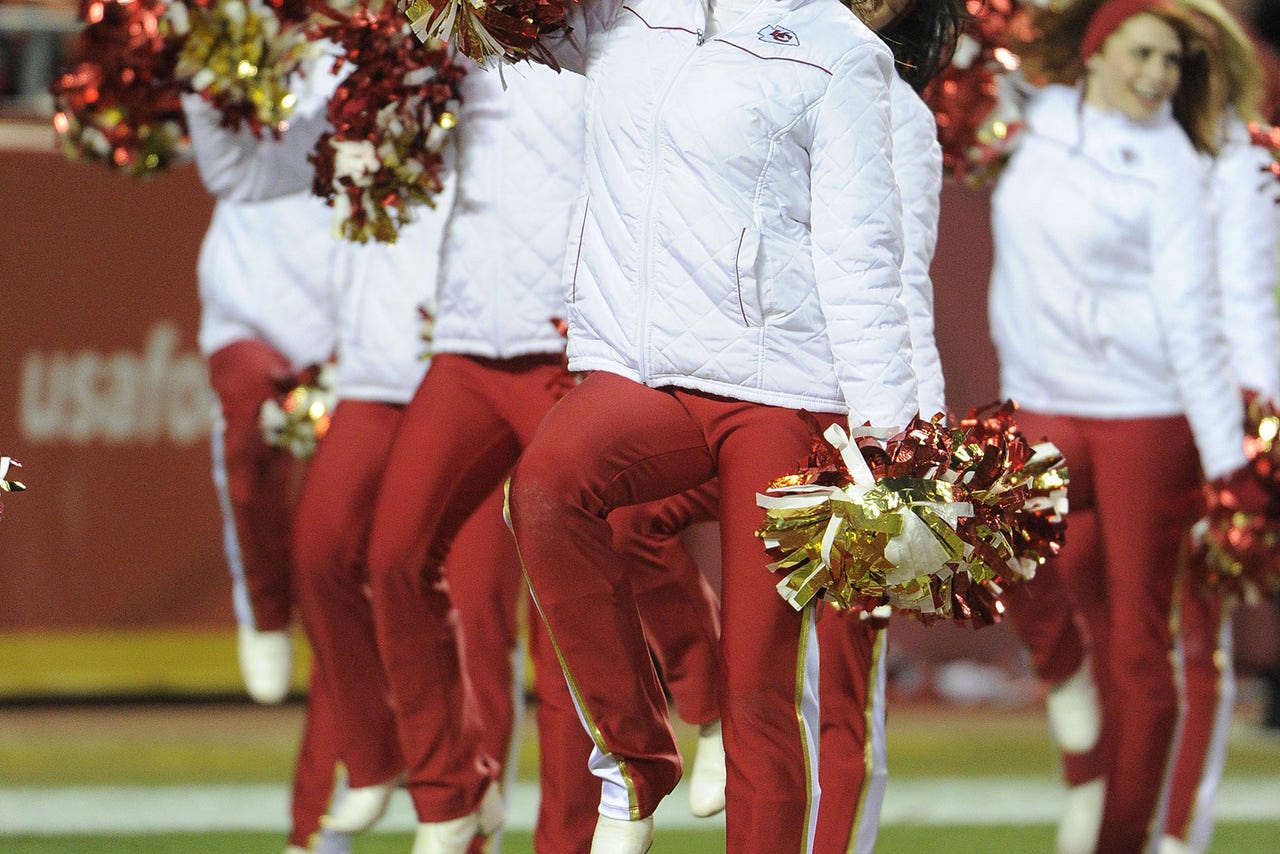 Flip through our photo album of Chiefs cheerleaders.
The margin for error, so wide and vast and cute at 7-3, is gone at 7-6. The Chiefs are 5-4 against AFC competition, as things that break ties go: San Diego, the fifth seed as of early Sunday night, was 6-3; the Steelers (sixth seed) were 7-3; Baltimore was 4-5; Houston was 6-3; Miami was 6-4; Buffalo and Cleveland were each 4-6.
It's a mess, but you build your own bed in December. These Chiefs are what they are: flawed at the beginning, got on a roll in the middle and flawed again toward the end as the injuries mount and mojo fades.
Sunday, in particular, was the kind of tilt that those 8-and-8-ish kind of teams find a way to lose, and those scrappy, it's-just-our-year sort of rosters find a way to pull out.
On paper, the Cardinals (10-3) are just as tough, defensively, as the Chiefs -- and just as banged up, if not more so. And yet not as good at tailback (obviously), even at full strength; nor at quarterback, where Smith is supposed to do to Drew Stanton what Peyton Manning usually does to No. 11.
That Smith fizzled out in the final minute or so, given a reprieve for his earlier sins, is a direct indictment on him. But it's also shared, reviving age-old questions from Philadelphia, like zombies, about Reid's clock-management skills in the crunch; about his inherent play-calling conservatism; about his inability to find and/or use his best weapons -- Jamaal Charles touched the ball only 12 times, and just four times in the third quarter, when the Chiefs should've been putting the Cards away -- with the contest on the line.
Nursing a 14-9 cushion late in the third quarter, Smith scrambled right on third-and-1 and lofted a lollipop to newcomer Jason Avant for a 41-yard gain at the Cardinals' 30. Avant has been a Chief for roughly two weeks and, in that span, he's already notched the club's longest pass of the season. Although that wasn't the problem.
The problem was that the Chiefs then attempted four straight passing plays right after that. And the fourth bit 'em -- Smith was picked by Arizona linebacker Alex Okafor, who leaped high into the air to corral a short throw at the 32-yard-line with 5:37 left in the quarter, returning it all the way to the Chiefs' 42. Some five plays later, Arizona scored its first touchdown of the day.
Sometimes, good teams make their own breaks. And sometimes, the zebras go, "Oh, what the hell," and make up some for them.
Regardless, the bottom line of Week 1 is the bottom line of Week 14, too: A quarterback uncomfortable throwing deeper than 15 yards, paired with wideouts who can't separate and a run-first line cobbled together with street free agents and third-day draft picks is a disastrous combination when all three elements are forced into desperate, passing situations. And the numbers don't lie: During their current three-game losing streak, the Chiefs have faced 17 plays on third-and-7-or-more yards to go. They've converted just two of those downs -- both coming in the first half Sunday in the Valley, one on a savvy Smith scramble -- while getting sacked four times.
We get as tired of writing the narrative Smith doesn't appear good enough to elevate a mediocre line and a mediocre receiving corps, yadayadayada as you get tired of reading it, but this particular car can't seem to stop careening into that same damn ditch, turn after turn.
Charles (10 carries, 91 rushing yards, two scores) is a star, tougher than week-old jerky and returning to the field in the second quarter after getting his left ankle bent like a pipe-cleaner during a first-quarter pile. But that star can't move the chains all by himself. If the Chiefs are to reach the Packers/Patriots/Seahawks level of consistency general manager John Dorsey so espouses, either the man under center needs to change, or his supporting cast has to. And quickly.
You can follow Sean Keeler on Twitter at @SeanKeeler or email him at seanmkeeler@gmail.com.
---