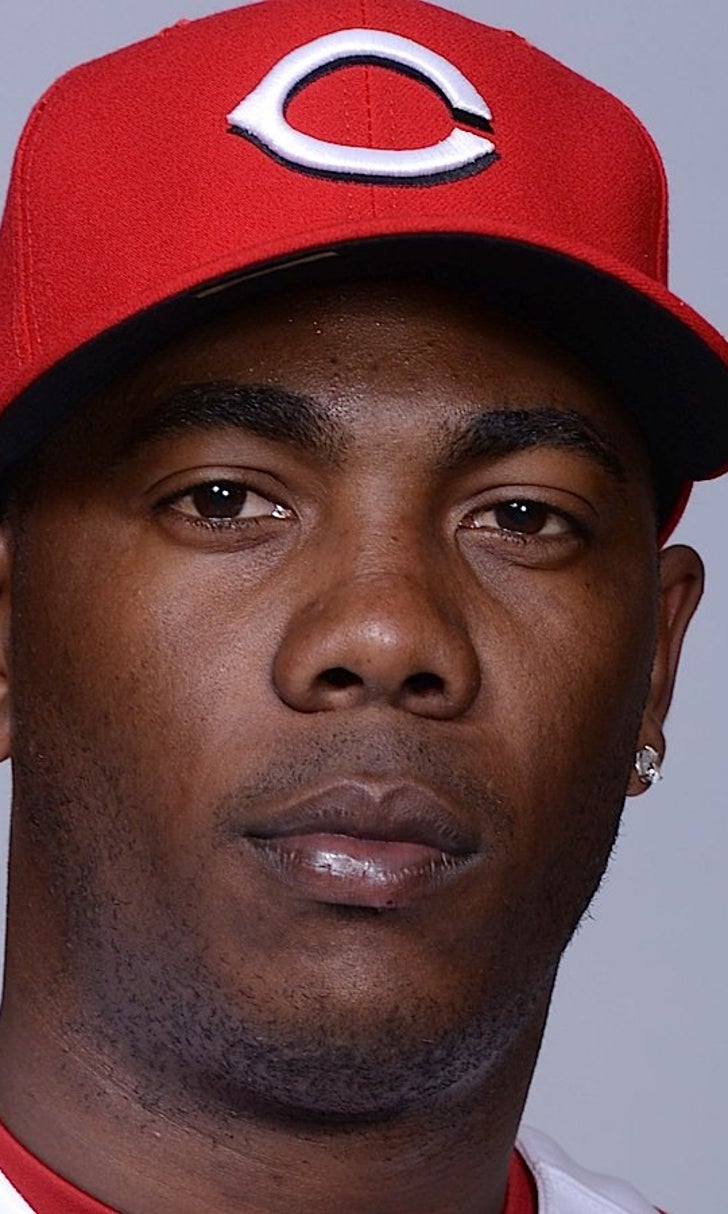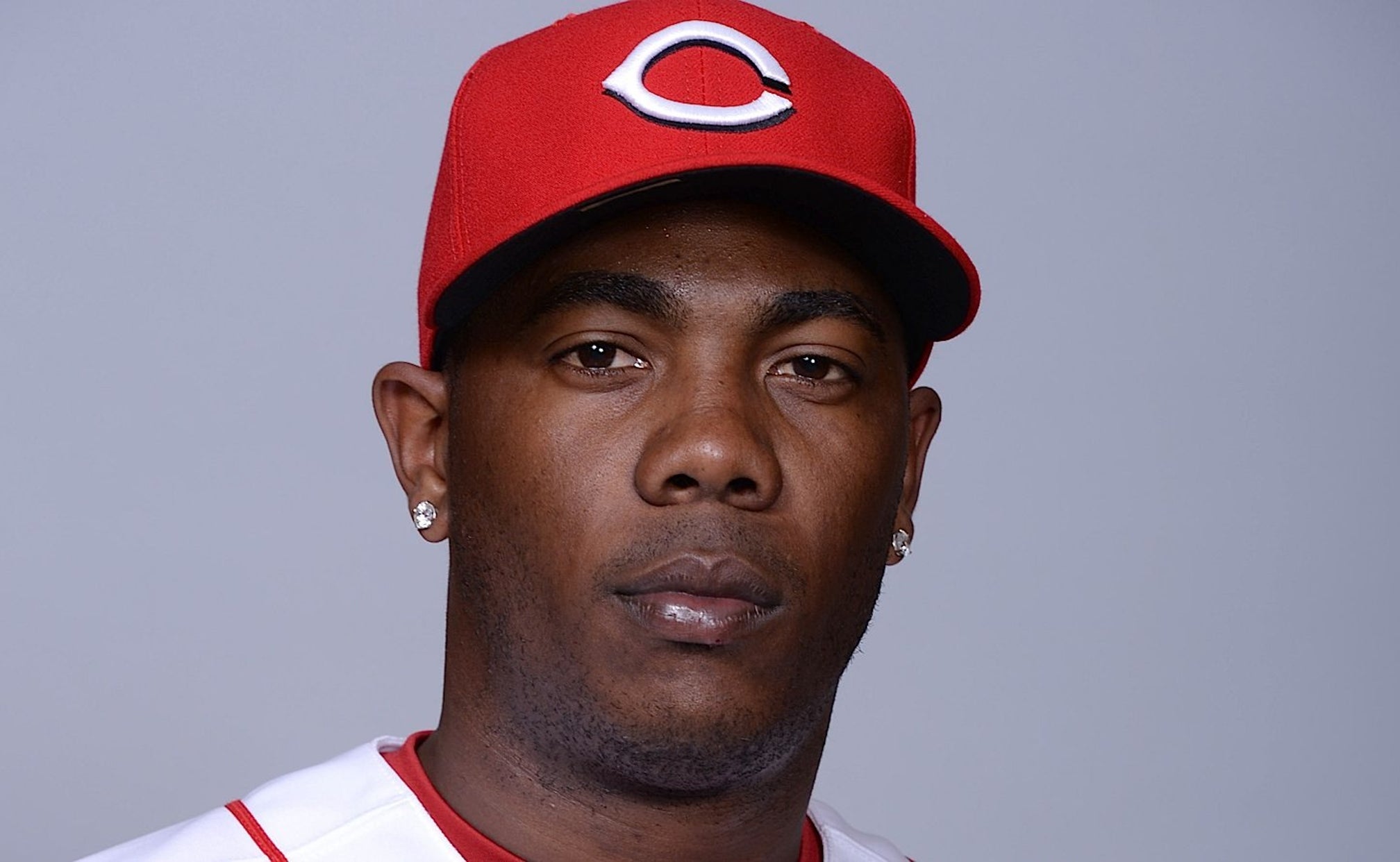 Chapman returns to camp for first time since scary line drive
BY foxsports • March 23, 2014
GOODYEAR, Ariz. -€" His eyes were blackened and his face noticeably swollen but so was the smile of appreciation on the face of Reds closer Aroldis Chapman.
Chapman on Sunday made his first appearance at the team'€™s spring training complex since being hit by a line drive in a Cactus League game four days ago. Chapman had surgery on Thursday to insert a titanium plate over his left eye in order to stabilize the fracture area that was caused when Kansas City catcher Salvador Perez returned one of Chapman's fastballs right back at the lefthander.
Chapman was released from the hospital on Saturday and met with his teammates at the team's complex before they left for the short ride to Goodyear Stadium where the Reds were to play against Milwaukee. He later spoke to media with the assistance of assistant trainer Tomas Vera serving as an interpreter.
"To be honest with you, I feel really good. I feel a lot better than I thought I was going to be," said Chapman. "At that exact moment, you don't have a chance to think about anything when it actually happened. All I was thinking about was that nothing wrong was happening with me. I didn't have any bad thoughts in my mind when I was down and feeling what I was going through."
Chapman said the worst part of the situation is when doctors told him it would be six-to-eight weeks before he could begin throwing.
Chapman has saved 76 games the last two seasons for the Reds while recording 234 strikeouts in 135 2/3 innings. His ability to repeatedly top 100 mph on the radar gun, including a record 105 mph, with his fastball has been his calling card and led to him being nicknamed "The Cuban Missile" but he had no chance of getting out of the way when Perez connected with a fastball in the sixth inning of Wednesday's game and sent it right back at him. Chapman suffered a mild concussion and multiple fractures above his left eye and nasal region.
Chapman's father was at the game when his son was injured and rushed out to the mound area as trainers and paramedics attended to Chapman. Chapman's parents as well as his 4-year-old daughter and her mother now live in Florida after being able to leave their native Cuba. Chapman said the rest of his family besides his father wanted to visit him in Arizona after the injury but he decided it would be better that they wait to join him when he returns to Cincinnati with the Reds next weekend.
"You can't ask for more when you're going through something like that and you have your father right there next to you. I'm so happy and glad that he was there with me when this happened," said Chapman. "It was my decision not to have the other part of my family here with me because I believe it would be too much impact for them. It would be too much stress for them. It would cause me to feel in a different way to my recovery."
Chapman said he was appreciative of all of the well wishes he received from his teammates and fellow players with other teams who came to visit him, including Perez. He said he's also grateful for all of the support he received via various social media sites. It's one of the reasons he posted a post-surgical photo of himself on Facebook and Instagram. It was his way of showing everyone he was doing fine.
He wanted to show the Reds how well he was doing personally, though. The visit to the clubhouse was impromptu. Manager Bryan Price said he didn't know until about 15 minutes before Chapman arrived that Chapman would be visiting. The visit is part of the overall healing process Chapman must go through.
"He came in great spirits," said Price. "I think it probably meant a lot to come back into the clubhouse. I know a lot of guys on the team went to visit him in the hospital, brought him food and sat with him and talked with him. It's good to have him back."
Chapman is expected to make a full recovery and be able to pitch this season. He is one of four pitchers expected to start the season on the disabled list for the Reds along with starter Mat Latos and relievers Jonathan Broxton and Sean Marshall. His rehabilitation process will be as much mental as physical.
He said he'll take that process one step at a time. He also chuckled a bit as he said he might have to change up his pitching style a little.
"I haven't thought about what's going to happen with this," said Chapman. "This could happen to anybody else. This is just something that happened in my job, I got hit. I know this is something that can happen. I've got to get over it. Personally, what I'm thinking right now is that I'm going to have to throw more balls in now, I'm going to have to start throwing inside more."
---