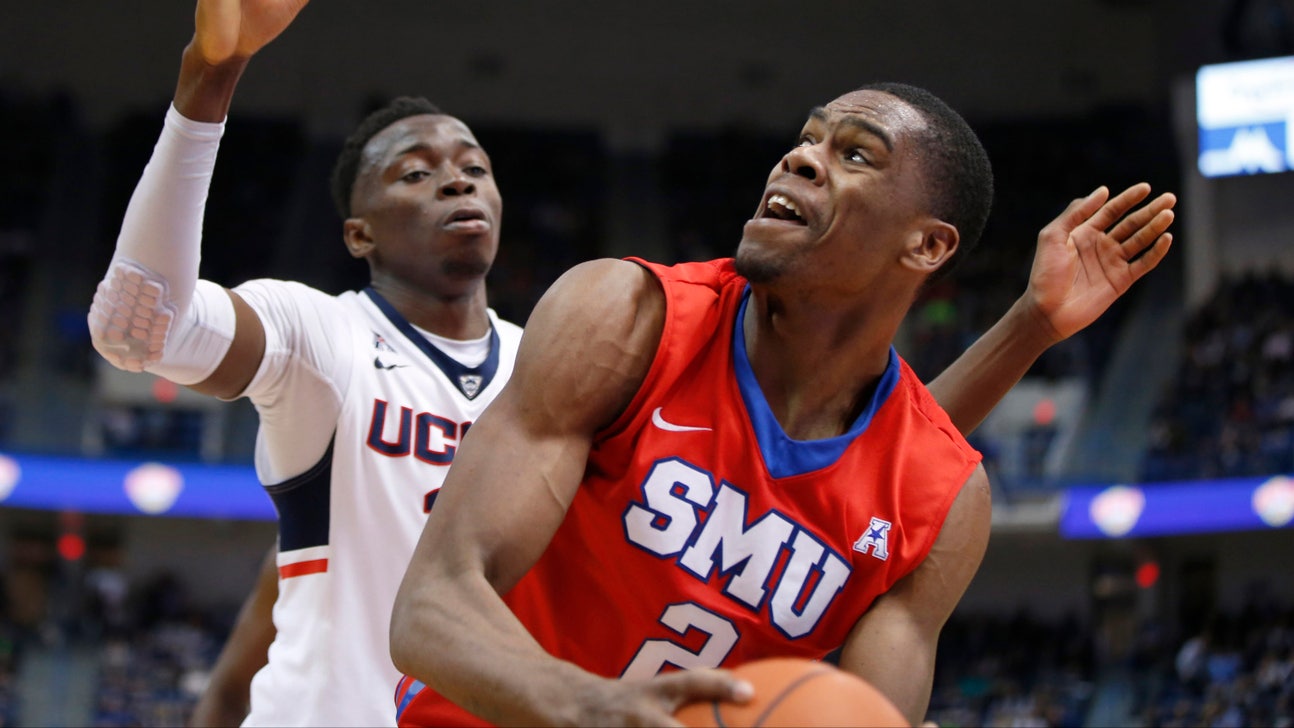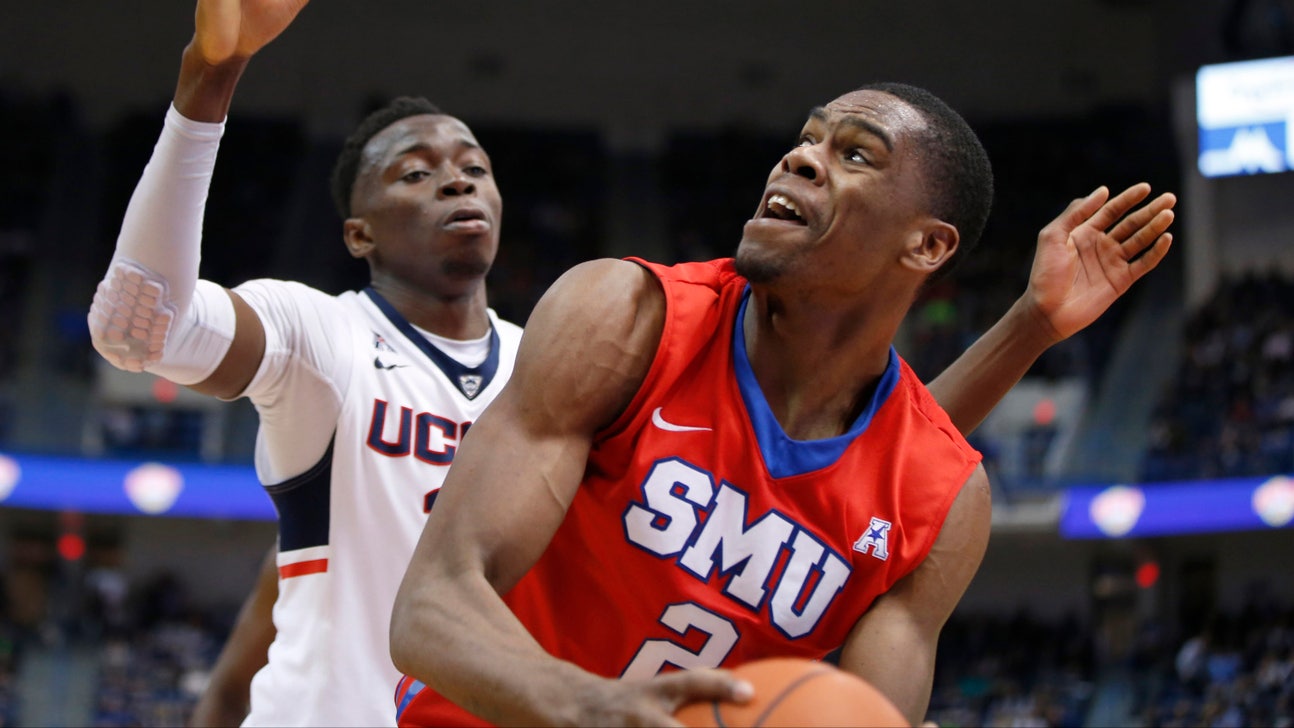 Center's improvement puts SMU in position to win AAC title
Published
Mar. 7, 2015 3:28 p.m. ET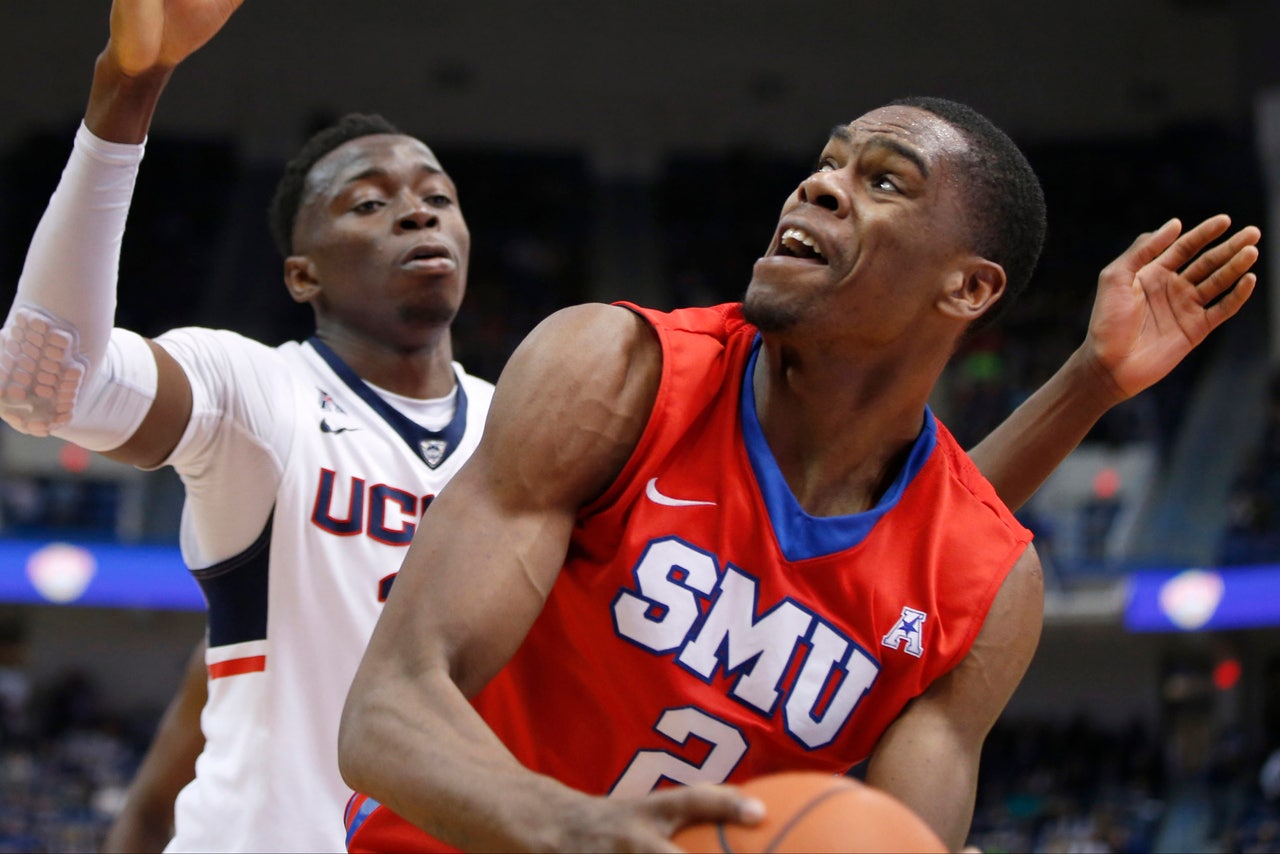 UNIVERSITY PARK, Texas – Yanick Moreira and his size 15 shoes are a big reason why SMU is in position to win its first conference championship in men's basketball since 1993.
If SMU can knock off Tulsa in its final regular season game Sunday, the Mustangs will win the American Athletic Conference title and enter the post-season tournament as the No. 1 seed.
Moreira, one of five seniors playing his final game at Moody Coliseum, has been a key part of SMU's rise to No. 22 in the rankings and top of the AAC standings.
If you don't notice Moreira's 11.6 points and 6.6 rebounds per game, you might notice his shoes. Moreira seemingly wears a different pair every game, usually in an eye-catching color.
He's even worn shoes that are, um, salmon colored? Maybe coral?
"It's not pink," Moreira insists. "It's not pink."
Moreira has been known to change his shoes at halftime, although he said that's because he was wearing a new pair that were hurting his feet because they hadn't been broken in.
Moreira said his shoe obsession is a result of a "shoe challenge" with fellow SMU big man Markus Kennedy to wear as many different pairs as possible. Clearly, Moreira is winning the challenge.
"I've got like... it's a lot," Moreira said. "I don't know, I've got to go home and count them."
Moreira said guard Ryan Manuel might be the real shoe king on the team, but Manuel's styles are more subtle.
"Everybody teases him and says it's between me and him, but I think he has way more shoes than I do, probably about 60," Manuel said. "You're not going to catch me in no pink shoes."
Moreira played a key role earlier this season when Kennedy, considered SMU's top post player, missed the first 10 games because of academic issues. Moreira, a 6-11 center, gave SMU the presence it needed in the middle and has stayed in the starting lineup since Kennedy's return.
"He's as good a defender as there is, a big defender, in college basketball," SMU coach Larry Brown said. "He might not be a great shot blocker right now, but in terms of guarding his position and helping everybody else, he's a great team defender and he's really bright. He's been terrific."
Moreira has recorded five double-doubles this season and nearly a triple-double against Midwestern State when he had nine points, nine rebounds and nine blocked shots.
Moreira averages 24.7 minutes a game in SMU's unusually deep frontcourt rotation. That's nearly twice his average from a year ago when a mid-season knee injury cost him four weeks of action.
By the time he returned, SMU's lineup had been set and Moreira had a difficult time getting back into the rotation.
"I was watching the way the team was playing, they were having a lot of fun, winning games," Moreira said. "I was trying to get back so I could play and help them."
Moreira, a junior college transfer, came back stronger for his second season. He credits the off-season work with his teammates, but it was his performances in last summer's FIBA World Cup that opened a lot of eyes.
Playing for his native Angola, Moreira averaged 17.8 points and 8.2 rebounds and had two double-doubles in the five-game tournament.
"Obviously playing on the national team helped him a lot and [he] got confidence," Brown said. It's not easy for junior college kids...He was playing great early and then he hurt his knee. We started playing good when he was hurt so he really didn't get the time he deserved. But he came back from the World Championships with an unbelievable attitude."
No one has admired Moreira's improvement more than the player who now subs for him.
"Oh man, from the first practice to today he's a totally different person," Kennedy said. "Mentally, physically, everything about Yanick has changed. 'He did a complete 360. He's made everybody else better. Lots of our success, you've got to give it to Yanick."
Kennedy also admires Moreira's shoe game.
"Me and him, we go back and forth for sneakers," Kennedy said. "He wears the pink and oranges, but that's Yanick. You've got to love him."
There's one person that doesn't claim to love Moreira's footwear fashion sense.
"Coach Brown gets mad about the shoes," Moreira said. "He likes for everyone to wear the same shoes, but we say, 'Nah, Coach.'"
The 74-year-old Brown was asked if he would ever let Moreira choose his shoes for him.
"Shoes? No, no," Brown said, shaking his head, then adding "Even though I like some of his."
Follow Keith Whitmire on Twitter: @Keith_Whitmire
MORE FROM FOX SPORTS SOUTHWEST: 
- Ranking NFL quarterback salaries
- College football's highest paid coaches in 2014
- Oldest player on every NBA team
- Highest paid player of each NBA team
- Ten reasons why we're glad baseball is back
---