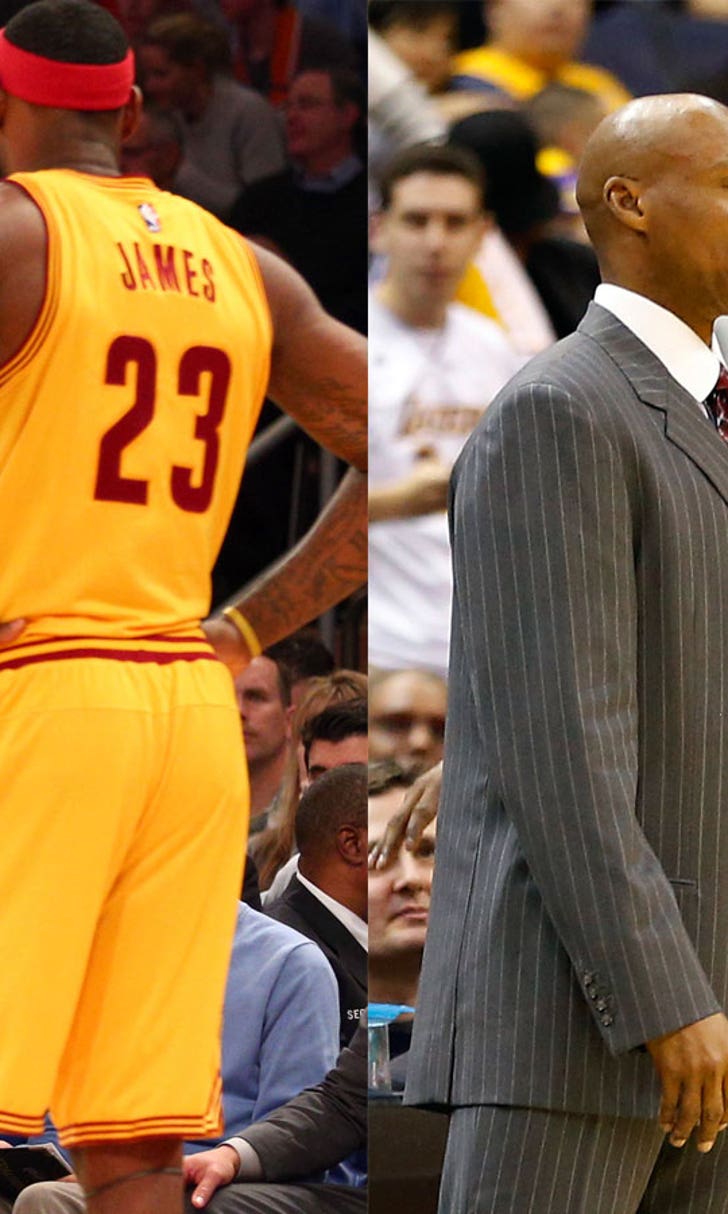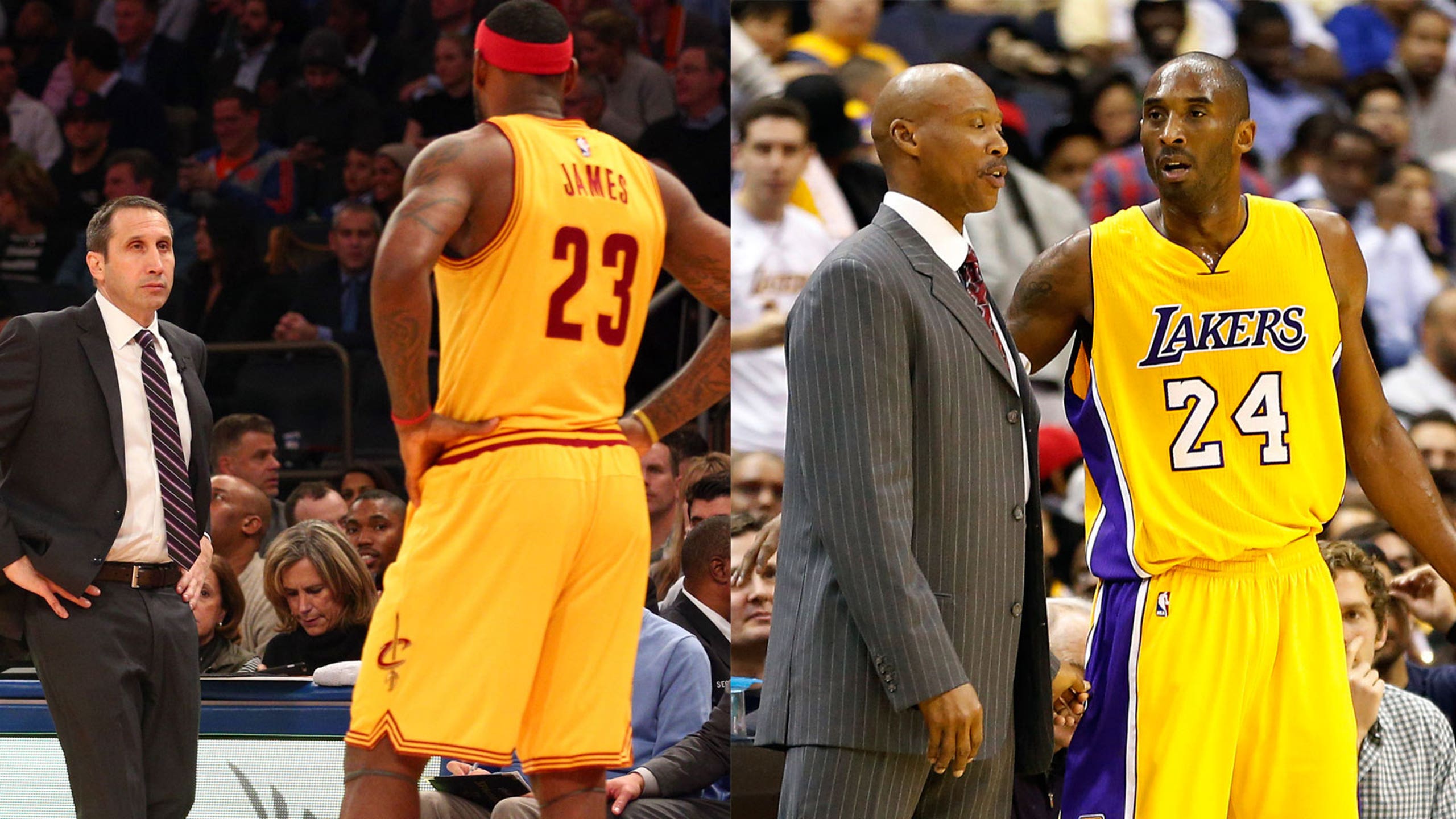 Cavs, Lakers similar in their struggles
BY foxsports • January 15, 2015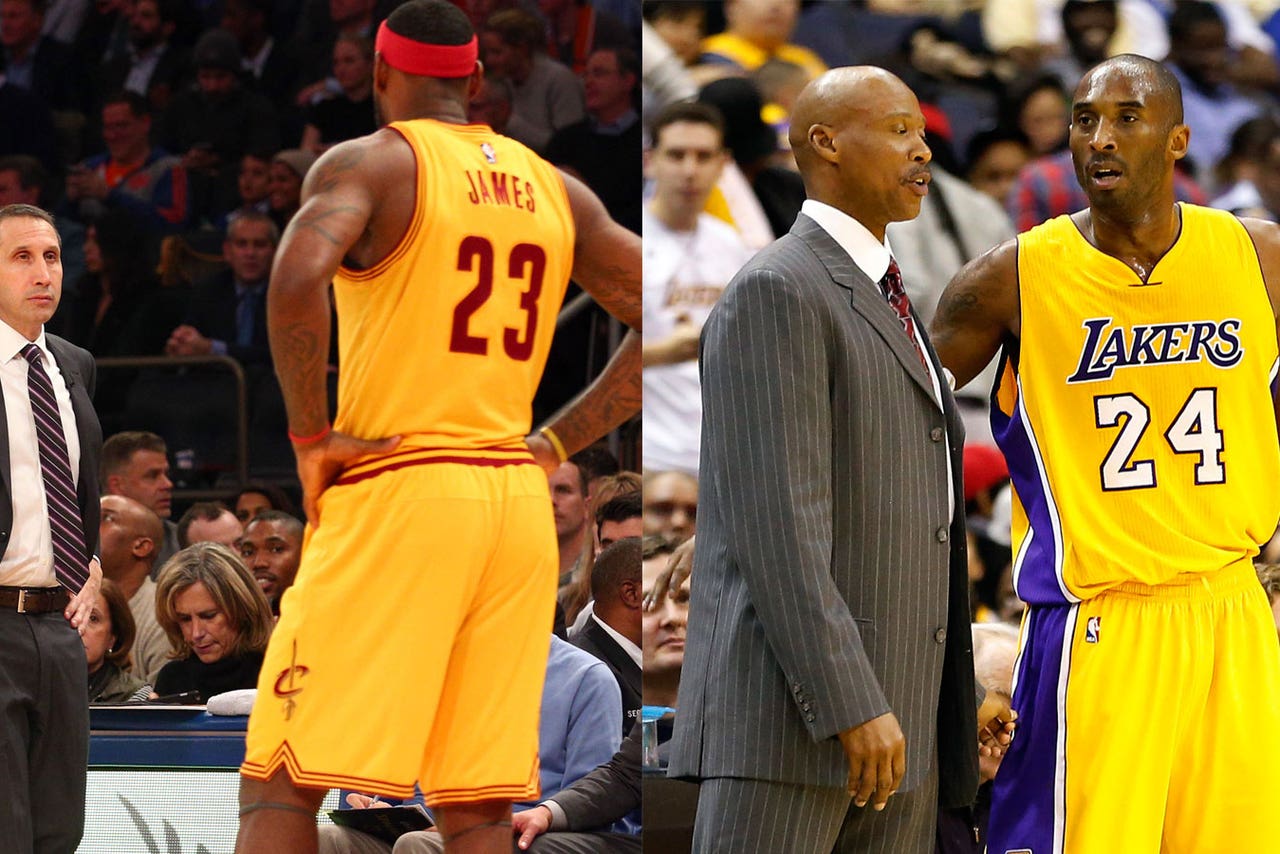 Things aren't always what they seem on paper.
The Lakers learned that a few seasons back and the Cavaliers are learning something similar today.
The teams are actually united in several ways. It starts with some recent coaches, namely Mike Brown and Byron Scott.
Brown coached the Cavs for much of LeBron James' first run with the organization. Then Brown went to the Lakers and lasted one lockout-shortened season and a mere five games of the next. Then he returned to the Cavs. Then he lasted just one season.
Meanwhile, Scott played for the Lakers. It was during the Magic Johnson-led Showtime era of the 1980s and early '90s. Scott became an NBA coach, eventually winding up in Cleveland -- just days before LeBron left for the Miami Heat.
Scott replaced Brown with the Cavs. Now, he's replaced Brown (one coach removed) in LA. It was a losing battle for Scott, who was charged with helping to stay the course and rebuild the Cavs in James' departure.
Things weren't much better for Brown. His team landed Dwight Howard and Steve Nash to go with Kobe Bryant and Pau Gasol. It didn't work immediately. In fact, it looked bad from the start. So Brown was canned. And Mike D'Antoni came on board. And Howard left in free agency. And Nash got hurt. And Kobe got hurt. And Gasol left. And D'Antoni was canned.
Once again, Scott is left to pick up the pieces of a franchise that's lost its way. These things don't often work out too well for the coach. It may be a while before it turns around for the Lakers -- and by the time it does, there could be someone else on the sidelines.
Anyway, those Lakers of Kobe, Howard, Nash and Gasol were expected to do great things. At least, they were expected to challenge for a title. Instead, because of a variety of circumstances, they barely challenged for a playoff spot. Then got bounced. And haven't really been a threat since.
These Cavs? They enter tonight's game at the Lakers (10:30 p.m. ET, FOX Sports Ohio) with a 19-20 record. This despite all the good fortune delivered to them this summer -- beginning with James' decision to return.
They hired a new coach in David Blatt (to replace Brown), traded for Kevin Love, kept Kyrie Irving and just generally felt good vibes all the way around. On paper, they were the next dominant team.
There's still time, but that hasn't happened midway through their first season together.
In fact, the Cavs are suddenly shooting too many 3-pointers (29.3 in their previous six games, all losses) and struggling mightily in transition defense. They don't move the ball nor play with the energy that they should. They haven't magically come together to take over the league like many expected. Just the opposite, actually.
As for the Lakers and Scott, forget about it. They're a mess -- much like Scott's teams were in Cleveland. Who can forget when Scott brought the Cavs to face these very Lakers in LA, and left with a 55-point beating?
That was four years ago, almost to the day (Jan. 12, 2011).
Scott isn't to blame for the Lakers and their faulty roster. He wasn't to blame in Cleveland. But he'll likely be the fall guy at some point.
And Blatt isn't entirely to blame with the Cavs. The team he is coaching now is not the team he inherited -- not even close. But at some point, of course, that needs to stop being an excuse. We may even have surpassed that point.
So what can the Cavs learn from the Lakers? Not much. Other than this needs to be pulled together soon, or this just might get ugly and stay there for a while.
Just ask Brown, Scott or anyone else involved with either of these teams during the past few years.
---