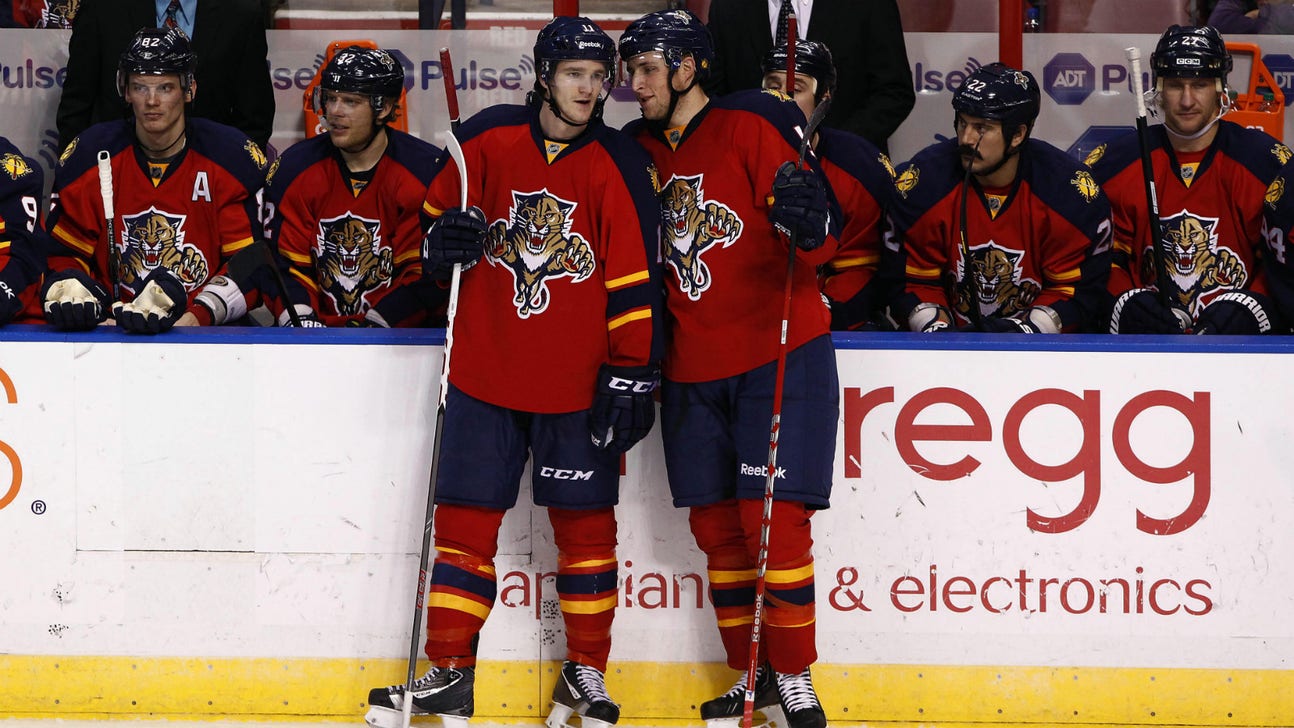 Cat Bites: Huberdeau, Shore lean on each other during slumps
Published
Jan. 24, 2014 3:15 p.m. ET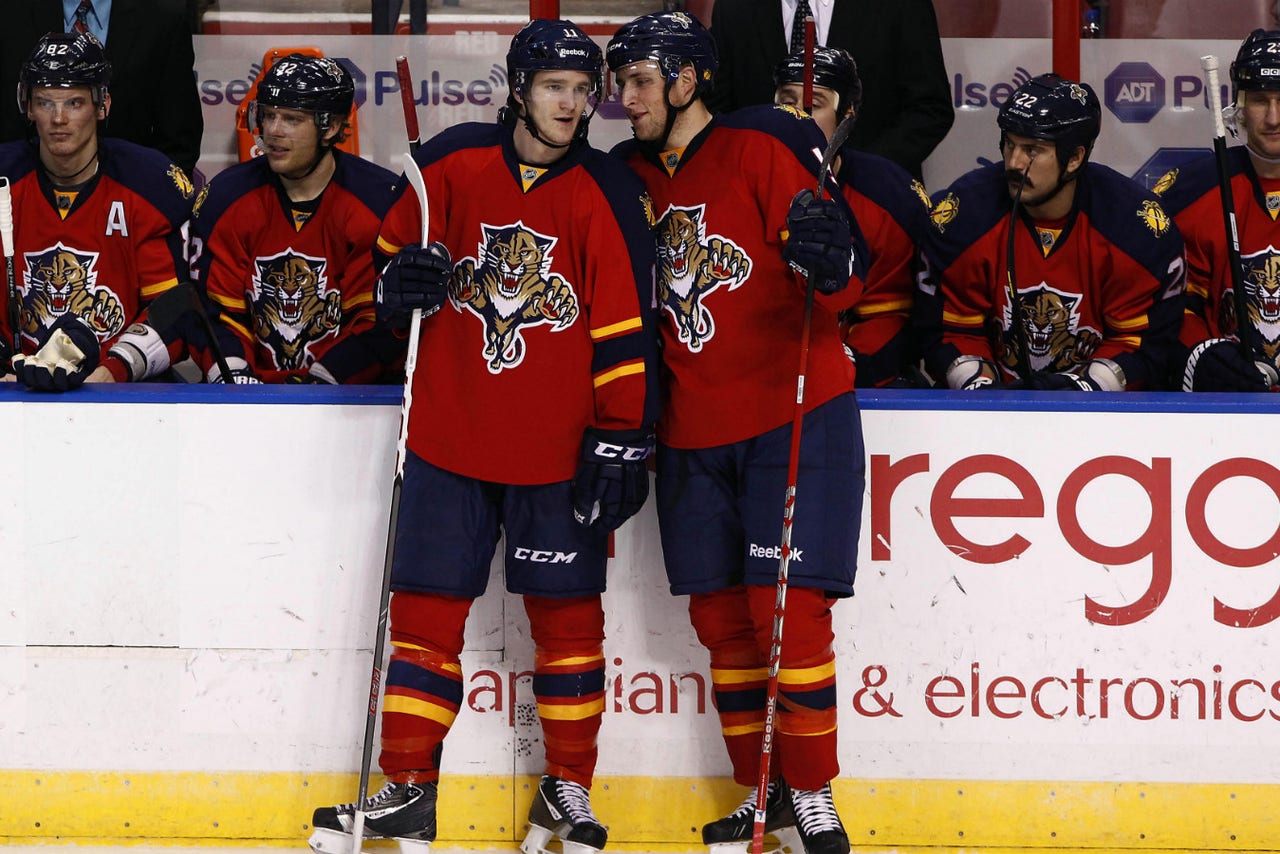 SUNRISE, Fla. -- Perhaps the only thing Jonathan Huberdeau and Drew Shore needed in order to get back on track was each other.
After experiencing success as linemates during their rookie season, both Huberdeau and Shore have struggled in their sophomore campaigns. The forwards have suffered through long stretches when getting a puck in the net seemed like an insurmountable task.
Over the Florida Panthers' last five games, though, Huberdeau and Shore have regained some confidence. Huberdeau has a goal and three assists during that span, while Shore has three goals.
They can thank each other for the boost. Huberdeau and Shore said it has been positive to have the other to speak to through rough times.
"He's always been a good friend to me," Huberdeau said. "Last year we hung out together. He was my roommate, too. I think this year it's nice to see him back here and, for sure, it's nice to have him here. And off the ice, it helps to change your (mindset), talk about stuff."
Shore rejoined Florida in late December amidst the worst goal drought -- 38 games between the AHL and NHL -- of his career.
"Toward the beginning of the year I struggled in that department," Shore said. "I hit probably more posts than I ever have in my life."
When he finally put one into the net on Jan. 14 against the New York Islanders, there was still concern the futility might continue.
Shore spun in the left circle and put a shot on net, but the puck deflected off a skate in front. He had to wait as referees reviewed the play.
"It's happened numerous times this year. I was just happy to get it." said Shore, who was ultimately credited with the goal. "I kind of saw it pretty clearly and (Shawn Matthias) looked at me because he knew it went off their skate."
A little less than a week after Shore snapped his drought, Huberdeau ended his own career-high, 16-game goal slump with a tally against Pittsburgh. In that same contest, Shore registered the first two-goal contest of his career.
"It's funny ... he came up and we all knew he didn't score in the AHL," Huberdeau said. "It felt good for him to score. I was kind of the same. We've been talking about that to each other. We said it's hard, but we've got to get out of there. I think we're just cheering each other up. We're thinking about positive things and helping each other."
One of the most important bits of advice that Shore has imparted on his teammate is to "leave the game at the rink."
"When things aren't going well, it's really easy to take the game home," Shore said. "In San Antonio, that's how I was. The thing I learned the most is let it soak in for an hour, two hours at the rink. Then kind of let it be because you have so many games, so many days. You can't get too high or too low. Everyone says to do it, but it's easier to say than it is to do."
Both players are also trying to make adjustments away from the puck. The improvements seem to have come faster for Shore, who has seen increased ice time on Florida's surging penalty kill. Better defense is a key area Huberdeau, who finished with a minus-15 rating last year, is also trying to focus on.
"It feels good personally to get some points offensively, helping the team defensively," Huberdeau said. "I think now I am just trying to be better defensively and offensively. It is coming. It's nice that the team is doing well, too."
It doesn't hurt to have a good friend around, either.
Huberdeau and Shore frequently joke around with each other when they're hanging out. A chance to speak about the other is always a chance to razz.
"He's a good guy, even though I'd never tell him that," Shore said with a smile. "We like to joke about it, having an on-and-off friendship depending on the day. It can kind of change from how soccer goes in the morning to where we go to lunch. It's fun."
And for Huberdeau and Shore, so is hockey once again.
FREEZE WARNING
With the NHL preparing for the start of its Stadium Series and temperatures recently dipping into the 40s in South Florida, it is hard not to wonder if or when an outdoor game might happen in Miami.
Such an event is something Panthers defenseman Brian Campbell would like to be a part of.
"It was a lot of fun. It's a great experience," said Campbell, who was part of the Winter Classic held in Buffalo in 2008 and in Chicago the following year. "It's great for fans to be able to host one, and that's why I feel like at some point I'd like to see one here."
With its retractable roof, Marlins Park seems like the ideal location for the league to set up a rink. Campbell likes the new stadium and wouldn't even mind seeing the tropical sculpture in center field go off when goals are scored.
"It would be good to bring these major sports teams together even more," Campbell said. "I think that's what does it, too. I know the Marlins have a short history at the new ballpark, but it would be good to enjoy their history as well."
FEELING GOOD
Panthers captain Ed Jovanovski has few complaints since returning from major hip surgery.
Nine games into his comeback, the defenseman has logged a little over 15 minutes in average ice time and leads the team in plus-minus (plus-5) and has eight hits. He's also been impactful on the scoresheet with a goal and three assists.
"I think it's a process, getting out on the ice," Jovanovski said. "I'll work with the trainers. They'll get me loosened up and feeling limber to go out there and play. So far it has been good. I'm thankful."
Jovanovski registered a two-point game -- his first since Dec. 18, 2011 -- against the Islanders on Jan. 14. A week later in Buffalo, he recorded his first goal since April 5, 2012.
"It was nice to contribute," he said. "It's been a while for sure. It was a big goal in the game at that point. But I think if you ask anyone, any time you contribute here and there, it makes you feel good."
PATIENCE PAYS OFF
Scott Gomez signed with the Panthers in September, in part to rejuvenate his career. It has not worked out exactly as planned as the center has been a healthy scratch in 29 of Florida's 50 contests.
Gomez has appeared in just two games, logging less than 10 minutes of ice time, since December. But with rookie Aleksander Barkov day-to-day with a lower-body injury, Florida is now looking to Gomez to fill the void on its top line.
"It's part of being a pro," Gomez said. "I was talking to Jim McKenzie, some of the guys I came into the league with, and not once were they ever a bad seed. It's not the way I was raised. I grew up in a pretty good organization where that wasn't accepted."
Gomez, of course, was referring to the New Jersey Devils, a franchise he won two Stanley Cups with. Among his mentors those early years were Hall of Famers Scott Stevens, Scott Niedermayer and Joe Nieuwendyk.
"I've got an Ivy League education in hockey when it comes to how to be a great pro. I'd never disrespect them or disrespect the game. I wouldn't hurt the young guys."
QUOTE OF THE WEEK
LOOKING AHEAD
After Florida hosts the Colorado Avalanche on Friday, the Panthers will head out on a four-game road trip. The Panthers play every other day over the coming week.
It is a crucial stretch as Florida will face four Eastern Conference rivals: the Detroit Red Wings, Boston Bruins, Toronto Maple Leafs and Columbus Blue Jackets. The Panthers are nine points out of the final wild card spot in the conference.
Horachek said he does keep track of the standings and knows Florida is "absolutely within striking distance." But the focus remains on the team's game-to-game effort.
"I haven't brought it up with the players," Horachek said. "They know. They know what goes on. If we're going to be successful, we've got to continue to worry about our next game, how hard we play and how well we're sticking to the details of our game. So I don't bring it up."
You can follow Erin Brown on Twitter @rinkside or email her at erinbrownfla@gmail.com.
---