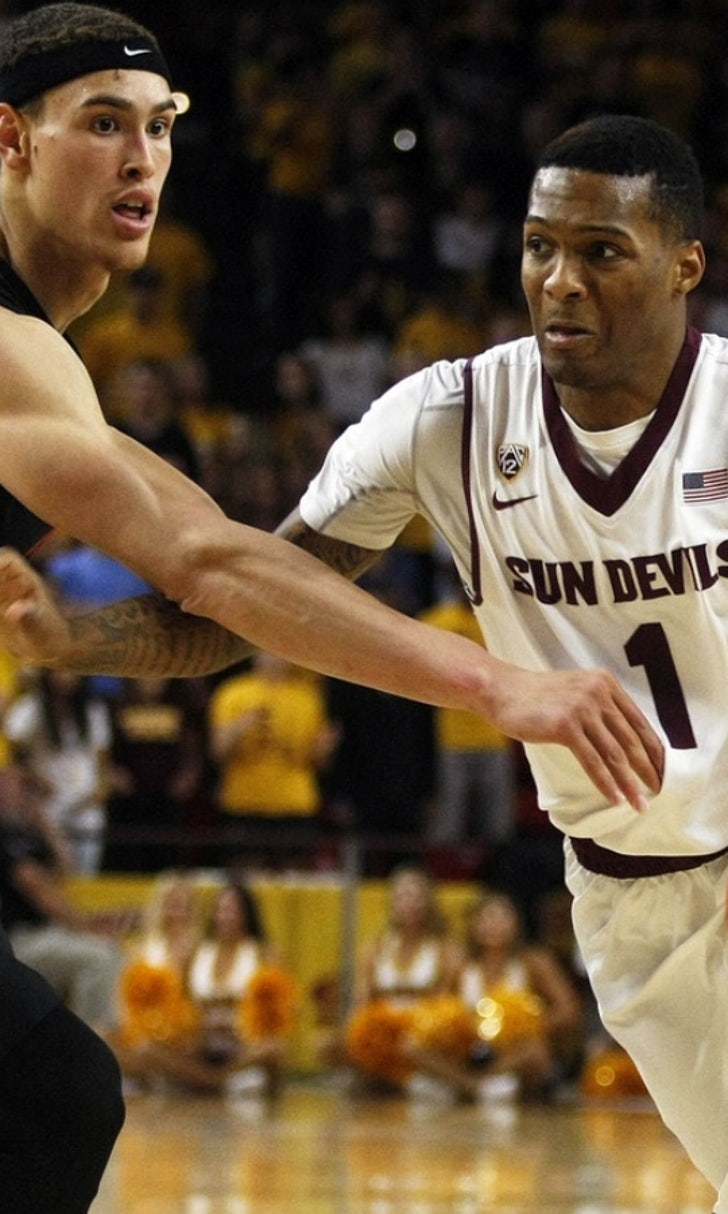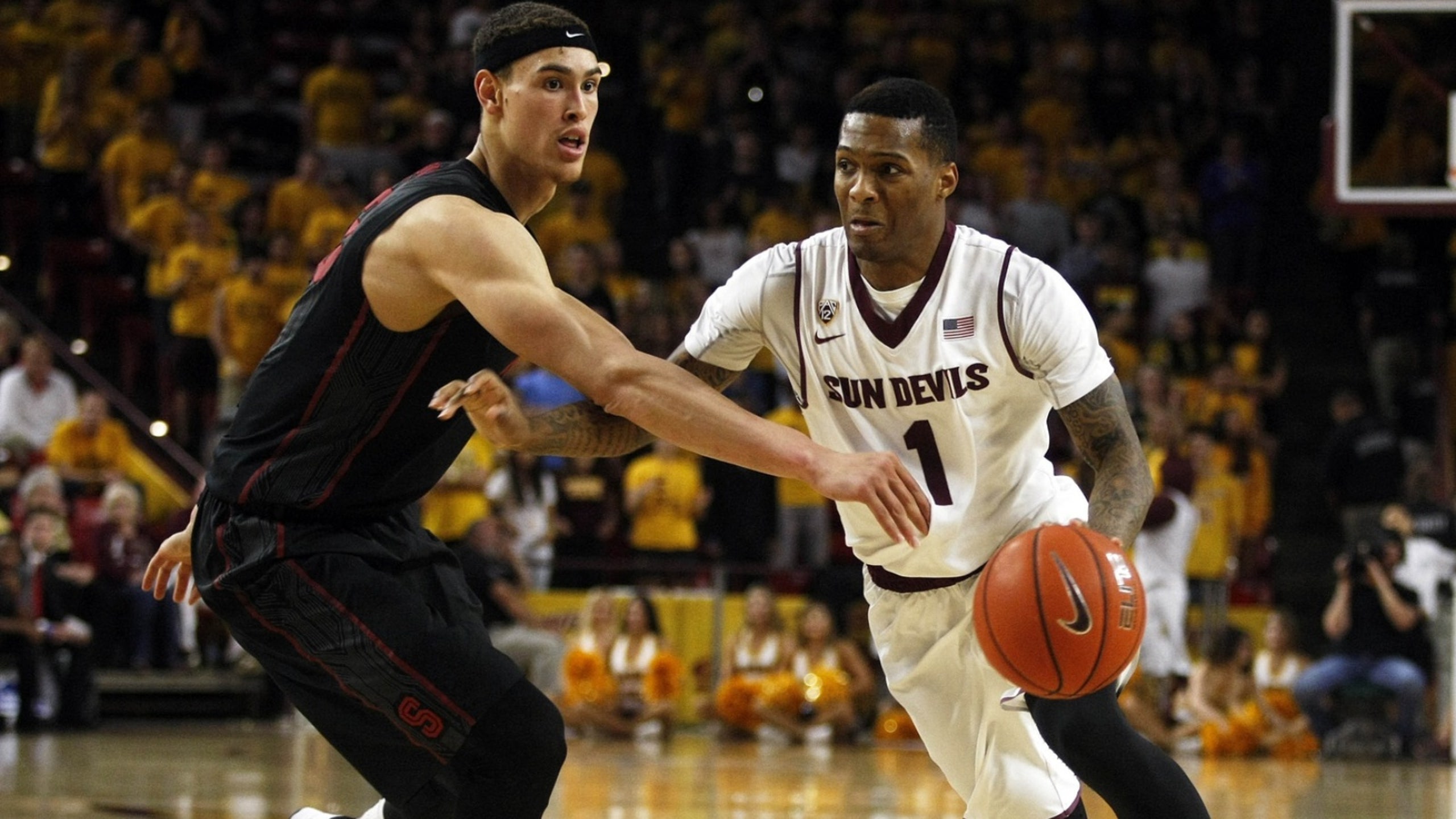 Carson takes over in 'must-win' game
BY foxsports • February 27, 2014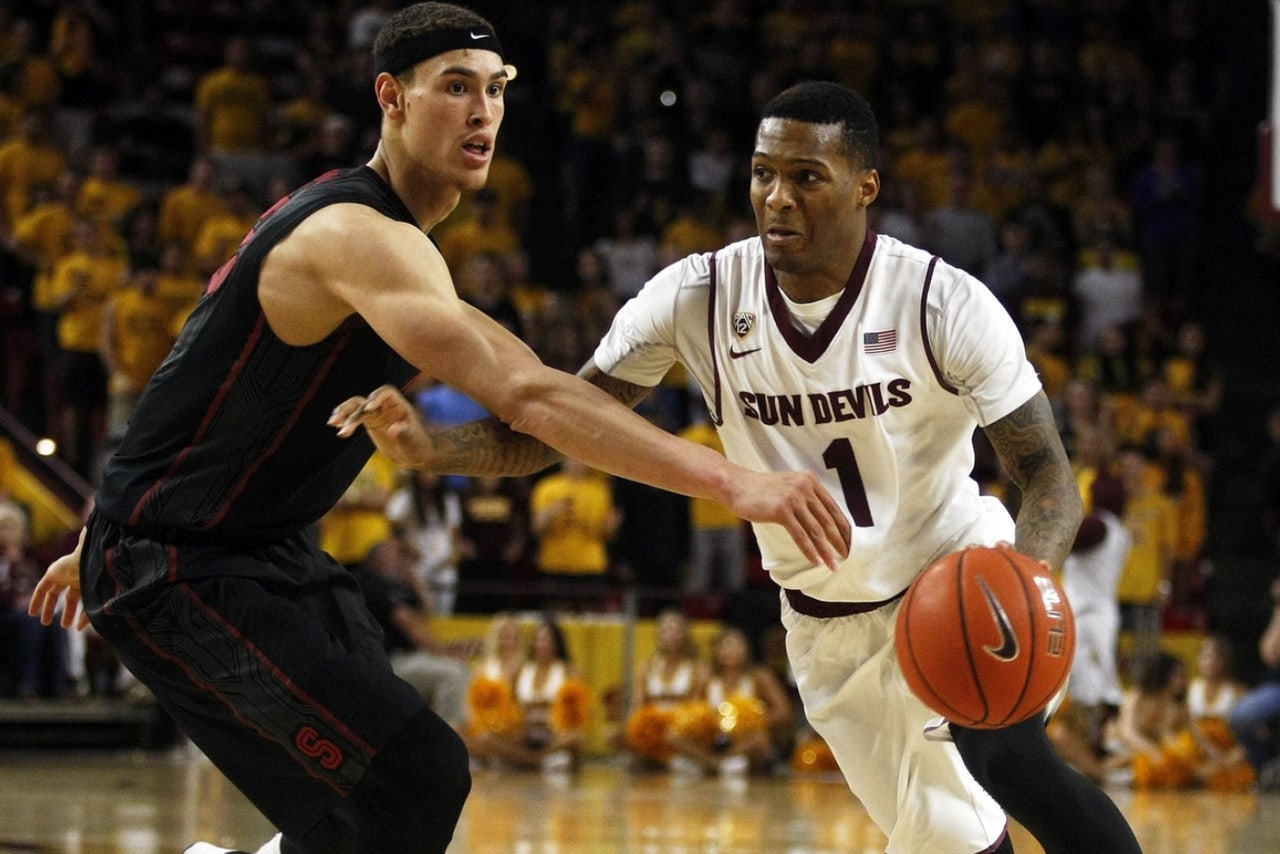 TEMPE, Ariz. -- Jahii Carson likes to let the game come to him.
When he is at his best, as he was Wednesday, he then proceeds to swallow it whole.
Carson had perhaps his signature game of the Pac-12 season when Arizona State needed it the most, scoring 26 points and efficiently running his team to a 76-64 victory over Stanford at Wells Fargo Arena. The victory should all but seal the Sun Devils' first trip to the NCAA tournament since 2009.
"We definitely knew it was a must-win game," Carson said. "We tried to knock the pressure off of our backs and just go out there and play and have fun. That's what it is all about, having fun and playing hard and playing together."
The Sun Devils (20-9), 9-6) moved into a four-way tie for third place behind Arizona and UCLA, and if they win out would be guaranteed of a top-four finish and a first-round bye in the conference tournament. They host California (18-10, 9-6) on Saturday.
Jermaine Marshall regained the shooting touch he last showed in the double-overtime victory over Arizona two weeks ago by scoring 16 points and Shaquielle McKissic added 10 points, but it was Carson who orchestrated events against a team that usually is a difficult matchup because of its long, athletic bigs. 
Carson scored 23 points in the second half, and his stop-and-pop 17-foot jumper gave the Sun Devils (20-8, 9-6) a 53-35 lead with 12½ minutes left, and the Cardinal never were closer than 11.
"His decision-making was outstanding," ASU coach Herb Sendek. 
So was his touch. Carson made every shot he took in the second half -- seven field goals and eight free throws -- and finished with four assists, one steal and one turnover. 
"He would go for stretched and not take any shots, but he was distributing the ball and creating opportunities for his teammates," Sendek said. "There were other times when shots opportunities open up, and he capitalized.
Carson had 24 points in a 76-70 loss at Stanford on Feb. 1, and the way he sees it, familiarity breeds the opportunity for success.  
"I try to like to see how they like to defend me, and I like to try to pick my spots early in the first half," Carson said.
"After the first half, I pretty much know how they are defending me and it's easier for me to attack the defense. I can see the reads they are making on the pick and roll, how they are guarding the bigs, how they are guarding my teammates, where the help is coming from. It is easier for me to score in the second half when I have pretty much dissected the defense."
The Sun Devils recovered from their combined 31 percent shooting in losses at Colorado and Utah last week by making 55.1 percent from the field, the third-highest number of the season and only the second time they have been over 50 percent in league play.
Carson, Marshall, Bo Barnes and Jonathan Gilling made two 3-pointers apiece as ASU made 10-of-19, moving the ball so well that many of the threes were uncontested. Gilling had six points, six assists and five rebounds and McKissic had four assists and five rebounds.
"Guys had great ball movement around the horn and we drove gaps," Carson said. "We stuck to the game plan. Our coaches told us that they were a bad close-out team, and if we drove the gaps we would have opportunities for open shots. We did, and we knocked down shots as well."
Anthony Brown led Stanford with 21 points, most too late to matter, and Chasson Randle had 14 before fouling out trying to keep up with Carson. Randle got his fifth foul with 7:11 remaining when Carson too the ball to the basket with his left hand.
While Stanford's bigs took Jordan Bachynski (two points, three rebounds, no blocks) out of the game, the Sun Devils did the same thing to Stanford forwards Dwight Powell and Josh Huestis. Those two had 20 points on 6-of-19 shooting. Powell had a career-high 28 on Feb. 1.
The Sun Devils showed their 3-point range early. McKissic had a three on their first possession and Carson had a three on the next one as ASU scored the first eight points, building leads of 14-5 and 27-13.
ASU made four of their seven first-half 3s after Stanford switched from a man-to-man defense to a matchup 1-3-1 zone at the 11:06 media timeout. Marshall also made two free throws after being fouled on another 3-point attempt before the Cardinal went back to its man defense. It was 39-29 at half and Stanford was within nine points once, for 17 seconds after that.
"I think we got back to playing our style of basketball, which is up-tempo," Carson said. "When we played in Colorado and Utah, we didn't have very many fast-break points, which doesn't help fuel our offense. We play great defense, got rebonds and got out in transition. Whenever we do that, we are tough to beat."
The Sun Devils held their own on the backboards, even with foul trouble limiting big men Jordan Bachynski and Eric Jacobsen to a combined 35 minutes. Stanford had a 33-30 rebounding edge, something ASU could live with after being outrebounded 40-24 in the first meeting.
2 -- wire-to-wire victories for ASU this season, the other coming in a 78-56 victory at DePaul on Dec. 6.
* How is this for symmetry? Stanford had 15 turnovers, and each starter had five. The Cardinal had five in its first nine possessions and never was closer than four points after the first 70 seconds.
* ASU is 15-1 at home and 16-2 when leading at halftime. Its only home loss was the Pac-12 opener against Washington. It lost to Miami (Fla.) and to Stanford the first time after holding halftime leads.
* The Sun Devils shot better against only Miami, Ohio (55.6 percent) and Grambling (63.5).
* For the first time this season, Bachynski did not block a shot and remains one block away from tying the Pac-12 season record of 120 he set last season. Foul trouble was the issue Wednesday, as he played just 15 minutes.
Herb Sendek showed the team cut-ups of Bo Barnes' energetic play against Utah at practice Monday. Now Sendek has another one. After Barnes missed a contested left-handed layup early in the second half, Barnes turned and sprinted to the other end, catching up to Anthony Brown and forcing an offensive foul when Brown elbowed the pesky Barnes out of the way.
Follow Jack Magruder on Twitter
---