Cardinals place Lynn on 15-day DL with forearm strain, recall Lyons
Published
Jun. 12, 2015 6:05 p.m. ET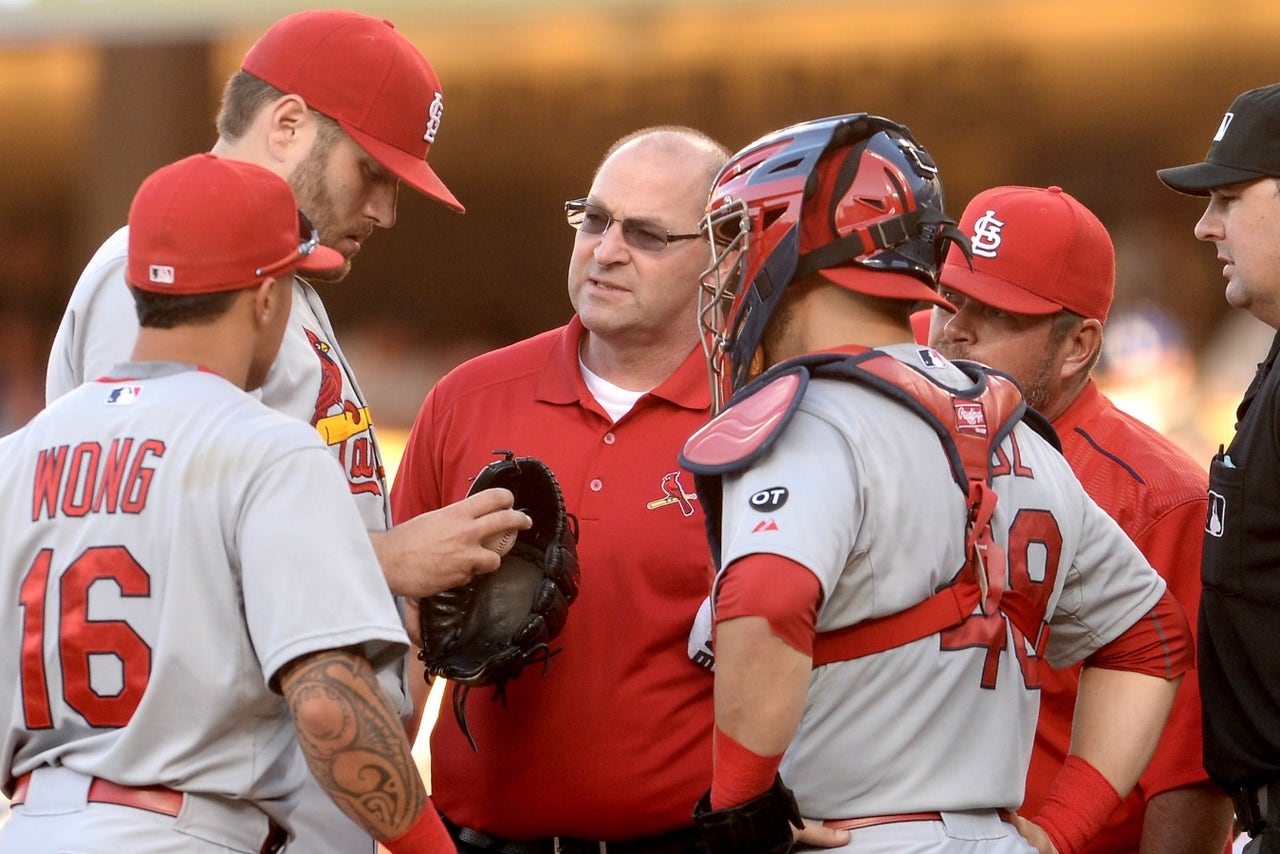 ST. LOUIS -- The Cardinals sent yet another key arm to the disabled list Friday.
General manager John Mozeliak said a right forearm strain forced Lance Lynn to join ace Adam Wainwright and setup man Jordan Walden on the DL. But unlike his teammates, Lynn could return to the mound as soon as he can be activated, which would mean only two missed starts.
"I think just allowing him some time and not having to make this next start is in his best interest," Mozeliak said. "But unfortunately, it's hard to just skip one and then feel pressure to maybe throw the next and so we just thought it would be easier for everyone involved to just give him the 15 days."
Both Mozeliak and Matheny said Lynn probably could have continued to push through the discomfort he had been experiencing off and on for quite some time, including toward the end of his last start Sunday at Los Angeles. But Matheny said the right-hander understood the situation and the Cardinals are hopeful the rest will allow him to finish the season strong.
They're also comfortable calling up Tyler Lyons from Triple A Memphis to pitch in Lynn's place Saturday against Kansas City. The left-hander posted a 5.54 ERA in three starts for St. Louis earlier this season, but he hasn't given up a run in 13 innings over his last two starts at Memphis.
"There's a barrier that you can't put your finger on of why you can't translate from one spot to the next, but when it does, typically it could click," Matheny said. "Then there's no looking back because all the pieces are there, all the stuff's there, it's just a matter of that happening for him and figuring out how to keep it here."
Plenty of quality left-handed bats in the Royals' lineup also figured into the decision to call up Lyons rather than just skip Lynn's spot in the rotation with the off day Thursday. When he returns, Mozeliak said the Cardinals would want to keep a close eye on Lynn, though that doesn't necessarily mean limiting pitch counts.
He reached 100 pitches in nine consecutive starts before leaving the game after 98 in LA, and he's one of just two starters in the majors who have thrown 115 pitches in a game at least three times. Mozeliak noted the 28-year-old is unique in that he leans so heavily on fastballs, which he can throw at several different speeds with varied movement.
Gonzales, Walden making progress
Wainwright and his heavy-duty walking boot made a brief appearance in the Cardinals' clubhouse Friday, drawing a crowd of reporters disappointed to learn he wouldn't be speaking to the media.
Nothing has changed regarding his season-ending Achilles injury, but Mozeliak said two other pitchers in the organization are showing signs of progress.
Walden started playing catch earlier this week, although he hasn't yet thrown off a mound. The hard-throwing right-hander struck out 12 batters and gave up only one run in 10 1/3 innings before a torn shoulder muscle sent him to the disabled list in early May, with initial projections putting him out for six to 10 weeks.
"As far as a timeframe yet, I don't think we have that," Mozeliak said. "But I think he's inching closer to getting back and to where he can probably rejoin the club at some point."
Meanwhile, highly touted prospect Marco Gonzales will be joining the Cardinals' rehab program in Florida as he recovers from his second shoulder setback this year. The 23-year-old left-hander struggled in six starts at Memphis, posting a 6.35 ERA while allowing opponents to hit .322.
Mozeliak said Gonzales likely won't be ready to pitch for St. Louis before the All-Star Game on July 14, but Walden still might be able to take the mound during the first half of the season.
You can follow Luke Thompson on Twitter at @FS_LukeT or email him at lukegthompson87@gmail.com.
---