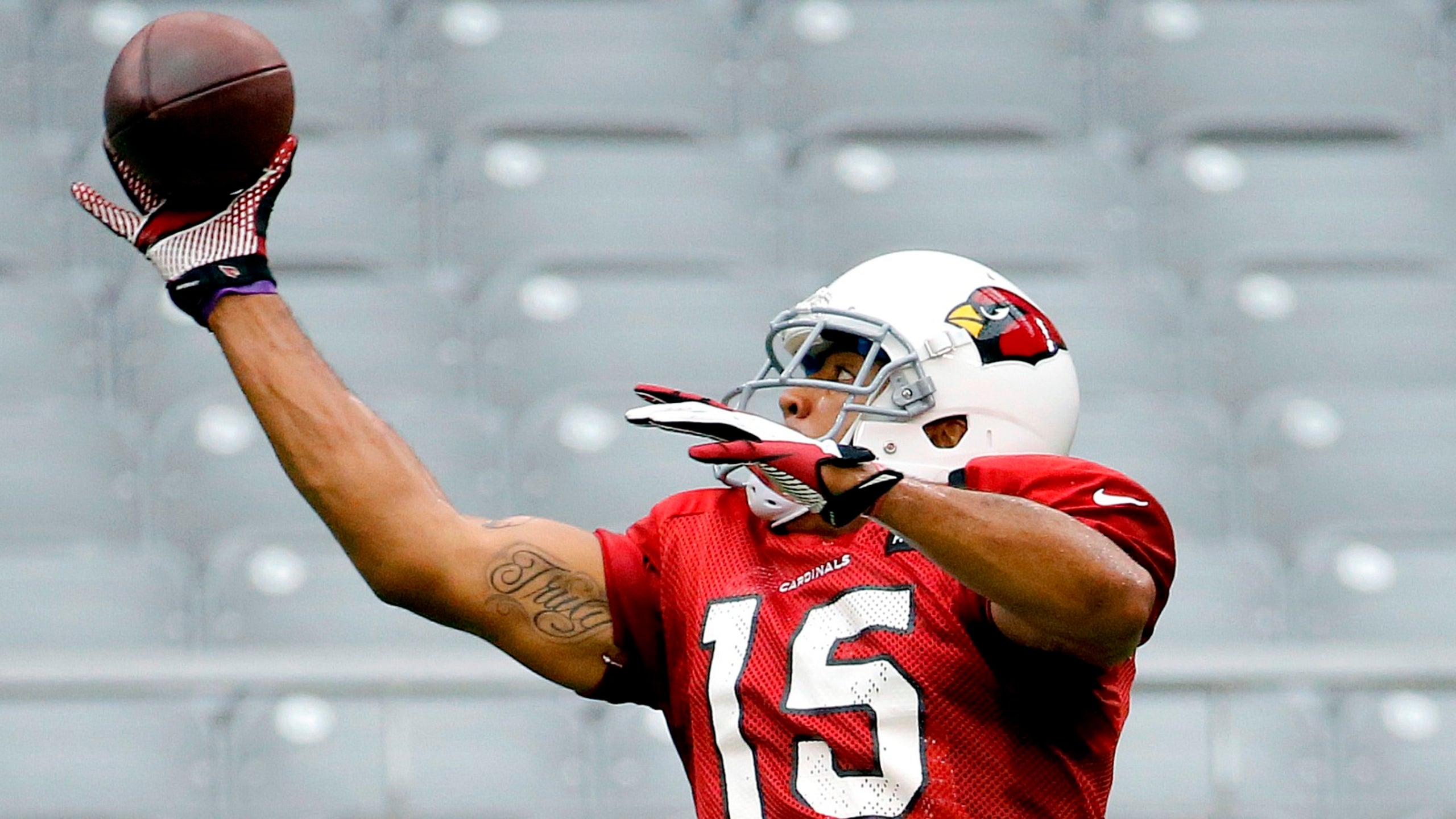 Cardinals' Floyd receiving acclaim for breakout potential
BY foxsports • August 1, 2014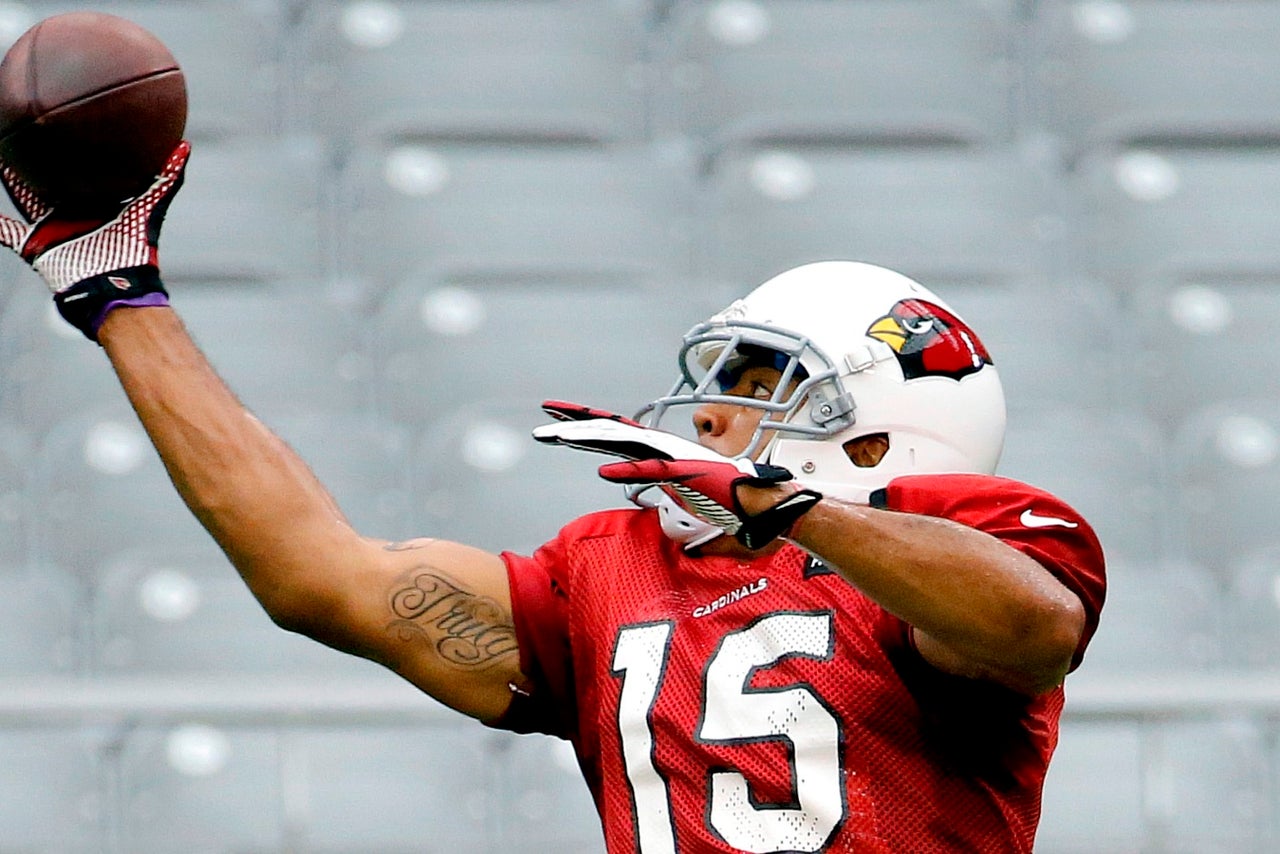 GLENDALE, Ariz. -- Based on evidence and expert testimony, the Cardinals seem equipped to treat their fans and NFL peers to an aerial uprising.
But one thing they're not quite ready to pass is the go-to-guy torch . . . at least not officially. And that's especially true if you ask one of the guys responsible for inspiring these corresponding expectations.
"There's not no No. 1, there's not no No. 2 in our group," said Michael Floyd, now entering his third pro season, at the team's training camp at University of Phoenix Stadium.
That's a diplomatic way of reminding us how much respect the former first-round pick has for teammate and mentor Larry Fitzgerald as Fitz begins his slow descent down the sky-high peak of a Hall-of-Fame career.
Fitzgerald, it should be noted, certainly didn't slouch into 82 catches -- 10 of those for touchdowns --  last season. He's still rockin' . . . just not in a chair.
With solid quarterbacking again and Fitz on the other side, we're only acknowledging that Arizona again has gone stereo for big, bad wideouts. And the 6-foot-2, 220-pound Floyd, who, like his celebrated teammate, grew up in Minnesota, simply served notice of his installation by snagging 65 passes for 5 TDs and a team-leading 1,040 yards -- 87 yards more than Fitzgerald.
So the presumption of a friendly takeover in go-to responsibility hasn't been beyond comprehension around the league. Floyd, however, prefers to be one Cardinal who attempts his rise toward stardom while remaining emotionally grounded.
"There are some plays that are recommended for a certain individual," he said, "and without that second guy, that guy won't be open. So we all work for the same common goal, and that's to win ballgames."
For the record, that's simply reminding us how Fitzgerald still provokes sufficient fear in the opposition to qualify as a creepy decoy when he's not making plays. Perhaps the time has come for Floyd to serve in a similar role.
Anyway, when the topic is Floyd's emergence, you'll get no quarrel from within the organization.
We'll start with Fitz.
"Mike is stepping into his own," Fitzgerald said. "Carson (Palmer) has a lot of confidence in him, the coaching staff has a lot of confidence in him. When he plays, he's going to get his opportunities, and the ones he got last year he took advantage of.
"He works his tail off and studies in the classroom. He understands what's expected of him and holds himself to a higher standard. I'm really happy for Mike."
For his part, Palmer is definitely buying the Floyd stock. For some supportive, statistical parallels that explain why, let's go back to the 2013 season, during which the first-year Arizona QB opened with at least one interception in the team's first nine games.
But he was clean -- in terms of picks -- in games 10 and 11, posting quarterback ratings of 119 and 114, respectively, in victories at Jacksonville and at home vs. Indianapolis.
OK, so it may be sort of coincidental, but this brutal efficiency also occurred when Floyd just happened to make 13 catches for 297 yards over those two games, including a 91-yard scoring salvo against the Jaguars. The Cardinals did lose at Philadelphia the next week, but Floyd had 10 catches for 99 yards and a touchdown in that one.
So, Palmer's a fan.
"I can't say there is a ceiling," the quarterback said when asked if Floyd is approaching the limit of his powers. "Mike's a young guy. It doesn't seem like it because of his maturity, but this is his third year.
"He can do just about everything because he's quick enough. He's a big, physical guy, but he plays quick, he plays small."
This praise hardly qualifies as anathema to the chatter trotting alongside Floyd's career.
Let's hark back to Minnesota, where Floyd was a really big deal at Cretin-Durham Hall High School. His many accolades included that of Minnesota's "Mr. Football" and consecutive state Player-of-the-Year distinctions bestowed upon him by representatives of a popular sports drink.
Scout.com designated him a five-star recruit in, ranking Floyd as the 16th best high school player in America for the graduating class of 2008.
Obviously, big things were expected when he enrolled at Notre Dame . . . and Floyd delivered. That's especially true of the last two seasons in his four with the Fighting Irish.
Floyd gave ND 21 of his 37 touchdowns during that time, piling up 1,000 or more yards in each campaign.
The Cardinals were impressed enough with his production and physical profile to take Floyd with the 13th overall selection in the 2012 draft. Then they watched him struggle as a rookie. Well, the quarterbacking made it nearly impossible for any Arizona receiver to flourish (Fitzgerald had 71 grabs for a mere 798 yards in 16 games) that season, but it might not have mattered for Floyd had Kurt Warner been around.
Arizona coach Bruce Arians wasn't around either, but he understands the process.
"I think sometimes as a rookie you don't know how to be a pro," Arians said, "and you learn from a guy like Larry to be a pro. Then your ability takes over and that's pretty much where he's at. He's just going to climb."
While Floyd continues to deftly receive these accolades with admirable restraint, he admits last season's success provided a terrific launching point for his third pro season.
"It builds it tremendously," he said when the word confidence was mentioned. "I'm glad that my quarterback has a lot of confidence in me, knowing that I can make plays on the ball and make plays for him, even though he might be in a jam at times.
"I feel good, we all feel good, and we're ready to get this thing rolling."
---