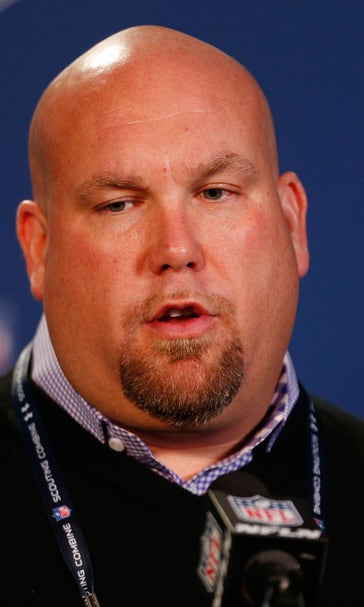 Cardinals' draft report card is in
May 12, 2014

There's no question that a draft class can't be effectively graded until at least a couple years down the road. But that hasn't stopped the many draft analysts out there from sharing their opinions on the just-completed NFL Draft, and in terms of the Cardinals, there's near-unanimity.
A glance at five grades handed out by prominent outlets shows five grades for Arizona in the B range, with ESPN's Mel Kiper seemingly summarizing the feelings of the group when he wrote that "the Cardinals did pretty well and hit some needs." So while they might not be graduating with honors, everyone agrees that the Cards did what they could to set themselves up for success.
Here's a breakdown the various draft grades and assessments of the team's class:
"Safety Deone Bucannon wasn't one of the household names coming into the draft, but he certainly warrants the 27th selection. He joins a dynamic young backfield and should be the punishing safety that teams fear across the middle in the Dashon Goldson vein. Second-round pick Troy Niklas is a blocking tight end that fits the Bruce Arians mold, and John Brown of Pittsburg State could end up being the dangerous slot receiver Andre Roberts never was. My favorite pick in maybe the entire fourth round was Logan Thomas, the QB out of Virginia Tech. A scout told me Thomas will possess the strongest arm in the NFL the day he steps on the field. His accuracy and field awareness need help, but who better to learn from than Bruce Arians and Carson Palmer? At 6-foot-6, 250 pounds and with sub-4.8 40 speed, Thomas is the perfect project to be groomed in the Arizona desert."
ESPN's Mel Kiper: B for meeting needs, B- for value (Insider subscription required)
"The Cardinals did pretty well and hit some needs. ... The Cardinals moved down, and that made what you could call a slight reach on Bucannon perfectly reasonable. ... Bruce Arians absolutely adored Heath Miller in Pittsburgh and might see some of what he loved about Miller in Troy Niklas. ... John Brown was a guy I really liked because of the explosiveness -- witness the 4.34 40 time -- and he could become a solid third WR and also take return reps, preserving Mathieu and Patrick Peterson. ... Logan Thomas is a great developmental shot to take. Bruce Arians worked out Thomas in March and loves the tools Thomas has. Will Thomas improve his accuracy? That's the question."
CBS Sports' Pete Prisco: B

"Safety Deone Bucannon will add toughness to the secondary, and Troy Niklas is the blocking tight end Bruce Arians likes. They must love the arm of fifth-round quarterback Logan Thomas, but he needs work."
"One thing is for sure -- if you're a receiver and you're facing Arizona's defense, keep your head on a swivel. Between second-year safety Tyrann Mathieu and 2014 first-rounder Deone Bucannon from Washington State, the Cardinals are looking to scare enemy offenses with their safeties. Bucannon plays at full speed and with killer intensity at all times, and if he ever finds his sense of direction, he's going to be even more dangerous. Notre Dame tight end Troy Niklas is a big blocker and burgeoning receiver who will take time to develop. North Carolina end Kareem Martin is a huge (6-foot-6, 272) defender who could back up Calais Campbell. Pittsburg State receiver John Brown will help take the top off enemy defenses. Virginia Tech quarterback Logan Thomas is a developmental prospect who might find his way at another position, and Murray State receiver Walter Powell is a smaller slot man. Overall, the Cards added some targets and got meaner in the defensive backfield, two musts as they try to move atop the NFC West."
NFL.com's Bryan Fischer: Good pick, good fit (no letter grades issued)

"The Thomas pick will get a lot of press, and it will be interesting to see how Bruce Arians develops him. Stinson has all the physical tools you look for and should fit in well on defense."
---