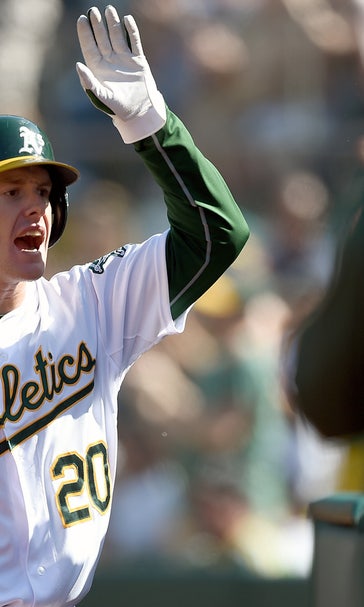 Canha was latest obsession for A's Beane
April 14, 2015

Remember how Athletics general manager Billy Beane became obsessed with Nick Swisher before the famed "Moneyball" draft?
Mark Canha was the 2014 version of Swisher.
When the Marlins left Canha unprotected on their 40-man roster, Beane went into full bond-trader mode, according to major-league sources.
First, he called Diamondbacks GM Dave Stewart, who held the No. 1 choice in the Rule 5 draft, held annually at the winter meetings. Beane wanted to trade for the pick, ensuring that no other team could grab Canha. But Stewart told Beane not to worry, the D-backs had no interest in Canha — they intended to take catcher Oscar Hernandez from the Rays instead.
Then Beane went to work on the Rockies, who held the No. 2 pick. One Rockies official could not recall a team pursuing a trade for a Rule 5 selection as aggressively as the A's did. So, the Rockies took advantage, selecting Canha and then trading him to the A's for minor-league right-hander Austin House, whom they projected as a future major-league reliever, and cash.
Why was Beane so preoccupied with Canha, who through his age 25 season had not reached the majors?
For one, Canha was a right-handed hitter who would help balance the Athletics' lineup. He also satisfied the A's desire for versatility with his experience at both infield and both outfield corners. Finally, he had an .850 career OPS in 1,750 minor-league plate appearances.
Beane, who at the meetings was on the verge of trading both right-hander Jeff Samardzija and first baseman Brandon Moss, viewed Canha as a vital piece of the puzzle he was trying to put back together.
Canha, as a Rule 5 player, must remain with the A's all season or be offered back to the Marlins for $25,000. But if his first 30 plate appearances are any indication, he isn't going anywhere — Canha is batting .367 with a .933 OPS through Monday.
It's early, but Beane evidently had reason to be obsessed.
---
---