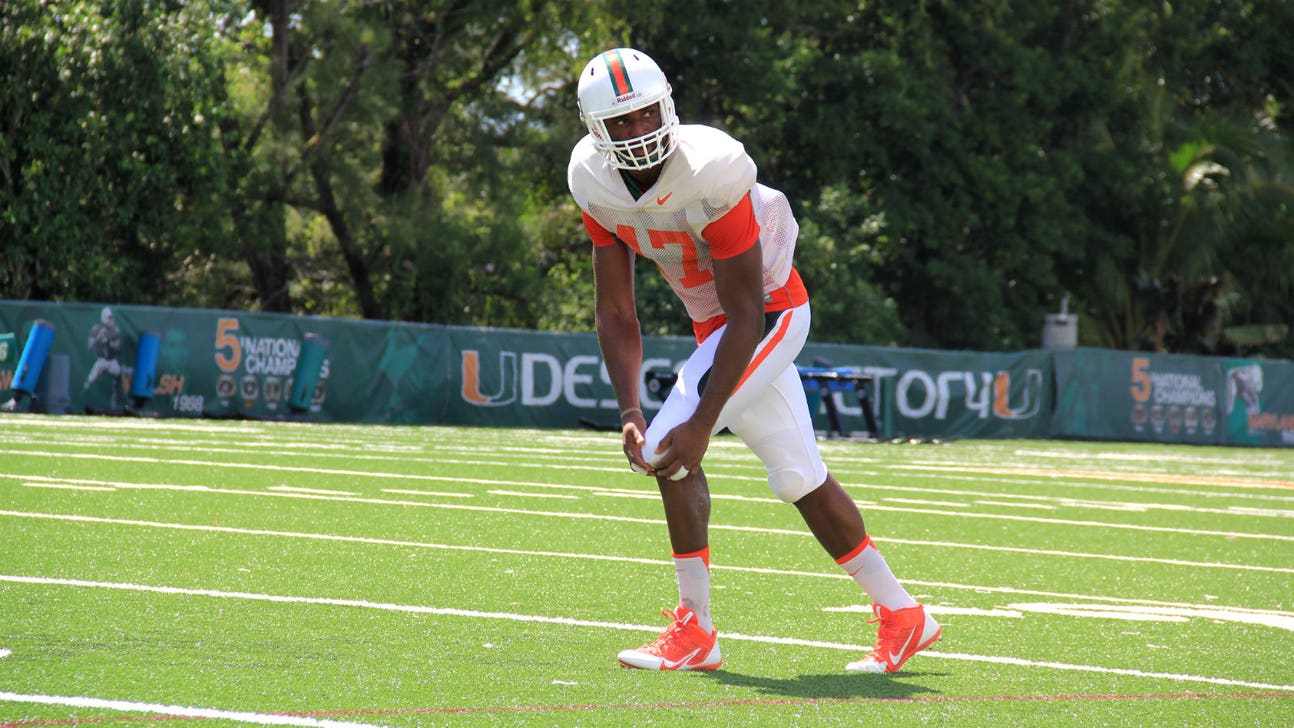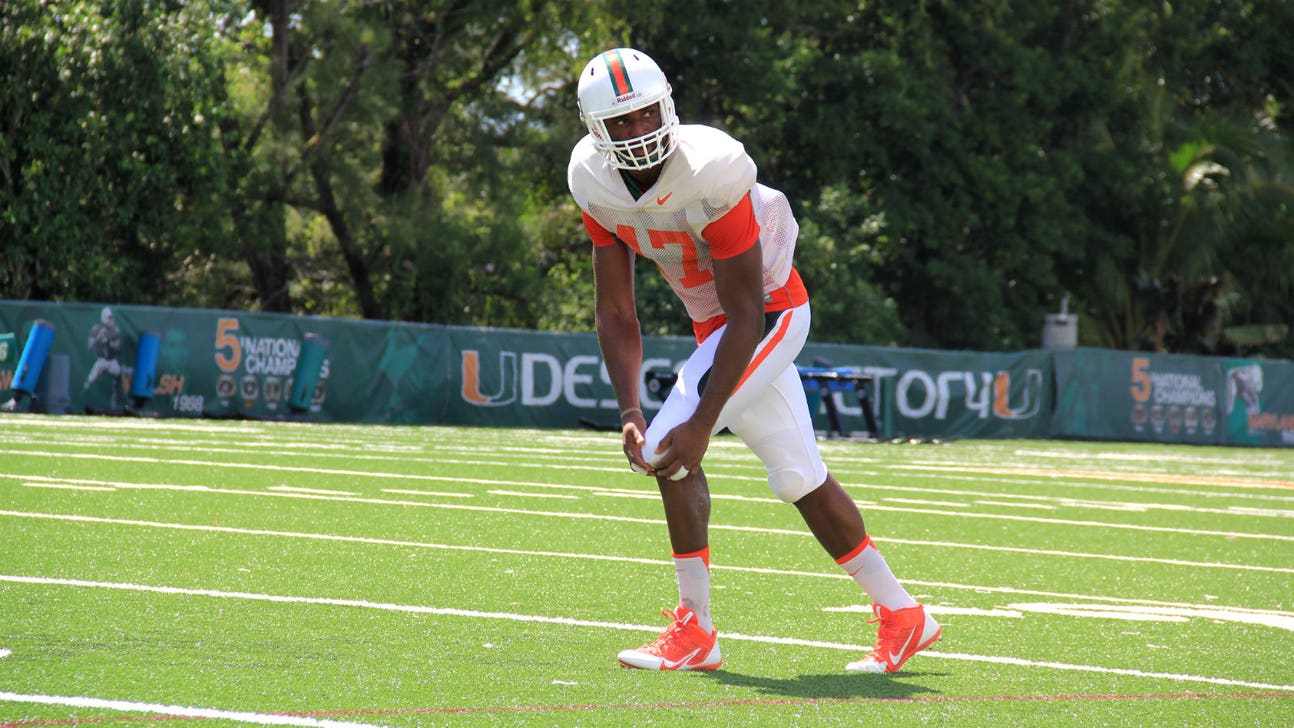 'Canes basketball player Raphael Akpejiori encouraged to give football a shot
Published
Aug. 10, 2014 11:00 a.m. ET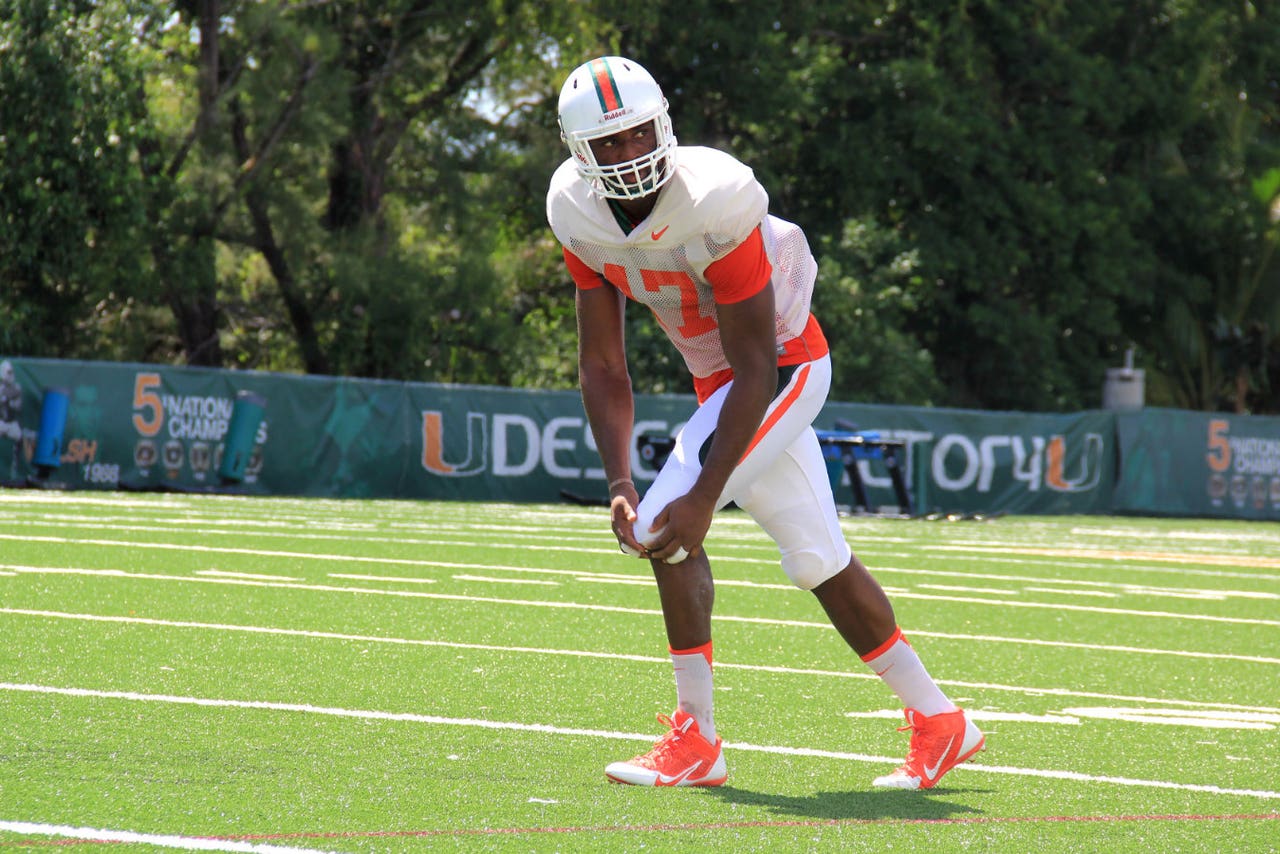 CORAL GABLES, Fla. -- University of Miami men's basketball player Raphael Akpejiori tailgated before football games and cheered from the student section last fall.
A few months later as his season came to a close at the Atlantic Coast Conference Tournament, friends on the football team -- and even an NFL Hall of Famer -- encouraged him to become a participant rather than a spectator.
Akpejiori, who is set to take graduate classes, can now be found on the Greentree Practice Fields at football camp wearing a No. 47 jersey trying to learn a sport he has no prior experience in.
"It was a long process," Akpejiori said. "It started with Cris Carter. I played basketball with him somewhere in Boca and it took about an hour to convince me why I would be a good fit for football. Since that day I've been thinking about it. It was in the back of my mind. It started materializing toward the end of the season. A couple of my teammates and friends told me I would be good at it. The staff gave me the opportunity to see what I could do over the workout in the summer and see where it goes from training camp.
"He made me see the potential I have and how I could help the University of Miami achieve the goal of winning a championship in the near future."
Listed at 6-foot-9, 241 pounds, it's no surprise Akpejiori shapes up as an interesting prospect. Over four years on the basketball team, he averaged 1.1 points, 1.5 rebounds and 0.4 blocks per game. He started 10 of 85 games.
Carter, who received Division I offers to play basketball before sticking with football, noticed that when he met Akpejiori.
Still, Akpejiori was a blank slate. Originally from Lagos, Nigeria, he didn't know about the sport until coming to the United States. The New Orleans Saints had just won the Super Bowl, so he became a fan of theirs.
This summer, former Hurricane and NFL Pro Bowler Jimmy Graham worked with Akpejiori and Erik Swoope, who the Indianapolis Colts signed as an undrafted free agent. The former had never played organized football either.
Graham perfectly fits the role of mentor seeing as he's familiar with the transition. He played four seasons for the UM basketball team, finishing eighth in program history with 104 blocks and appearing in 120 games. Graham took graduate classes to return to his football roots, catching 17 passes for 213 yards and five touchdowns in 2009.
The two-time Pro Bowler, who was selected in the third round of the 2010 draft by the Saints, taught Akpejiori and Swoope their first steps in football by running routes twice a week. Pro Bowl receiver Santana Moss did the same four days a week while Graham worked through his contract situation.
To this day when Akpejiori drops passes and becomes frustrated with his progress, he texts Moss. The four-year pro tells him to remember with the bad days there will also be good ones.
"When Erik and I decided to play football he was our first call," Akpejiori said. "He always asked the question, 'What motivates you?' It took me a couple days to answer that, but I came up with 'a lot of things motivate me.' The first thing that motivates me is success. I want to be successful in everything I do, that I lay my hands on. He was excited for me because he went through the grind, he knows what it takes to be successful at this level in a different sport."
Senior tight end Clive Walford and junior safety Dallas Crawford, two of Akpejiori's friends prior to joining the team, are also there for encouragement. Walford was a basketball player in high school and understands the challenges.
As a junior last season, Walford broke through with 454 yards and two touchdowns on 34 catches over 13 games (12 starts).
"It comes with time," Walford said of Akpejiori's improvement. "It's not going to just fall into your hands. You have to work for it. At the tight-end position we have a lot of depth, so it's going to be tough for him to stand out. But with his ability -- he can jump really high, run really fast. He needs to focus on knowing all his plays, catching the ball and running great routes. If he can do those things -- the coaches will acknowledge it. They won't go unseen."
SAME SKILLS
Running, jumping and catching are nothing new for Akpejiori. A basic awareness of how to play in space is also crucial yet not unfamiliar. Those elements translate.
During spring practice and the summer, Akpejiori absorbed knowledge of the game by watching film and learning the terminology -- from formations to routes to block assignments. When camp opened on Tuesday, he and his fellow unit members were retaught the fundamentals.
"He's doing really good, but it's a good position for us, so that's the quandary for him right now," head coach Al Golden said. "It's a talented position and made more talented with Chris Herndon's arrival. We have some depth there and Raphael -- great spirit, great kid, great energy. Keep working hard. We'll see when we get into scrimmage situations what he can do."
Another key for Akpejiori will be embracing the physicality of the game. He admitted to not being used to "exerting force on another human being."
It didn't faze Graham, San Diego Chargers Pro Bowler Antonio Gates or former NFL star Tony Gonzalez. They were all able to successfully transfer their talents from the hardcourt to gridiron.
"The physicality of the game didn't bother them," Carter said. "Catching the ball in traffic didn't bother them. That's a skill you're going to see if he has. Can he catch the ball and can he catch the ball in traffic with contact? Besides catching the ball in traffic there are a number of things to build. Block a defensive end -- a very, very athletic guy over his nose. I don't care how good he is catching the ball, eventually he's going to have to block."
EAGER TO GROW
Players soaked in ice tubs following Saturday's practice as temperatures continued to climb. Akpejiori, meanwhile, remained in his helmet and pads to catch balls from a machine.
His willingness to learn and work ethic have caught the attention of both teammates and the coaching staff.
"From when he first came out in the spring to now he's like a different player," Crawford said. "You can't get him off the field. He's always out here doing extra drills and running extra routes. He's good. He's strong, too. He's a lot stronger than you would think a basketball player coming out to play. But he's real good. He's got a lot of upside."
The Akpejiori experiment offers the challenge -- and promise -- of a great learning curve. His intangibles stand out just as much as his size.
What was tight ends coach Larry Scott's first impression?
"How hard he works," Scott said. "Of course you can't help but notice how big he is. We've been working on getting his weight up. He's probably 245 now. Just his work ethic. He's come in kind of from scratch. It's the bare blocks of learning how to play football, what his stance is. Just his work ethic and his attitude to learning it all and being a part of this.
"It helps when you have the right attitude and mindset about it. If you're positive about the situation of course something will come out of it and you're willing to work. It can take you a long way real fast."
Could football be in Akpejiori's future after college?
"I'm trying to enjoy the process," Akjeiori said. "I can't really say too much but just work hard and be successful. Be a successful person, be successful with the team. All in all enjoy the process and see where it takes us.
"I have a lot of people tell me stuff -- as much as I want to hear it -- I don't really need to hear that right now. Like I said I'm just trying to enjoy the process and be a part of this team and win championships hopefully."
You can follow Christina De Nicola on Twitter @CDeNicola13 or email her at cdenicola13@gmail.com.
---