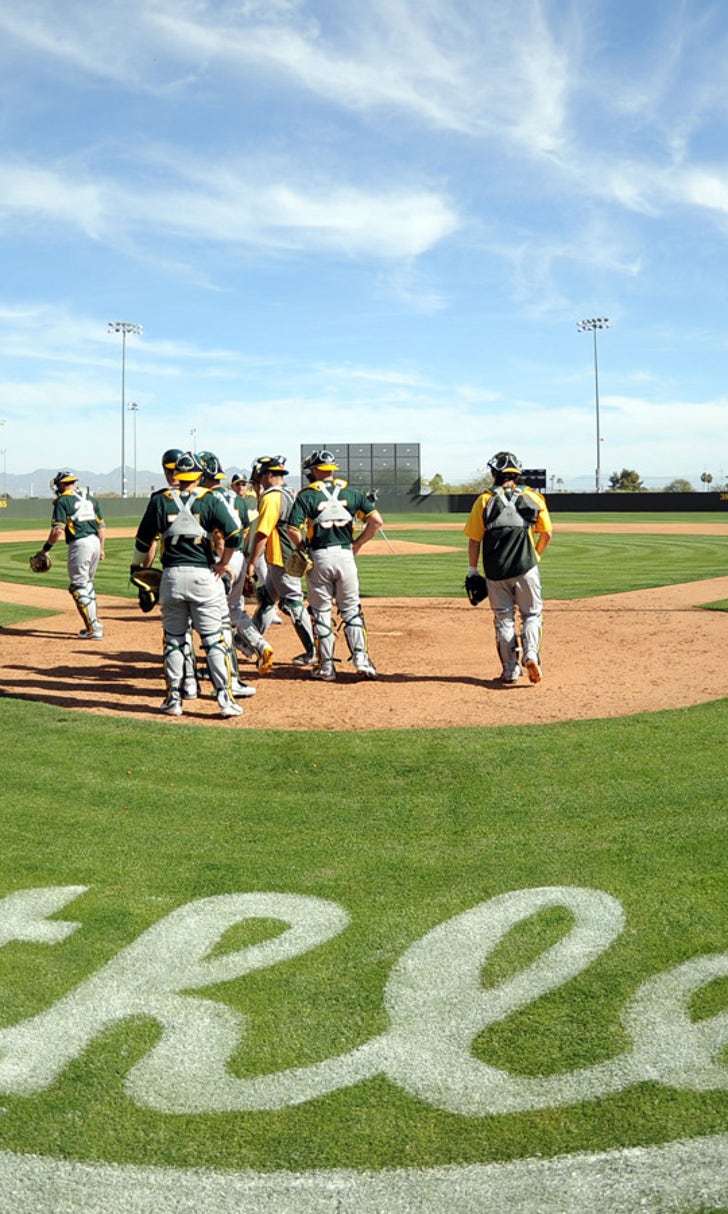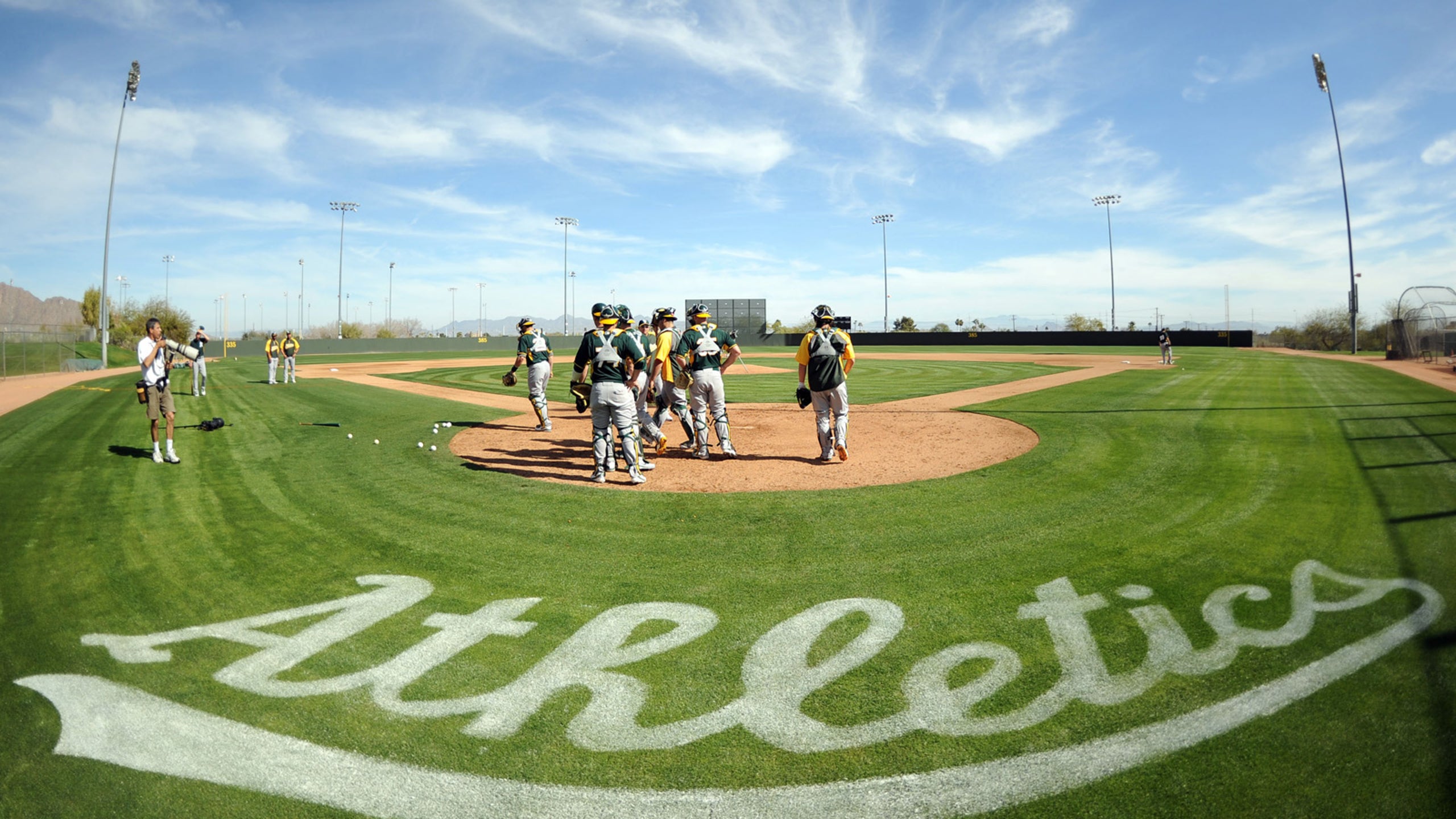 Cactus League preview: Oakland Athletics
BY foxsports • February 19, 2014
It's probably time to stop being surprised by the Oakland Athletics.
After back-to-back division titles, the A's are far from the underdogs they were not long ago and arrive for another spring training with a target on their backs.
Part of the equation: the ongoing wizardry of crafter general manager Billy Beane. Even with a small-market budget, Beane keeps finding ways to get it done. His past off-season was dominated by tinkering with the pitching staff -- adding starting pitcher Scott Kazmir and relievers Jim Johnson and Luke Gregerson to compensate for the loss of Bartolo Colon and closer Grant Balfour.
Also paramount to the A's success has been the even keel of manager Bob Melvin, who enters his fourth season in Oakland looking to push all the right buttons again. He'll have a few key decisions to make this spring.
As the A's prepare for another season, they'll do so for the last time at Phoenix Municipal Stadium, the Cactus League's oldest park, before moving to HoHokam Stadium in Mesa in 2015.
Here's a look at what's in store for the A's this spring and what to watch for in camp as the Cactus League gets going.
Despite ranking ninth in the AL with a .254 batting average, the A's were one of the league's best scoring teams en route to a 96-66 finish. The team ranked third in runs scored behind big seasons from Josh Donaldson (93 RBI), Brandon Moss (87) and Jed Lowrie (75). The A's also ranked third in the AL in home runs, with Moss contributing 30. Behind a strong pitching staff, which ranked second in the AL with a 3.56 staff ERA, the A's won the West but fell to the Tigers in Game 5 of the ALDS.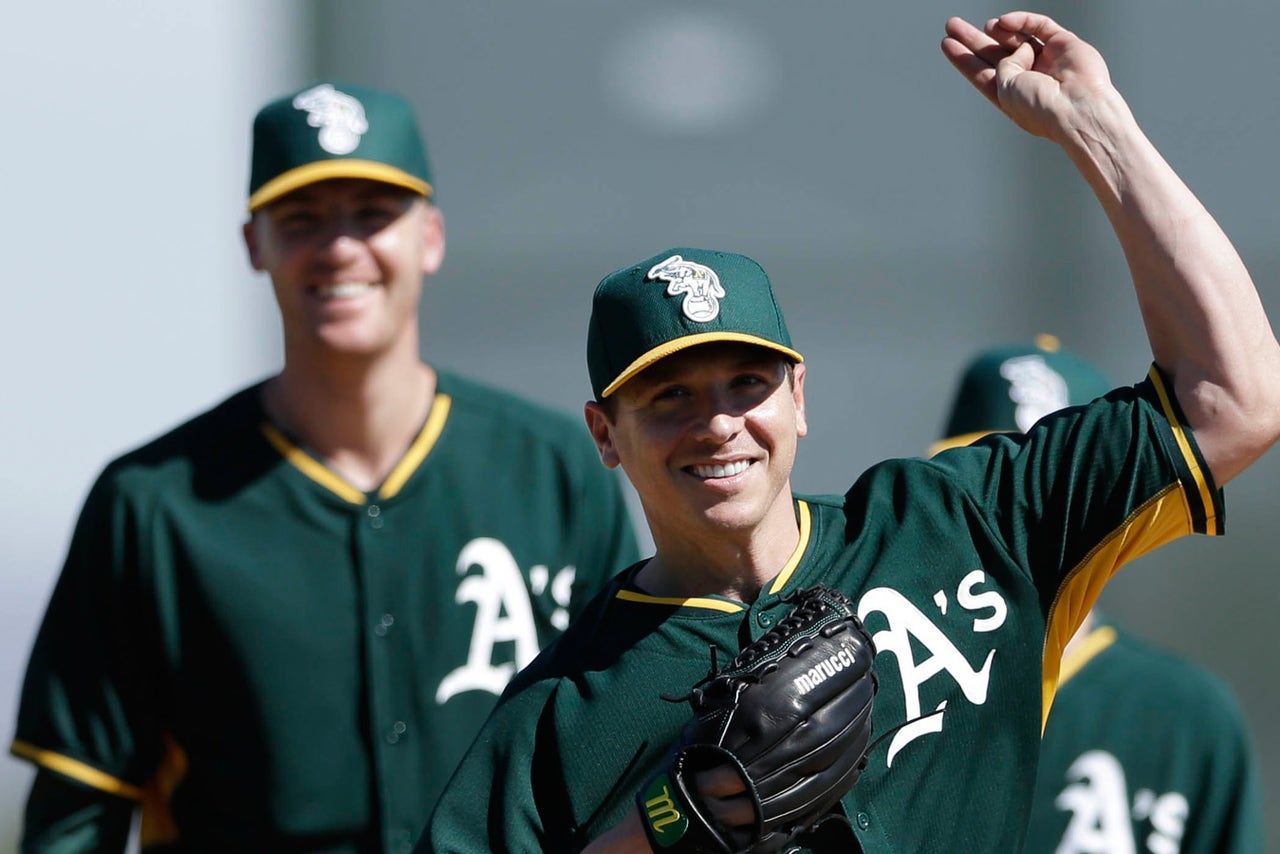 Scott Kazmir got a two-year, $22 million deal from Oakland after reviving his career last season in Cleveland.
Arrivals: OF Craig Gentry (trade with Texas), RP Luke Gregerson (trade with San Diego), RP Jim Johnson (trade with Baltimore), SP Scott Kazmir (free agent), SP Josh Lindblom (trade with Texas), RP Eric O'Flaherty (free agent), SP Drew Pomeranz (trade with Colorado), IF Nick Punto (free agent).
Departures: SP Brett Anderson (traded), RP Grant Balfour (free agent), RP Jerry Blevins (traded), SP Bartolo Colon (free agent), IF Scott Sizemore (free agent), OF Seth Smith (traded), C Kurt Suzuki (free agent), IF Jemile Weeks (traded), OF Chris Young (free agent).
What impact will the newcomers have?
Despite back-to-back division titles, the A's didn't have the luxury of standing pat. Accordingly, general manager Billy Beane made a flurry of moves in typical Billy Beane fashion. He traded for Craig Gentry, a versatile outfielder with plus defense as an option to start against left-handed pitchers, and closer Jim Johnson, who leads the majors in saves since 2012. The A's also gave Scott Kazmir the largest contract for a starting pitcher in team history, betting his resurgent 2013 with the Indians will carry over. The A's also took a chance on Rockies pitcher Drew Pomeranz, who at 25 is still looking to live up to the expectations of a first-round draft pick. A fresh start in Oakland may serve him well. Also new to the mix is veteran infielder Nick Punto. Spring training should provide a glimpse of how the pieces fit together and how the moves will impact chemistry.
How will the starting rotation fill out?
The A's have won behind strong starting pitching the last two seasons and look to do so again, albeit with a different group. Jarrod Parker, Sonny Gray and Scott Kazmir are pretty much locked in at the top of the rotation. It's the next two spots that are unresolved entering camp. The favorites would seem to be holdovers A.J. Griffin and Dan Straily, but Tommy Milone, who lost his spot in the rotation last year, looks to parlay an impressive stint as a reliever into another chance in the rotation. Pomeranz, too, will look to make a strong impression in camp and force the A's to make room for him.
Who's in and who's out in the infield?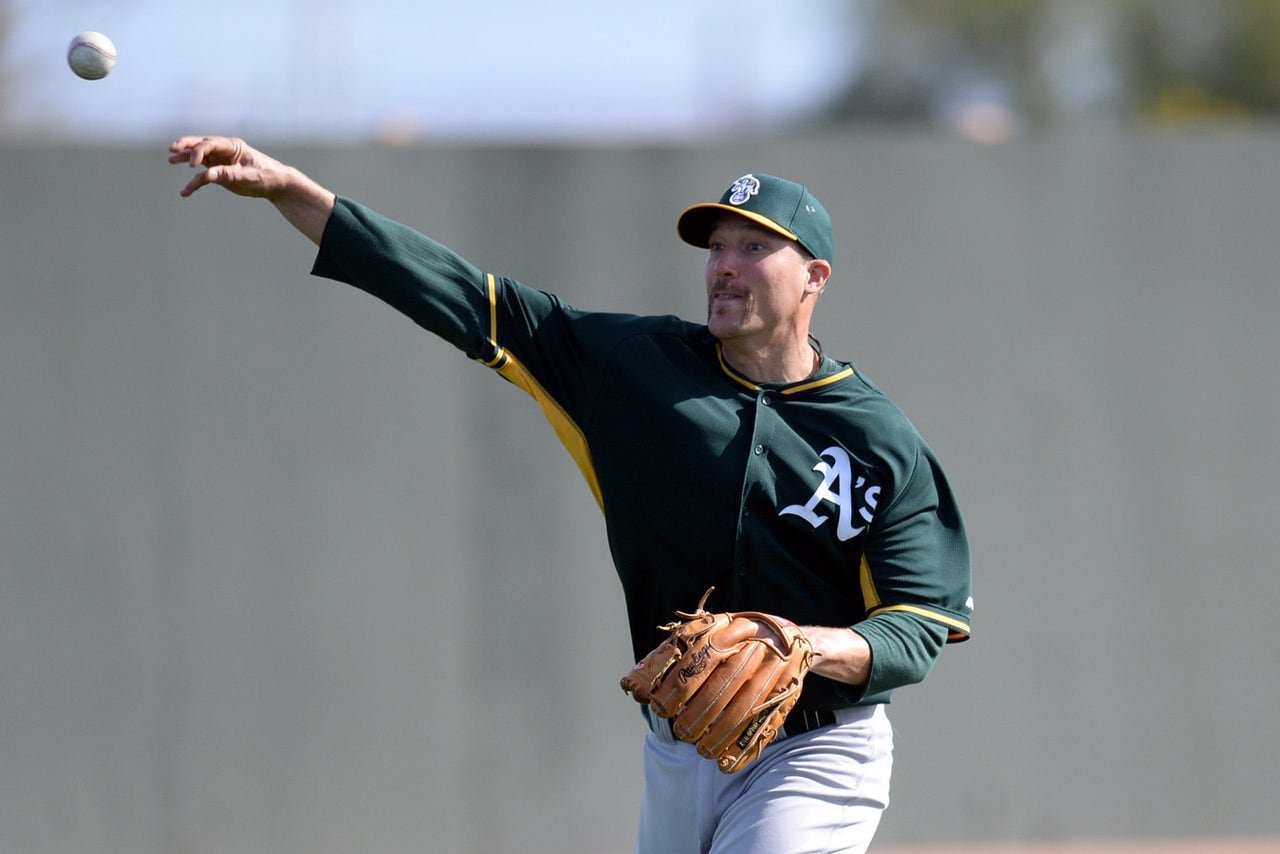 Closer Jim Johnson throws during a workout at Papago Park.
The A's come to camp with a glut of infielders for a limited number of jobs. Josh Donaldson and Jed Lowrie appear locked in at third base and shortstop, but the right side remains unsettled. Punto, Eric Sogard and Albert Callaspo are all candidates at second base, though Punto is viewed more as a utility man. At first base, Brandon Moss is the likely regular, but Daric Barton and Nate Freeman will battle for playing time and a roster spot. In the end, it's unlikely there will be room for all.
The A's might just have the deepest bullpen in the AL. Setting up new closer Jim Johnson are lefty Sean Doolittle, newly acquired righty Luke Gregerson and flamethrower Ryan Cook. There are plenty of candidates for the other three bullpen spots. If the rotation is as strong as expected, the A's may well ride pitching to another division title.
Scott Kazmir. The 30-year-old lefty revived his career in Cleveland last year after appearing just once -- for 1 2/3 innings -- in a big league game over the previous two seasons. Having resolved mechanical issues, Kazmir went 10-9 with a 4.04 ERA and totaled more than 150 innings for the first time since 2008. With a two-year, $22 million contract, Kazmir is a bit of a risk, but Beane believes the potential payoff outweighs it.
Pitchers and catchers reported Feb. 14. The full squad reported Wednesday, Feb. 19. Games begin Feb. 27 at Phoenix Municipal Stadium, 5999 E. Van Buren St., Phoenix. Visit OaklandAthletics.com for full schedule and tickets.
Follow Tyler Lockman on Twitter
---