C. Martinez struggles, J. Martinez doesn't in Cards' season-opening loss
March 29, 2018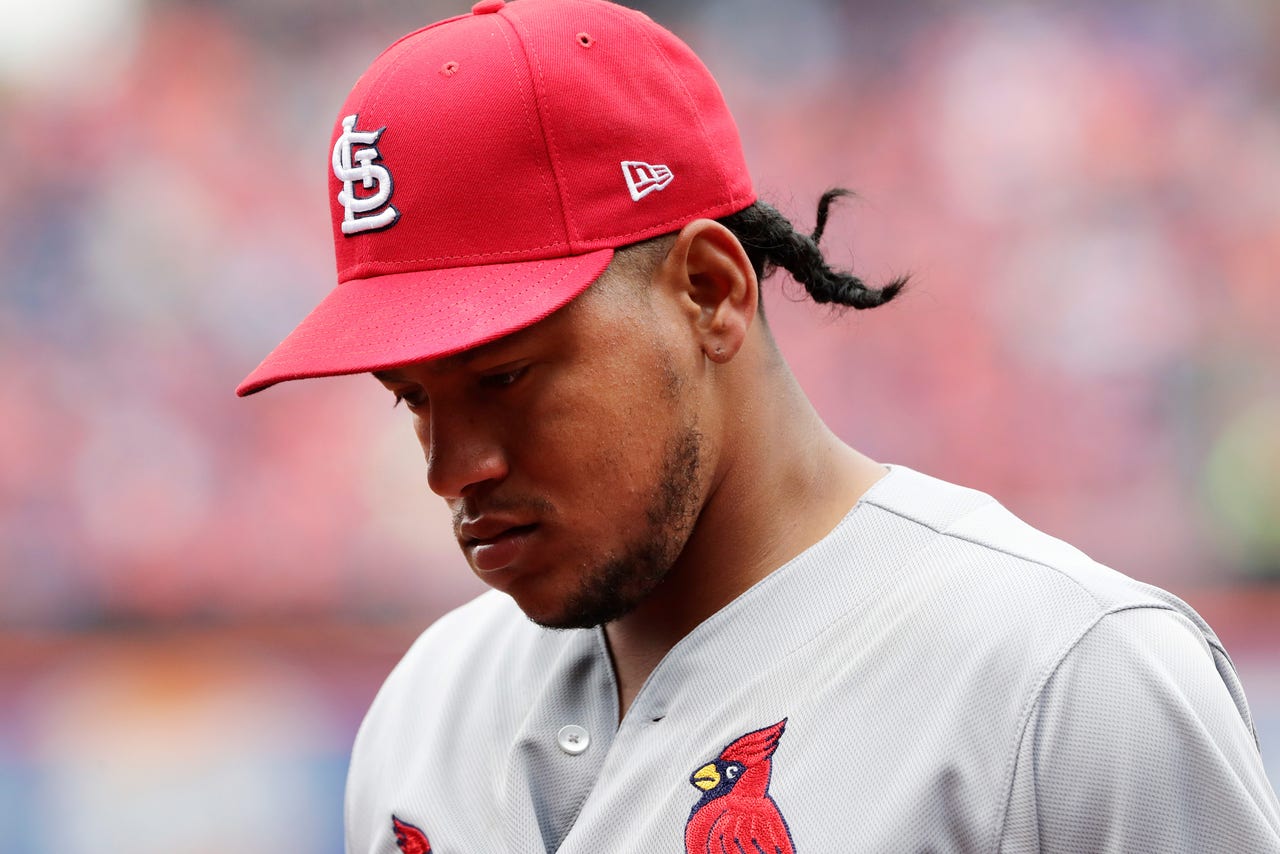 NEW YORK -- Mickey Callaway's first game as manager with the Mets went exactly according to plan.

Yoenis Cespedes drove in three runs and newcomer Adrian Gonzalez hit a go-ahead double to lead Noah Syndergaard and New York past the St. Louis Cardinals 9-4 in their opener Thursday.

Syndergaard (1-0) struck out 10 and walked none in six innings after missing most of last season with a torn lat muscle.

Leadoff man Brandon Nimmo, subbing for injured All-Star Michael Conforto, reached safely four times and scored twice as the Mets chased a furious Carlos Martinez in their five-run fifth inning to make Callaway a winner at sold-out Citi Field.

"It feels great," Callaway said. "What a ballpark. All of us, the coaches, were sitting there going, 'Man, this is something special. This is a different place than most.'"

The 35-year-old Gonzalez also was on base four times with two hits and two walks in his New York debut. The five-time All-Star first baseman was signed for the major league minimum during the offseason after struggling with a bad back last year with the Dodgers.




"Obviously, getting off to a good start is huge, both personally and as a team. I think we accomplished both," he said.

Yadier Molina hit an early two-run homer for St. Louis that clanged off the left-field foul pole. Jose Martinez (3 for 4) also went deep against Syndergaard and knocked in two but committed a run-scoring throwing error at first base.

"I was mad at myself not making that play, for sure. I put Carlos in a tough situation right there," Jose Martinez said. "I don't feel very happy with my performance, because that play was huge for us."

New York got hitless relief from Robert Gsellman, newcomer Anthony Swarzak and closer Jeurys Familia to finish with 15 strikeouts in an opener played only hours after the death of former Mets star Rusty Staub.

"I thought it was a great team win. A lot of fun," Syndergaard said. "Kind of kicking myself in the butt for allowing that Martinez guy to get a little too comfortable, but that won't happen again."

Todd Frazier, also making his Mets debut, drew a one-out walk from Carlos Martinez (0-1) in the fifth and scored from first on Gonzalez's double into the right-field corner for a 4-3 lead.

Syndergaard, who threw his first three pitches 99 mph, helped himself with a sacrifice bunt, and young shortstop Amed Rosario -- batting ninth behind the pitcher -- delivered a two-run single .

Cespedes, who had a two-run single in the second, chased Carlos Martinez with an RBI single. The two-time All-Star pitcher, who walked six, really went wild once he got to the bench, knocking over a bucket of bubble gum.

"I didn't have command," he said. "In the last game (of) the spring I was comfortable, so I don't know what happened."






Jay Bruce, back after the Mets traded him to Cleveland last August, added an RBI single off Matt Bowman to cap the outburst.

"I put our lineup against anyone," Bruce said. "We have veteran guys. We have young guys with so much talent."

New York catcher Kevin Plawecki also had two walks and two hits, including a late RBI single.

"Just a great all-around effort today," Frazier said. "A good kick-start to the season."



HELP ON THE WAY

Less than two hours before the first pitch, the Cardinals landed a closer. Greg Holland agreed to a one-year, $14 million contract with the team, according to a person familiar with the deal. The person spoke on condition of anonymity because the agreement was pending a physical and had not been announced. A three-time All-Star, Holland was a free agent after leading the National League with 41 saves last year for Colorado. His addition would be a major boost to an unsettled Cardinals bullpen lacking a proven closer in the wake of several injuries.

FAST STARTERS

Despite losing their first eight openers in the 1960s, the Mets have baseball's best record on Opening Day at 37-20. They've won 22 of their last 25 season openers at home. The previous Mets manager to win his debut was Jeff Torborg in 1992.

A ROCK BEHIND THE PLATE

Molina started on Opening Day at catcher for the 14th straight season, a franchise record for one position.

TRAINER'S ROOM

Cardinals: The club had planned to use newcomer Luke Gregerson as its closer early this season, but he strained his left hamstring late in spring training and opened on the 10-day disabled list with no timetable for his return.

Mets: General manager Sandy Alderson said the team will decide in a couple of days whether Conforto needs a minor league rehab assignment before coming off the disabled list. Conforto is ahead of schedule in his recovery from surgery for a dislocated left shoulder and is eligible to return late next week, when the Mets are in Washington.

UP NEXT

Cardinals RHP Michael Wacha (12-9, 4.13 ERA) starts the second game of the season Saturday afternoon against RHP Jacob deGrom (15-10, 3.53 ERA), the Mets' initial choice for Opening Day before his schedule was slowed at the outset of spring training by a stiff back and the birth of his child.
---
---