Tony Snell
Tony Snell
Bucks' Snell playing less but producing more
Published
Nov. 8, 2018 4:32 p.m. ET
Welcome to the 2018-19 edition of the Young Bucks Tracker. Each Thursday we'll either track the progress of the players who might be of help to the Bucks in the future from the Wisconsin Herd or a current member of the Milwaukee roster. We'll also give updates on the other young players from the previous week.

This is the 2nd edition of the 2018-19 Young Bucks Tracker.



SPOTLIGHT ON …

Guard Tony Snell

Ten games into the 2018-19 season and it's been bad news, good news for Snell.

The bad: His playing time has decreased under new head coach Mike Budenholzer. After averaging 29.2 minutes per game in 2016-17 and 27.4 last season, Snell is down to 16.4 minutes per game this year, having topped 20 minutes just once (23:19 in a win over Orlando on Oct. 27).

The good: Despite the limited time, his production is up. Way up.

In three games this past week, Snell played just 49 minutes -- but he made 9 of 13 shots (69.2 percent), including 6 of 7 from 3 (85.7 percent) and all five of his free-throw attempts.

On the season, he's made 52.0 percent of his 3 attempts and has an overall field-goal percentage of 57.5 percent (last season he made 43.5 percent of his shots and 40.3 percent from 3). Even with playing 10+ fewer minutes per game, his 7.2 points per game is higher than last season's 6.9 ppg.

Snell is seventh in the NBA in 3-point field-goal percentage and if he qualified would be tops in effective field-goal percentage. Snell has a 73.8 eFG% -- Utah's Rudy Gobert leads the league at 71.9 percent. According to basketball-reference, Snell's offensive rating is 142 -- which would also lead the NBA if he qualified (Golden State's Kevon Looney leads with a 139 OR).

It'd be easy to say it's because of Budenholzer's philosophy to shoot 3s is why Snell has been so productive. Funny thing is, Snell is actually shooting a lower percentage of 3-pointers this season -- 62.5 percent of his shots have been from compared to 63.1 percent last season and 65.6 percent in 2016-17.

Instead, Snell is getting easier looks and taking less mid-range 2-pointers. Twenty-five percent of his shots have come from between 0-3 feet and just 2.5 percent from 16 feet to the 3-point line. The past two seasons combined, Snell took 16.9 percent of his shots from 0-3 feet and 7.3 from 16+. As a result, Snell is connecting on 66.7 percent of his 2-point shots -- prior to this season, he made 47.4 percent of those attempts.

BUCKSHOTS

-- After sitting out Milwaukee's first three games, newcomer Pat Connaughton has played in seven straight. In Sunday's win over Sacramento he poured in 13 points on 5-of-8 shooting and added five rebounds and a block. He's made 8 of 19 3-point attempts (42.1 percent) on the season.

-- The evolution of John Henson 3-point shooter, continues to amaze. He made 3 of 9 3-point shots last week and is now 8 of 22 (36.4 percent) on the season after making just one 3 (on 13 attempts) in his career heading into this season.

-- Rookie Donte DiVincenzo continues to get minutes. He has topped 20+ minutes in three of the last four games after doing so just once, in the opener, in the first six.

-- Sent to the G League for one game, Sterling Brown had 22 points on 10-of-18 shooting with five rebounds and four assists to help the Wisconsin Herd to their first victory of the season.

 


---
---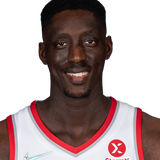 Get more from Tony Snell
Follow your favorites to get information about games, news and more
---