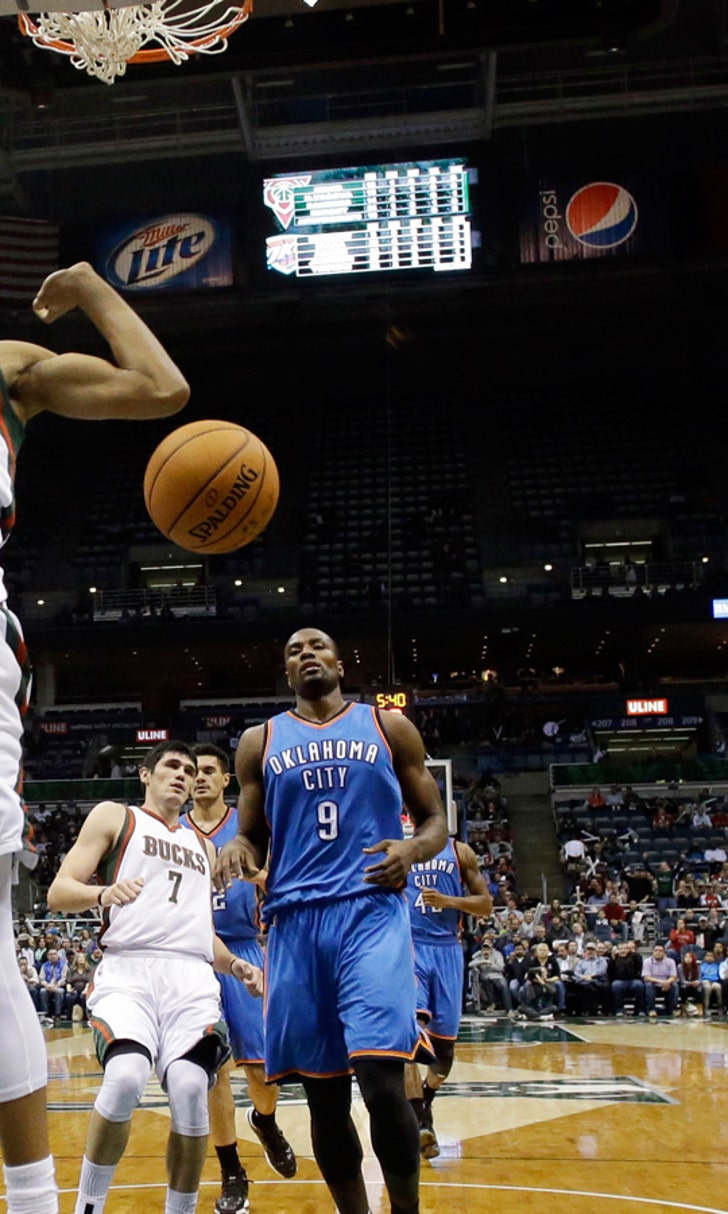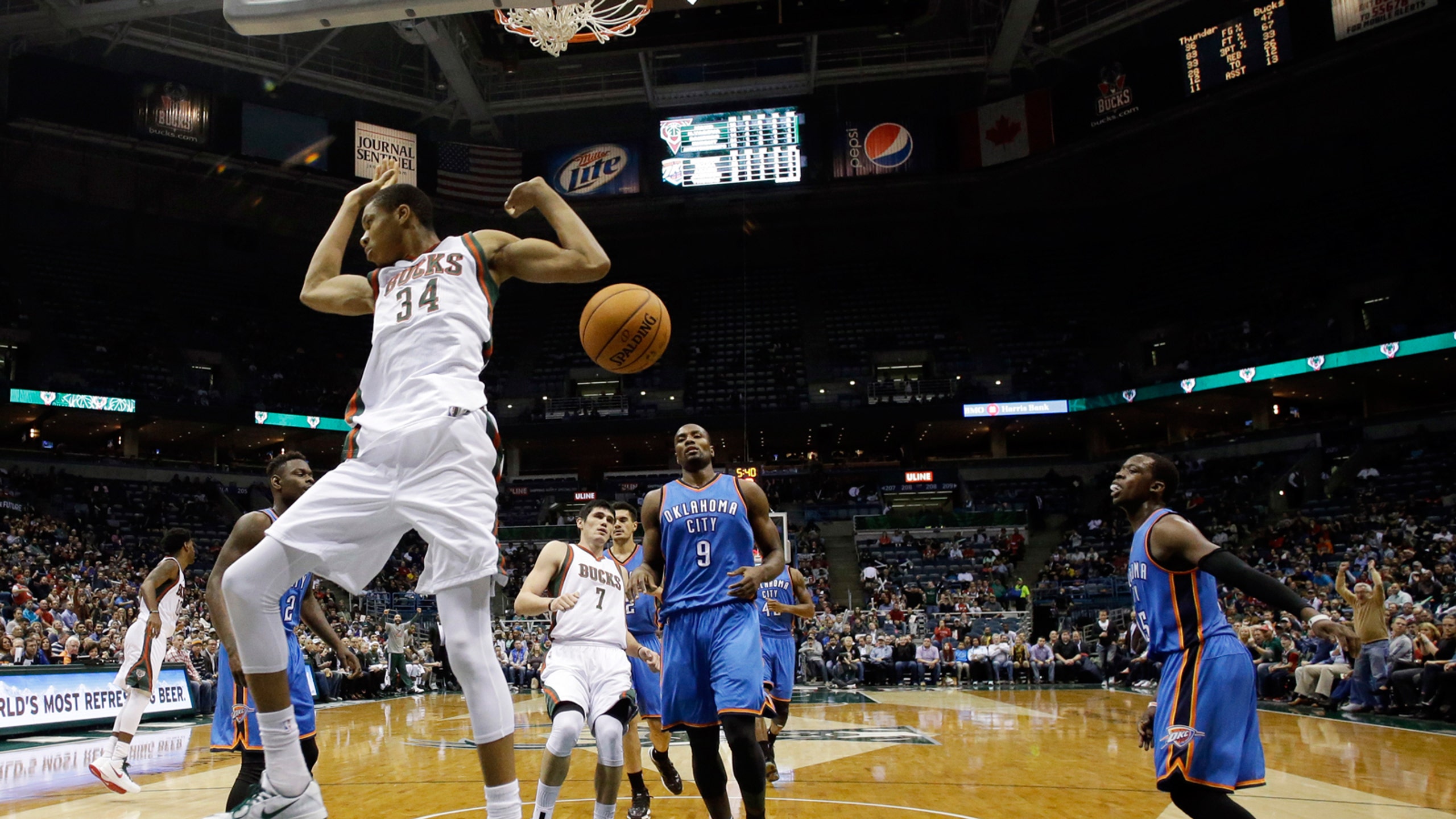 Bucks at Thunder preview
BY foxsports • December 9, 2014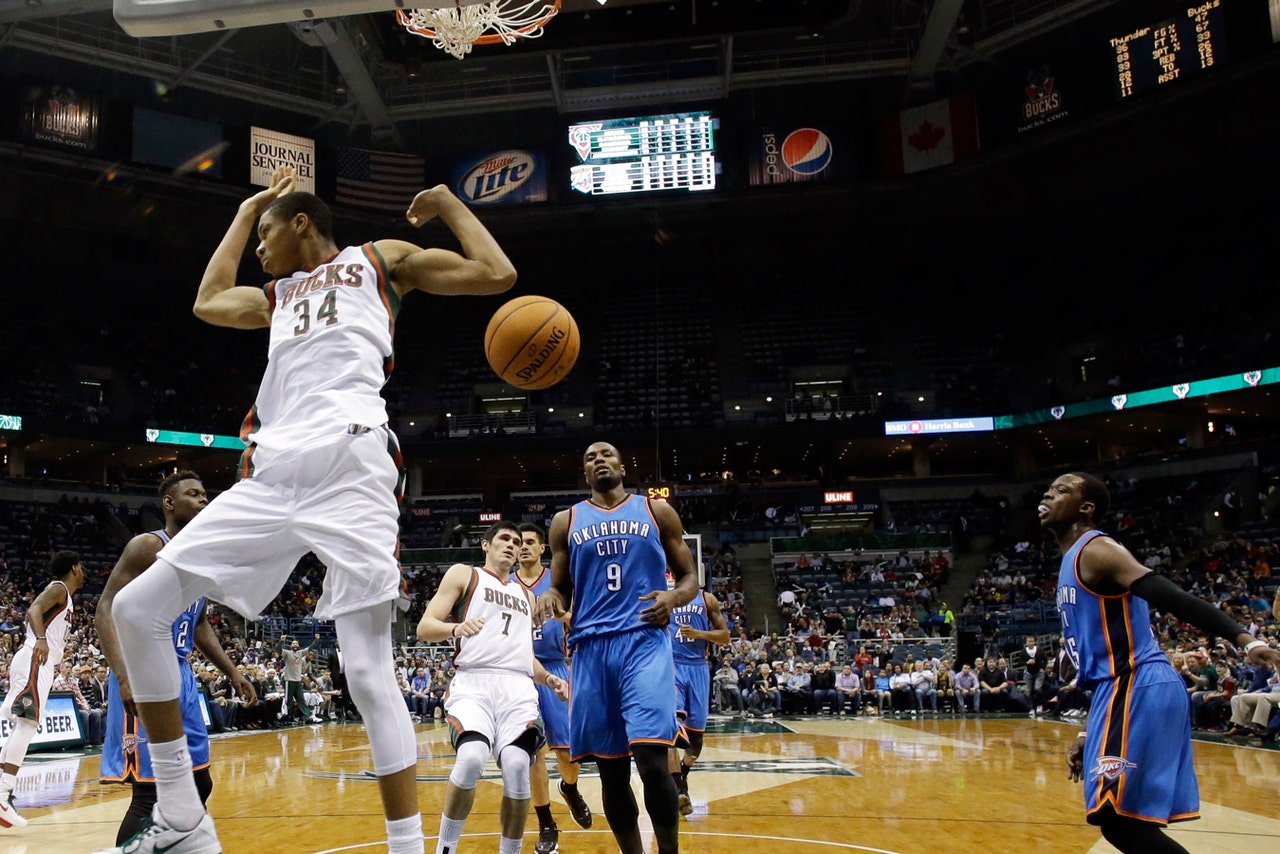 Not only have the Oklahoma City Thunder have looked drastically better offensively with Russell Westbrook and Kevin Durant back, but they're also starting to dominate the boards like they did last season.
Oklahoma City seeks a season-best third straight win Tuesday night when it hosts the Milwaukee Bucks, whose defense has all but disappeared.
The Thunder (7-13) have won four of five, with Westbrook playing in the last four and together with Durant for the last three. Oklahoma City has averaged 101.0 points and shot 46.0 percent from the field its last five games after previously ranking last in the league with 89.6 points per game in addition to shooting 41.6 percent during a 3-12 start.
Westbrook has averaged 25.5 points, 7.3 assists and 7.3 rebounds since returning from a fractured right hand while Durant is averaging 21.7 points after being out with a fractured right foot.
The duo combined for 50 points in Sunday's 96-94 win at Detroit, and Serge Ibaka had 13 points with 13 rebounds as Oklahoma City outrebounded the Pistons 50-39.
"I thought Serge was tremendous," Durant said. "He was chasing down all of those rebounds and scoring when we were kicking them out to him. We had possessions where we had three great shots and three offensive rebounds. We're doing a good job of rebounding the ball."
The Thunder, who averaged an NBA-best plus-3.8 rebounding margin in 2013-14, have posted a plus-6.5 margin over their last six games. They previously averaged a minus-0.6 margin on the season.
Oklahoma City held Detroit to 39 second-half points and has outscored its last three opponents by an average of 6.7 points in the second half while holding them to 39.5 percent shooting.
"We're pleased with the way we played," coach Scott Brooks, who recorded his 300th win, told the team's official website. "Defensively in the second half is what we need to do for the entire game."
The Bucks (11-11) were one of the league's better defensive teams during their 10-7 start, limiting opponents to 97.2 points per game and 43.9 percent field-goal shooting. They've since dropped four of five while giving up 109.0 points per game on 50.5 percent shooting.
Milwaukee lost 125-102 at Dallas on Sunday, letting the Mavericks shoot 58.3 percent (49 for 84) - the highest percentage allowed by the Bucks since they let San Antonio shoot 60.0 percent in a 106-103 win on Jan. 10, 2012.
"When you don't put any energy and effort into it, guys are going to get wide-open shots and knock them down," coach Jason Kidd said. "They did that."
Ersan Ilyasova missed his third straight game with a nasal fracture and figures to be unlikely to return after not traveling to Dallas. He had averaged 15.8 points and shot 56.0 percent in an eight-game stretch prior to suffering the injury in a loss at Cleveland on Dec. 2.
Neither Westbrook nor Durant played in Milwaukee's 85-78 home win Nov. 11 as Oklahoma City shot 33.3 percent from the floor. Reggie Jackson had a game-high 29 points for the Thunder, who were outrebounded 51-46 and outscored 50-28 in the paint.
Durant has averaged 26.3 points over his last seven games versus Milwaukee.
---