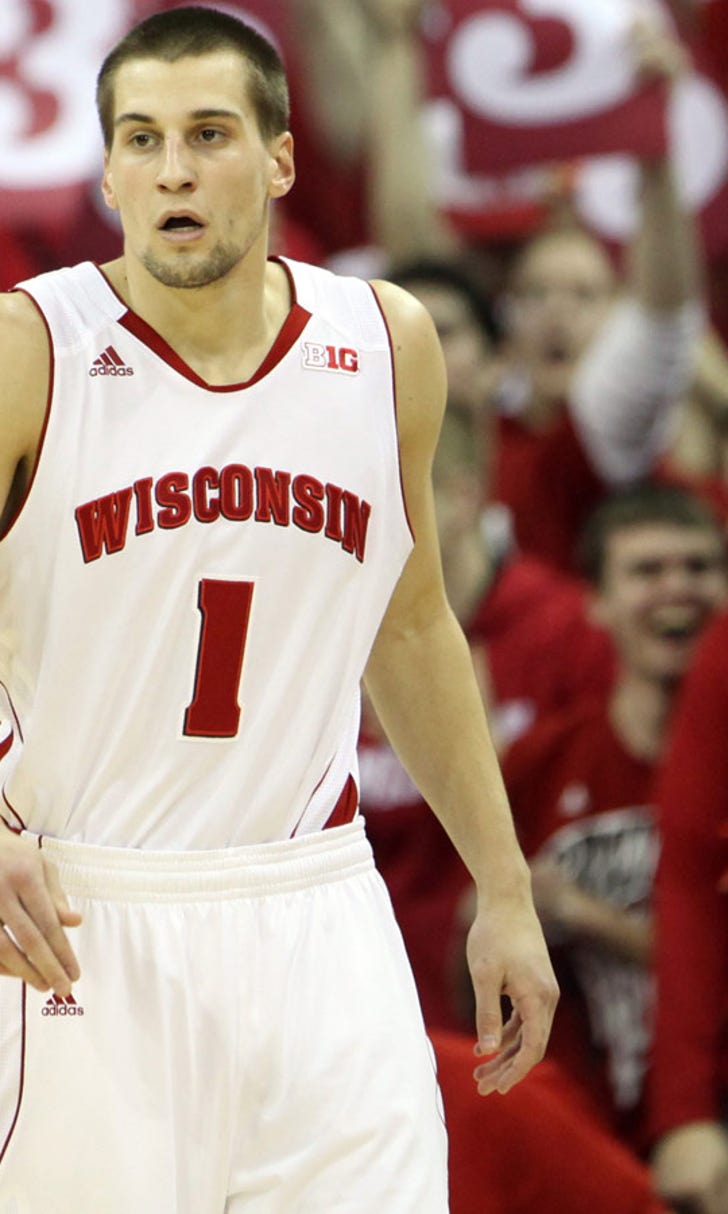 Brust breaks free from slump, helps guide Badgers past Hoosiers
BY foxsports • February 26, 2014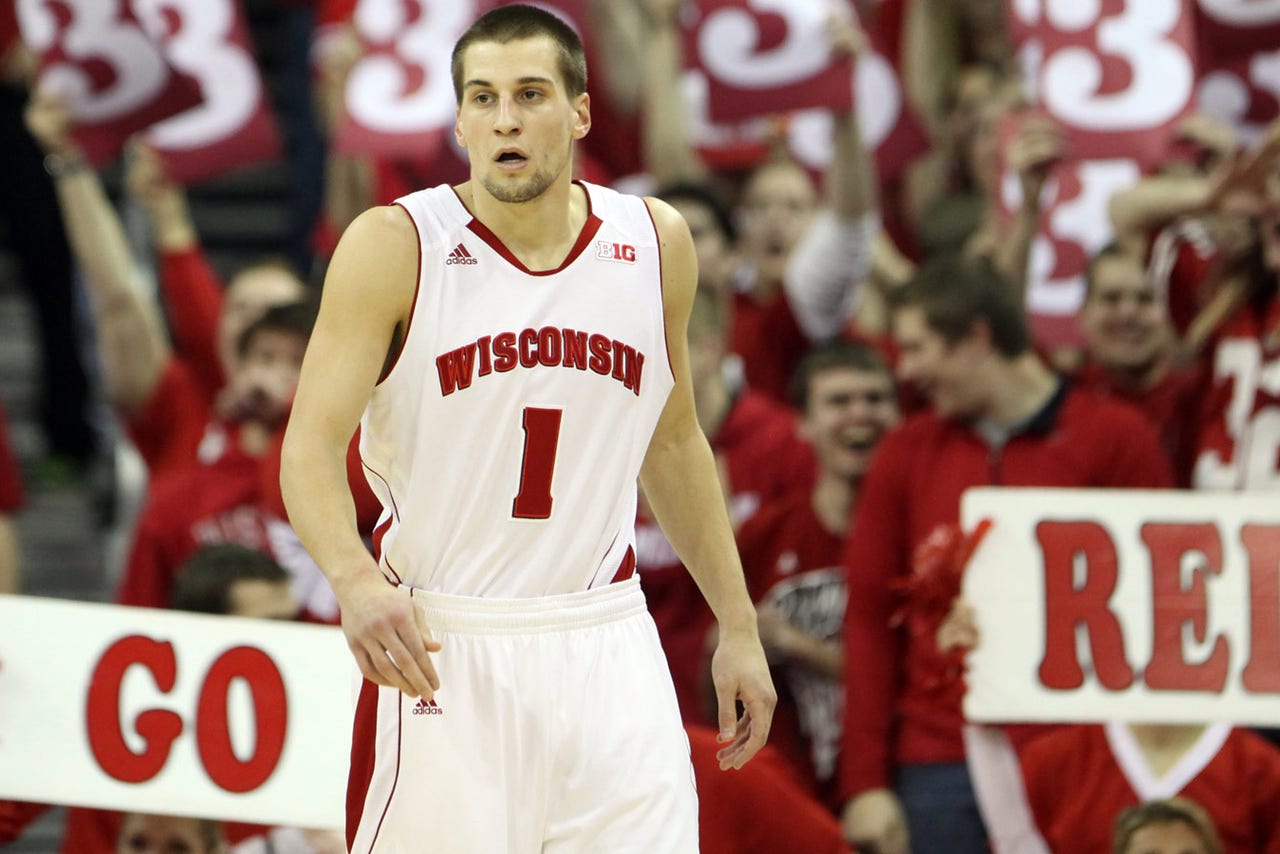 MADISON, Wis. -- One of the most prolific 3-point shooters in Wisconsin basketball history was in the midst of yet another oh-fer from long range Tuesday night, and questions began to percolate. Was something wrong with Ben Brust? Were there lingering effects to an undisclosed injury? Had he lost his shooting touch entirely at the most ill-timed moment of the season?
Then, Brust provided an answer in a fashion many Badgers fans have come to expect over his career. Brust, mired in an excruciating and unusual 1-for-17 3-point slump over 2 1/2 games, buried three consecutive 3-pointers in the span of three minutes. And it proved to be a surge that helped take the lid off the basket for the entire team during No. 14 Wisconsin's 69-58 comeback victory against Indiana at the Kohl Center.
As the old adage goes: Shoot 'til you're hot. Shoot 'til you're not.
"I knew it was only a matter of time," Brust said. "I knew it was going to start, so I was like, 'Can it just start now?'"
Brust, the 6-foot-1 senior guard from Hawthorn Woods, Ill., certainly got started late on Tuesday. He missed all four of his 3-point attempts in the first half, which coincided with Wisconsin's worst opening-half performance of the season as Indiana took a 29-19 halftime lead.
But Brust continued to fire from deep, and he finally connected with 16:12 left in the second half -- a bucket that brought Wisconsin (23-5, 10-5 Big Ten) to within 33-31. Just 45 seconds later, he buried another 3. And his final deep ball at the 13:03 mark gave the Badgers the lead for good, 41-38.
"He had been struggling, but no one guarded him," Indiana coach Tom Crean said. "No one thought of it that way. He's averaging six more points at home than he is on the road. He's a senior that's made big shots his entire career here. He's an outstanding shooter when he gets his feet set, and we let him get his feet set. He got a couple of those and got hot."
Brust (12 points) was one of five starters to score in double figures for the Badgers and was joined by Sam Dekker (16), Traevon Jackson (14), Josh Gasser (11) and Frank Kaminsky (10). He finished the game 3 of 9 from 3-point range.
"I know I can do better than that," Brust said. "But it's definitely good to get a couple to go down. I think it kind of ignited this team. Just kind of trickled down to everyone else. I think Sam hit a couple and then Josh hit one on the wing. And Trae hit one. And Frank was doing good things inside. So it just kind of got us going and opened things up. But I think getting stops on the other end opened some things up, too, offensively."
Just two weeks ago, Brust appeared a near lock to break the program's all-time 3-point record. But that was before a 1-for-7 performance against Michigan and a 0-for-6 game Saturday against Iowa. In fact, over a 9 1/2-game stretch, Brust made just 15 of 61 3-point tries (24.5 percent).
Through it all, Badgers coach Bo Ryan never sensed Brust's confidence wavered. This was the same player, after all, who twice has tied the single-game record for 3-pointers made in a game with seven.
"Ben always thinks the next one is going in," Ryan said. "As long as he keeps playing defense and doing what he does and taking care of the ball, the shot will fall. He can trust me on that one."
Wisconsin's sixth consecutive victory did not come easily. The Badgers scored a season-low 19 first-half points on 7 of 27 shooting (25.9 percent), including 1 of 10 on 3-pointers. Brust, however, produced points in a flash during the second half, which spurred his teammates. Wisconsin shot a blistering 61.9 percent from the field in the second half (13 for 21) and made 6 of 11 3-pointers.
"If you've looked at how a lot of our runs have started this year, it kind of starts with a Ben Brust 3," Dekker said. "Or one of those little turnarounds in the paint.
"We still see Ben as our best shooter on the team. I think he's up there. One of the best 3-point shooters in the nation. He can spark an offense at any time. So, seeing him hit three 3s in the second half really got us going. You know, I was really happy for him. One of those things where a weight was lifted off his shoulders. In the first half, you saw him go, 'When am I going to hit this?' He always digs out of that stuff. We're confident every time he puts it up."
Brust surpassed the 1,000-point mark Tuesday against Indiana (15-12, 5-9) and has now scored 1,012 points in his career. Of those, 615 points have come at the 3-point line.
Tim Locum, who played at Wisconsin from 1988-91, holds the program's career 3-point record with 227 made shots. Brust has made 205 3-pointers and currently ranks fifth with three regular season games remaining.
Whether he attains the all-time mark will be dependent on how many games Wisconsin plays in the NCAA tournament. But with Brust firing on all cylinders, he and the Badgers certainly will have a chance to achieve something great.
"Having teammates who come up to you all the time telling you just keep taking them, we trust you, it gives you confidence no matter what's happening," Brust said. "You keep going based off your teammates' confidence in you."
Follow Jesse Temple on Twitter
---