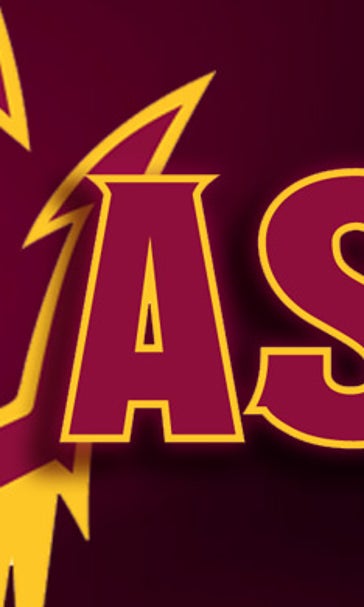 Brunner, Amukamara lead ASU women's rout of CSUB
November 20, 2014

TEMPE, Ariz. -- Sophie Brunner had her second career effort in as many games and the Arizona State University women's basketball team cruised to an 83-54 victory over Bakersfield on Wednesday at Wells Fargo Arena.
Brunner finished with a new career-high 22 points on 8-of-15 shooting with a team-high seven rebounds, the second time this season she has scored 20 or more points.
Four Sun Devils reached double digits and 10 players got on the score sheet as ASU dominated CSUB with an exceptional all-around effort to improve to 2-0 on the season.
"Bakersfield is a good team," head coach Charli Turner Thorne said after the game. "They're picked to win their conference, they have four returning starters, they have the conference player of the year and I thought we did a good job tonight."
Promise Amukamara added 13 points and seven rebounds and did so while shutting down Bakersfield's top player and preseason WAC Player of the Year Tyonna Outland in the process. Outland finished with just nine points on 4-of-16 shooting after entering the game averaging 26.5 points per game on the season and over 20 points per game last year.
"I thought we worked hard on defense and Promise (Amukamara) did a fantastic job on (Tyonna) Outland," Turner Thorne said. "(Promise) has a new defensive role this year, she's always been our ball-stopper, but now she's on the other team's top wing scorer. And she is loving it because that's the hardest job ever."
Five straight points from Elisha Davis and a flurry of free throws keyed a 10-0 Sun Devil run midway through the second half and ASU effectively put the game away shortly after that, increasing its lead to 27 points on a Brunner layup with 8:55 left in regulation to put ASU up 64-37. 
ASU stretched the lead to 30 on back-to-back treys by Katie Hempen for a 73-43 advantage with just under seven minutes left and ASU cruised from there.
Davis and Hempen notched 10 points each in a solid team effort from the Sun Devil squad.  
It was Brunner who impressed for the second consecutive game, however, while doing all her damage in just 15 minutes of game time and adding two assists and two steals in the process in addition to 6-of-6 effort from the charity stripe.
"I think Sophie is definitely one of our go-to players," Turner Thorne said. "She's just strong and I think her great play is definitely repeatable." 
The Sun Devils held the Roadrunners to just 33.3 percent shooting on the evening, forcing 17 turnovers and scoring 30 points off of those turnovers while holding a 30-7 edge in the category.
ASU did an exceptional job of spreading the ball around, logging 18 assists on its 26 total baskets, getting everyone involved – including those coming off the bench, who combined to post a 24-11 scoring advantage in bench points over CSUB.
A 10-0 run leading into the first media timeout in the first half keyed the momentum for the rest of the game as ASU jumped to a 16-4 lead with 15 minutes remaining in the first half.
Amukamara had nine points in the frame on 4-of-5 shooting with a team-leading three rebounds while Brunner added 10 points on 5-of-8 shooting with three rebounds as well.
The duo paced a hot-shooting Sun Devil squad that shot 47.4 percent from the floor in the half despite going just 1-of-5 from behind the three-point line.  ASU dominated the inside in the half, scoring 28 of its 38 points in the paint – outscoring the Roadrunners by 14 in the category.
Defensively, the Sun Devils held a CSUB team that came into the game averaging over 80 points a game to just 23 points in the frame and limited Outland to just five points on 2-of-10 shooting as she was hounded by Amukamara all half long.
---