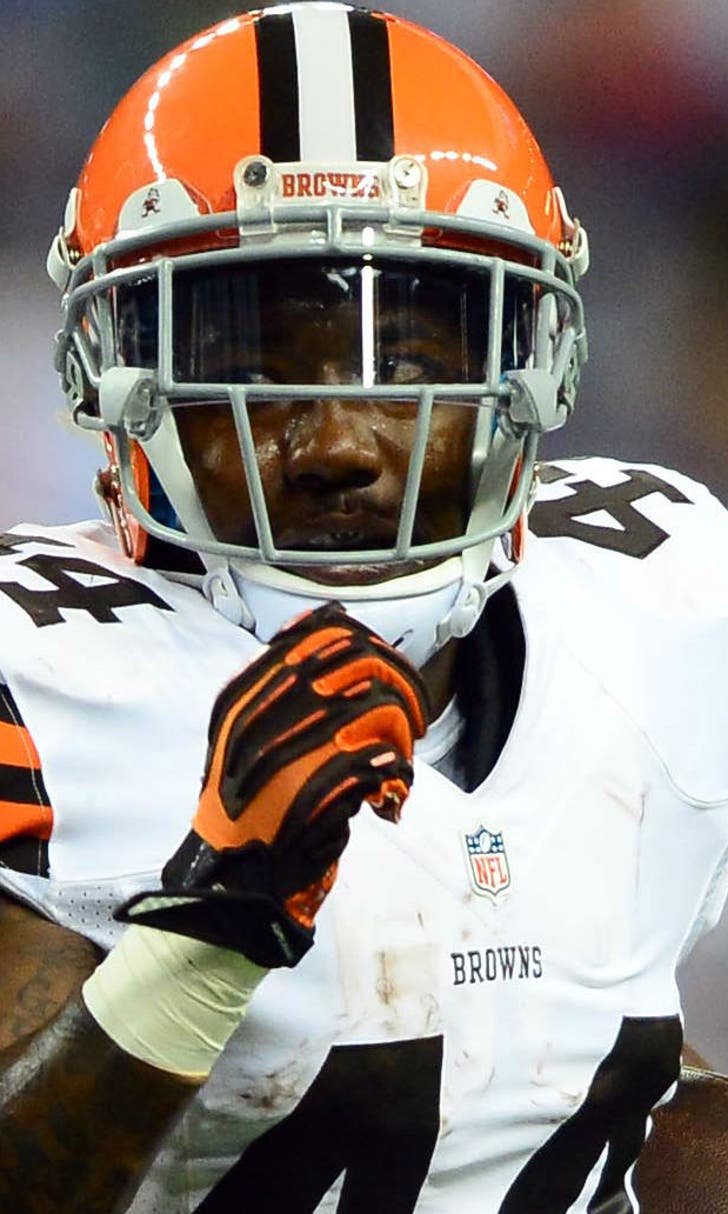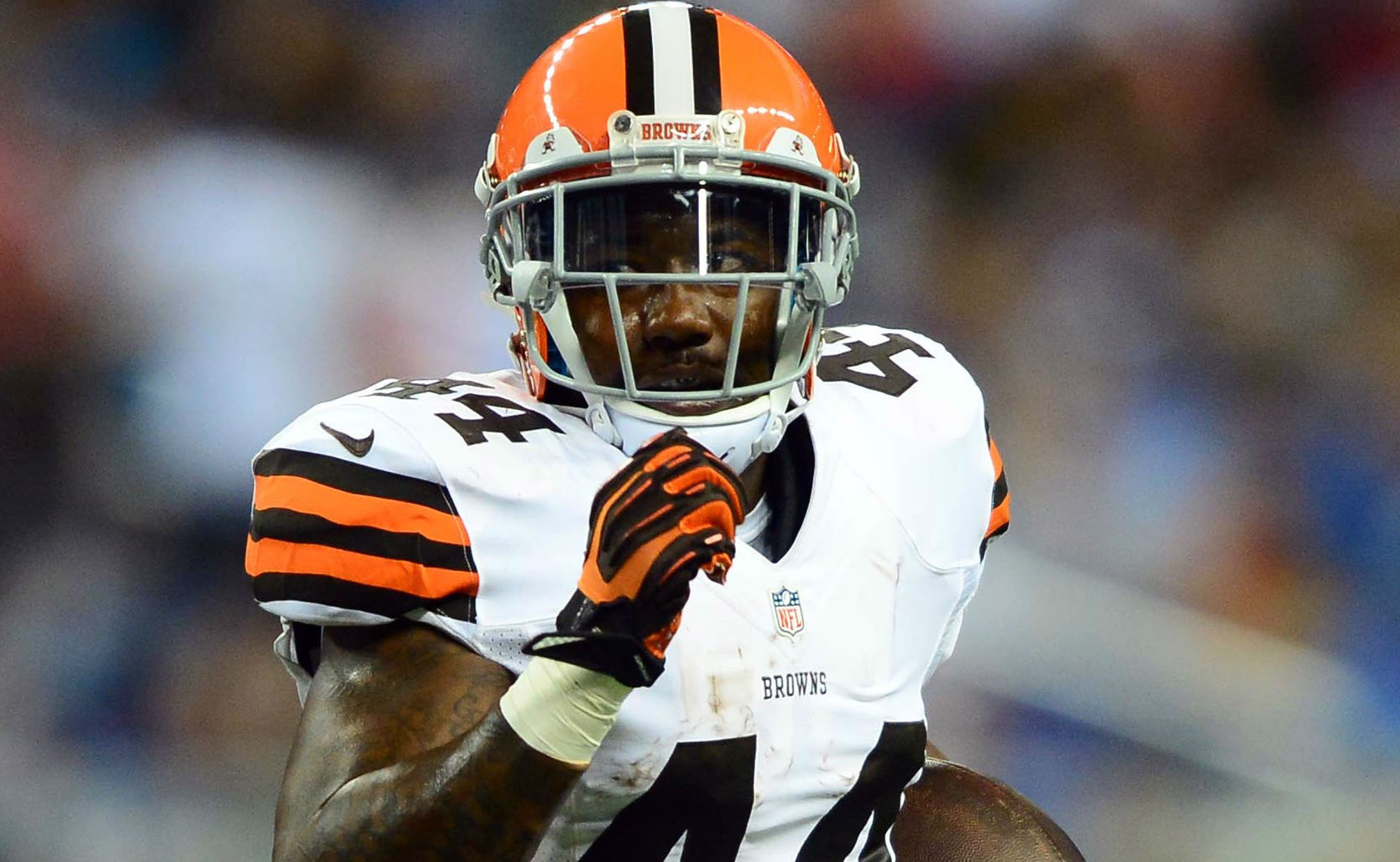 Browns' Tate appears ready to go
BY foxsports • September 30, 2014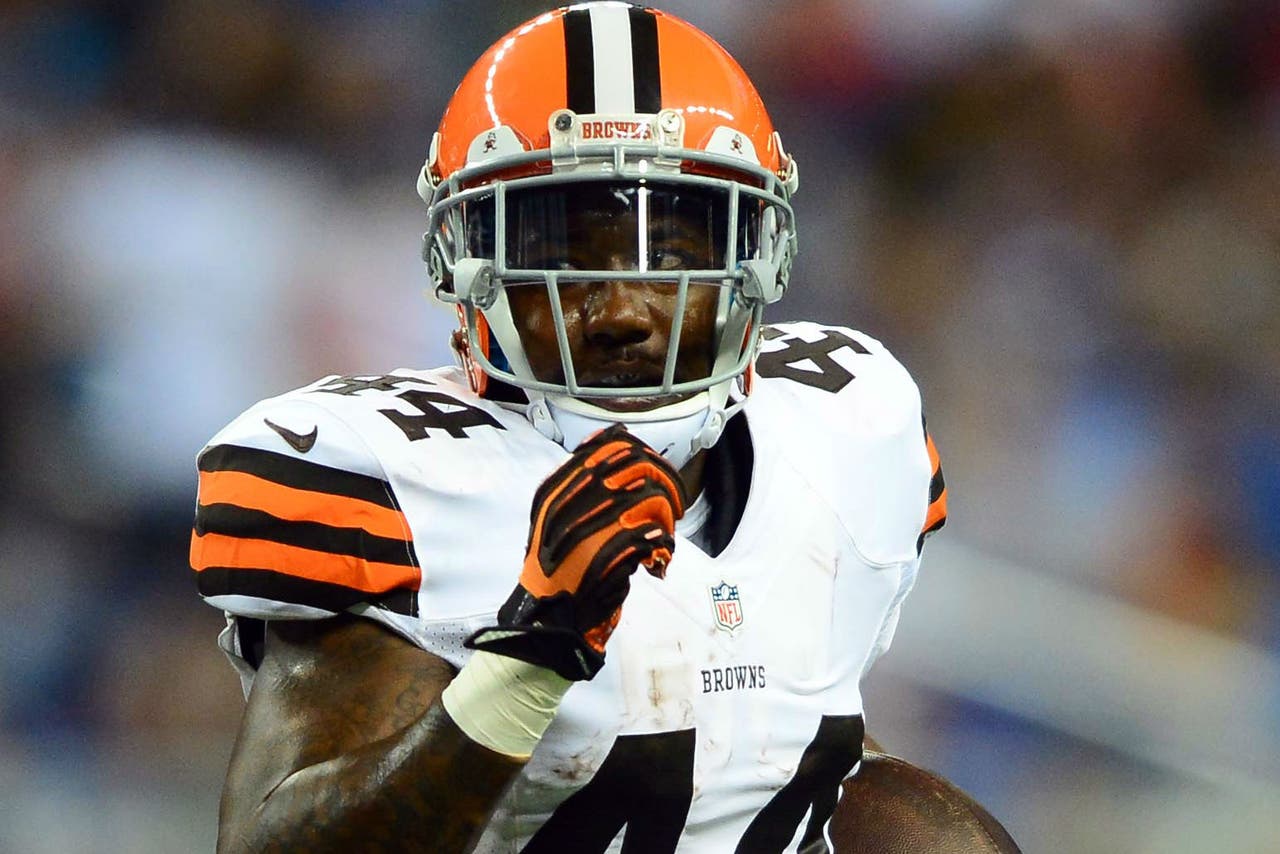 It appears that running back Ben Tate is set to assume his duties as lead back in the Browns backfield.
Tate was running with the first team offense at the beginning of Wednesday's practice. He was moving well with a brace on his right knee.
"Ben looked good today," Mike Pettine said after Tuesday's practice. "He went through individual work. He'll get team reps as the week goes on. "
Tate said he felt pretty good after his first day back practicing.
"We'll see," he said. "It's my first day of practice. We'll see how (the knee) feels."
Tate is anxious to pick up where he left off.
"I'm feeling good about where I'm at and looking forward to getting back to where I left off of."
Tate said he's never worn a brace before and will if that's what the trainers ask of him. He was quick to point out that Adrian Peterson rushed for over 200 yards wearing a knee brace in a game.
"AP played with a brace and had 200 yards," Tate said. "It's all mental. If it's going to protect me and that's best for me, whatever I have to do to have the mental aspect I'll do it"
Pettine said if Tate is healthy, he is the starting running back.
"We'll make that decision (at the end of the week)," he said. "If he's ready to go there's no sense resting him. He told us last week that if we would've had a game last week, he thought it was possible (he could've played) which leads us to believe (this week) shouldn't be an issue. Still, we need to get him a full week of practice and see how he responds."
Tate sprained his right knee in the season opener on Sept. 7 against the Steelers in the first half. He had just run for a 25-yard gain and went to the sideline for a breather.
Tate said when he went to re-enter the game something didn't feel right. He didn't play the rest of the game and was diagnosed with a sprained knee. The original report said he would miss "two to four weeks."
Tate finished the game with 41 yards on six carries for an impressive 6.8 average.
Sunday's game with the Titans will be four weeks since the injury.
Browns running back coach Wilbert Montgomery said last week that Tate would be the starter when he was healthy.
"That's what we brought Tate here for, to be the starter," Montgomery said. "He's the No. 1 running back in this offense. Right now, you can say we miss him. We miss his experience.
"We miss his leadership with the group," he said. "We'll be open arms and welcome back Ben back into the fold, so he can come out and help us win more ballgames."
Tate signed a two-year contract March 16 as an unrestricted free agent. Tate has played in 41 NFL games, including 10 starts. He has rushed for 2,033 yards on 427 carries and has scored 10 touchdowns. He also has 58 receptions for 287 yards. His best year was in 2011 when he rushed for 942 yards and four touchdowns with the Texans, despite starting just two games as the backup to Arian Foster.
Meanwhile, rookies Terrance West and Isaiah Crowell have handled the running back duties very well. West has 204 yards on 47 carries (4.3 avg.), including a long run of 29 yards.
Crowell has 141 yards on 27 carries (5.2 avg.), including a long run of 22 yards. What's been impressive about the rookie running backs has been their touchdown production with a total of five between them. The Browns had just four rushing touchdowns all of last season with two by Willis McGahee and two by Edwin Baker.
West said if he doesn't play as much as he has the past two games, it wouldn't shake his confidence.
"If you're on the field, you have to think you're the best," West said.
McGahee led the Browns in rushing in 2013 with just 377 yards, His average per carry was a paltry 2.7 yards per carry.
Pettine said he doesn't see having a crowded backfield a problem.
"When you have depth, it's a good problem," he said. "(We're) looking forward to having him back. He was playing at a high level before he got hurt. We want to be committed to running the football and when you have that mentality, you can't have enough good backs."
West is listed ahead of Crowell on the depth chart, but Pettine said the reps would be determined by how the players practice during the week.
"It depends on how practice goes."
Montgomery said he's not worried about having too many backs in the rotation either.
"Well, we kind of had three guys active all along when Tate was healthy so I don't think that's going to change anything," Montgomery said. "All it does is give me one more experienced guy. I don't have to worry about a lot of the small things. Coach (Pettine) is always talking about how there are a million things that we can get better at. Tate is beyond, whereas the other guys still have to climb that mountain."
Tate said he appreciates the support of the coaching staff.
"Just that all the work I put in the summer when jobs were open," Tate said. "Obviously, the work done in the summer means something, but it's how you put the season together. Not to knock those guys, but anybody can have a good game. It's good for them to get experience and it helps our room to get better. It's a long season and there's always going to be injuries. It's football."
Tate is expected to help out in the passing game as both a receiver and blocker picking up blitzes. West and Crowell have only combined for five receptions thus far.
Tate was asked if he thinks he can help in the passing game.
"I think so," he said. "I think those guys have good hands. Sometimes, it is where you need to be at and when to get there. I think my experience helps."
Pettine says Tate's experience in Kyle Shanahan's system gives him the edge.
"I think it's the system but Ben is ahead of them of being in a similar system and being a veteran back."
West has four receptions for 27 yards, while Crowell has just one for three yards.
EXTRA POINTS
Cameron, Greco, Hughes Practice: TE Jordan Cameron (shoulder), DL John Hughes (hamstring) and OL John Greco were back practicing after the bye week.
On the Side: DL Desmond Bryant (undisclosed) was on the stationary bike during the portion of practice open to the media. He was the only member of the 53-man roster not practicing. The only other player on the bike was practice squad DL Calvin Barnett.
Pettine acknowledged that Bryant was dealing with an injury, but didn't say specifically what it was. The Browns don't have to put out an injury report until Wednesday.
"(Bryant) is a little nicked up," Pettine said. "I'm not sure if he'll be available for(Wednesday) practice."
Keep them Low: The Browns are the only NFL team to have not turned the ball over thus far this season. The Browns are plus 4, which is tied for fourth in the NFL.
The Browns haven't had a plus 4 ratio since Week 16 in 2012, when they were plus 7.
Bring it in: The Browns practiced indoors due to inclement weather in Berea.
---