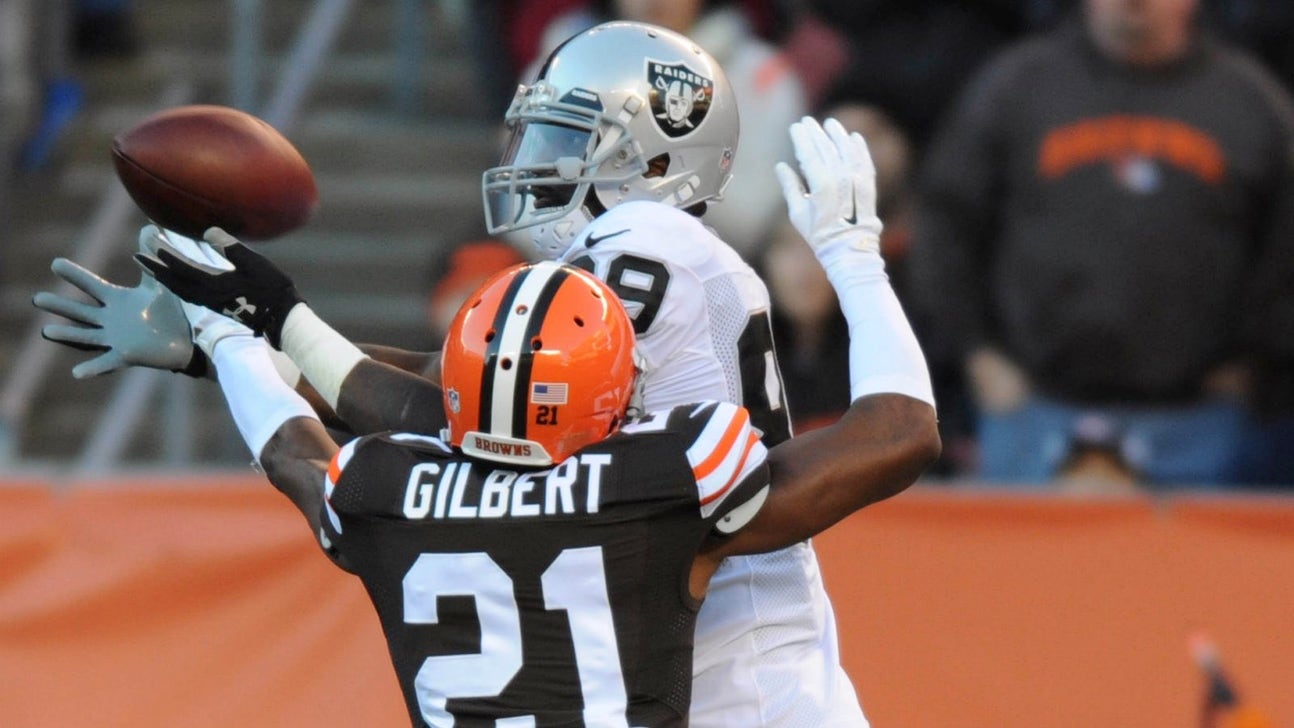 Browns struggle but beat Raiders 23-13
Published
Oct. 26, 2014 7:43 p.m. ET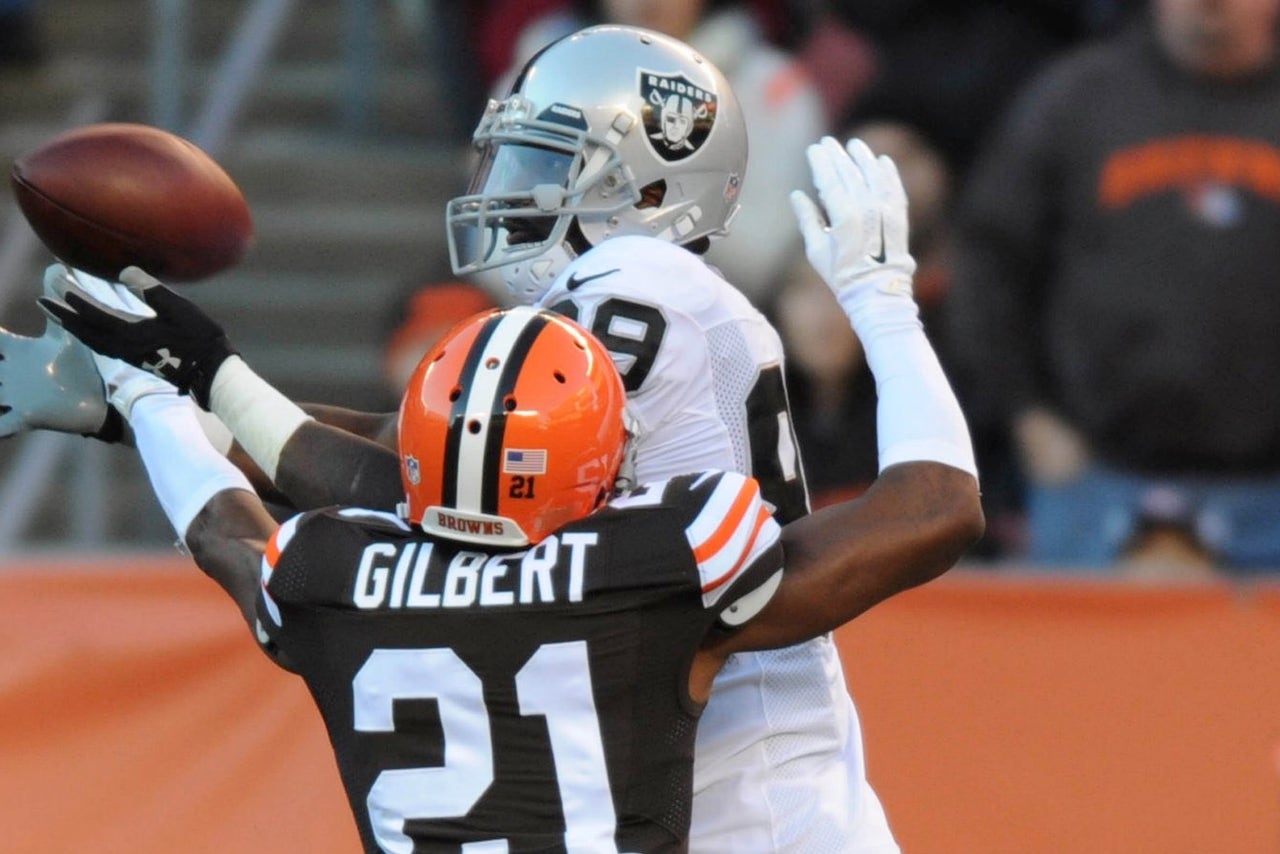 CLEVELAND (AP) -- The Browns avoided a loss that would have been much more than embarrassing.
It would have been historic.
Brian Hoyer threw a 4-yard touchdown pass to Andrew Hawkins early in the fourth quarter and the Cleveland Browns beat the winless Oakland Raiders 23-13 on Sunday.
Hoyer's TD to Hawkins put the Browns (4-3) ahead 16-6, shortly after Cleveland's defense came to the rescue.
Browns safety Donte Whitner forced a fumble late in the third quarter with a huge hit on Oakland running back Darren McFadden as the Raiders (0-7) were driving deep into Cleveland territory.
Cleveland lost at Jacksonville last week, giving the Jaguars their first win. According to STATS, no team in NFL history has lost consecutive games to winless teams in Week 7 or later.
It was hardly a perfect performance, but the Browns, who were held to 39 yards rushing and converted only 2 of 12 third downs, will take it.
Ben Tate's 5-yard TD run -- set up by Oakland rookie quarterback Derek Carr's fumble -- put the Browns ahead 23-6 with 2:26 left.
Hoyer, coming off the worst game of his career, finished 19 of 28 for 275 yards and no interceptions. More importantly, he quieted the growing calls for the Browns to switch to rookie Johnny Manziel -- for at least another week.
The Raiders have lost 13 straight games dating to last season. Oakland has dropped 16 games in a row played in the Eastern time zone -- a streak that started in 2009.
Carr showed poise and his powerful arm in completing 34 of 54 passes for 328 yards and a TD with seven seconds left.
Cleveland's Billy Cundiff kicked field goals of 52, 33 and 26 yards.
Sebastian Janikowski made two field goals for the Raiders, who haven't won since Nov. 17, 2013, at Houston.
Cleveland's defense saved the Browns.
With Oakland down 9-6 and driving for a potential tying field goal or go-ahead TD, Whitner came up with his biggest play since joining his hometown Browns.
Darren McFadden had broken free for a 9-yard run when Whitner came up and delivered his hit at the Cleveland 20, jarring the ball loose. It was caught in the air by cornerback Joe Haden, who returned it 34 yards to the Cleveland 47.
On the next play, Hoyer found Hawkins for a 32-yard gain. Three plays later, Hoyer rolled left and threw his TD pass to the undersized wide receiver, who had seven catches for 88 yards.
Hoyer immediately ran to Cleveland's sideline and celebrated with Whitner and Haden, slapping hands with the two defensive backs for their game-turning play.
Already sputtering, the Browns offense lost a top option in the first half when Pro Bowl tight end Jordan Cameron sustained a concussion.
Cameron was injured when he was struck in the head by Raiders safety Brandian Ross while making a diving catch for 21 yards. Ross was assessed a personal foul for his blow to a defenseless receiver, giving the Browns a first down at the Oakland 9.
Carr drove the Raiders into field goal position late in the first half, setting up Janikowski's 38-yarder on the final play to pull Oakland within 9-6.
Early on, the Browns' main problem was that they couldn't finish drives. Twice they moved the ball inside the Oakland 20, but had to settle for Cundiff's 3-pointers.
The Browns took advantage of a botched trick play by Oakland to take a 3-0 lead.
Janikowski came out and lined up to attempt a 57-yarder before shifting to the right side as a wide receiver. Raiders backup quarterback Matt Schaub dropped the shotgun snap before flinging a pass that was intercepted by Tashuan Gipson and returned to the Oakland 48.
Cleveland settled for Cundiff's 52-yarder, his longest in 37 makes for the Browns.
---