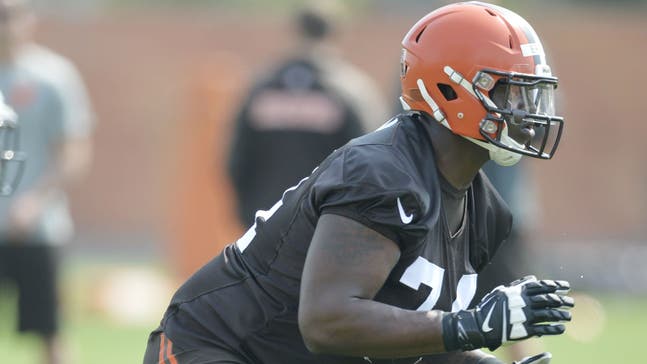 Browns rookie camp report: Erving versatile, Mayle to have surgery
Published
May. 9, 2015 2:09 p.m. ET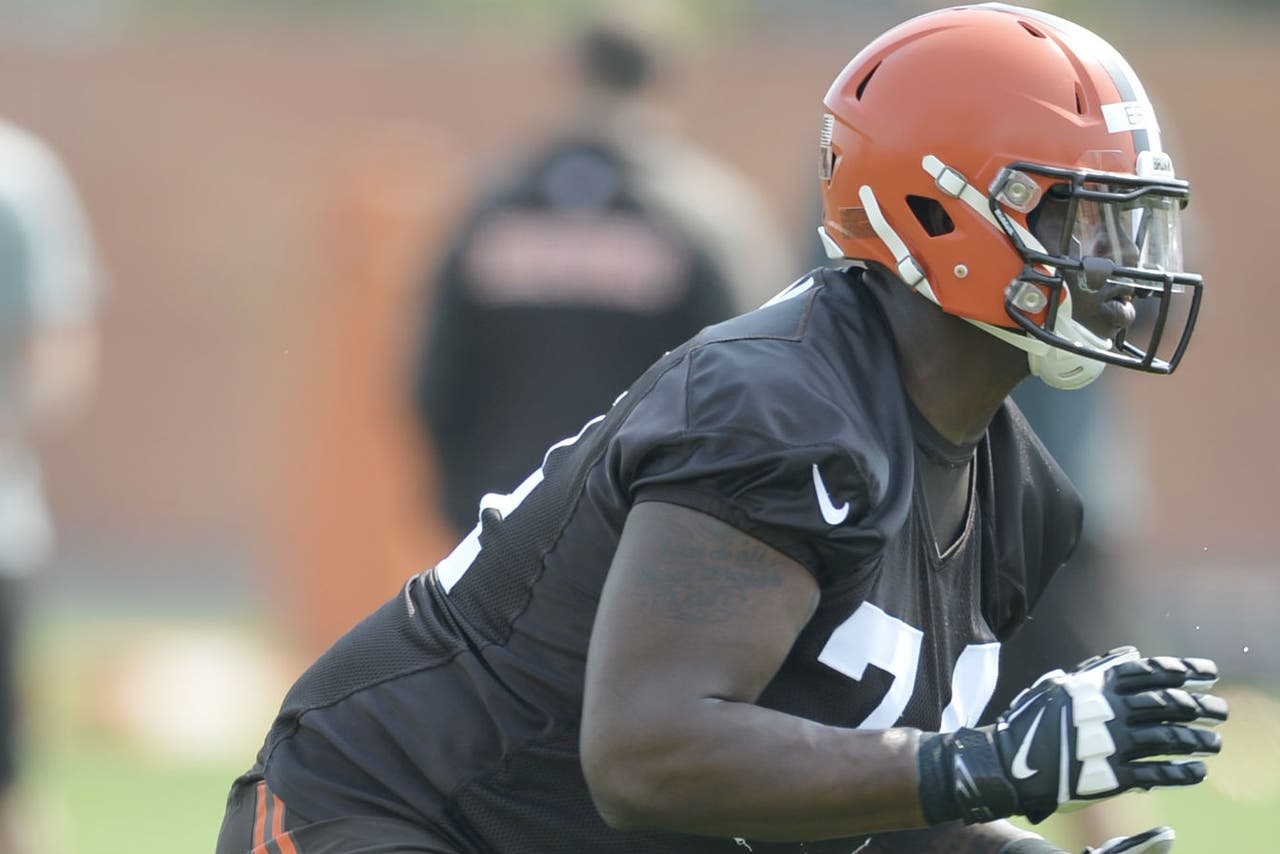 From Fred Greetham's rookie camp notebook-
Versatile Erving: On draft day, Mike Pettine said he would likely start on the right side, likely challenging John Greco or Mitchell Schwartz at guard or tackle.
The first indicator was Erving spent most of his first practice of rookie minicamp at right tackle. However, Mike Pettine downplayed where he was being used.
"We're going to move him around," Pettine said. "He's going to play some on the left side (Saturday). At some point this weekend -- I don't whether it will be (Saturday) or Sunday, I'm not sure of Moe's (offensive line coach Andy Moeller) plans -- but we'll probably work him some at center, as well."
Pettine was asked if he'll be worked at guard.
"Yeah. Yeah, he should."
Erving said his first day with the Browns was his first day at right tackle.
"I played center and left tackle and played right tackle for the first time on a consistent basis today, but it's all about reps."
Erving is undaunted on where he plays --even if he plays guard, another position he hasn't played.
"I haven't, but I can (play guard)," Erving said. "I'm an offensive lineman and I take pride in that. That's' not being cocky, but that's what I do. I'm an offensive lineman."
Erving is looking forward to fitting in to the best position for the team.
"There's a long way to go," he said. "(The coaches) want to see where I fit in the best and where I work the best. It was a good experience (playing right tackle) and a good stepping stone."
Erving said when he was drafted that he has a totally a team first approach.
"I have always been the type of person to do what was best for the team," he said. "When I moved to offensive line from defense line when I was at Florida State, I was a little hesitant because I didn't trust a lot of people. I didn't know if it was something that they were going to do and forget about me or if it was something that was really going to help me or help the team. I got older and matured and realized that it was for the betterment of the team and myself."
Flip on Johnny: Offensive coordinator John DeFillippo was asked about his impressions of QB Johnny Manziel and he said he's done everything asked of him and is impressed with his determination to be an NFL quarterback.
DeFillipo was asked if he would change the offense if Manziel is the quarterback.
"If Johnny Manziel is our quarterback, we will have an offense that fits his skill sets," he said after practice Saturday. "I absolutely will not take away from Johnny Manziel's athleticism."
Just for Kicks: The Browns struggled in the kicking game last year and ended up releasing K Billy Cundiff late in the season. They signed K Garrett Hartley to a two-year contract, but Hartley wasn't viewed as the long-term answer after being released by the Saints last year.
The Browns had three kickers in the rookie camp in K Carey Spear from Vanderbilt, K Travis Coons from Washington and K Marvin Kloss from South Florida.  Spear and Coons are listed as first year players. Kloss is in camp on a tryout basis.
Spear was in the Eagles training camp in 2014 and is a Mayfield High School graduate.
Coons was with the Titans as an undrafted free agent rookie last season but was released when K Ryan Succop was signed as a free agent.
Mayle to have surgery: WR Vince Mayle was sidelined for the minicamp with a broken thumb will have surgery after minicamp to repair the injury. Pettine said he will be ready for training camp.
"I'm not going to catch,'' Mayle said. "I'm not going to grab anything. I'm just going to run my routes. Everything's all right. It's just a little sore. I broke my thumb a while back, so it's still getting healthy again."
Mayle (6-2, 225) was a fourth-round draft pick of the Browns. He was the only wide receiver selected.
Profootballfocus.com listed Mayle as having 19 dropped passes last year, which led the nation. He also had 163 targets.
Mayle's injury and dropped passes might have been the reason he was dropped to the fourth-round.
"A humbling experience, it's something that just let me know that there's something wrong with my game, something I need to improve,'' Mayle said after he was drafted. "That's how I feel."
O'Neil optimistic on Gilbert: O'Neil said he's encouraged about DB Justin Gilbert and expects him to make major improvements in his second year.
"It was good to see he took a step in the right direction and reached out to Joe Haden," O'Neil said. "He's been very attentive, more engaged. If I had a crystal ball, but I'm excited to get into OTA's and see how he's grown.
"It's a tough position but I would expect Justin to make a jump in his second year," he said.  "He flashes the talent. I'm not cautiously (optimistic), I'm optimistic. I have confidence in the coaches that think he'll show major improvement."
Tough Ish: O'Neil said that DL Ishmaa'Ily Kitchen played the final game of the 2014 season with a broken leg sustained during the game.
"Kitchen played with a broken leg," he said. "(It occurred) during the game. I don't know what it was, whether hairline fracture, but he played through it."
High on Ifo: O'Neil said he is a big fan of CB Ifo Ekpre-Olomu, who the Browns selected with their last pick in the seventh-round.
"I have been a huge Ifo fan for two years," O'Neil said. "To me, he's a first-round corner .He had a very serious injury and probably wouldn't take most guys (with that injury) in the draft. There's no doubt he's going to rebound from that injury.
"To me it was a steal," he said. "It was a steal."
---