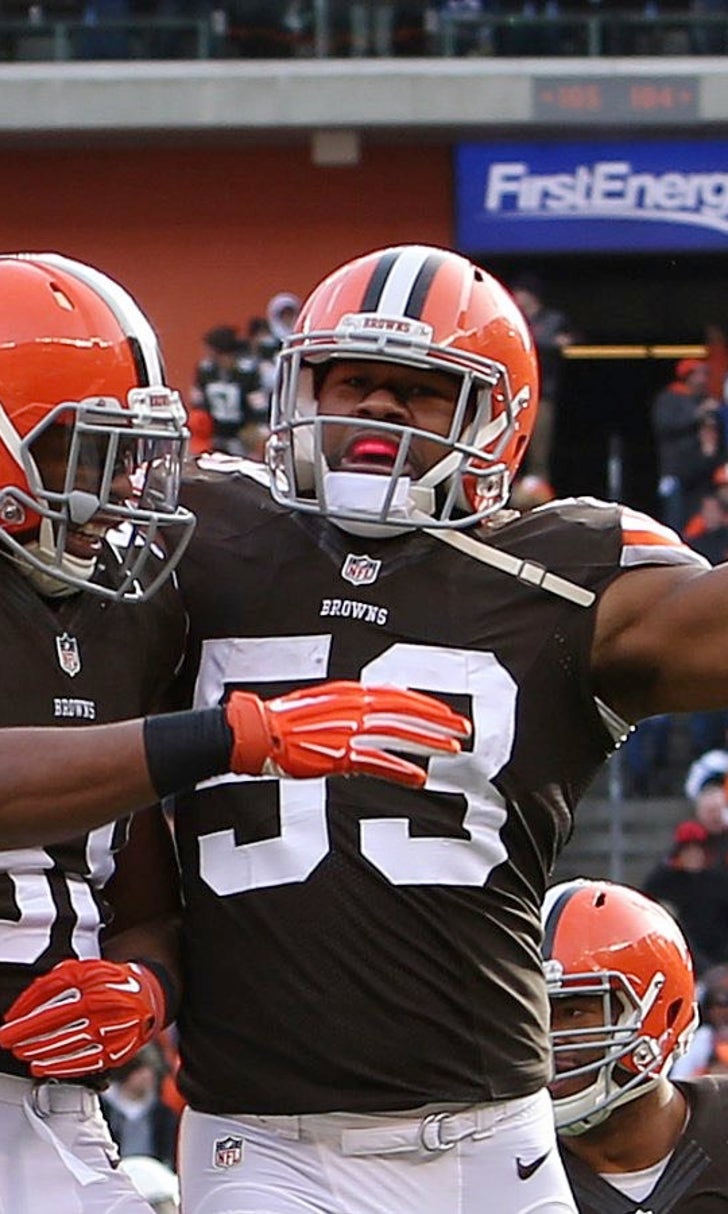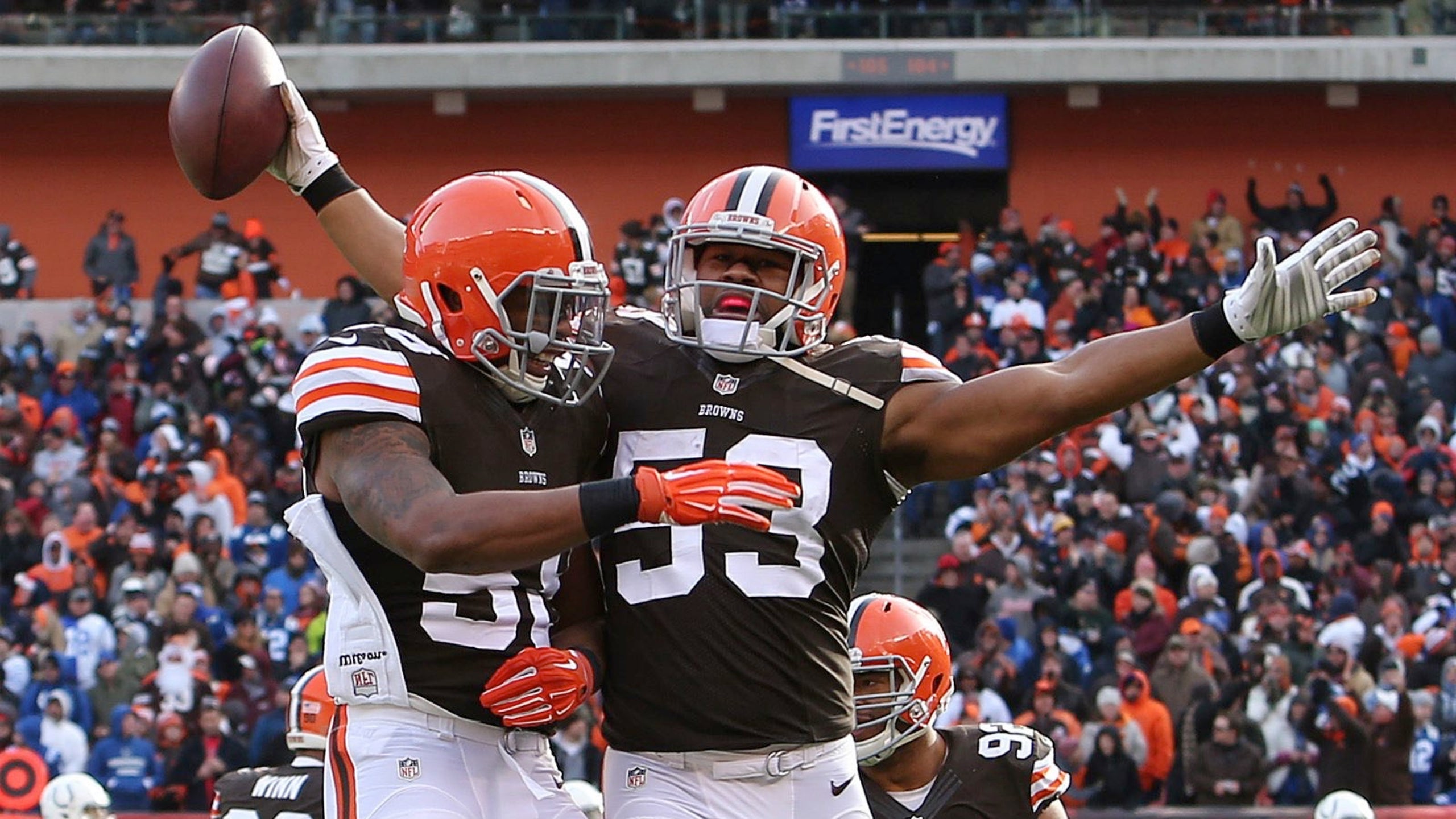 Browns announce 2014 Walter Payton Man of the Year
BY foxsports • December 11, 2014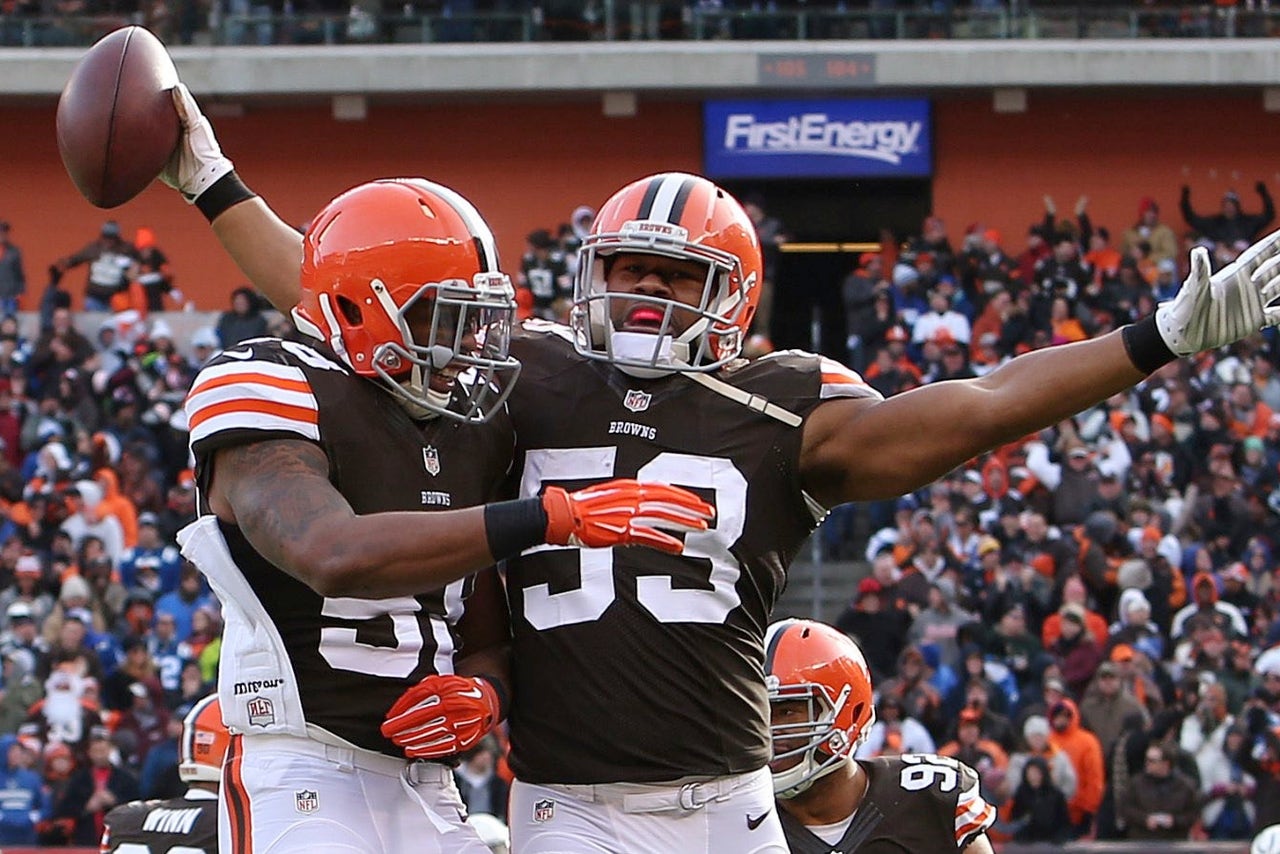 BEREA, Ohio -- LB Craig Robertson has been named the Cleveland Browns 2014 Walter Payton Man of the Year, the team announced Thursday. Renamed in 1999 after legendary Chicago Bears Pro Football Hall of Fame RB Walter Payton, the accolade is presented to one member of each of the 32 teams, highlighting players' community service and playing excellence. Robertson will be presented the award by Browns Owner Jimmy Haslam during pregame on Sunday against Cincinnati, the Browns' final regular season home game at FirstEnergy Stadium this season.
"Craig is a leader on defense and special teams who consistently puts his teammates first, and that personal demeanor carries over to his commitment in the community," said Browns Head Coach Mike Pettine. "We are proud to present this award to Craig, who is a great representative of our team and makes a significant impact in Cleveland both on and off the field."
"We are always focused on identifying and adding individuals like Craig to our team who are not only prepared to succeed personally but also able to raise their teammates' dedication and contributions," said Browns General Manager Ray Farmer. "Craig repeatedly displays those 'Play Like a Brown' characteristics to improve our football team and our community, which makes him deserving of this honor."
"This means a lot to me, but at the same time, my work in the community isn't for awards; I do it because that's what I love to do," said Robertson, who noted he is passionate about working with youth and education so they can get a head start as future leaders. "I really wasn't expecting it, but I am happy to be named Man of the Year."
After signing with the Browns' practice squad for the final two weeks of the 2011 season, Robertson has started 25 of 43 career games at linebacker, only missing two contests in 2013 due to a knee injury. The Stafford, Texas native has amassed 239 tackles (158 solo), four sacks, four interceptions, nine passes defensed, one forced fumble, four fumble recoveries and one fumble-return TD, while adding 20 tackles on special teams.
In 2014, Robertson has started all 14 games and registered 67 tackles (53 solo), tied for the third-most on the team. During a 24-3 primetime victory at Cincinnati, he snagged his first interception of the season on the Bengals' opening drive and returned it 15 yards, which set up a Browns touchdown that provided a lead the team would not relinquish. Last week against Indianapolis, Robertson posted a game-high 12 tackles and recovered a fumble in the end zone, notching his first touchdown since high school.
Robertson has also started at MIKE in each of the past three games and was responsible for calling defensive plays at the line of scrimmage, filling in for LB Karlos Dansby, who sustained a knee injury against Houston.
With a heightened focus on youth, Robertson has championed Browns community initiatives in Cleveland since joining the team and is a key contributor to the team's First and Ten initiative, which encourages the Dawg Pound to pledge to #give10 by volunteering at least 10 hours in the community.
A mainstay at Browns events, Robertson is regularly encouraging kids to get active and healthy through the Browns PLAY 60 movement. He has also assisted in building multiple local playgrounds through Hometown Huddle, in partnership with the United Way. In the same manner, Robertson has made several trips to University Hospitals in the past year to visit patients in need of a smile and brightened spirits, particularly younger individuals receiving care.
Robertson is also engrained in the Cleveland Browns Foundation, particularly through visits to early learning facilities like the Centers for Families and Children's Bingham Early Learning Center and Gordon Square Early Learning Center. He also joins the Foundation's efforts with the Cleveland Browns Adapted Football League, which was established in 2011 to provide individuals with disabilities the opportunity to participate in an organized, competitive and developmental sport.
Robertson is an annual participant in the Cleveland Browns Foundation's annual golf outing, a primary fundraiser supporting the team's dedication to a solution-based, holistic approach to ensure Northeast Ohio youth receive the development and education they need as a foundation for independence and success.
The third-year player has a profound respect for our nation's servicemen and servicewomen and has been involved in many events to show his support, including opportunities with Gold Star Families before Memorial Day and with the USO of Northern Ohio and Wounded Warriors Project during the NFL's Salute to Service month.
Not only is Robertson reliable to fellow Browns players on the field, but he regularly makes additional efforts to help his teammates and their passions in the community. During his most recent day off on Tuesday, even after serving free hot chocolate and coffee to fans at a local Speedway and then spending the afternoon at Rocky River Middle School, Robertson carved time out of his schedule to shop for holiday presents with local youth and DL Phil Taylor, supporting the defensive lineman's Taylor Made 98 Foundation.
As the Browns' Walter Payton Man of the Year, the NFL will provide a $1,000 donation to a charity of Robertson's choice on his behalf.
From the league-wide designees, three NFL finalists will be selected to be honored during the week of Super Bowl XLIX in Arizona. The 2014 Walter Payton NFL Man of the Year Award will be presented on Saturday, Jan. 31, during the Fourth Annual NFL Honors, where the league will salute its best players, performances and plays from 2014. 
The 2014 Walter Payton NFL Man of the Year's will receive a $25,000 donation in his name to a charity of his choice from both the NFL Foundation and Nationwide for a $50,000 total. The two remaining NFL finalists will receive $5,000 donations in their names, while the other 29 nominees will have $1,000 donations made to selected charities in their honor.
The Man of the Year award has been given annually since 1970.
Cleveland Browns Walter Payton Man of the Year award:
1999    OG Jim Pyne
2000    LB Jamir Miller
2001    LB Wali Rainer
2002    RB Jamel White
2003    QB Kelly Holcomb
2004    DE Kenard Lang
2005    QB Trent Dilfer
2006    QB Charlie Frye
2007    WR Braylon Edwards
2008    K Phil Dawson
2009    WR Mike Furrey*
2010    OL Joe Thomas
2011    WR Joshua Cribbs
2012    OL Joe Thomas*
2013    LB Jabaal Sheard
2014    LB Craig Robertson
*Denotes NFL finalist
---