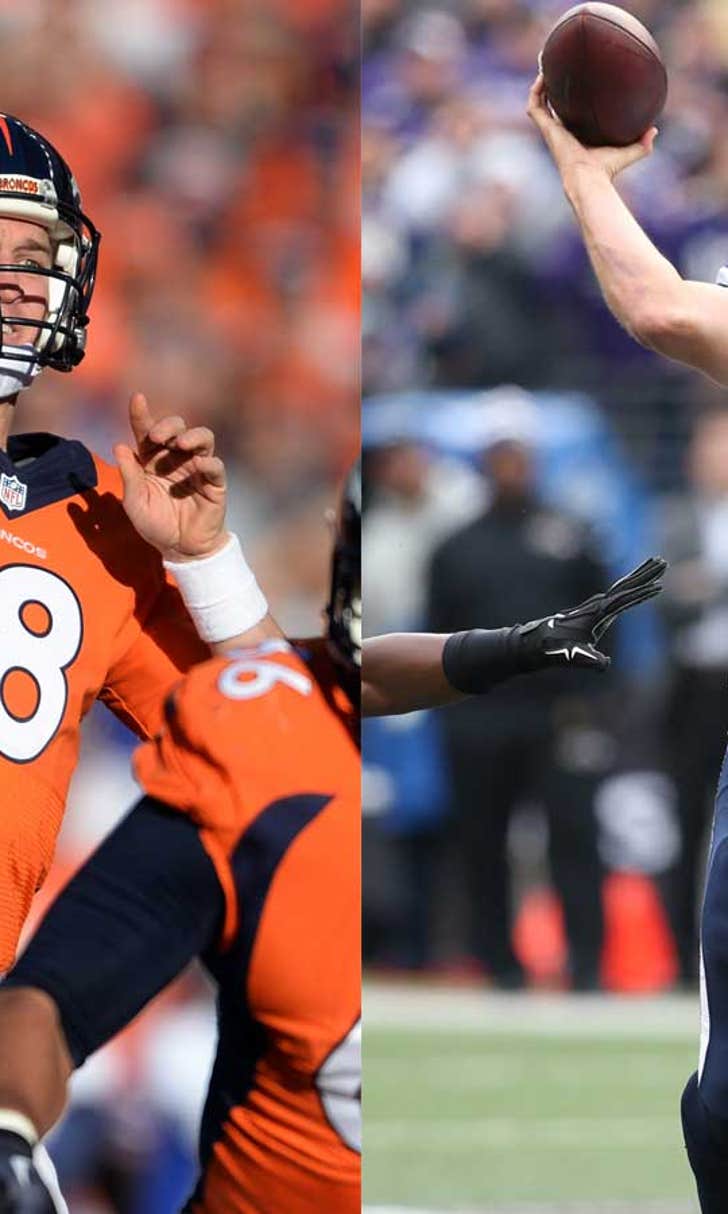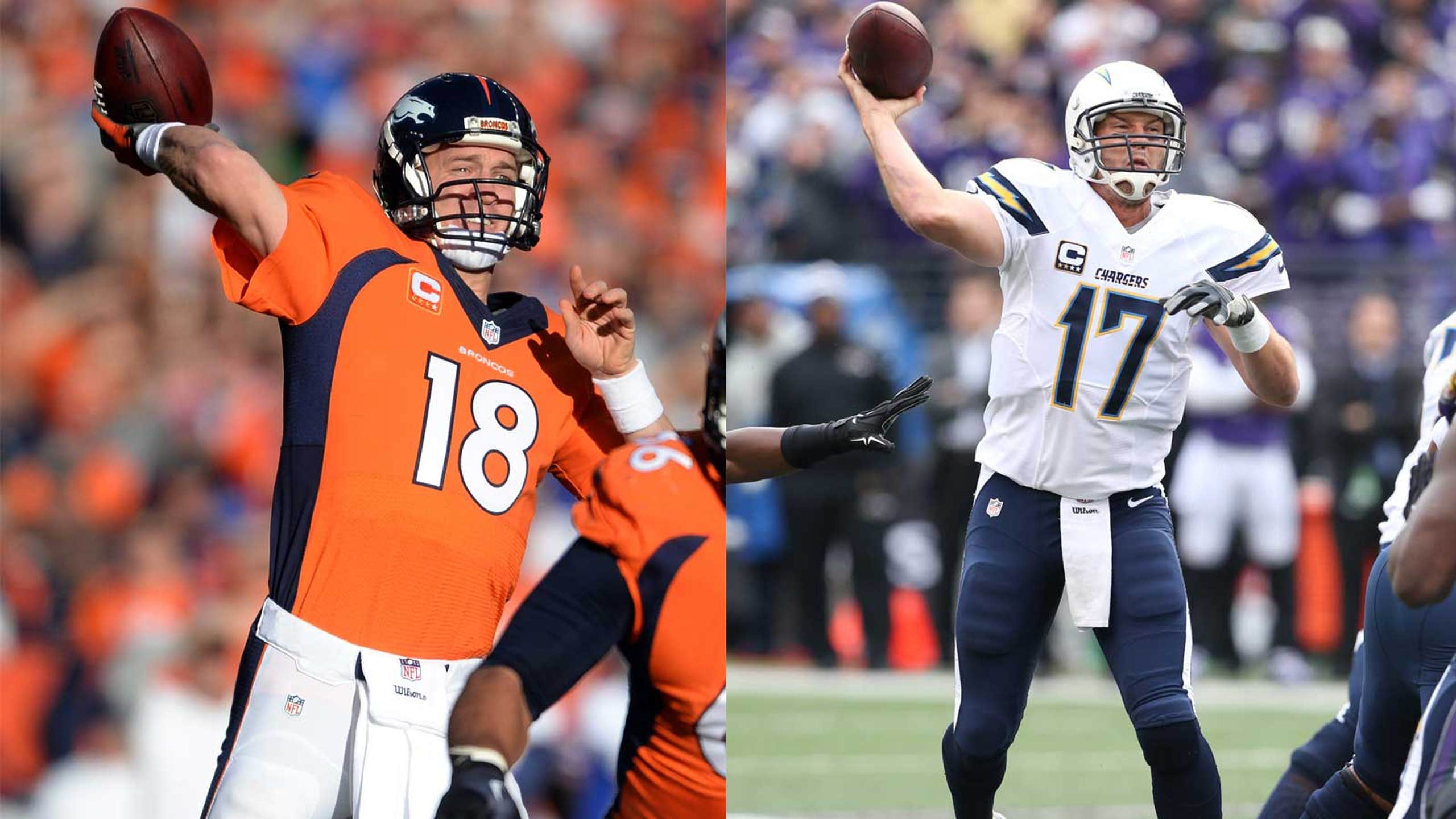 Broncos-Chargers Preview
BY foxsports • December 12, 2014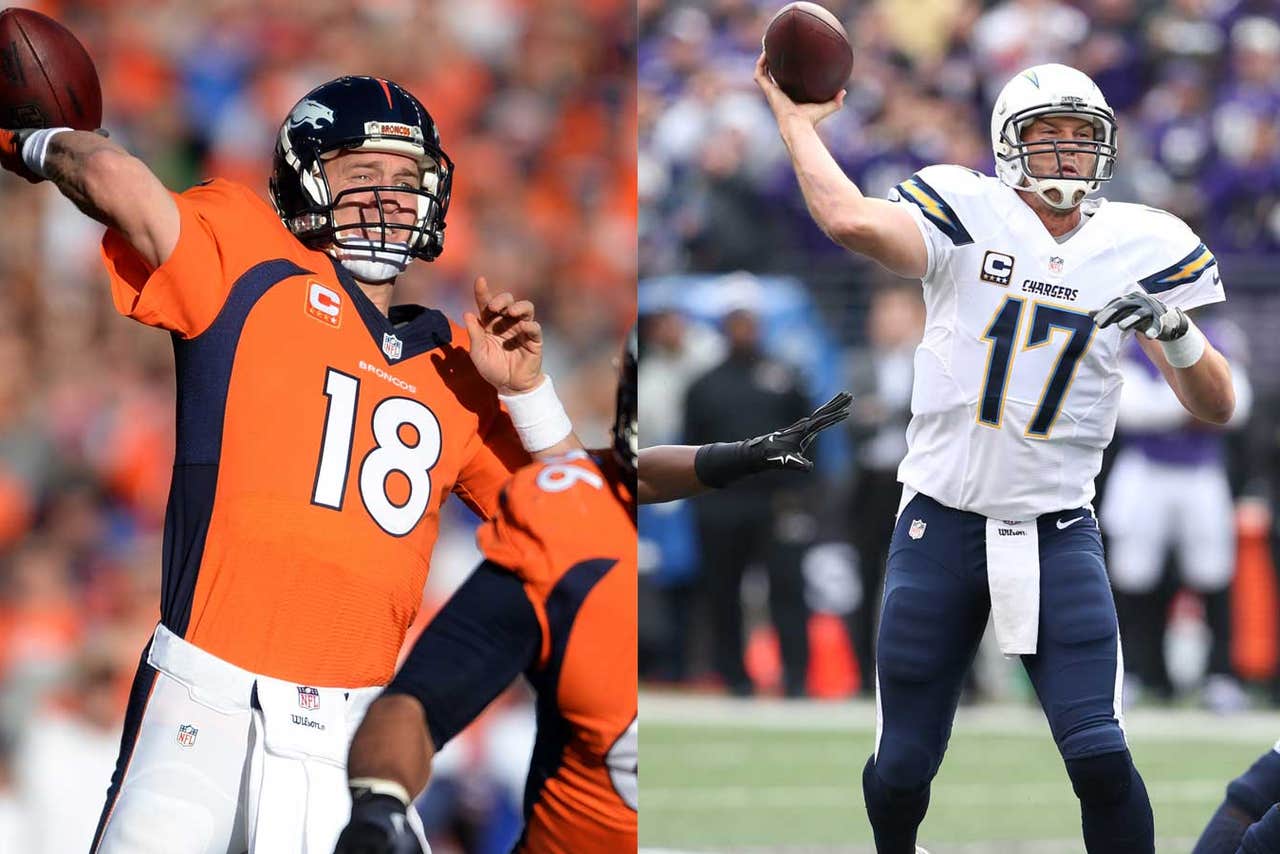 The Denver Broncos have found their way out of a brief slump with an apparent philosophical shift.
The San Diego Chargers are hoping to avoid a hangover after one of their worst offensive performances of the season.
Denver looks to clinch a fourth straight division title Sunday at San Diego, which is trying to stay alive in a crowded AFC playoff picture.
The Broncos (10-3) can wrap up another AFC West championship with a win or a tie, and they could clinch a first-round playoff bye with a victory and help from other teams.
Peyton Manning's stretch of 51 straight games with at least one touchdown pass ended in last Sunday's 24-17 win over Buffalo. He went 14 of 20 for 173 yards with two interceptions.
The Broncos capitalized on all three of their red-zone possessions with TD runs by C.J. Anderson. They had eight touchdowns on 19 red-zone opportunities over the previous four games.
"Those are hard-earned runs down there. It was good to improve our red zone (efficiency)," Manning said.
Anderson ranks second in the NFL with 512 rushing yards since Week 10 and Denver is averaging 36.3 carries during its three-game winning streak, compared 18.0 in the previous three as the Broncos went 1-2. Manning averaged 40.7 attempts through the 7-3 start, but that number has dipped to 29.7 over the last three.
"At the end of the day it's all about `Ws,'" Anderson said.
The passing attack has drawn some concern for its recent lack of effectiveness. Manning ranked third in the league with 8.1 yards per attempt in his first 10 games, but he's 22nd in the NFL over his last three at 6.8.
Sunday marked the 11th time in 253 career regular-season starts Manning threw 20 or fewer passes, and the first since Jan. 3, 2010, with Indianapolis.
"Let me just say that I can't think of another quarterback that I'd rather have than Peyton Manning," coach John Fox said. "We remind everybody that whether it's two weeks, three weeks, at the end of the day we're not done with our body of work yet. We're just trying to win games. We've been blessed to win three in a row.
"We'll lean on whatever we have to lean on. We're just trying to be efficient at both."
Demaryius Thomas has been limited to eight catches for 74 yards over his last two games while nursing an ankle injury.
The expected return of tight end Julius Thomas could help Manning. His 12 receiving TDs are tied for the most in the NFL despite missing the last three games with an ankle injury of his own.
Manning has been excellent in going 4-1 versus San Diego since joining the Broncos in 2012, averaging 296.8 passing yards with 15 TD passes and three picks. He was 25 of 35 for 286 yards and three TDs in a 35-21 home win in Week 8.
Two games behind Denver and among nine AFC teams with exactly seven or eight wins, the Chargers (8-5) may need to win out to make the playoffs. Their three-game winning streak was snapped in last Sunday's 23-14 home loss to New England, held to 216 yards for their second-lowest total of the season.
Philip Rivers explained to the Chargers' official website why the team wasn't overly bothered by the loss.
"I think it's our veteran leaders and then we have a lot of young guys who are eager to follow," he said. "We fight and care for one another, and love one another. We're going to rebound and bounce back, and play like crazy (Sunday)."
Rivers' second-quarter pass to Malcom Floyd marked San Diego's only offensive touchdown. The Chargers were shut out in the second half, tallying negative-four yards rushing after running 12 times for 57 yards in the first.
"We got to play better as an offense," said coach Mike McCoy, Denver's offensive coordinator from 2010-12. "That was not our best day."
Rivers, three TD passes shy of becoming the 17th player in league history with 250, was sacked a season-high four times and hurried five other times. The pressure won't let up this week against the Broncos, whose 38 sacks are tied for fourth in the NFL. Von Miller and DeMarcus Ware rank among the league's top 10 with 13 and 10 sacks, respectively.
The Chargers signed two-time Pro Bowler Mat McBriar on Tuesday to take over punting duties after Mike Scifres suffered a broken clavicle against the Patriots. McBriar has averaged 45.1 yards per punt over 10 seasons split between Dallas, Philadelphia and Pittsburgh.
Denver has won four of five in San Diego.
---