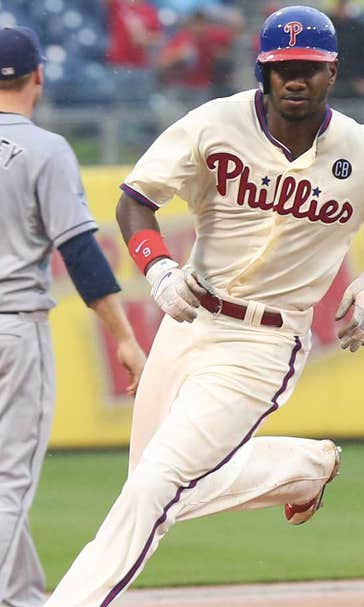 Brignac, Mayberry lead Phillies over Padres
June 12, 2014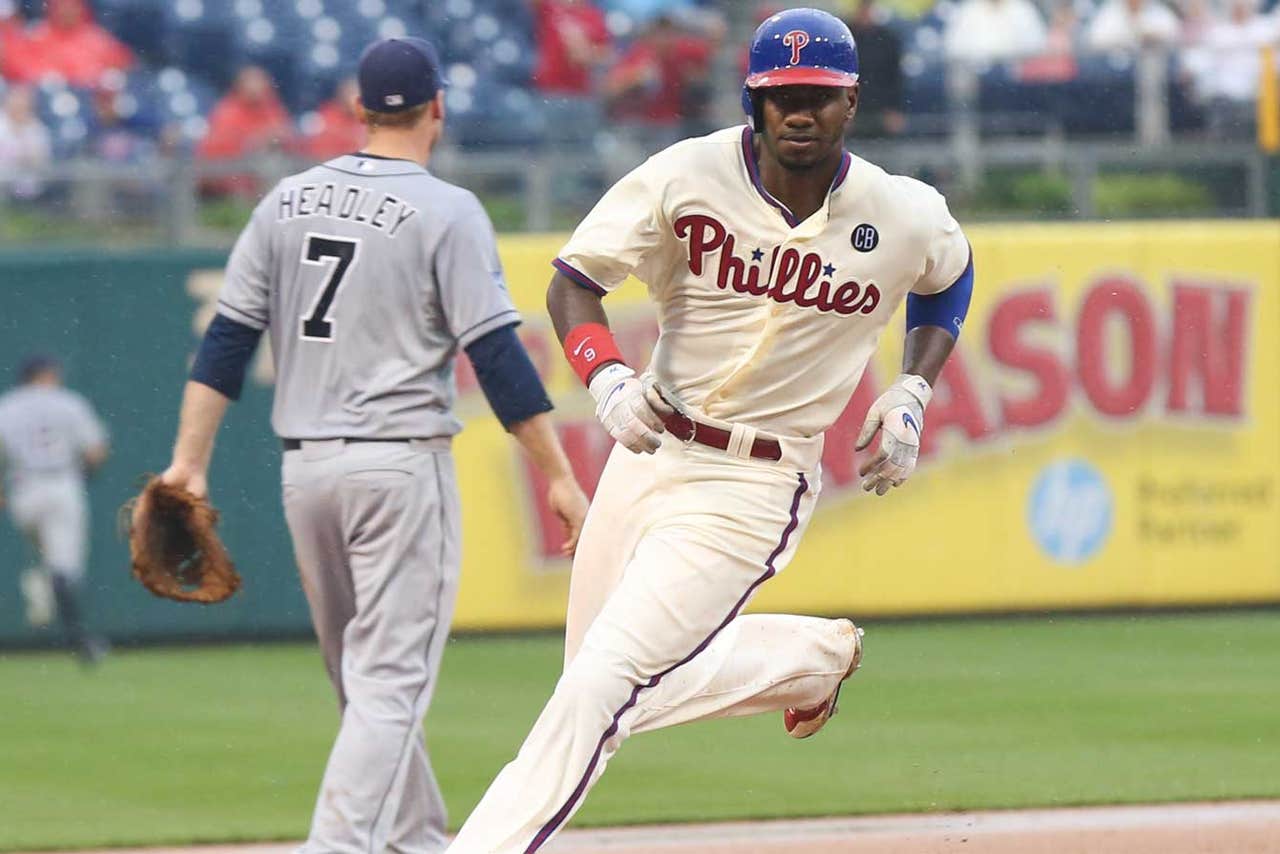 PHILADELPHIA (AP) -- Key contributions from bench players helped the Philadelphia Phillies put a winning streak together.
Pinch-hitter Reid Brignac lined a tiebreaking, two-run double in the sixth inning, John Mayberry Jr. hit a three-run homer and the Phillies beat the San Diego Padres 7-3 to complete a three-game sweep Thursday in a game played in steady rain.
Brignac, whose three-run homer in the ninth sent the Phillies to a 3-0 victory a night earlier, hit a drive off Dale Thayer to the gap in left-center for a 4-2 lead.
Mayberry connected an inning later off Alex Torres. Making a spot start for Ryan Howard, Mayberry also doubled twice.
"It's definitely a game of momentum and I think with the way we've played these last few games, that can definitely carry over." Mayberry said. "I think from top to bottom, we've pitched well, had timely hitting and played good defense. Hopefully we can continue."
Kyle Kendrick (2-6) allowed one earned and seven hits, striking out five in six innings. He earned his second win in 20 starts, dating to last year.
The Phillies have their first three game-winning streak since May 17-20 and recorded just their second series sweep this season. Ken Giles made his major league debut for the Phillies with two outs in the ninth. He threw a 100 mph fastball on his first pitch before Yasmani Grandal hit an opposite-field homer on a 3-1 pitch.
"I just go out and pitch. Whatever it says, it says," Giles said of the radar gun.
As for the homer, Giles said: "It looked like a routine fly ball to the warning track to me."
Welcome to hitter-friendly Citizens Bank Park, kid.
Padres starter Eric Stults (2-8) allowed four runs and eight hits in five-plus innings.
Mayberry is batting .324 (12 for 37) with five doubles, three homers and 12 RBIs against lefties. Howard is hitting just .206 (12 for 63) with one double, four homers, 15 RBIs and 30 strikeouts vs. lefties.
Manager Ryne Sandberg may have to consider a platoon at first, even though Howard is making $25 million per season through 2016 with a $23 million team option for 2017.
"I see it pretty well (against lefties)," Mayberry said. "I think traditionally righties hit left-handers better obviously. I'm just trying to take the same approach into every at-bat."
Mayberry led off Philadelphia's sixth with his second double. Domonic Brown lined a single to right on an 0-2 pitch, chasing Stults.
Thayer came in to face Will Nieves, who hit a bouncer to third baseman Chase Headley. His high throw to the plate was in time to get Mayberry. Sandberg challenged the call, but a video review confirmed catcher Grandal tagged Mayberry before his foot touched the plate.
Thayer then struck out pinch-hitter Howard. But Brignac followed with a shot to the wall to give the Phillies a two-run lead.
Mayberry made it 7-2 with his fifth homer of the season in the seventh.
Padres manager Bud Black won a replay challenge in the third inning when a video review showed Ben Revere was out at first base following a drag bunt. Jimmy Rollins hit an RBI single in Philadelphia's first to move within two hits of breaking Mike Schmidt's franchise record of 2,234.
The Padres jumped on Kendrick for two runs in the first. Will Venable led off with a single and Everth Cabrera followed with a single, snapping an 0-for-23 slump. After Seth Smith's groundout, Headley hit an RBI double.
Smith scored when right fielder Marlon Byrd bobbled the ball for an error and Headley went to third. Kendrick has a 9.00 ERA in the first inning and batters are hitting .393 against him.
"I don't have an answer," Kendrick said. "I've tried everything. Maybe next game I won't warm up."
NOTES: Howard wasn't in the starting lineup vs. Stults, even though he's 2 for 2 with two homers off him. ... Kendrick became the first Phillies pitcher to draw a walk. ... The Padres lost for only the 12th time when having a lead at any point in a game. ... The Phillies open a three-game series against the Cubs on Friday night. Roberto Hernandez (2-4, 4.35) faces Chicago's Jake Arrieta (1-1, 2.50). ... The Padres open a three-game set at the Mets. Andrew Cashner (2-5, 2.13) goes against New York's Bartolo Colon (5-5, 4.31).
---