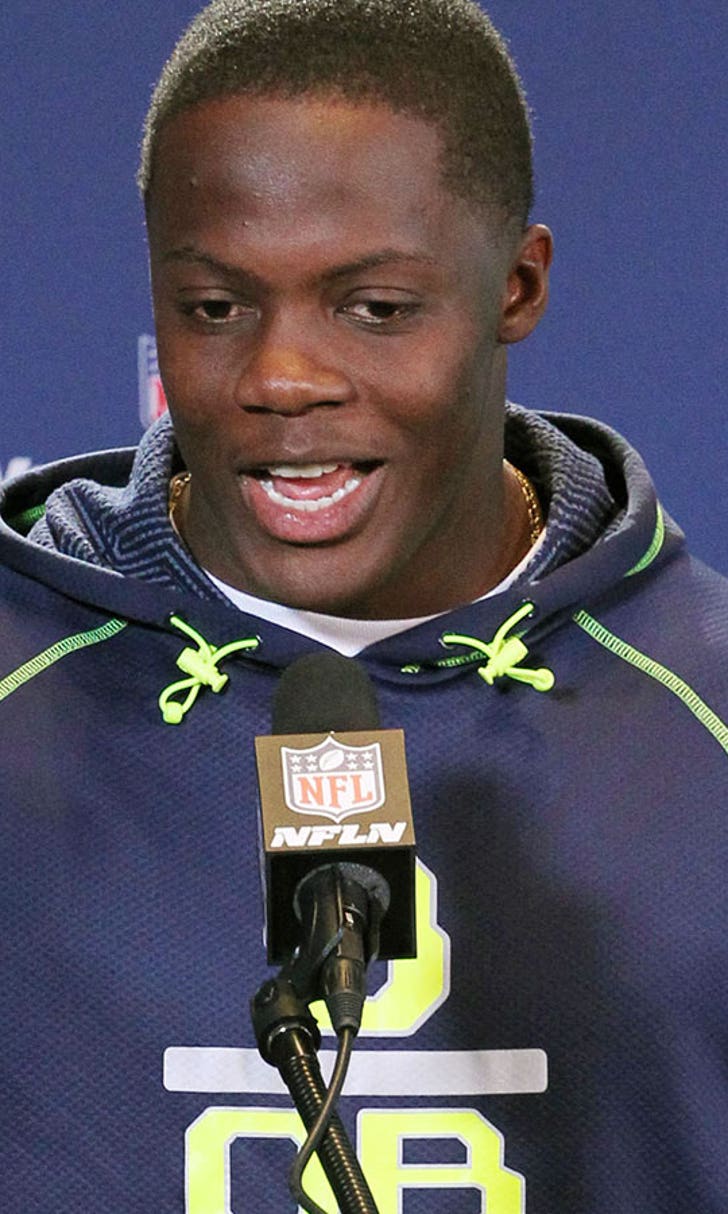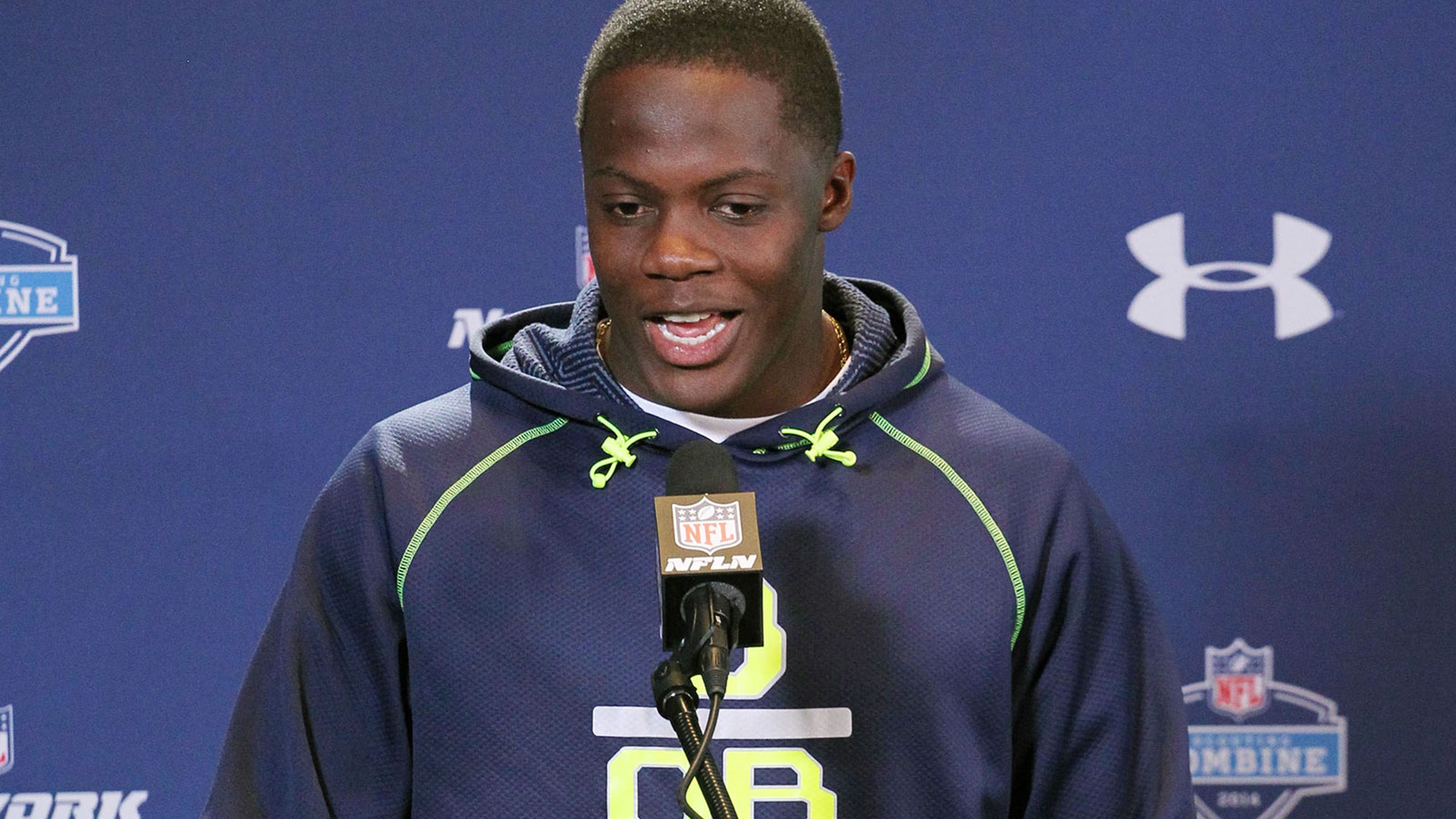 Bridgewater ready for next step
BY foxsports • February 25, 2014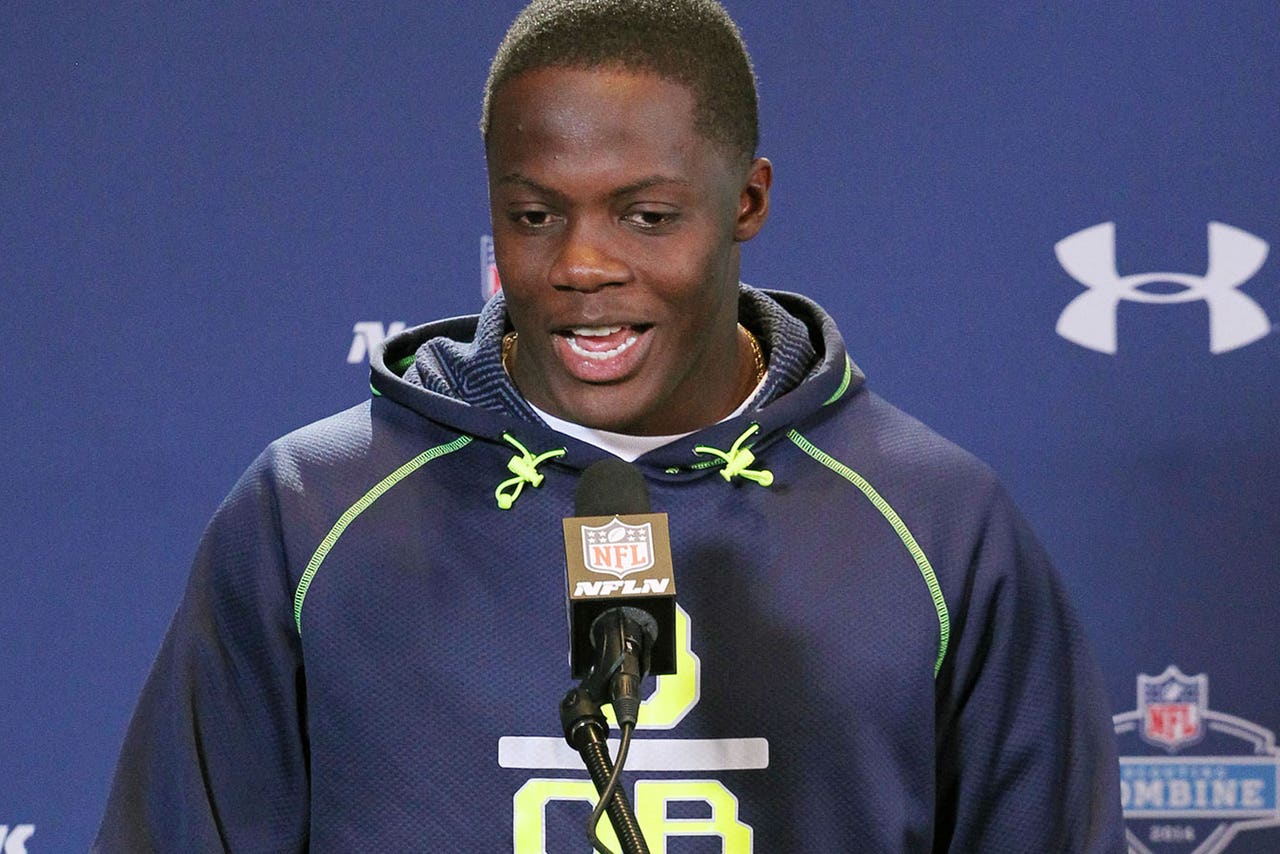 Over the next several weeks leading up to the NFL Draft, Fox Sports Ohio will take a look at some of the draft prospects that could end with the Browns. FSO's Fred Greetham and Zac Jackson were at the NFL Scouting Combine in Indianapolis and will report on many of these top prospects.]
INDIANAPOLIS -- Early in the 2013 college football season, there were some slogans being thrown around in Cleveland. "Tank for Teddy" was one that comes to mind.
Louisville's Teddy Bridgewater was the clear-cut top quarterback prospect by many experts, including ESPN Draft Analyst Mel Kiper, Jr., but as the season unfolded, talk of Johnny Manziel declaring for the draft and the rise of Blake Bortles gave Bridgewater some competition.
As Zac Jackson pointed out in a Feb. 24 column, much of the draft is not clear-cut because of the uncertainty starting at the top with the Houston Texans. The Browns are currently drafting fourth, but as many as three quarterbacks could be selected ahead of them, if teams trade up.
However, at the NFL Scouting Combine in Indianapolis last weekend, Bridgewater made his case to be the top quarterback drafted on May 8.
"Yes, no doubt," Bridgewater said when asked. "I feel that I'm the best quarterback in this draft. I'm not just going to sit up here and say it.
"There's obviously actions that have to back up these words, and I'm just confident in myself and my capability to be able to play this position. I'm just going to go out there and prove that I'm the best guy."
Bridgewater did not throw at the combine, nor did he run the 40-yard dash. He will save those events for his Pro Day, which is scheduled for March 17.
Bridgewater put up some eye-popping numbers in his junior season at Louisville in 2013, including 31 touchdowns and four interceptions. However, it was his 71 percent completion percentage that he thinks separates him from the other quarterbacks.
"The biggest thing I think is my accuracy," he said. "This past season, I was able to complete 71 percent of my passes. My third-down passing completion percentage was pretty much off the charts, my pocket presence - I'm a competitor. Each day I go out there and I'm eager to learn, remain a student of the game, and I think that right there just separates me."
Bridgewater was 303-of-427 for 3,970 yards on the season. His completion percentage in 2012 as a sophomore was 68.5 (287-of-419 for 3,718 yards with 27 touchdowns and nine interceptions) and 64.5 as a freshman (191-of-296 for 2,129 yards with 14 touchdowns and 12 interceptions).
Bridgewater said playing in a pro-style offense has helped him immensely.
"I just feel that especially that I played at the University of Louisville, it just prepared me for some of the things that an NFL quarterback has to do nowadays with making the checks at the line of scrimmage, sliding the protection, (identifying) the Mike (MLB), getting the offense in and out of the right plays, signaling the hot routes to the wide receivers.
"It shows how much trust that the coach had in me, [offensive coordinator and quarterbacks] coach [Shawn] Watson, and I'm glad that he put that trust in me."
NFL Network Analyst Mike Mayock said on Feb. 18 that he felt Bridgewater was the 'most NFL ready' quarterback available.
"So from my perspective, the reason I think he's the quote 'most ready' to play in an NFL-style offense, he was€' in shotgun, his offense, they threw the ball short, intermediate and deep," Mayock said. "He understands three‑step, five‑step and he reads more than just half a field.
"You can put the tape in and watch him do things and say, yeah, that translates to the next level," he said. "He's not as much a wild‑card as Manziel, and I think he's more developed in his reads and throws than Bortles.
"So that's why I say, I think he's the most ready to play," he said. " Whether or not he's going to be there (for the Browns), that depends what Houston and Jacksonville do."
Despite the assessment by many draft experts, Manziel is seemingly getting more attention than Bridgewater.
"I actually don't pay any attention to what's going on right now," he said. "All I do is control what I can control and that's how hard I work each day continuing to play at a consistent level, at a high level. I just control the things that I can."
NFL.com's draft report on Bridgewater lists his strengths as: "Extremely competitive and driven to succeed, well-prepared and confident in his approach when he is asked to scan the whole field and set protections.
"Footwork is very clean and in the rhythm on throws on balance with sound mechanics, a fluid delivery and smooth stroke. Very good timing, touch and anticipation--throws receivers open."
The knock on Bridgewater is his size. He measured a shade over 6-2 and weighed in at 214 pounds at the combine and some wonder if he can hold up to the duress of an NFL season. He said he has added nine pounds and thinks his ideal weight is around 220-222.
"Yes, no doubt (I can hold up)," he said. "I just feel that to play this position you have to have durability, and I just want to prove that I can put on that weight and I am one of those guys who can last a full NFL season."
NFL.com described the negatives on Bridgewater in these terms: "Has a very lean, narrow frame with limited bulk and small hands. Does not drive the ball with velocity down the field and can be affected by cold and windy conditions."
Not necessarily an endorsement for playing in the cold and windy conditions of FirstEnergy Stadium. Bridgewater's hands were measured at 9 1/4 inches, compared to Manziel (9 7/8) & Bortles (9 3/8).
However, Bridgewater refuted the notion when asked about playing in those types of conditions and said being able to hang on to the ball will not be a problem.
"Not at all," he said. "I played in cold weather at the University of Louisville. If it gets too cold, I'll be able to put on a glove and throw with a glove, and I've had success doing that."
Bridgewater has some statistics to back that up as he was 58-of-82 (70.7 pct.) for 702 yards with six touchdowns and one interception in December this past season at Louisville.
Bridgewater says his focus from a young age is to quarterback in the NFL.
"Football means everything to me," he said. "I started playing organized sports when I was about five years old, and from the first time I picked up a football, I told myself I want to go to the NFL. It's a way for me to just relieve everything. I lay it all on the line each day I go out there and play the game. I have such a passion for the game that I can't even describe it."
He says he is consumed by football and even considers himself practicing when he plays 'Madden.'
"Yes. I eat, sleep and breathe football," he said.
"There's not a moment that goes by that I'm not thinking about football, whether it's I'm playing a game, practicing, watching film, even on the video game.
"A lot of people ask me what do I do on the video game," he said. "I call it taking virtual reps. Each day, I'm trying to get better. I'm trying to outwork my opponent, outsmart my opponent and just try to be the best quarterback that I can be."
---