Brian Hall's Nov. 20 Vikings mailbag
BY foxsports • November 20, 2014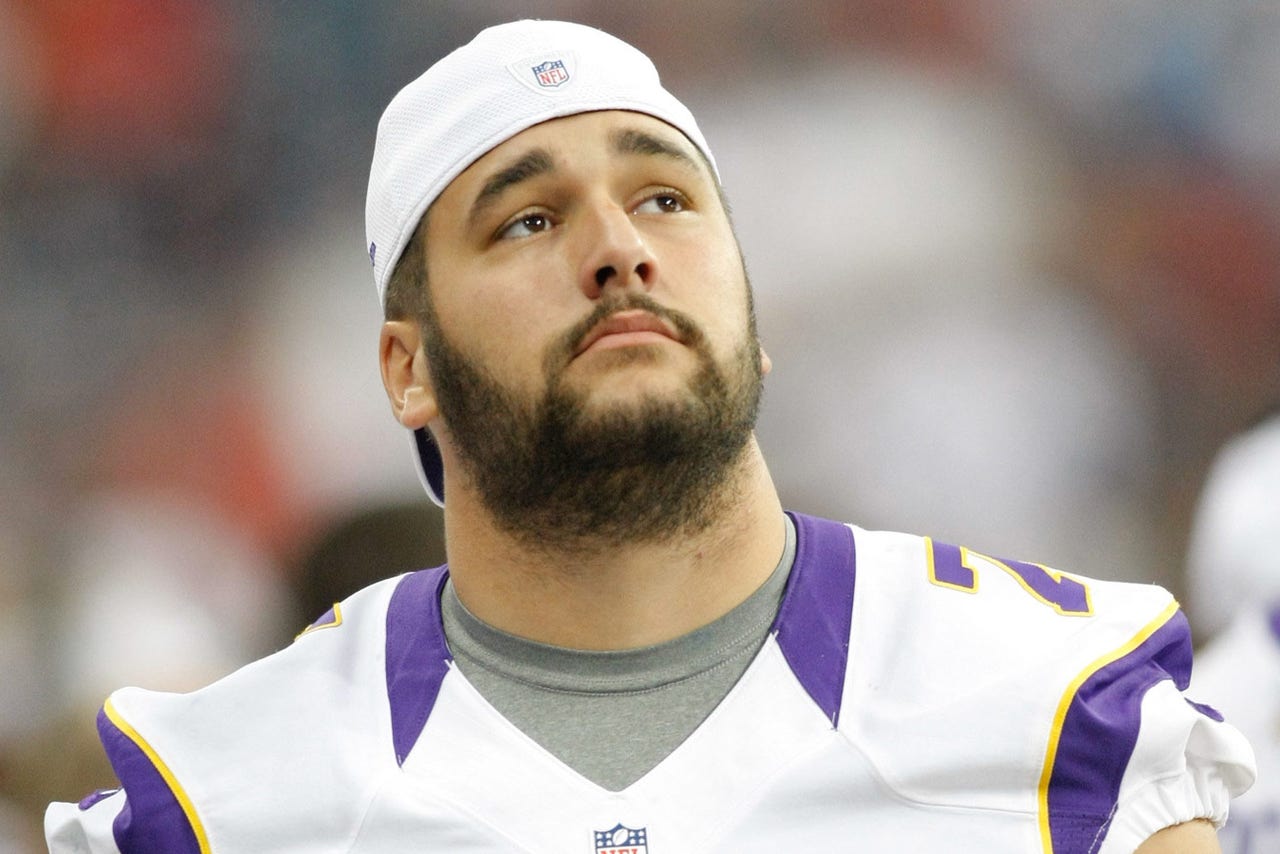 No surprise here. As expected. A disappointing loss at Chicago last week has the Minnesota Vikings' fans up in arms again.
For three weeks, mostly positive feelings were represented in the submissions to our weekly mailbag. Sunday's 21-13 loss for Minnesota brought back the disgust and disappointment in terms of questioning several aspects of the Vikings.
Here's what's on your mind this week:
Question: Why do Zimmer and Bridgewater still have jobs? -- Dan, Richmond, Va.
Answer: See what I mean? Sunday's loss deserves questioning. I'm not sure questioning whether first-year coach Mike Zimmer and rookie quarterback Teddy Bridgewater deserve jobs is a constructive approach.
Zimmer is trying to turn the Vikings around in his first season and the year has been filled with plenty of reasons to be optimistic. Bridgewater was forced into action earlier than expected as a rookie. Sunday was just Bridgewater's sixth NFL start in his 10th game.
Q: Just wondering when the team is going to figure out that it has to replace almost the entire offensive line, also we need to get some receivers that can get open? -- Eric, Rochester, Minn.
A: As I mentioned, plenty of pieces of the team are under fire following Sunday's loss. I'm not sure the entire offensive line needs to be replaced, though.
The Vikings would agree they've underperformed along the line this year. Certainly losing right guard Brandon Fusco has been part of the issues. Fusco had developed into a quality guard, particularly in the running game. Joe Berger has fared decently as the latest fill-in at right guard.
Center John Sullivan has had another steady season, as well. Right tackle Phil Loadholt has had some down moments -- like Sunday when he allowed a quick sack of Bridgewater on Minnesota's final possession -- but hasn't been bad, especially in run blocking.
Zimmer said Wednesday the line simply needs to block better when the coach was asked about the team's running game. Aside from Andrew Sendejo's 48-yard run on a fake punt, Minnesota ran 15 times for 48 yards on Sunday. The Vikings are tied for fourth in the league by allowing 32 sacks this season, highlighting the pass-blocking woes.
Left tackle Matt Kalil seems to be suffering from confidence issues and is the weak link of the line. It might be time for Minnesota to pull Kalil, at least temporarily, to allow him to relax. Of course, the Vikings don't have many ready-made solutions to replace Kalil, either.
Minnesota does need some receivers to step forward to help out Bridgewater, but the blame in the passing game is likely shared between the line, Bridgewater and his receivers. Charles Johnson has been a bright spot in recent weeks and Jarius Wright. Greg Jennings needs to become the reliable, veteran receiver the Vikings pay him to be.
Cordarrelle Patterson is a work in progress. Zimmer said this week some of his issues might be continued development and playing in a new offensive system for the third year in a row as a relatively inexperienced receiver. Zimmer and the team are trying to stay patient with Patterson.
Q: They said Teddy Bridgewater can't play in cold weather and it seems they were right but Turner's play calling has become predictable and just plain bad and the whole team seemed to play completely out of character in cold weather and with the next 3 games at home outdoors in cold weather it looks like it might be time for some good draft picks next yr. What do you think? -- Winston Eaton, Sacramento, Calif.
A: I don't believe Bridgewater's tough game on Sunday was attributable to the weather. There was snow and it was nearly as cold as Bridgewater has ever played in, but I didn't see him particularly bothered by the conditions.
Whether it was reluctance on Bridgewater's part, lack of patience or play-calling, the Vikings didn't try to get the ball downfield much until late in the game. Minnesota will have to adapt to playing outside on a nearly full-time basis now as it plays the next two seasons at TCF Bank Stadium.
If there was an effect of the weather on Sunday, I believe it might have been on the defense. Rookie linebacker Anthony Barr seemed slower than usual and missed a few tackles. Tackling as a whole was an issue Sunday.
Q: I have a couple of questions for you. Why in the first half it seems all the qb does is dink and dunk and then in the second half he moves in the pocket and throws downfield? Also why do they have Robinson one on one with Marshall a total mismatch? The INT by Smith and we got nothing out of it was a killer and I thought the play calls after the INT were terrible, do you agree? Thank you. -- Al Tiseth, Chatham, Ill.
A: Al is a loyal reader. Bridgewater's short, quick passing on Sunday did stand out. And like he's done at other times this season, in hurry-up or come-from-behind situations, Bridgewater does seem to let loose a little more and challenge downfield. At this point, Minnesota might be best served trying to speed Bridgewater up early in the game to help him get on track.
Josh Robinson's tough game was a matchup nightmare for the Vikings. At 5-foot-10, Robinson is at a size disadvantage to Brandon Marshall and Alshon Jeffery. Jeffery ultimately did much of the damage against Robinson, but Chicago's pair of tall, quality receivers leaves no opportunity for Minnesota to change up the matchups. As you could see on Sunday, Cutler was focused in on whichever receiver had the matchup with Robinson.
Q: Did the Viking DC get out coached by the Bears OC? -- Norskie, Austin
A: When you say Vikings defensive coordinator, you're really saying Zimmer. The coach is really responsible for Minnesota's defense. I don't believe Zimmer was outcoached, necessarily, on Sunday. I believe Chicago simply outplayed the Vikings.
The Bears do deserve some credit for their game plan of screens and quick passes to negate the pass rush. In fairness to Chicago, as well, they have some quality offensive players in Marshall, Jeffery, quarterback Jay Cutler, running back Matt Forte and tight end Martellus Bennett.
Right now, as Zimmer continues to change and develop the defense, the Bears are a tough matchup for Minnesota's defense, especially when Cutler is on his game and isn't being pressured.
Q: I won't go into a rant about the Bears game . . . I'm sure everyone else is. My question is why is Matt Kalil having SO much trouble this year? He has done quite well in the past and now is having a tough time. Is he the best player for his position? If the o line can't protect Teddy any better than they are we may not win another game this season. That would be a HUGE let down . . . your thoughts? -- Jenny S., Brookings, S.D.
A: Kalil was a popular target, again, after Sunday's game. Jared Allen has not had a good season and might be showing his age, but he was up to playing Minnesota on Sunday and Kalil had trouble with a slumping pass rusher.
I tend to believe it's confidence issues with Kalil. He might be overthinking at this point. We've seen him several times this year try to react to a speed rush on the edge and the defender cuts in front of him and rushes through an inside gap.
Against Allen, it seemed like Kalil's plan was to use Allen's speed and aggressiveness to his advantage. Several times Kalil used Allen's momentum and pushed him past the play. The tactic wasn't always effective. On one occasion, Allen got pushed by Bridgewater, but was able to come up and hit the quarterback right after he let the ball go.
Looking at Sunday's game, Kalil allowed one sack and two quarterback hits. Bridgewater was pressured three other times after a defender got past Kalil.
I don't believe Minnesota's coaches will make a change with Kalil, but I wonder if it wouldn't be in the best interest for Kalil and the team to take a temporary break. Let Kalil sit back and watch from the bench. Perhaps it even upsets the mild-mannered Kalil. Of course, the move could backfire if it further erodes his confidence.
Also, the Vikings don't have many possible fill-ins. Mike Harris, the top swing tackle, could get a shot but he's played mostly right tackle. Austin Wentworth is an undrafted rookie. Left guard Charlie Johnson played left tackle before Kalil was drafted. Perhaps Johnson could play left tackle with someone like Vladimir Ducasse playing left guard.
With the playoffs looking like a long shot, getting Kalil right should be one of the biggest objectives the rest of the season.
Q: Josh Robinson looked like a fool out there on Sunday. Are we not deep enough to yank him out of there? And at what point do we stop making excuses for Matt Khalil? -- Adam, Eden Prairie
A: We touched on the Kalil conundrum, so I'll mention Robinson quickly. He could have done more against Marshall and Jeffery. Zimmer and Robinson said as much. With the size disadvantage, Robinson needs to be ever more refined in his technique and find ways to challenge taller receivers. Robinson has really had a strong season to date, though, and shown real progress from last year's debacle.
Unfortunately, there isn't much Minnesota can do in those types of situations. Xavier Rhodes continued his good season and does have the size and attitude to match up with tall receivers. But Chicago had a pair of such receivers. If Rhodes takes care of one, Cutler could always look to the other.
Captain Munnerlyn (5-9) has experience, but he's already on the field with Robinson. Behind them are rookie Jabari Price (5-11), Marcus Sherels (5-10) and Shaun Prater (5-10).
Q: Brian, Sitting at 4-6, do we still have a shot at playoffs? Please tell me why we fans should stay optimistic with the remaining games. Thanks. SKOL!!! -- RAJ_VIKES, Sioux Falls, S.D.
A: Sorry Raj. I believe Sunday's loss all but ended any playoff consideration. Not only are the Vikings three games out of a playoff spot, there are several teams they would have to leapfrog. They are also three games out in the NFC North and already are losing tiebreakers to Detroit, Green Bay and Chicago, though Minnesota gets the chance to play each team again.
Don't give up on the season, though. There are enough intriguing items worth keeping an eye on. Zimmer's continued work with the defense. The progress of young defenders like Barr, Everson Griffen, Sharrif Floyd, Harrison Smith and Rhodes is worth watching. There's the development of Bridgewater and rookie running back Jerick McKinnon, as well as a hopeful breakthrough for Patterson. And Kyle Rudolph has rejoined the team after missing much of the season because of injury.
Q: Zimmer is blaming the defense? Yes, 3rd down was bad but if the offense can convert a 3rd down, the defense can rest. 50 minutes into the game time of possession was 35-15 minutes, in favor of the bad guys! Com'on Man! -- Brian Noyes, Duxbury, Mass.
A: I understand what Zimmer is saying. The inability to stop Chicago's offense and letting the Bears dominate time of possession didn't allow Minnesota's offense to find any sense of rhythm. No stat points out the trouble in getting the offense going more than the running game. The Vikings ran four times for eight yards in the second half.
That said, I agree with you. The two sides work hand-in-hand and if Minnesota was able to do more offensively and convert third downs, not as much pressure would be put on the defense. The offense has to find its own rhythm. The Vikings were 2 of 11 on third downs. That inefficiency isn't on the defense.
Q: What is the opinion of WR Charles Johnson? What, in your opinion, is his potential with the Vikings? -- Paul, Denver, Colo.
A: Johnson really has stepped up in the past few weeks. Minnesota picked up Johnson this season. He's long held some intrigue in the league, hopping around a few practice squads. A little teaser, I'll have more on Johnson later this week with a story on our site.
Johnson has some size at 6-2, 217 pounds and he's shown a knack for getting open down the field. He was a seventh-round draft pick by the Green Bay Packers out of Grand Valley State in 2013 and is just now getting his chance to contribute in the NFL. Johnson is the perfect type of developmental player for Minnesota. He led the team with six catches for 87 yards on Sunday.
Johnson was known by the Vikings' coaching staff, who had the chance to work with him last year in Cleveland when Scott Turner, now Minnesota's quarterbacks coach, was the receivers coach with the Browns and Norv Turner was the offensive coordinator.
Q: What ever happened to lining #84 Patterson up in the backfield . . .? for at least 4-5 plays . . . he can run,play action, decoy,a flea flicker could work . . . seems underused -- Brian Rowen, Saint Paul, Minn.
A: This has really become the season-long question. The Vikings say the lack of production from Patterson is because of youth. I asked Zimmer this week what is the biggest thing holding Patterson back and the answer was simply, "youth."
Youth and precision certainly can be part of the blame in Patterson not being involved more in the passing game. As you mention, Patterson is also underutilized out of the backfield. Although, if Patterson is in the backfield, it might be a tell to the defense that he is getting the ball. However, you're right, it's worth trying to get Patterson more involved, especially early in games.
Q: Why are these players so up and down when they face adversity? They have a quality team they don't need AP, all they have to do is to believe in the guys in the locker room period!!! -- Keith, Roosevelt, N.Y.
A: Honestly Keith, I don't think the up-and-down is because of the adversity they are facing. Simply, Minnesota is a young team with a new coaching staff. The up-and-down nature is more of a sign of a young team and players learning their way in the NFL.
If the Vikings wanted to count adversity as a reason for their issues, they could have used those excuses earlier. Instead, I believe the team has handled most of the unexpected situations fairly well. I believe the inconsistency is just attributable to a team that isn't as good as some of their opponents and is still finding its way.
Thank you for your submissions. Unfortunately we couldn't get to all of your questions. We tried to answer a wide range of submissions. I hope we continue to hear from you in the future. Our Vikings' mailbag runs once a week on Thursday mornings during the regular season. Be sure to check FOXSportsNorth.com for upcoming mailbags.
Follow Brian Hall on Twitter
---