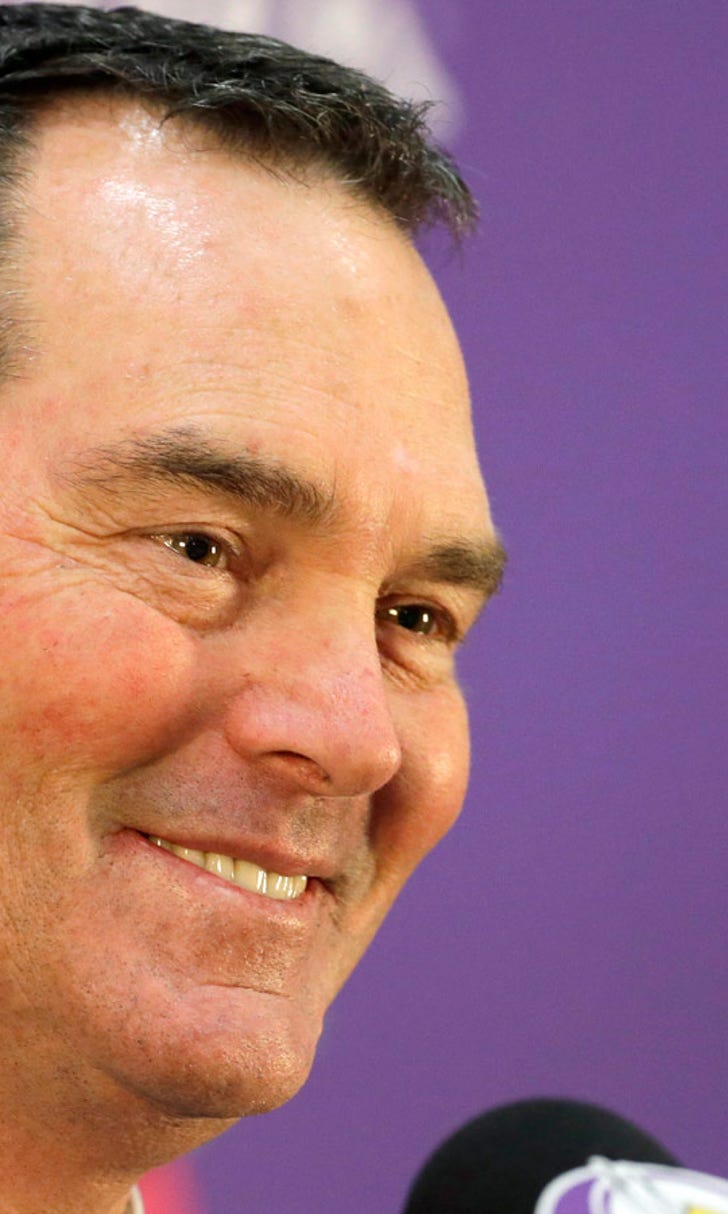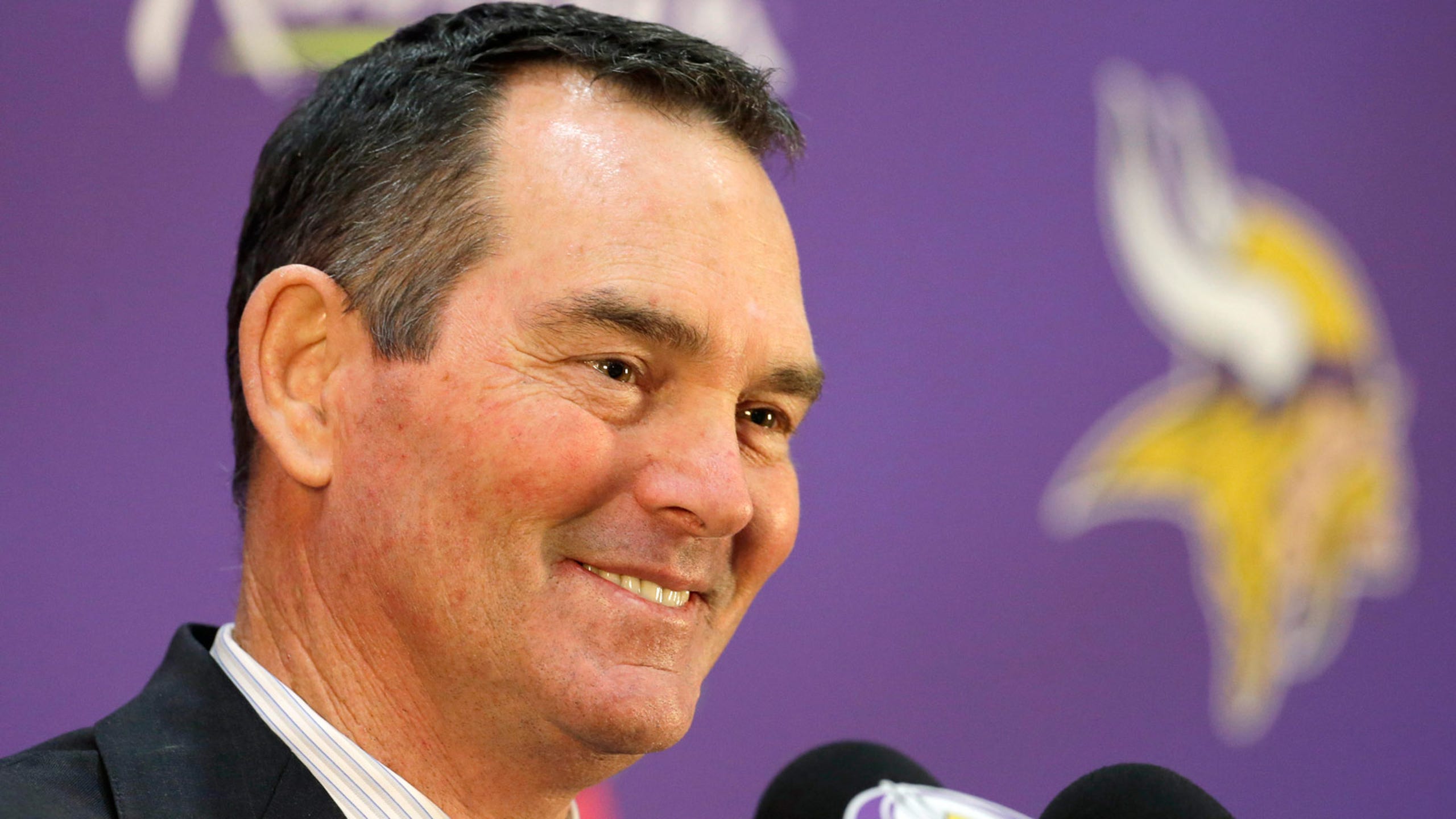 Brian Hall: Vikings made best head coach hire
BY foxsports • January 21, 2014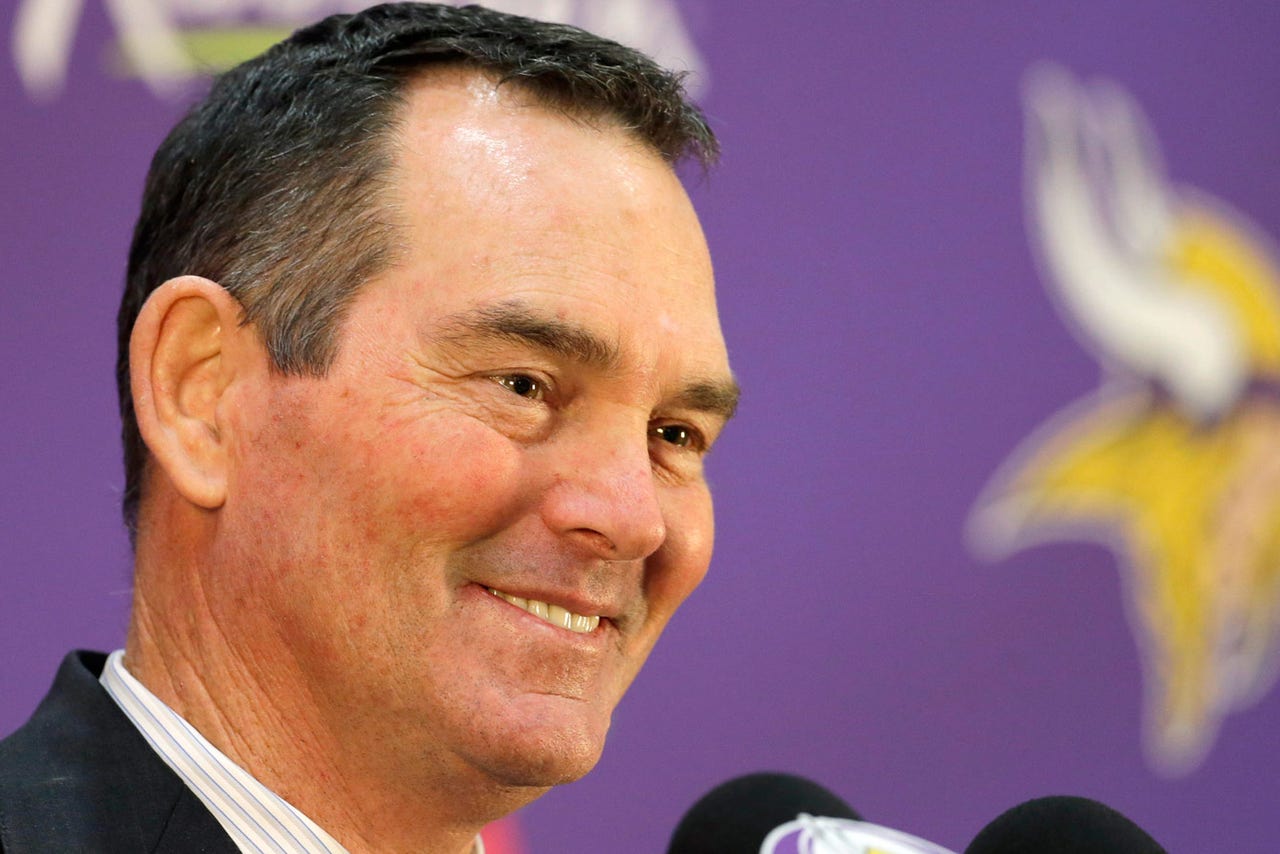 The Minnesota Vikings, without a franchise quarterback, with the league's worst scoring defense and set to play two seasons outside in a college stadium certainly weren't the most appealing option for potential candidates.
But Minnesota, the sixth of the seven teams to decide on its next coach to lead the franchise, might have come away with the best candidate.
The Houston Texans had a jump on the competition by firing Gary Kubiak during the season. Houston was the only team to pry a coach from the college ranks, hiring Bill O'Brien, the former Penn State coach and former New England Patriots assistant. The Tampa Bay Buccaneers hired Lovie Smith, who was out of coaching in 2013, but had a successful run as the Chicago Bears' coach.
Meanwhile, the Cleveland Browns are the only team still searching, seemingly turned down by more candidates than other teams had even interviewed.
What was left was many of the same names bandied about, mostly NFL coordinators interviewing for the same jobs. Minnesota interviewed seven of them, names that had been linked elsewhere: Todd Bowles, Darrell Bevell, Dan Quinn, Ray Horton, Mike Zimmer, Greg Roman, Jim Tomsula (a defensive line coach with San Francisco). The Vikings reportedly had shown interest in Jay Gruden, Adam Gase and Ken Whisenhunt.
Minnesota went with Zimmer and no coaching hire in the past three weeks has received the overwhelming response and support as the Vikings' hiring of the former Cincinnati Bengals defensive coordinator.
Yes, part of the reason for the response to Zimmer's hire has been the fact many believe it's long overdue. But he also comes with the credentials fitting the promotion and the type of personality players gravitate towards.
Zimmer has been an NFL assistant for 20 years. His defenses have consistently ranked among the league's best and he's shown versatility in his scheme (switching from a 4-3 to a 3-4 base in Dallas) and personnel (the league's third-ranked defense this past season despite losing top cornerback Leon Hall and All-Pro defensive tackle Geno Atkins).
In six seasons in Cincinnati, Zimmer was part of four playoff teams and had four top-10 defenses in both points and yards allowed. He's been a part of 11 playoff teams, seven division winners and one Super Bowl winning team in his 20 NFL seasons.
If those defensive credentials weren't enough, he had a Hall of Fame supporter. Bill Parcells saw something in Zimmer when Parcells became the Dallas Cowboys head coach in 2003. Zimmer was already in town as the defensive coordinator -- Zimmer would survive through four head coaches in Dallas -- and Parcells kept him on and started to mentor Zimmer.
The so-called "Parcells coaching tree" is well-known. Former Parcells assistants include Bill Belichick, Tom Coughlin and Sean Payton -- all Super Bowl winners as head coaches. Zimmer is next in line and is still receiving support from Parcells, who called Zimmer the day he accepted the head coaching job in Minnesota.
Zimmer made an immediate impression with the Vikings.
His introductory press conference immediately captivated the people of Minnesota. Zimmer, passed over for jobs in the past, spoke about having a chip on his shoulder, and his belief in being direct and honest, both inside and outside the organization. He wore a Super Bowl ring and talked about confetti raining on the Vikings after winning a Super Bowl.
For some reason, Zimmer had to wait for his chance. Interviews over the years for head coaching positions never went anywhere. He was set to take the head coaching job at the University of Nebraska in 2004, only to stay in Dallas believing his time in the NFL would eventually come.
It has, and Minnesota is the beneficiary.
General manager Rick Spielman had to balance his own perceptions with those that have plagued Zimmer over the years. Maybe he was too direct, too honest, some would say. The Vikings scored a coup by seeing what Zimmer can be instead of being afraid of what he might be.
Zimmer's fiery attitude has already infiltrated the team. Players are excited to go to work with Zimmer. They expect change from the calm demeanor of Leslie Frazier to the passionate Zimmer, and are motivated by his personality. Some say a change might be needed in Minnesota. They will get it.
The reports of Norv Turner joining Zimmer adds another credible voice -- this time on the offensive side of the ball -- to direct the Vikings. Zimmer is aiming high in filling out his staff in Minnesota.
Spielman undertook a meticulous search. He interviewed offensive and defensive coaches, even if he missed all of his "13 categories" for finding a coach.
Smith and O'Brien were the first hires early on in January. As the Vikings continued their search, other teams filled their spots. Minnesota didn't panic. Gruden was hired by Washington the day he was to interview with the Vikings. Whisenhunt chose the Tennessee Titans, which prompted the Detroit Lions to name Jim Caldwell to replace Jim Schwartz.
Spielman went about his search, bringing Zimmer back last week for a second interview. After hours of meetings over a two-day visit, Spielman knew Zimmer was his guy.
First impressions show he might have got the best guy.
Follow Brian Hall on Twitter
---