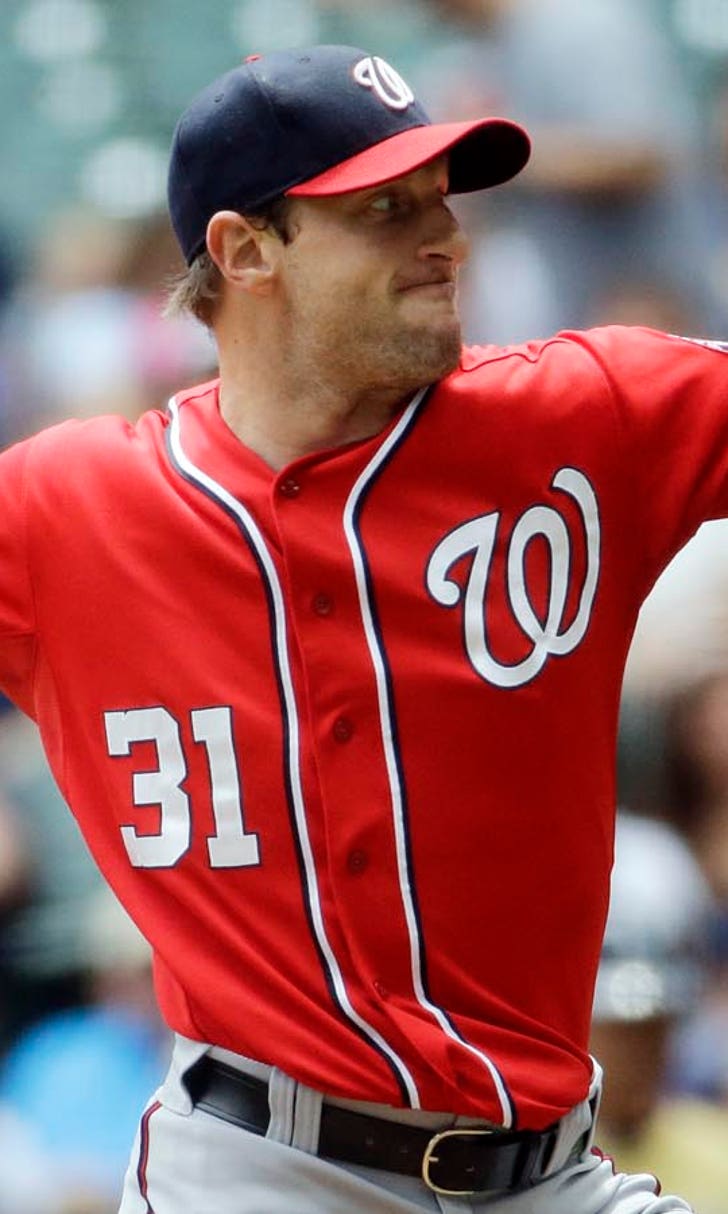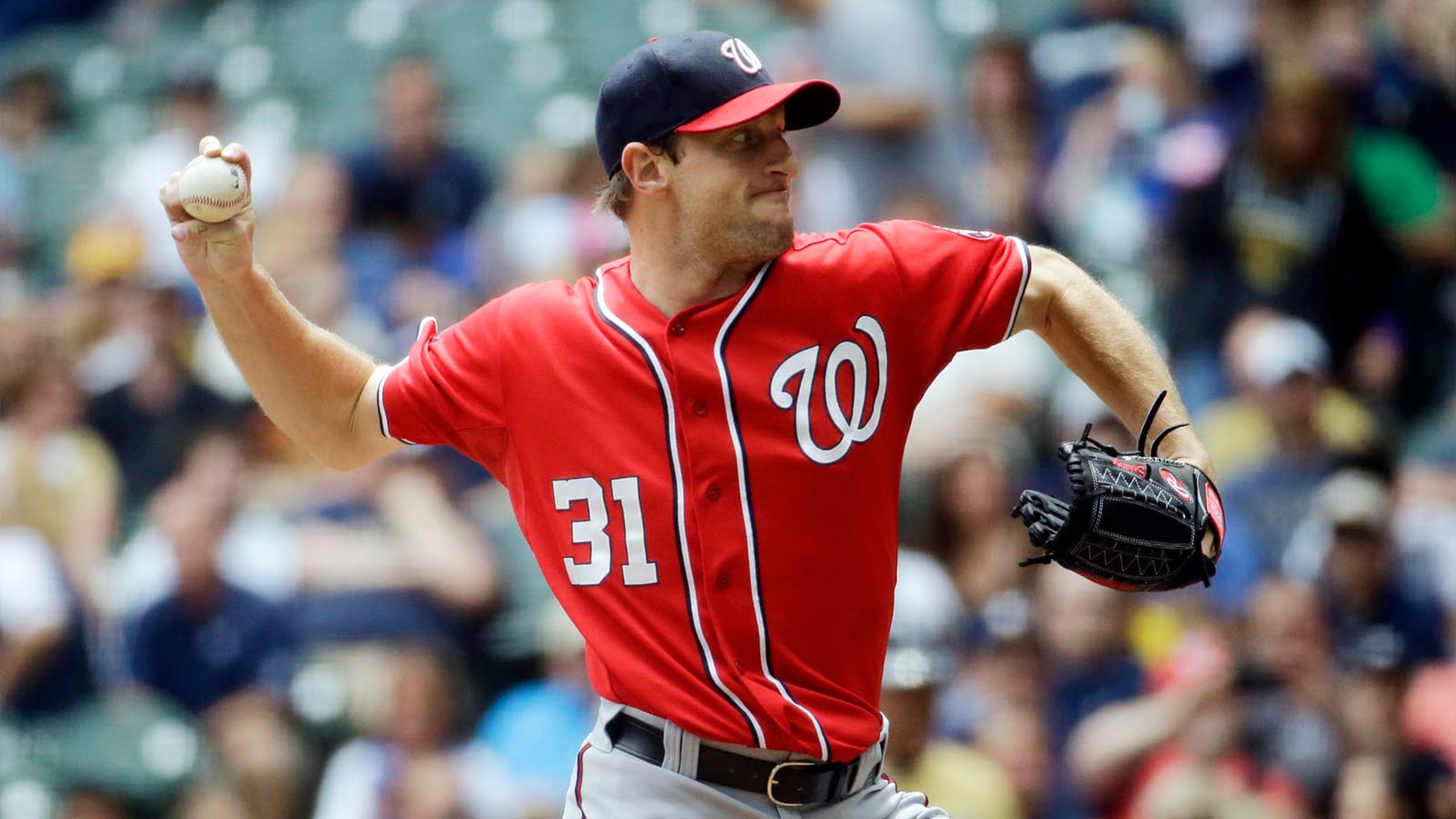 Brewers manage just one hit in loss to Nationals, Scherzer
BY foxsports • June 14, 2015
MILWAUKEE (AP) -- Carlos Gomez's bat split near the handle after making contact with another tough pitch from Max Scherzer.
He didn't know where the ball was until it landed just out of reach of second baseman Anthony Rendon's glove in short right for a leadoff single in the seventh inning.
That soft looper snapped a bid for a perfect game by Scherzer, who struck out a Nationals-record 16 and threw a one-hitter while pitching Washington past the Milwaukee Brewers 4-0 on Sunday.
"I got lucky, I got lucky," Gomez said. "He pitched unbelievable. He's one of the best pitchers and probably the best pitcher that I've ever faced."
Scherzer set a career high for strikeouts and broke the Nationals mark of 14 set by Stephen Strasburg in his big league debut in 2010. The franchise record of 18 was set by Bill Gullickson in 1980 with Montreal -- the Expos moved to Washington for the 2005 season.
Scherzer (7-5) walked one and finished the day with a 1.93 ERA.
After losing his last two starts, Scherzer rebounded with the most overpowering game of his career, which includes a Cy Young Award, two All-Star selections and a lot of strikeouts.
"Scherzer was just tough. You felt like every hitter was 0-2," Brewers manager Craig Counsell said.
Scherzer, in the first season of a $210 million, seven-year contract, threw his second complete game in his 211th career start. His other one was a three-hit shutout on June 12, 2014, for the Detroit Tigers against the Chicago White Sox.
"I wouldn't imagine that that's going to be the last opportunity that he's going to have to do something special," Nationals manager Matt Williams said.
The Brewers rarely hit the ball out of the infield. When they did, the 30-year-old righty mainly held hitters to harmless popouts.
He was still throwing fastballs in the mid-90s in the eighth inning. Scherzer's off-speed stuff kept hitters off-balance.
"I was able to execute every pitch for the most part where I wanted to," Scherzer said.
He also hit a single in the fourth. Going into the seventh, he had reached base more than the Brewers.
Finishing strong: Washington salvaged a split of a four-game series with last-place Milwaukee even with slugger Bryce Harper watching from the dugout. He got the day off after being hit by a fastball on his left leg in Saturday's 7-2 win over the Brewers.
Scooter Gennett worked a full-count walk with one out in the eighth, about the closest that Scherzer came to showing any semblance of struggling.
Scherzer came back to strike out Hector Gomez and Martin Maldonado swinging, the second whiff coming on a 96 mph fastball.
Young Jungmann: The Nationals scored two runs off rookie Taylor Jungmann (1-1), who labored through five innings in his second career start. Clint Robinson added a two-run double with two outs in the seventh off Jeremy Jeffress.
Jungmann allowed seven hits, walked two and struck out five. He liked his breaking ball, but felt he didn't have command of his fastball.
Manager Craig Counsell said Jungmann has earned another turn in place of injured starter Wily Peralta.
"Hopefully, the next outing, I can put together the fastball and the breaking ball and go from there. We'll see what happens," Jungmann said.
Trainer's room: Nationals 2B Danny Espinosa stayed in the game after appearing to hurt his right foot on a slide while being thrown out by catcher Martin Maldonado trying to steal second to end the top of the third.
Brewers veterans 3B Aramis Ramirez and C Jonathan Lucroy got regular days off from the starting lineup.
Up next: Kyle Lohse (3-7) takes the mound for the start of a home-and-home, four-game series against Kansas City. The right-hander last won when the Brewers beat the Mets 7-0 on May 15, going winless in his next five starts.
---