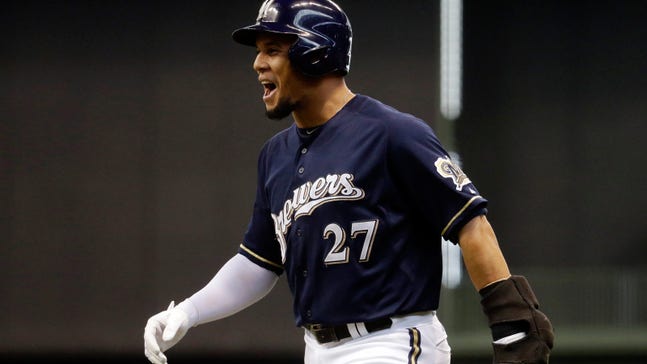 Brewers Friday: Gomez awaits word on appeal of suspension
Published
May. 9, 2014 7:55 p.m. EDT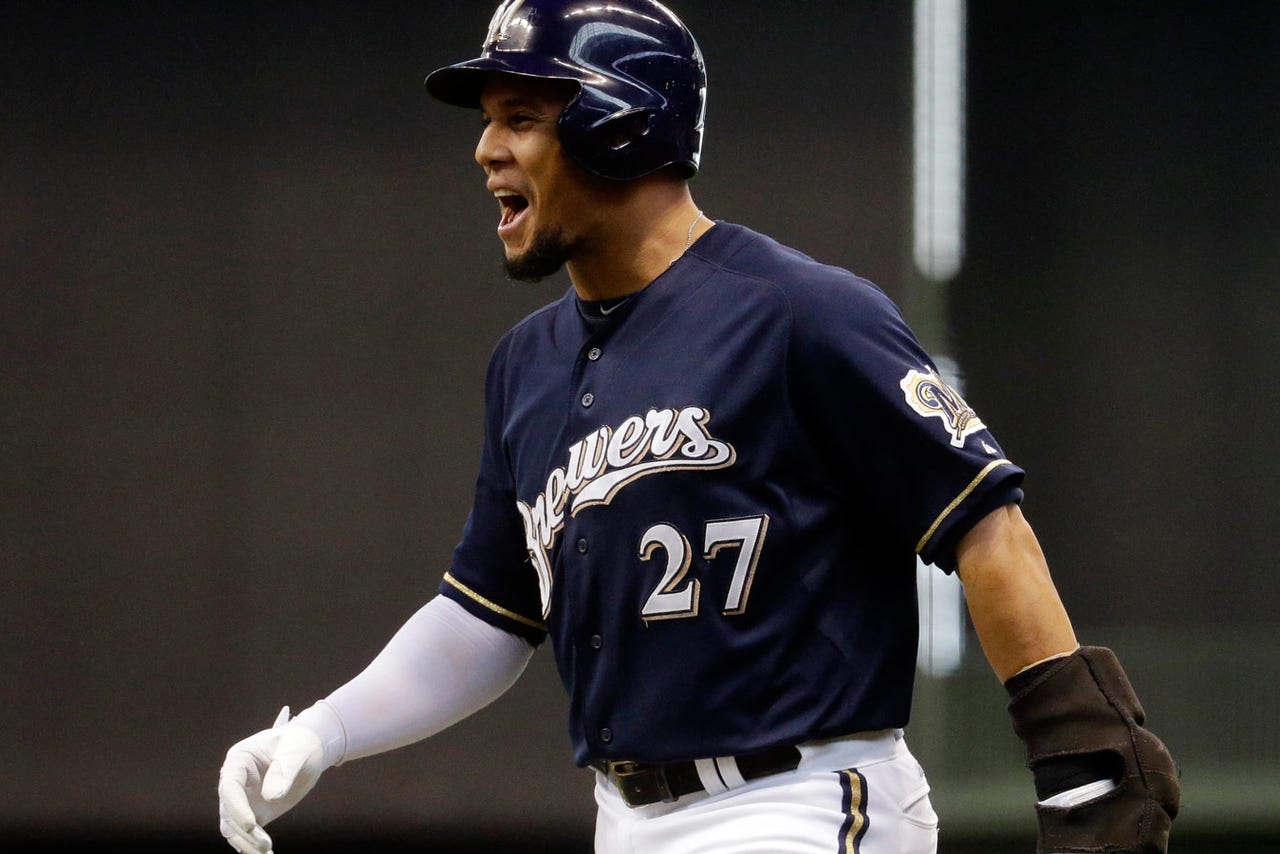 MILWAUKEE -- Carlos Gomez has made his case, now the waiting game begins.
The Brewers' center fielder had his appeal hearing with Major League Baseball via video conference Friday morning, hoping for a reduction to the three-game suspension he was issued for his role in a benches-clearing incident with the Pittsburgh Pirates on April 20.
In addition to Gomez, the Brewers were represented by assistant general manager Gord Ash, while senior vice president of standards and on-field operations Joe Garagiola Jr. and other members of the commissioner's legal team were on the call for Major League Baseball. Agent Scott Boras also had a representative on hand.
MLB executive vice president John McHale Jr. served as the arbitrator and will be the one making the final ruling.
"They heard my part," Gomez said. "Rolled the video over and over and explained what happened. I told them it is what it is. We all make mistakes and it's a little tough for me. I went over (the line) but when somebody comes screaming at you in bad language, that's how everything starts. I respect Cole. He's emotional and competitive. I don't feel nothing about him coming after me and telling me something; I'm fine with that because I'm the same way. Snider is the one who took me out to another level. I feel sorry because as a player, we don't want to hurt nobody. But in the moment, he deserved it."
The Brewers expect to hear something Monday, meaning however many games Gomez has remaining on his suspension will likely be served against the Pirated next week at Miller Park.
Travis Snider and Russell Martin had their appeal hearings earlier this week and have yet to hear the results.
"If it's going to be fair, if they suspend me their guys too have to be the same against the Brewers," Gomez said. "(If not) the Brewers have to tell them, 'Come on. You guys suspended my guy against them and we want their guys to be suspended the same against the Brewers.'
"Everything will be fair for both sides. It's part of the game. I just wish it didn't happen like that. Benches clearing is a part of the game. If it doesn't happen like that, baseball gets boring."
Both Gomez and Ash were confident that Gomez presented his case well enough to get the suspension reduced.
"I think Carlos did a very good job of presenting his feelings and his view of the altercation and the players' association did a nice job," Ash said. "Everybody went about their jobs well. Obviously I hope he was compelling, but it certainly makes for a much better process than the old days when you had to wait to go to New York."
The timing of the hearing coincided with Gomez and the Brewers facing Brian McCann for the first time since the two players were involved in an incident last September in Atlanta. Catching for the Braves at the time, McCann took exception to how Gomez reacted to a home run off pitcher Paul Maholm and cut him off before he could cross home plate.
Now a member of the New York Yankees, McCann chatted with Gomez prior to batting practice and the two even hugged.
"I go outside and he's hitting and he says, 'Hey, my man!' So I go over and talk to him and he said no hard feelings," Gomez said. "I said my side -- you do your job and I feel like it was necessary to do this and I didn't mean to disrespect the Braves and you personally. I want to send a message to Maholm to say the same thing to him.
"I said it's in the past, I respect you and I like to see you play because you play the game right and protect your teammates and I love watching you play. He said yeah, I'm the same way. I like to see you play, think you're an awesome guy and you did the right thing after the game -- you weren't going crazy. You told it like it is and we respect that and it was over."
Sabathia returns: It has been nearly six years since C.C. Sabathia last donned a Milwaukee Brewers jersey, but the lasting impact the left-hander made on the franchise hasn't been forgotten.
Acquired in a blockbuster trade with the Cleveland Indians on July 7, 2008, Sabathia carried the Brewers to their first playoff berth in 26 years.
"I only played (in Milwaukee) six weeks, eight weeks, but I felt like I had been here my whole career just from the people in the organization and the players," Sabathia said Friday. "I wasn't here a long time, but I felt like my time here was well spent."
Sabathia made 17 starts down the stretch for the Brewers, going 11-2 with a 1.65 ERA and seven complete games. Milwaukee went 14-3 in the games Sabathia started, as general manager Doug Melvin's trade proved to be huge in the Brewers winning the wild card.
He received a phone call from then Brewers reliever David Riske a week before the trade went down. Riske told Sabathia he saw jerseys with his name on them being printed in Milwaukee.
With Ben Sheets injured and Milwaukee's pitching staff wearing down, Sabathia volunteered to make his last three starts of the season on just three days' rest.
"I wanted to win," Sabathia said. "The organization got me here to try and help pitch them to the playoffs. That was what I was here to do. Whether that was on three days' rest or pitching out of the bullpen, I was here to do that.
"I was healthy. I was ready to go. I wanted to have a chance to win, and I was pitching good, so I felt like it was a no brainer for me to go on three days' rest. It just worked out."
Sabathia's most memorable start with the Brewers came on the final day of the 2008 regular season. Milwaukee entered tied with the New York Mets for the Wild Card and sent Sabathia to the mound against the Chicago Cubs with the season on the line.
He tossed a complete game on short rest to lift the Brewers to a 3-1 victory and into the playoffs when the Mets lost later in the day.
With the game tied at 1 in the eighth inning, Ryan Braun hit a two-run home run against Cubs reliever Bob Howry to put the Brewers on top. Sabathia allowed a one-out single in the ninth, but ended the game by getting Derrek Lee to hit into a double play.
"That game still sticks out the most," Sabathia said. "I just remember Brauny hitting the home run. He came up to me and said, 'If I get you a run here, is the game over?' I was like, 'Yeah, the game is over.'
"Then he went up and hit a homer. That was crazy. We felt like we were going to win, no matter what the Mets did. If we had to go play them the next day in New York, we would have won that game too."
Sabathia signed a seven-year, $161 million contract with the Yankees the following offseason and will pitch at Miller Park on Saturday for the first time since that memorable game in September of 2008.
"We were battling. We were fighting the last two weeks," Sabathia said of 2008. "Every game was a playoff game for us. For us to get in against those odds -- our manager got fired with 10 days left in the season. It was a tough time but we battled through it."
Follow Andrew Gruman on Twitter
---