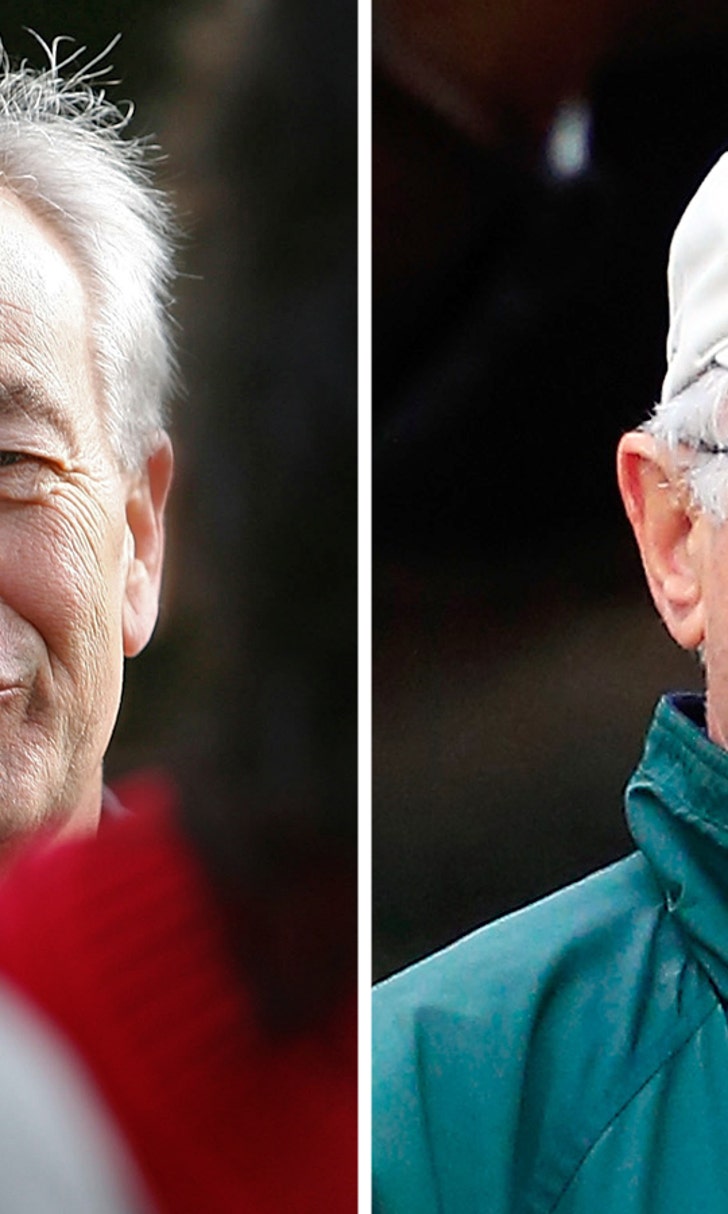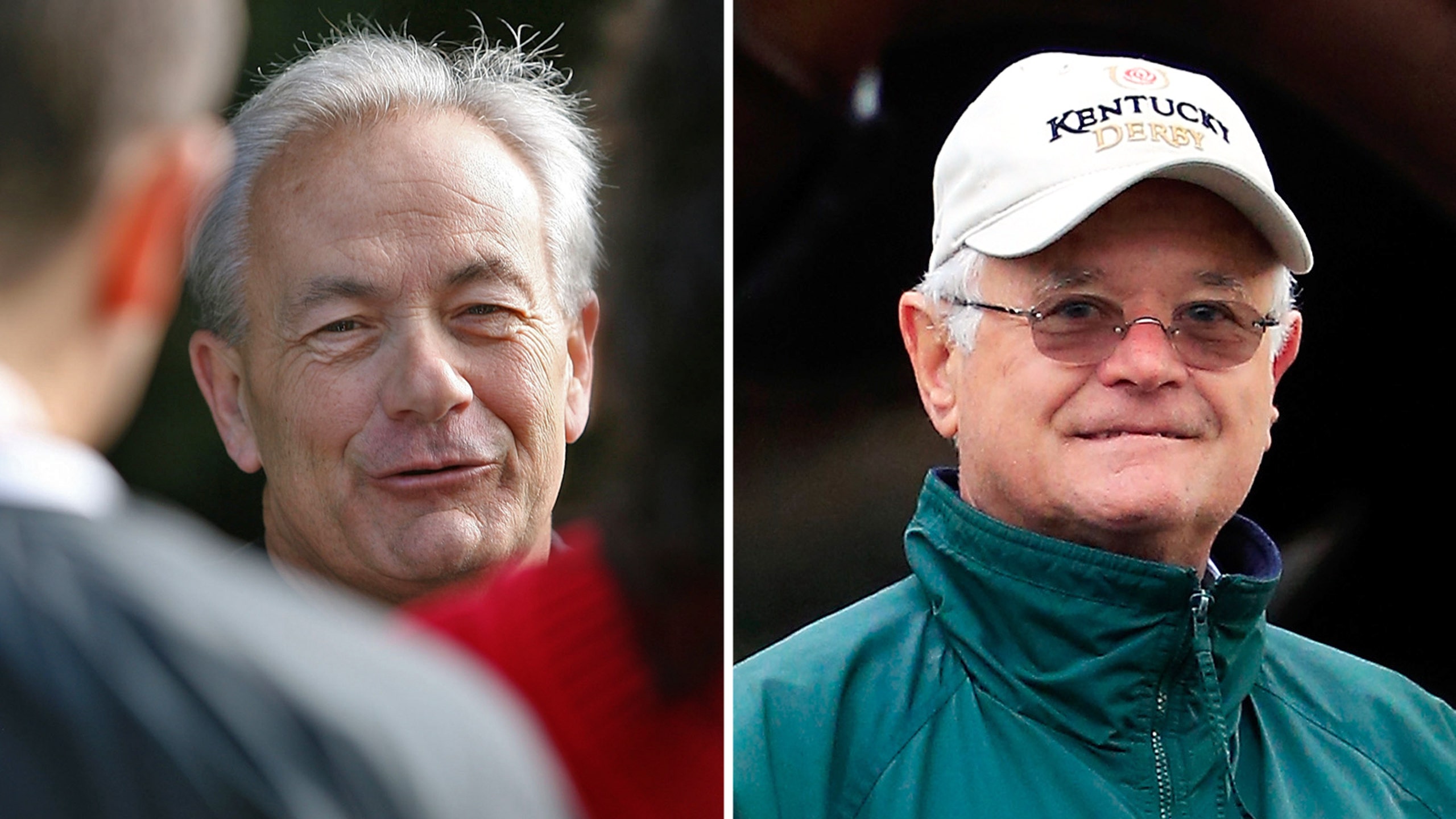 Breeders' Cup Classic clash won't come between trainers' friendship
BY Sam Gardner • October 28, 2014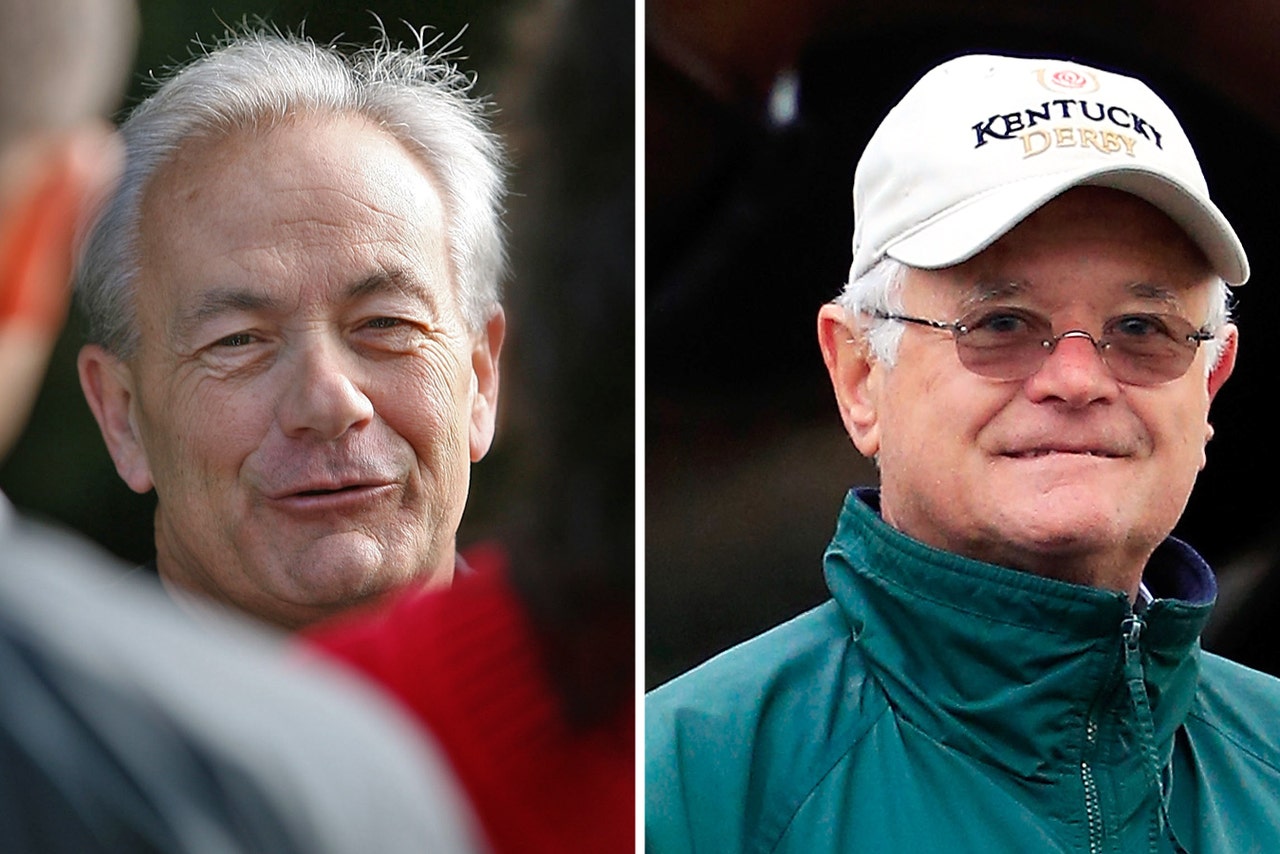 When California Chrome and trainer Art Sherman nearly completed a Triple Crown sweep earlier this year, the duo didn't have a bigger fan in the thoroughbred racing community than Jerry Hollendorfer.
A California-based trainer like Sherman, Hollendorfer was without his top horse at the time, as Shared Belief was still recovering from a quarter crack suffered in January. So it only made sense for Hollendorfer to root for his former neighbor, good buddy and rival Sherman as Chrome chased history.
"You have to pull for the California horses if you're from California, so I think everybody out here was hoping that California Chrome would go all the way," Hollendorfer told FOX Sports in a phone interview Monday.
California Chrome came up short, of course, finishing a disappointing fourth in the Belmont Stakes, and then was winded and finished sixth in his return to the track in September, at the Pennsylvania Derby.
Neither of those losses means a whole lot now to Sherman, who says that Chrome looks better than ever heading into the Breeders' Cup Classic, but when Chrome takes to the gate along with 13 other horses with a $5 million purse at stake Saturday, neither he nor his trainer should expect to have Hollendorfer in their corner, again.
That's because Shared Belief is fully recovered, undefeated and in the field, and it's he, not California Chrome, who is considered the favorite to claim the Classic --€" with a Horse of the Year nod likely to follow if he does.
"Everybody's rivals on the racetrack, when you're running," Hollendorfer said of the competition with Sherman and Chrome, who could also make a strong Horse of the Year case with a win in the Classic. "Outside of that, you have friends that you know and do things with, but when you're running, there's not too many friends."
The relationship between Sherman and Hollendorfer dates more than 30 years, when the two were neighbors, along with fellow trainer Lonnie Arterburn, at an apartment complex in San Mateo, Calif.
Sherman jokes that he spent years chasing Hollendorfer --€" the winningest Northern California-based trainer of all time --€" when the two were fixtures at Golden Gate Fields and Bay Meadows early in their training careers, and says that over the last few decades, he came to respect Hollendorfer and appreciate him as a friend when he wasn't busy losing to him.
"He's a pretty intense kind of guy, and you don't really get to know him until you get him away from the track," Sherman told FOX Sports. "At the track, he's kind of all business, one of those guys who doesn't have a lot of patience for you, but when you get him away from the racetrack, he's a pretty cool guy."
Cool enough, anyway, that Sherman allowed Shared Belief to stay in his barn at Los Alamitos before the 3-year-old gelding won the Grade II Los Alamitos Derby in July --€" a favor that both trainers said they'd never think twice about extending for their longtime counterpart.
"(Jerry) knew that I'd be watching over him and he wanted a good barn, somebody he could trust around there, which was fine with me," Sherman said. "I gladly did it, and he would do the same for me."
"I liked him a lot," Sherman added, of Shared Belief. "He's not a real robust type of horse, but he's put together nice, no wasted motion, and he does everything right. He's a pretty cool horse to be around."
Shared Belief will also almost certainly be the horse to beat at Santa Anita Park, a label and a sense of pressure that Sherman is more than happy to pass along to someone else's barn after California Chrome's spring in the spotlight.
"We've been friends for years, and now it's kind of ironic (that Jerry and I have the top two horses in the race)," Sherman said. "I'm just glad that he's the favorite to get that target off of my back for a while."
For his part, Hollendorfer isn't underestimating Chrome or any of the other competitors in a field that also includes Belmont winner Tonalist and the Bob Baffert-trained Bayern, among others.
"I'm concentrating on my horse, and I know that when we walk over there, we have to beat everybody," Hollendorfer said. "Everybody's trying to make this California Chrome vs. Shared Belief, but there's a whole bunch of other folks that think that they've got a great chance of winning, and the way races come up, I couldn't disagree with them."
Deep down, though, both Hollendorfer and Sherman know that if they have to lose to someone, they'd prefer it be each other.
"What Art did when he won the Derby and the Preakness is that he showed what a really great horseman he is, because he trained (California Chrome) his way and he got him to win two major races," Hollendorfer said. "... I can only say that (Shared Belief) has done everything that we've ever asked him to do. I'm quite confident that he's going to be ready, and we'll see what happens when the gate opens."
Added Sherman: "Whatever happens, you can't take anything away from (California Chrome). He won six in a row and beat everybody, went across country and met a lot of nice people. They're memories that you always have, and I'll tell you -- when you win the Kentucky Derby, that's the race.
"I don't care what any trainer says. You're always in the record books. You could win 100 stakes and the first thing coming out of people's mouths is, 'Did you ever win the Kentucky Derby?' So at least I've got that in my resume, now. No matter what happens, they can't take that away from me."
"If I don't win it, I'm sure that I'd be just as happy for (Hollendorfer) if he wins it as anybody in the race," Sherman continued. "It's a tough race to win, and the best horse should win. I just hope we all get a fair shake and that we're head-to-head turning for home so we can see who's got the best horse."
You can follow Sam Gardner on Twitter or email him at samgardnerfox@gmail.com.
---