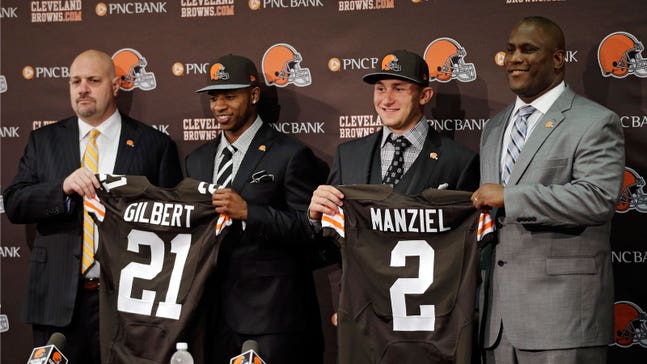 Breaking down the Big 12 (and Texas A&M's) NFL Draft
Updated
Mar. 4, 2020 8:43 p.m. ET

All 256 picks have come and gone, and the Big 12's disappointing weekend at the NFL Draft was well-stocked with intrigue. Some thoughts and notes:

-- You've heard a lot about Texas' drought, and for good reason. It's a huge deal. The Longhorns were shut out of the draft for the first time since 1937, which has a lot more meaning than just the end of a 76-year streak when you look a little deeper.

For one--and I tweeted this out just after it happened--but if Mack Brown had any allies who thought he was wronged after the season, they're going to have a much harder time defending their position after this weekend. Yes, Texas was left without a pick, but Jackson Jeffcoat was really the only major snub. That's troubling. He sounded like a middle-rounder for most of the draft process, but his durability issues (ankle injury as a freshman and major pectoral injuries as a sophomore and junior) and less-than-ideal technique surely were the reason for his tumble. He also didn't make a ton of improvement from his freshman year to his senior season, and though his production was strong this season, when I talked with Big 12 coaches the last few years about defensive guys they truly feared, his name rarely, if ever, came up. They wouldn't shut up about Jason Verrett and Arthur Brown, who was drafted in the second round last year.

Mike Davis had a shot to get drafted, but his questionable hands outweighed his ridiculous speed. Still, he caught 200 balls in four years at Texas in an offense that struggled for much of that time and still didn't get drafted? That kind of thing can't happen under Charlie Strong if he wants to continue recruiting well with sharks like Texas A&M and Baylor swimming around competing for the state's best prospects.

Beyond Texas, though, what does it say when the Big 12's Defensive Player of the Year doesn't get drafted? Not a good look, and if Mack was still around, you can bet this year's draft would be a special brand of kryptonite on the recruiting trail for the Longhorns.

I doubt this has much effect on Texas yet, though. Charlie Strong had four Louisville players drafted, including three first rounders. By the way, Texas had the same number of first rounders since 2008. Two were defensive backs.

Garrett Gilbert getting drafted in the same year as Texas' shutout only adds a gigantic amount of insult to the injury.

On the bright side for whatever sliver of Texas fans still think Mack deserved to keep it going, he did get the Longhorns to within a game of the Big 12 title with a team who didn't have a player drafted this year. Let's have a hand for silver linings!

-- As for Jeffcoat, who signed an free agent deal with the Seattle Seahawks, he shouldn't sweat it. It's insane that the All-American wasn't drafted, but it was just as insane when Oklahoma safety Tony Jefferson met the same fate in last year's draft. He responded by making the Arizona Cardinals, starting two games and making 24 tackles as a rookie in a young, promising secondary. Jeffcoat is a good kid and a smart guy. If he works hard and stays healthy, it's very, very easy to see him making an impact in the NFL. His chance will come, and I'm betting he takes advantage.

-- On the other side of the state, Texas A&M had a banner year in the draft, which will only help them even more in recruiting. The Aggies had two top 10 picks and some guy named Johnny Manziel had hopes of doing the same, though he slipped to Cleveland at No. 22. During the first round, I had two different Big 12 coaches shoot me a message wondering why Mike Sherman doesn't get more credit for the Aggies' rise. He brought in a pair of true freshman tackles in Jake Matthews and Luke Joeckel who started immediately and developed into top 10 picks. He also brought Mike Evans and Johnny Manziel on campus. I tend to give Kevin Sumlin a little more credit for turning Evans into more than just a big body at receiver, but Sherman laid a fantastic foundation for Sumlin to build on as the Aggies moved to the SEC, especially along the offensive line.

-- The Big 12 has the fewest draftees of the Power 5 conferences, and the number of draft picks compared to the other four is a major concern that mirrors what we've seen from the league on the recruiting trail in recent years. It's fallen far behind the SEC and ACC in terms of signing the nation's top prospects, and the Big 12 had just 17 players selected. Five of those were in the seventh round. The SEC led the way with 49, followed by the ACC with 42 and the Pac-12 with 34. The Big Ten had 30. That whole "The Big 12 was young last year!" excuse doesn't hold up when you consider that 21 All-Big 12 first-teamers were in the draft pool. Just 10 of those 21 were drafted. That is not good, friends.

-- Last year was largely a defensive year in the Big 12, so it's no surprise that the first two Big 12 talents drafted were cornerbacks. That was the league's deepest position in 2013, and CBs (4) were the most drafted position in the league. That said, just eight defenders were drafted. Nine offensive players heard their names called.

-- Before the draft, I said TCU's Jason Verrett and Texas Tech's Jace Amaro were the surest things (if there is such a thing) in the Big 12's draft class. Verrett landed in a good spot with tons of opportunity in San Diego, who fielded one of the NFL's worst secondaries a year ago. Amaro will boost the Jets' offense, but for any young player, getting consistent touches in an offense without great quarterback play is never easy. Geno Smith still has a long way to go.

-- The dark horse for the Big 12's best draft pick in five years: Charles Sims. The West Virginia RB can do a little bit of everything and any NFL offense could have found a place for him to contribute, considering his ability as a runner, a pass-catcher and his size as a blocker. He'll find a place in Tampa Bay, as long as he can fend off any viral infections in the locker room.

-- The Washington Redskins are now Baylor: Northeast Edition. Everybody knows what Robert Griffin III has done and plenty of folks in Waco tune into see DC's team play on Sundays. With Lache Seastrunk now suiting up for the NFL's least politically correct team, you can bet that number will only grow. Griffin and Seastrunk have known each other awhile as former central Texas high school stars, and Washington now employs two of the best and most athletic Bears ever.

-- Speaking of Bears' athleticism, Demetri Goodson went from one of the best, craziest stories in college football to one of the best, craziest stories of the NFL Draft. How much more do you need to see as evidence of how unpredictable the transition from high school to college and from college to the pros can be? Jackson Jeffcoat began his career as the nation's No. 2 overall recruit, goes to one of college football's blue bloods and doesn't get drafted.
Goodson began his career as a point guard at Gonzaga, who doesn't even have a football program, and eventually gets drafted into the NFL after transferring back home to Baylor. How do you explain that one?  

-- A quick note about Oklahoma: The Sooners had four players drafted and three of them did so despite dealing with major injuries during the draft process. Aaron Colvin dropped from possible first-rounder to the fourth round after tearing his ACL at the Senior Bowl. Corey Nelson (pectoral) and Trey Millard (knee) were both steals in the seventh round that would have gone much higher if their senior seasons had ended differently.

-- Ahmad Dixon is why I love the draft. I hate a lot of things about the draft. Every mock draft is more mockable than the last. It takes about, oh, 30 minutes before it's painfully obvious that nobody knows anything about what any team will actually do in the draft. There's so much gamesmanship and lying and NFL teams mostly use the media to serve their own interests and strategies. All the talk is so pointless every year.
Then Ahmad Dixon happens and reminds me why I love it every year. All the horribly annoying aspects of the draft tend to distract us from what it's really about: A whole bunch of dreams coming true. Dixon was drafted by his home state Dallas Cowboys and got very emotional during his introductory conference call. He couldn't stop crying. I love that, and I love the draft. I just hate everything that comes before the actual draft.


Notable undrafted players:
-- Jackson Jeffcoat, DE, Texas: We've already covered him quite a bit. He signed with the Seahawks.
-- Josh Stewart, WR, OSU: We're quick to judge early entrants, but everybody's situation is different. Another year likely wouldn't have changed much about his draft status, but I hope he gets his degree. Steward was the only one of the three Big 12 early entrants who went undrafted in a year when 38 of a record 98 early entrants weren't drafted. He's signed with the Tennessee Titans.
-- Gabe Ikard, OL, Oklahoma: He was the Big 12's best center last season, and the converted tight end doesn't have the size NFL teams want from their linemen at 6-3, 298 pounds. However, he's got good technique and still has a lot of upside. He also signed with the Titans.
-- Casey Pachall, QB, TCU: Considering we never really saw him have major success against major teams outside of shredding a horrible Baylor defense in 2011, it's fair to say his impact on TCU's program was overrated throughout an up and down career in Fort Worth. He hasn't signed yet, but he's accurate and has good size. I'll be interested to see what he does when he gets in a minicamp somewhere.
-- Eric Ward, WR, Texas Tech: He was remarkably consistent in his career at Tech, but doesn't have great speed or athleticism. He's a good route runner with good hands, though, and signed a deal with the Titans, who apparently are using the Big 12 as a makeshift farm system. 

---