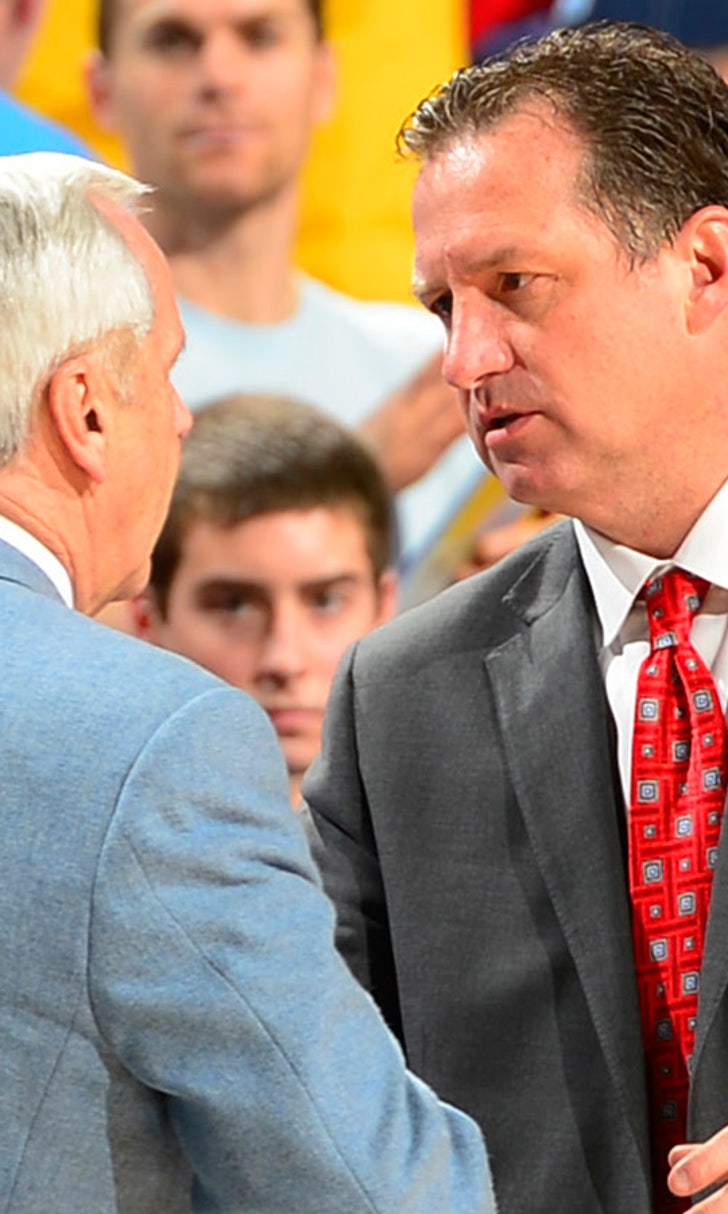 Bragging rights on line in underrated UNC-NC State matchup
BY foxsports • January 30, 2014
North Carolina-Duke is one of the best -- and most well-known -- rivalries in all of sports. Few would dispute that.
But that doesn't mean the North Carolina-NC State rivalry isn't just as heated, if not more so.
Many North Carolina fans choose to pretend it doesn't matter, though, because nothing antagonizes NC State fans quite as much as the dismissiveness -- some might even call it snobbishness -- from the Tar Heel faithful, who have always looked down their noses at the school 20-some miles down I-40. Some of it is intentional by UNC fans to rankle the Wolfpack. Some of it is denial. But a younger generation of Tar Heels grew up without NC State basketball mattering, and they don't have much perspective of the program's history and how competitive the rivalry has been.
Why not? NC State had lost 13 straight games to UNC dating back to 2007 before snapping that streak with a home win last year. But that was the last high moment of a season that ended disappointingly.
UNC head coach Roy Williams certainly doesn't lack that historical perspective, though.
From 1947-52, UNC lost 14 in a row to NC State and 20 of 21 from 1947-54. Williams was hardly old enough to remember that, but he does remember the next dominant stretch the Wolfpack enjoyed: 1972-75, when NC State won nine straight against UNC. Wiliams heard about it growing up in Asheville, N.C., from his NC State-fan friends. And he had to hear it about during that nine-game stretch, during which Williams was the head coach at Charles D. Owen High School in Black Mountain, N.C.
He heard about it when the undefeated '74 NC State team won the national championship -- back when UNC's Dean Smith had not yet broken through and won a title of his own. UNC leads the all-time series 148-76, but 52 of those losses have come in Williams' lifetime. He pretty much heard about it too much for his liking.
"During my formative years, they were beating us up too much to make me happy," Williams said in 2012.
Since his arrival back home to Chapel Hill in the fall of 2003, Williams has tried to make sure the opposite is true: the Tar Heels have dropped just two games in the rvialry under his watch, including a 10-0 mark at home. Leading into a matchup between the two teams in 2008, he said he'd "rather beat State than eat." His team proceeded to mercilessly pound the Wolfpack by 31 points at home.
To be fair to NC State, though, it's not like they've been all that great since Williams' arrival anyway. They did go to the NCAA Tournament in the first three years Williams was there (he won every meeting with NC State in those seasons), but never made it past the Sweet 16. His first loss to NC State came in 2007. The Wolfpack was an NIT team that year (and again in 2010), finished with a losing record in 2008, didn't make any postseason in 2009 or 2011. UNC won two national titles in that span.
The game changed, though, in 2012. Or so everyone thought. Head coach Mark Gottfried took over at NC State, and the 2012 Wolfpack's Sweet 16 run was one of the pleasant surprises in college basketball. But not even that NC State team still couldn't beat North Carolina. After the first of three losses in the 2012 season to the Tar Heels -- this one at UNC, by 19 points -- then-junior Scott Wood was asked how frustrating it was to have never beaten the Tar Heels in his career.
"Has your wife ever cheated on you?" Wood said. "It's probably that frustrating."
Well, OK then.
The Wolfpack finally got that win over UNC in 2013, snapping a 10-game losing streak to the Tar Heels. The game in Chapel Hill, though, was a disaster for the Wolfpack as star junior C.J. Leslie had as many turnovers as points (6). Still, 2012 and 2013 were noteworthy years for the rivalry: NC State finally stood as an equal -- or at least close enough.
This year will be no different.
NC State is 14-7 overall and 4-4 in the ACC, while North Carolina is 13-7 and 3-4. The Tar Heels have won two straight; NC State has won three in a row.
It's hard to know what to predict with either group at this point -- both are young and inexperienced -- but one thing is for sure: ans of one team are going to have to hear about it.
At least until the next meeting.
---