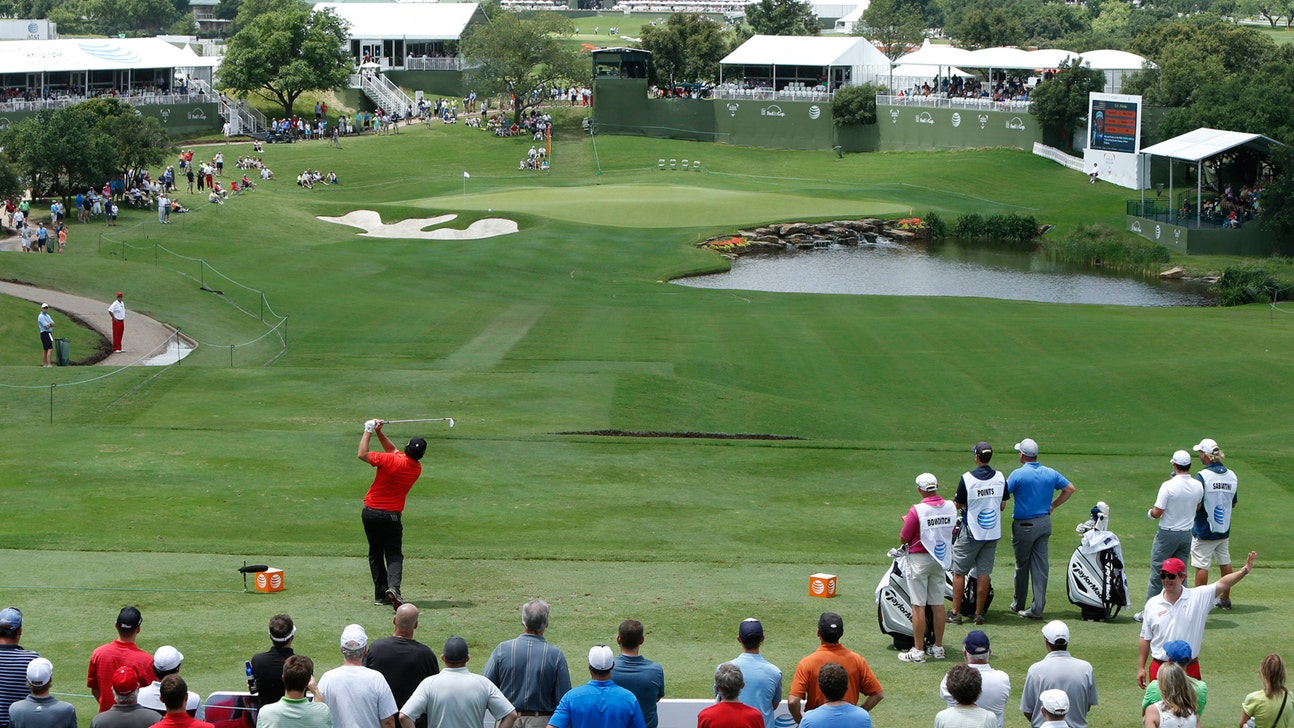 Bowditch shoots 65 to keep lead, Spieth 6 back at Nelson
Published
May. 31, 2015 2:38 p.m. ET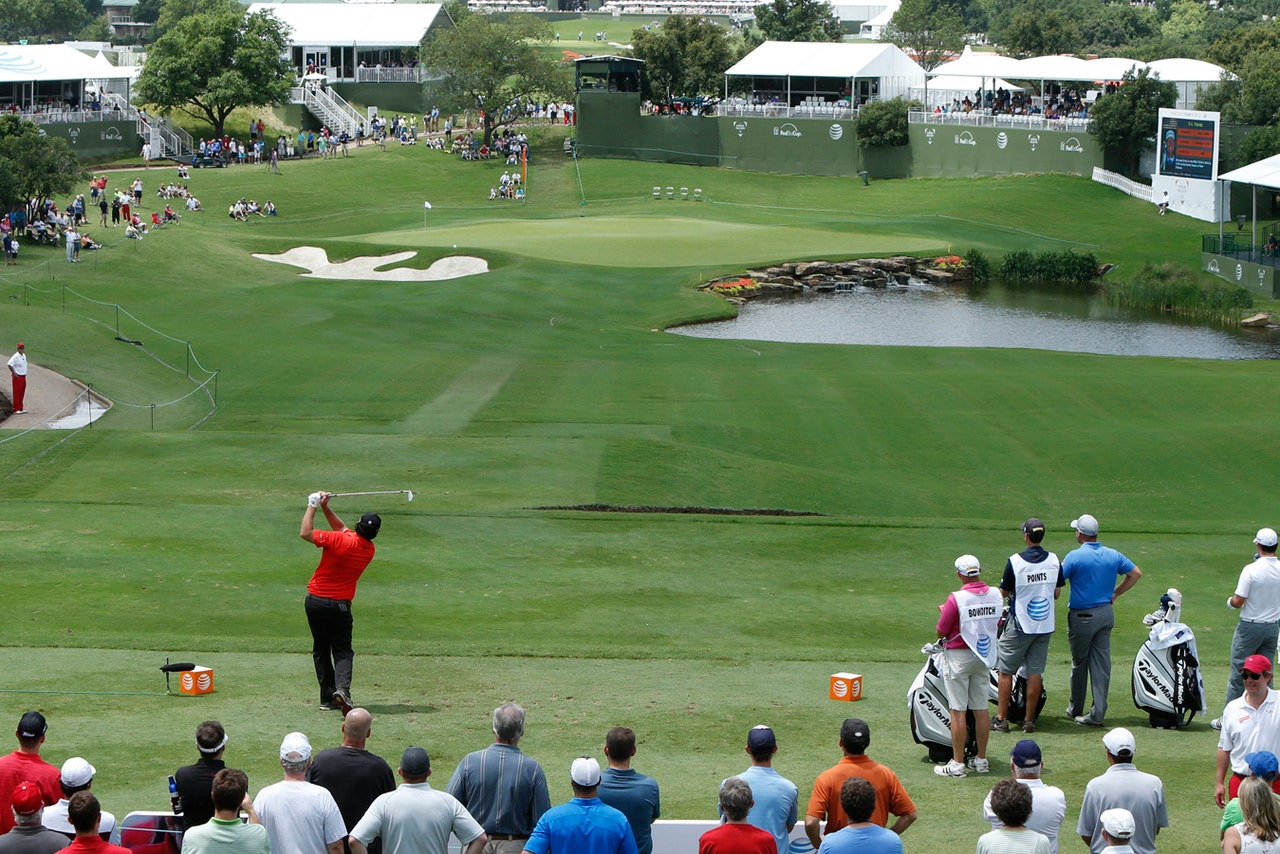 IRVING, Texas (AP) -- Steven Bowditch positioned himself Saturday for his second PGA Tour win in Texas. Hometown favorite Jordan Spieth might have to keep waiting for his first.
Bowditch shot a 4-under 65 on Saturday in the AT&T Byron Nelson to take a two-stroke lead and leave Spieth six shots back heading into the final round.
On a mostly sunny day that started with the second straight three-hour delay because of earlier rain, Bowditch got to 13-under 195. The Australian, who won the Texas Open last year in San Antonio for his lone PGA Tour title, was much steadier a day after a wild second round of seven birdies and six bogeys.
"I was able to grind it out and still create not a bad golf score yesterday when things were looking not so good," Bowditch said. "It was pretty important yesterday I felt just to put myself in position to go again."
Dustin Johnson was in the group tied for second after the day's low round of 62 on the rain-altered par 69 at TPC Four Seasons.
Jonathan Randolph, playing with Spieth and sitting 266 spots behind him in the world ranking, briefly held the lead but went in the water on 18 for a double bogey that dropped him into a tie with Johnson, Texan Jimmy Walker, Scott Pinckney and Jon Curran. Pinckney shot 64, Randolph 65, and Walker and Curran 67.
Spieth had a 68. The Masters champion was tied for 18th.
"I just didn't have it," said Spieth, whose first PGA Tour start was in the Nelson as a 16-year-old amateur five years ago.
Curran, the rookie who shared the second-round lead with Bowditch and Walker, rallied with three straight birdies late in the round.
Clouds gradually disappeared during the afternoon and the forecast is clear for Sunday. But the course is still soggy enough that the normally par-4 14th will remain a pitch-and-putt par 3 barely longer than 100 yards for the third straight round.
PGA Tour officials believe it's the first par-69 course in records going back to 1983. Threesomes will play off both tees again Sunday to give the course more time to dry, and the final par total will be 277 after the first round played at the normal 70.
"All the players were talking about it at the start of this week, it's more than likely going to be a 54-hole tournament, even possibly a 36-hole tournament," Bowditch said. "To be sitting here Saturday night -- I think it's a perfect day tomorrow -- it's pretty amazing."
Bowditch, who held the lead alone after the first round, battled some marshy conditions to stay on top. The 31-year-old who lives in the Dallas area had his only bogey at No. 9, when his tee shot went way right into a water hazard and he had to take the drop in a mushy part of the rough.
The squish of his footsteps could be heard as he spent several minutes discussing his lie with rules official Peter Dachisen before finally hitting. Bowditch shook his head as he walked while the ball rolled onto a cart path behind a bunker left of the hole. He missed a par putt.
"We couldn't find anywhere to drop it," Bowditch said. "So, just took time. Probably happened all day with everyone."
Spieth, the world No. 2 and FedEx Cup points leader, missed short birdie putts on his first two holes and never could make a strong push despite another large gallery urging every shot to go in.
That almost happened on the best spectator hole, the par-3 17th, when Spieth's tee shot landed less than a foot from the pin before backing up and settling about 8 feet away.
Fittingly on a frustrating day, Spieth left the putt on the edge of the cup, bending down to stare at it for a few seconds in case it dropped before the Dallas native tapped it in.
"When I was walking up there I was a little upset it wasn't a tap-in," said Spieth, who finished second in the other three Texas events this year -- including the water-logged Colonial last week -- and got his other tour win at the Valspar Championship in Florida a month before the Masters. "It was a really cool shot. Fun to hit. Crowd went crazy."
Randolph played a six-hole stretch in 5 under, including an eagle at the par-5 seventh. He was a stroke up on Bowditch after making about a 25-footer at the par-4 12th, with Bowditch pulling even again after almost driving the green on the 323-yard, par-4 11th.
Johnson, who won the Cadillac Championship at Doral in March for his first win since a six-month hiatus for personal reasons, had four birdies in five holes on the front and finished his round by putting his approach at the par-4 18th inside 5 feet for a birdie.
"It's a fun course to play," said Johnson, who has finished seventh or better in three of his past four Nelson appearances going back to 2009. "Got to hit all kinds of shots. If you're hitting the ball well, you can make a lot of birdies." 
---