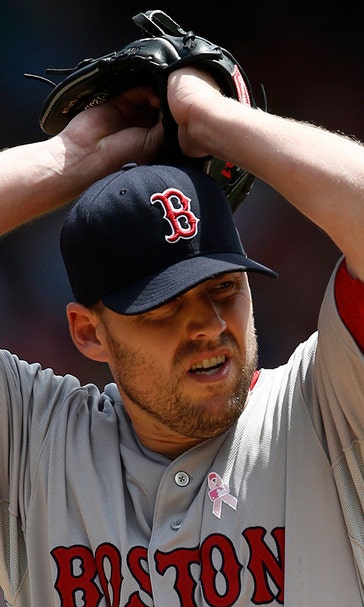 Boston's Lackey making Texas his home away from home
BY Shawn Ramsey • May 11, 2014
ARLINGTON, Texas - John Lackey made his 20th career start at Globe Life Park, breaking a tie with Seattle's Felix Hernandez for the most all-time by an opponent and the Red Sox pitcher looked very much at home against the Texas Rangers on Sunday afternoon.
Lackey, who is from Abilene, Texas, about 160 miles west of Arlington, pitched seven innings giving up only two runs on seven hits against the Rangers, taking his eighth-career win in Texas, third-most ever by an opponent behind only Barry Zito and Bartolo Colon.
"Felt pretty good, I mean, the results were pretty good," Lackey said after his outing Sunday. "Guys really helped me out getting those early runs in, it's nice to go out there when you got a 3-0 lead, it kind of lets you relax a little bit and pound the strike zone."
Despite Lackey pitching often in Arlington, he doesn't necessarily enjoy it with the hitter-friendly conditions.
"I don't think anybody has really enjoyed pitching here, for the most part," Lackey said. "I've done a little bit of everything here, I've been here so many times and I've had some good ones, I've had some really bad ones and a lot in between. Today was a good one. Like I said the guys scoring early runs really helped out."
The Rangers meanwhile were unable to capitalize on run opportunities in the fourth and seventh innings against Lackey and finished the 2-3 home stand against Colorado and Boston allowing 22 runs in the losses with both wins coming in the form of shutouts.
"I wouldn't say we're in a funk." Manager Ron Washington said. "We're just not hitting on the cylinders, we're not pitching on the same time, we're certainly not as consistent as we are capable of being on the offensive side. We had some opportunities in that game today to make a difference in that game, we just didn't come through. I think you have to give credit to Lackey for making pitches in situations when we had opportunities."
Despite the Rangers dropping to .500 after Sunday afternoon's loss, Washington isn't worried the team in the long haul.
"It's the way baseball flows," Washington said. "You know you got a lot of games left to be played and you have to keep working and you have to keep believing, and that's something we are certainly gonna to do, keep working and keep believing, and it will turn around."
Follow Shawn Ramsey on Twitter: @ShawnPRamsey
---