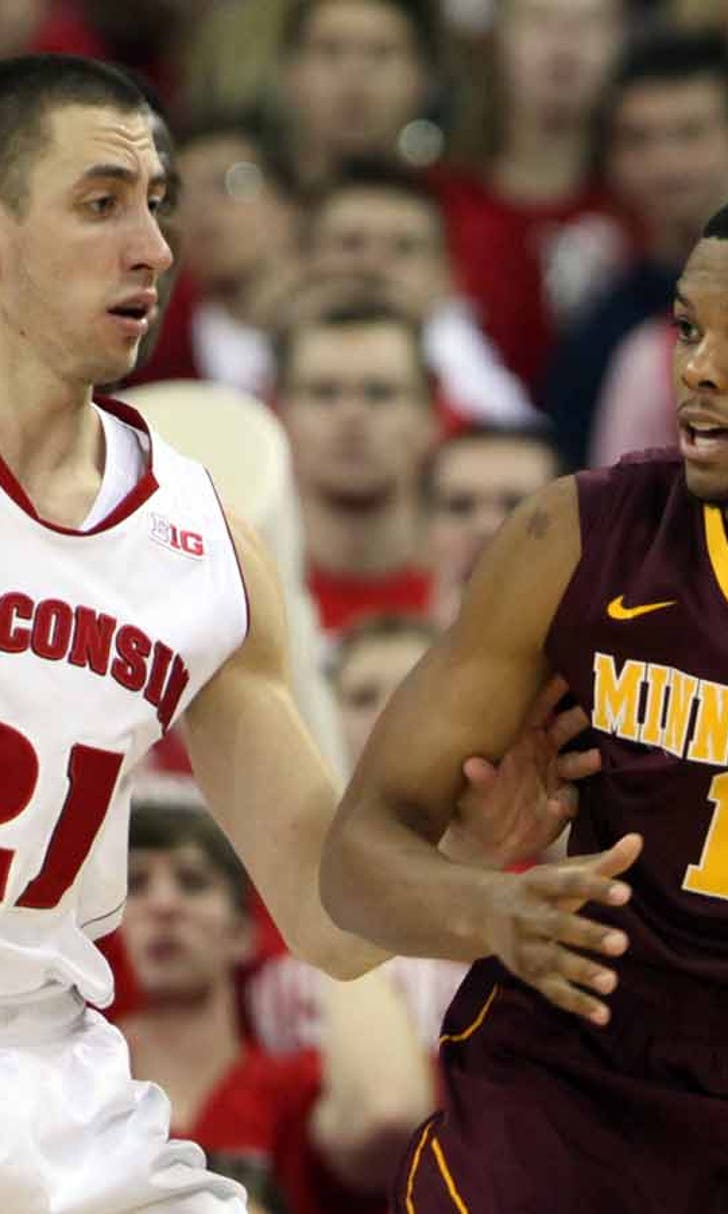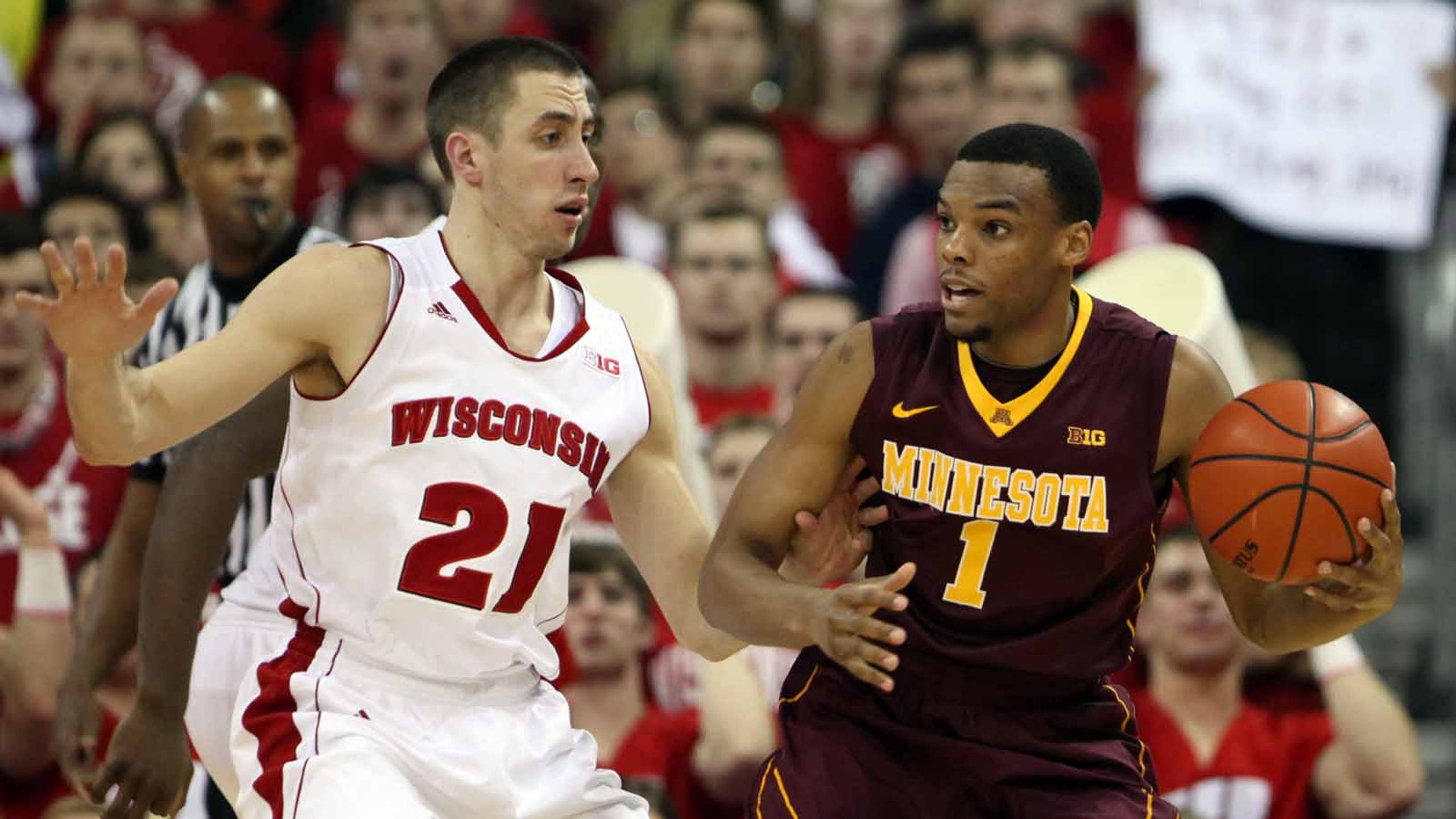 Border battle heats up at Big Ten tournament
BY foxsports • March 14, 2014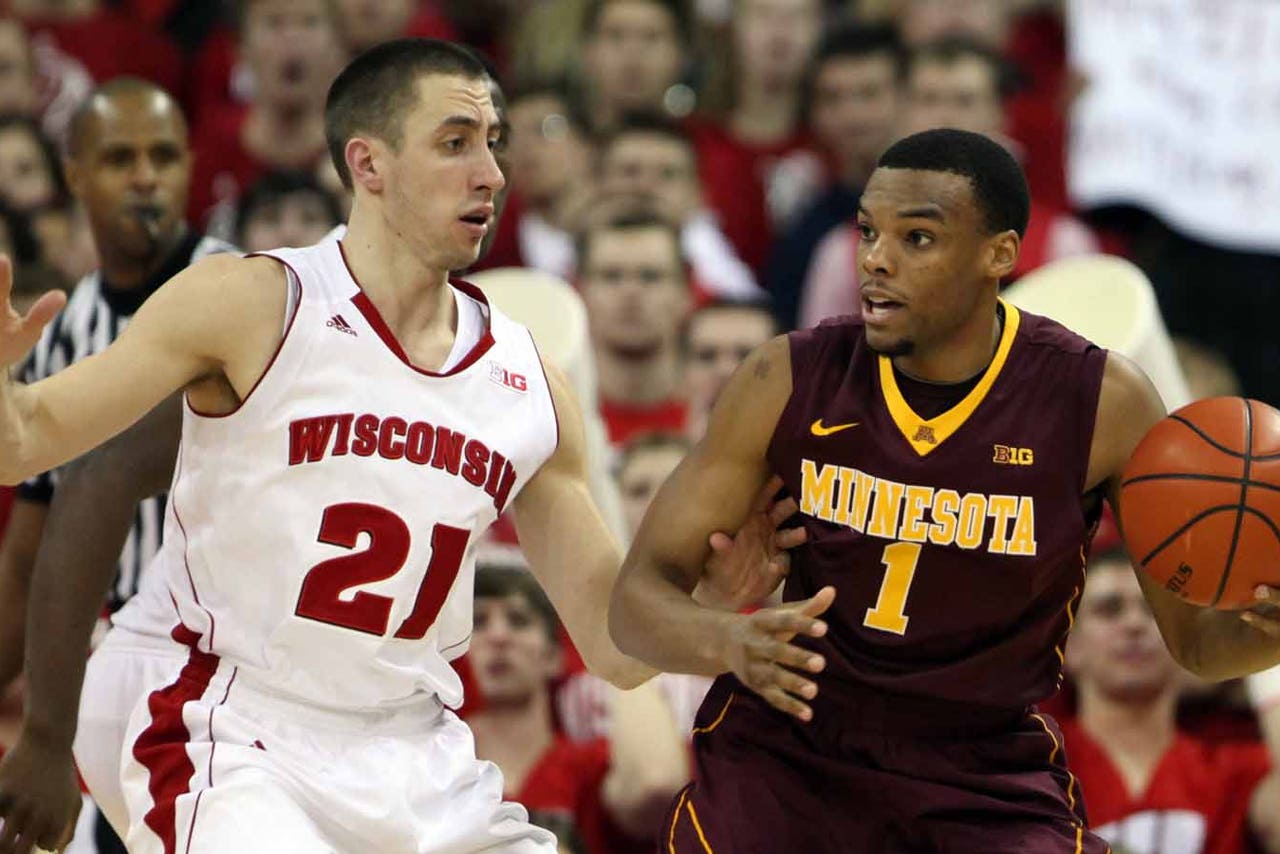 INDIANAPOLIS -- Victory was less than 30 minutes old, the Minnesota locker room still aglow with players basking in a performance that saved their NCAA tournament chances. But, this being Big Ten tournament play and all, they couldn't celebrate without being asked about the next road bump standing in their way.
And judging from player responses, what a road bump it is.
No. 7 seed Minnesota (20-12) will play No. 2 Wisconsin (25-6) at 5:30 p.m. CT Friday at Bankers Life Fieldhouse in a Big Ten quarterfinal game. Though the teams split two regular season matchups, Gophers players recognized how vastly improved the Badgers have played of late.
Wisconsin closed the regular season with a road loss against Nebraska. Before that game, however, the Badgers won eight consecutive conference games -- the team's longest streak since 1940-41. Included during that eight-game stretch was a 78-70 victory against Minnesota at the Kohl Center. And, if Wisconsin runs the table this weekend, the Badgers very well could set themselves up for a No. 1 seed in the NCAA tournament.
As if Minnesota needed any more motivation to perform well.
"It's definitely a big rivalry game," said Gophers guard DeAndre Mathieu, who scored 13 points in Minnesota's 63-56 victory against No. 10 seed Penn State in a Big Ten tournament opener Thursday night. "If guys don't come ready to play for that one, then something must be wrong with us. We're going to come out fired up tomorrow and just ready to get after it, especially after they just embarrassed us in Madison."
In particular, Minnesota players singled out the performance of freshman forward Nigel Hayes and center Frank Kaminsky. During the teams' matchup in Madison, Kaminsky tallied 17 points with six rebounds, while Hayes came off the bench and added 15 points and four rebounds.
"They always play great at home," Gophers center Elliott Eliason said. "But they've been playing so much better. Nigel Hayes has stepped up and played great for the Badgers. I think he's going to be more of a focus for them. So just trying to control him, and Kaminsky is playing a lot better. I think they're really clicking at the right time. They're just a tough team if you don't turn them over. They're just very methodical and play really well. We've got a tough test for us tomorrow."
Kaminsky leads the Badgers in scoring (13.4 points) and rebounding (6.4 per game) and recently was named first-team all-Big Ten. Hayes, meanwhile, averages 8.0 points and 2.7 rebounds and was selected to the conference's all-freshman team and as the Big Ten's Sixth Man of the Year.
"We need to shut down their bigs," Minnesota center Maurice Walker said. "Last game, their bigs really hurt us. Kaminsky and Hayes. Hayes is great off the bounce. He has a great face-up game. We're going to have to contain him. Keep him off the glass and turn them over. They don't really turn the ball over much, but if we can get them out of their element and turn them over, that will lead to fast breaks. That's what we want to do. We want to rebound and run and play in transition."
Wisconsin leads the nation in fewest turnovers per game (8.2), and first-year Minnesota coach Richard Pitino has now seen up close why the Badgers have experienced so much success under coach Bo Ryan.
"They don't beat themselves," Pitino said. "It's a game of possessions, and we've got to take advantage of every opportunity we have versus them."
The frontcourt matchup has been a deciding factor in each of the teams' first two games. During Minnesota's 81-68 victory at Williams Arena earlier in the season, Walker scored 18 points with nine rebounds, and the Gophers tallied 48 points in the paint.
Still, one backcourt matchup to watch could be Mathieu against Badgers point guard Traevon Jackson. Mathieu scored 18 points after teammate Andre Hollins rolled his ankle early in the first half of the Gophers' victory against the Badgers. And he'll be tasked with making Jackson uncomfortable as he attempts to set the Badgers' offense.
"He's a really strong guard," Mathieu said. "He's really solid. He makes the team go. He gets them in their sets. He does everything they need him to do. He's really good."
Based on the regular season results, Friday's game should be good, too.
Follow Jesse Temple on Twitter
---