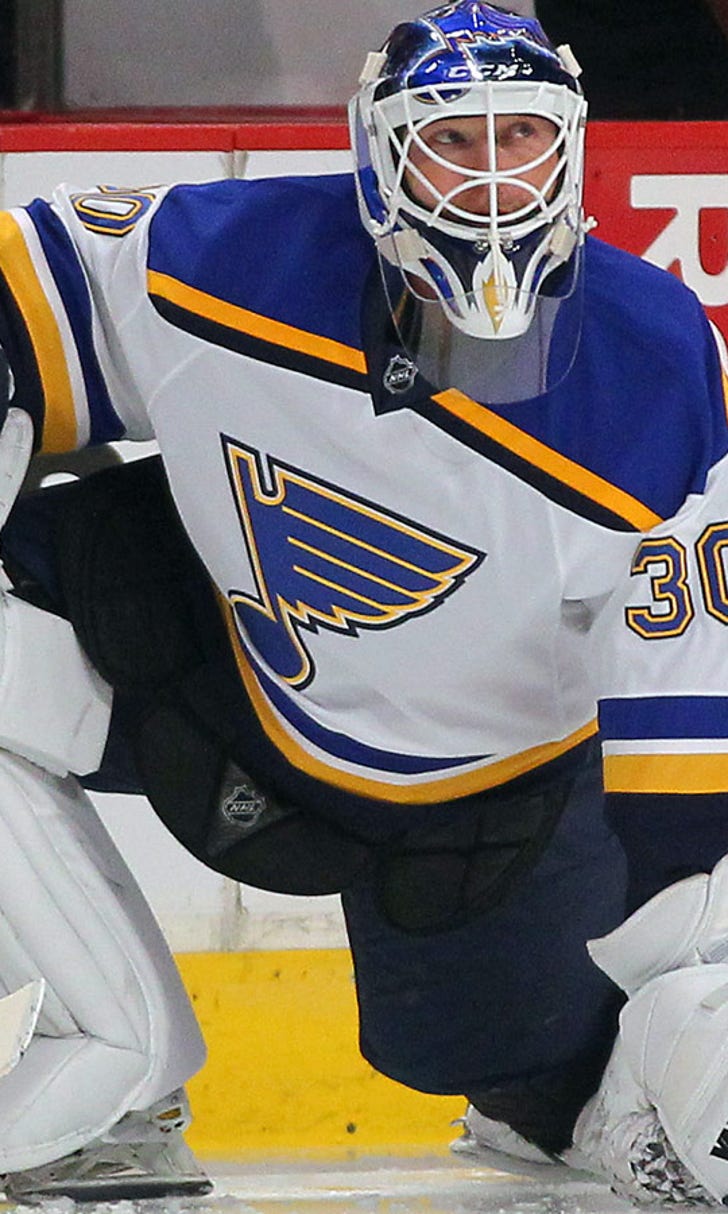 Blues celebrate goaltending greats as part of Heritage Night series
BY foxsports • January 15, 2016
The St. Louis Blues will celebrate some of the greatest goaltenders in club history as part of their special Heritage Night series, presented by Schnucks and Fox Sports Midwest, tonight and tomorrow night.  The festivities will begin with a dinner tonight starting at 5:45 p.m. at the Missouri Athletic Club (MAC) and carry-over to the following evening, when the Blues host the Montreal Canadiens at 6 p.m. at Scottrade Center.  The Goalies Night dinner and game will highlight past greats including the franchise's top two in all-time wins, Mike Liut and Curtis Joseph, NHL Hall of Famer, Grant Fuhr, NHL all-time wins leader, Martin Brodeur, and current goaltenders, Jake Allen and Brian Elliott. 
The Goalies Night dinner will feature each of the aforementioned past and present goaltenders and give fans a chance to relive some of their greatest highlights during a video presentation, as well as hear some of their most memorable stories during a program moderated by Blues television color analyst and former NHL goaltender, Darren Pang, and Blues radio play-by-play announcer, Chris Kerber.   The night will begin with a VIP reception (Sportsman Room, 4th floor) at 5:45 p.m., followed by a cocktail hour from 6-7 p.m. (Art Lounge, main lobby), dinner from 7-8 p.m. (Missouri Ballroom), and the program at 8 p.m.  
The Goalies Night celebration will continue on Saturday when the Blues host the Montreal Canadiens for they only time in the 2015-16 regular season. The first 15,000 fans in attendance will receive a special commemorative canvas featuring four past goaltending legends, including Glenn Hall, Mike Liut, Grant Fuhr and Curtis Joseph. 
Goalies Night is the second of three Heritage Night celebrations scheduled during the 2015-16 regular season as the Blues prepare for their 50th Anniversary 2016-17 season.  The club held Captains Night on Dec. 12 in the first Heritage Night while the series will culminate with Hull & Oates Night on Friday, April 1.
"As we look toward our 50th Anniversary season, we're honored to celebrate the rich heritage of the St. Louis Blues along with our fans," said Chris Zimmerman, President and CEO of Business Operations.  "Goalies Night will give the Blues and our fans a chance to appreciate some of the most popular and impactful players in our organization's history."
All three Heritage Nights are presented by Schnucks and Fox Sports Midwest.  For tickets to the upcoming dinners and games and for more information, please visit stlblues.com/heritage.
---