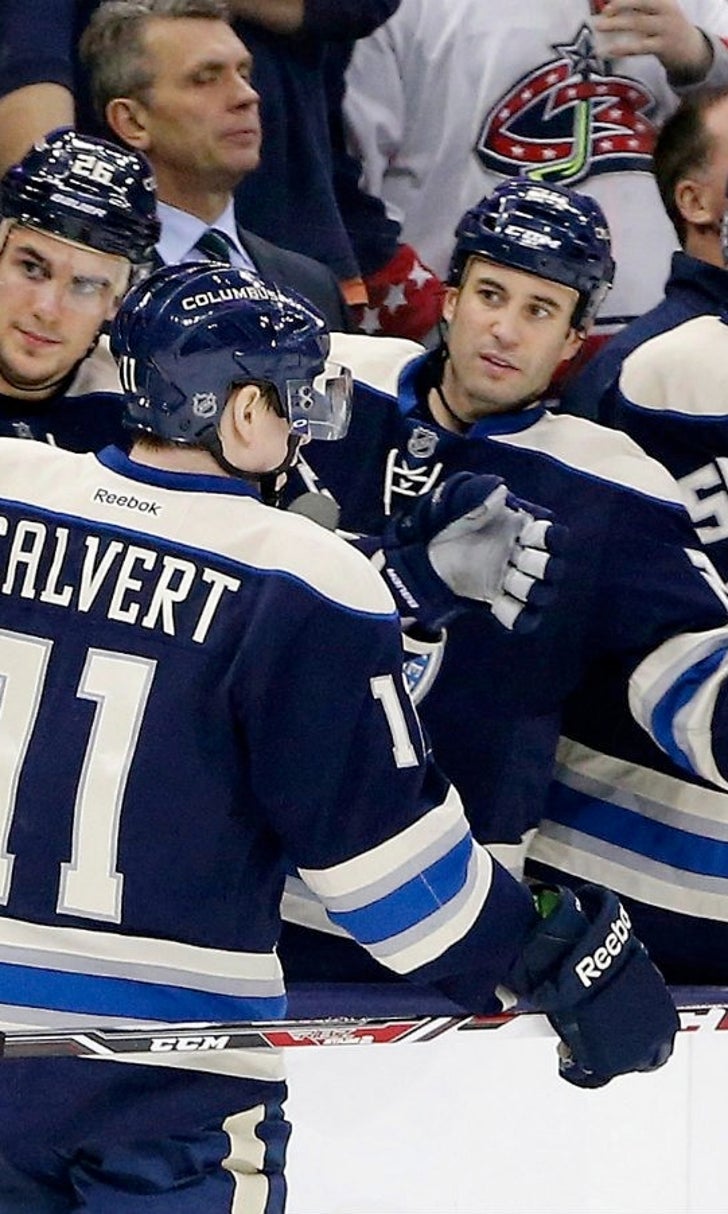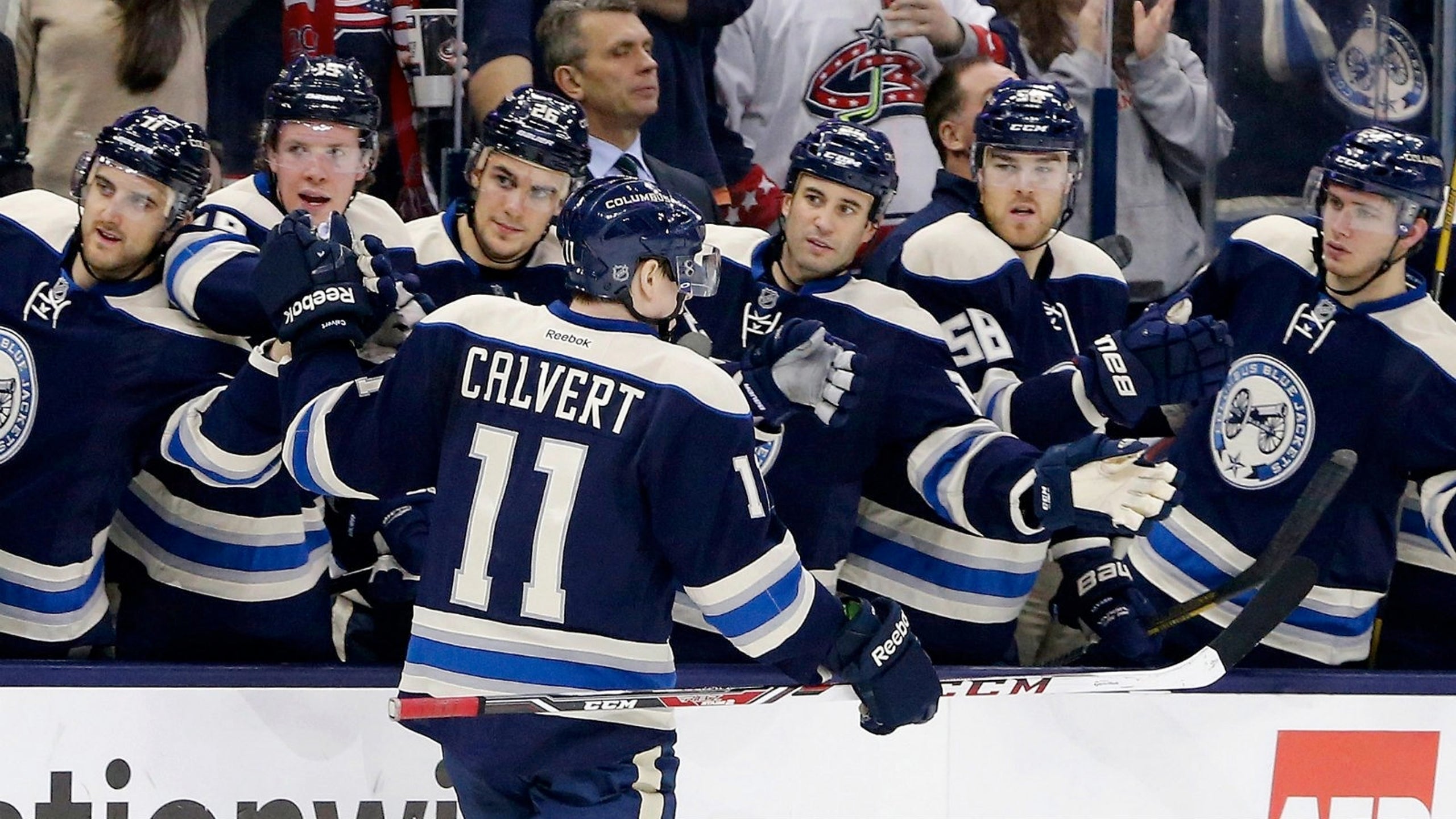 Blue Jackets win 8th straight, top Flyers 5-2
BY foxsports • January 23, 2014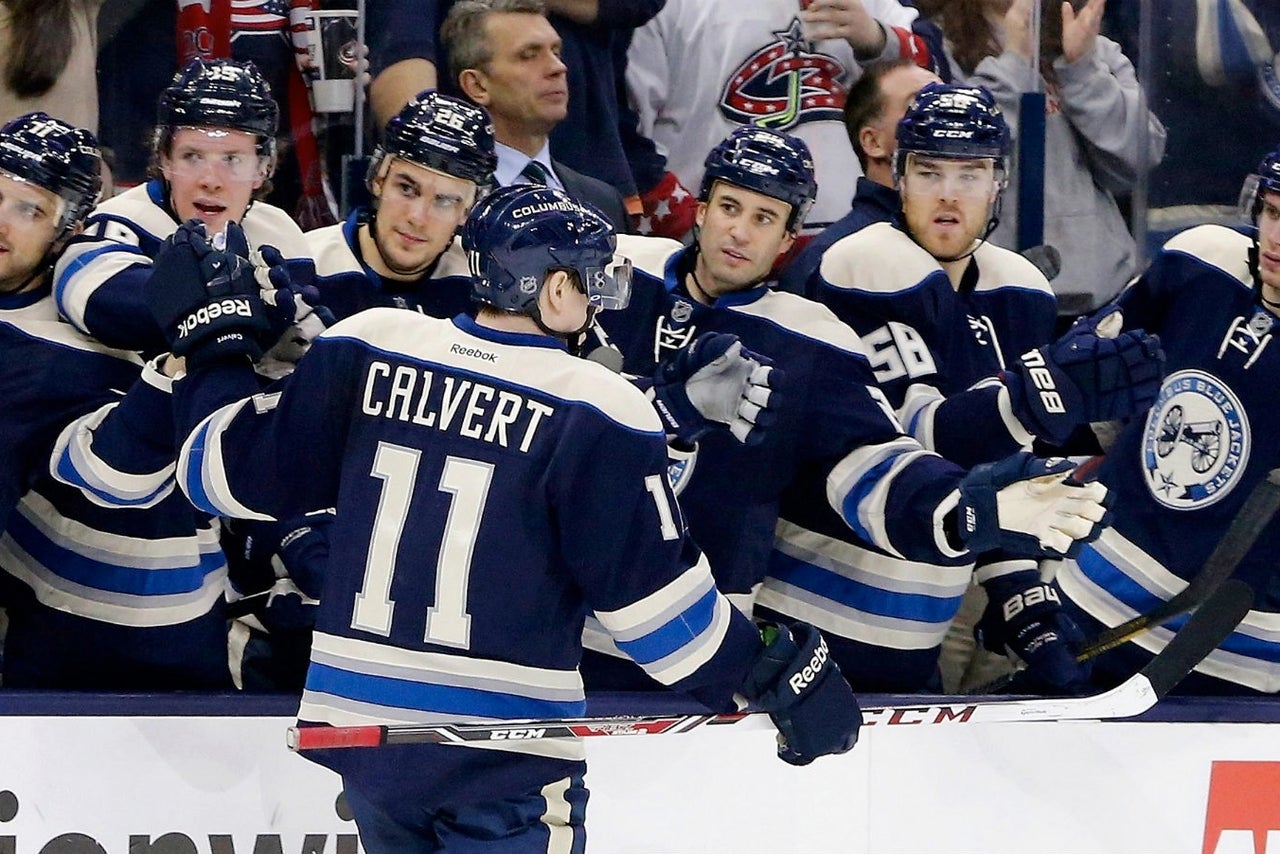 COLUMBUS, Ohio (AP) -- Relentless is the word Columbus forward Brandon Dubinsky chose to describe the surging Blue Jackets' style of play.
Dubinksy and Matt Calvert each had a goal and assist to lead Columbus to a team-record eighth-straight win -- the longest active streak in the league -- with a 5-2 victory over the Philadelphia Flyers on Thursday night in the franchise's 1,000th game.
Jack Johnson, Derek MacKenzie and Nathan Horton also scored for Columbus, which played their inaugural season in 2000 and has only made the playoffs once, but are finally showing real signs of promise.
"There's a confidence in the room now," Blue Jackets coach Todd Richards said. "I think there is an understanding of how we need to play, what we need to do as a group to have success."
The offense has come on of late, but the backbone has been Sergei Bobrovsky, last season's Vezina Trophy winner that goes to the league's top goalie. Bobrovsky finished with 26 saves in his first game against his former club to earn his seventh win in a row since returning from a groin injury.
"It's everybody from Bob all the way out that are contributing," Dubinsky said.
The Blue Jackets closed out the Flyers with four straight goals to improve to a league-best 9-0-1 record in January and are currently holding an Eastern Conference playoff spot.
"If you look at the standings we are still right there," Dubinsky said. "By no means can we be satisfied. Obviously it's a big accomplishment. We are happy, we are going to enjoy it tonight. We are going to come to work tomorrow and get ready for a tough game."
Brayden Schenn and Vincent Lecavalier scored for the Flyers, playing the second of an unscheduled back-to-back set after a snowstorm in Philadelphia pushed their game, a 3-2 loss to Carolina, to Wednesday. Philadelphia is 2-4-2 since winning 10 of 13.
Flyers coach Craig Berube said the Flyers' recent struggles are because of poor execution inside their blue line.
"It starts in our own end breaking the puck out," he said. "We are not doing a very good job of it. We end up spending too much time in our own end."
Backup Ray Emery got the nod in goal instead of Steve Mason and had 34 stops. Mason, acquired from the Blue Jackets in April, played against the Hurricanes and has yet to face his former team in two visits to Columbus.
The home crowd chided the former rookie of the year with chants of "We want Mason!" during the second and third periods.
The Flyers fell behind 1-0 at 8:20. Johnson's shot from the right boards bounced off the legs of Luke Schenn and eluded Emery for his third of the season.
Brayden Schenn tied it 1:56 in on a nice individual effort. He stripped the puck from Andy Murray at the Columbus blue line, then cut in on Bobrovsky, eventually scoring on his third rapid-fire shot for his 14th.
Lecavalier made it 2-1 just under six minutes later with his 11th, blasting a shot from the slot on the power play after a nice passing combination.
The Blue Jackets responded with two straight goals 4:49 apart to regain the lead, then added two more in the third period.
"We're slowly getting the feeling in the room that no matter what teams throw at us we seem to dig deep and come up with a win," MacKenzie said.
Corey Tropp's forecheck squirted the puck free to Artem Anisimov, who centered a short-range pass to MacKenzie that he chipped in for his third at 11:24.
Calvert was credited with the go-ahead score, his sixth, on a quirky power-play sequence. Philadelphia's attempted sure clear, hit a glass partition and stayed in their zone. James Wisniewski got the puck and sent a hard pass from the left circle that hit Calvert's turning skate in the crease and deflected into the goal. The play went to review and was upheld.
Dubinsky beat Emery with a wrist shot from the slot for his 11th at 3:29 of the third. Horton scored a highlight-reel goal three minutes later, stepping around Andrej Meszaros at the boards and powering a high shot past Emery for his fourth.
"This is something we've talked about as a group ... really trying to create an identity for our team and I think we've done that."
NOTES: The Blue Jackets look to continue their record run Saturday against visiting Buffalo. ... Philadelphia is 6-4-0 in the second of back-to-back games. ... Columbus is 12-7-1 in the Metropolitan Division, while Philadelphia is 9-8-3. ... Arguably the Flyers best player this season, Mason recently signed a three-year contract extension. However, he's 1-2-1 with a 4.21 goals against average in his last five starts, getting pulled twice.
---