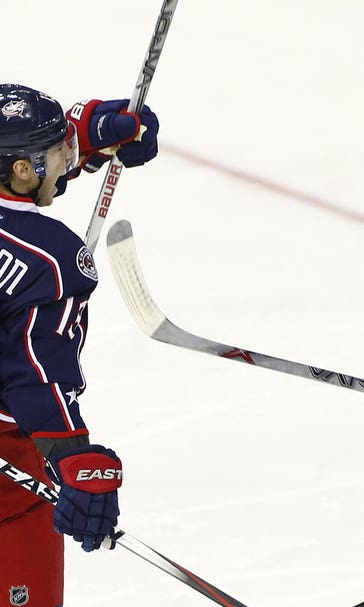 Blue Jackets face off against Lightning
BY foxsports • January 31, 2015
Earning a road win against the Tampa Bay Lightning this season has been a pretty difficult task.
The Columbus Blue Jackets stand as one of the few teams to pull it off.
Hoping to extend their franchise-best single-season home winning streak, the Lightning look for a bit of redemption against the Blue Jackets on Saturday night.
Tampa Bay (31-15-4) rolled past Detroit 5-1 on Thursday for its ninth consecutive home win. The Lightning have averaged 3.40 goals in 25 games at Amalie Arena while allowing 1.96 per contest en route to a 20-4-1 record.
"The crowd energizes us," coach Jon Cooper told the Lightning's official website. "It's a lot of fun to play here. You hear those people up top, some of the soccer chants start going and it's fun. You can just tell, we get the vibe going and get the mojo going with our crowd."
Steven Stamkos scored his 27th goal of the season and Ben Bishop stopped 27 shots to bounce back from a 4-2 loss at Carolina on Tuesday.
Bishop has a 1.90 goals-against average at home and a 3.02 mark on the road.
"Bishop probably goes a little bit unnoticed in this game because of the score, but he made a couple big saves," Cooper said Thursday. "He kept it tight for us. ... That's how it's going to be. It's going to be tight-checking, low-shot type games and you have to win those ones."
The only other nine-game home winning streak for Tampa Bay came over a multi-season stretch, from March 22, 2012-Feb. 1, 2013.
Columbus (21-23-3) is one of three teams to hold the Lightning to just one goal at home this season, winning 3-1 on Dec. 6 as Sergei Bobrovsky stopped 33 shots. The Blue Jackets, however, enter Saturday's contest having lost six of nine overall.
They won't be able to rely on Bobrovsky this time. The former Vezina Trophy winner remains sidelined with a groin injury, likely leaving the starting duties to Curtis McElhinney.
McElhinney is 5-7-1 with a 2.99 GAA in 17 appearances this season, and has allowed three goals in each of his two starts since Bobrovsky's injury on Jan. 21.
"It's all about results for us, and we've got to find a way to get points," forward Brandon Dubinsky told the Blue Jackets' official website after Thursday's 3-2 loss at Florida. "We have to wrap our heads around it tonight and be ready to practice (Friday) and come back to work."
Columbus could at least get a boost in front of McElhinney. The Jackets activated defenseman Ryan Murray, the No. 2 overall pick in the 2012 draft, off injured reserve on Friday. He hasn't played since Nov. 1 due to a knee injury, but could be in the lineup Saturday.
Columbus has gone a season-high three games without scoring with the man advantage, and ending that drought in this one won't be easy. Lightning opponents have just one power-play goal in 30 chances during Tampa's home winning streak.
Seven Lightning players have at least 10 goals - only three Blue Jackets have hit double digits - and there's another on the cusp. Cedric Paquette snapped a 29-game goalless streak Tuesday against Carolina, then had a hat trick Thursday to give him nine goals on the season.
"He'll be a fan favorite in this building," Cooper said. "He wears his heart on his sleeve and doesn't back down from anybody."
Paquette scored one of Tampa's five first-period goals in a 7-4 win at Columbus on Nov. 8.
---